"It was … three, four, seven, eight balls of light without any noise. No smoke. And they were just appearing from like a new dimension."
— Philippe Rosset, high school French teacher from Seynod, France, who was walking up Knapp Hill above Alton Barnes, England, when mysterious silent lights suddenly appeared in the sky. He recorded with his cell phone at 9:30 PM local time on June 20, 2019, the night before the Summer Solstice.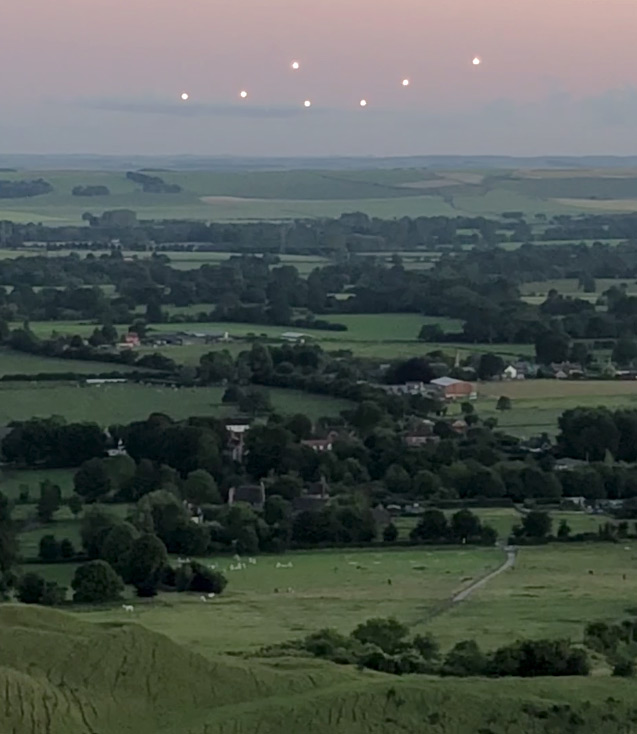 August 2, 2019 Alton Barnes, England – After speaking for the Manchester 2019 Awakening conference on July 20th, I traveled to Devizes at the west end of the Vale of Pewsey to visit the new and wonderful Crop Circle Exhibition Centre on Honey Street near Alton Barnes and Alton Priors produced and directed by Monique Klinkenbergh, Director.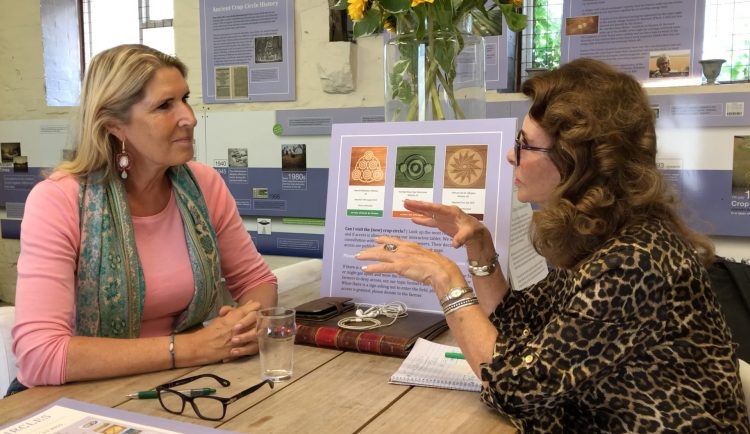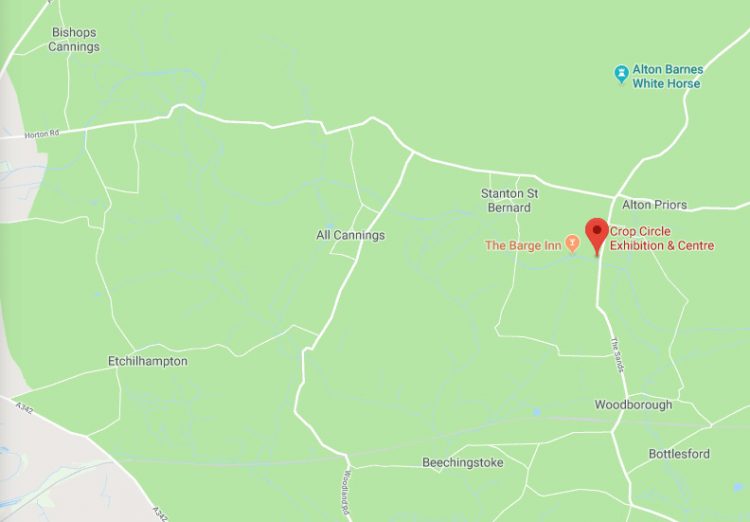 Official Centre Mail Address:
Crop Circle Exhibition & Centre
Mill Cafe
Honey Street
Pewsey, Wiltshire County
SN9 5PS
United Kingdom
Funding Contributions to the Crop Circle Exhibition & Centre:
On Monique's office computer was the following image from a 2 minute and 24 second cell phone recording by a high school French teacher that Monique had recently received and wanted me to see.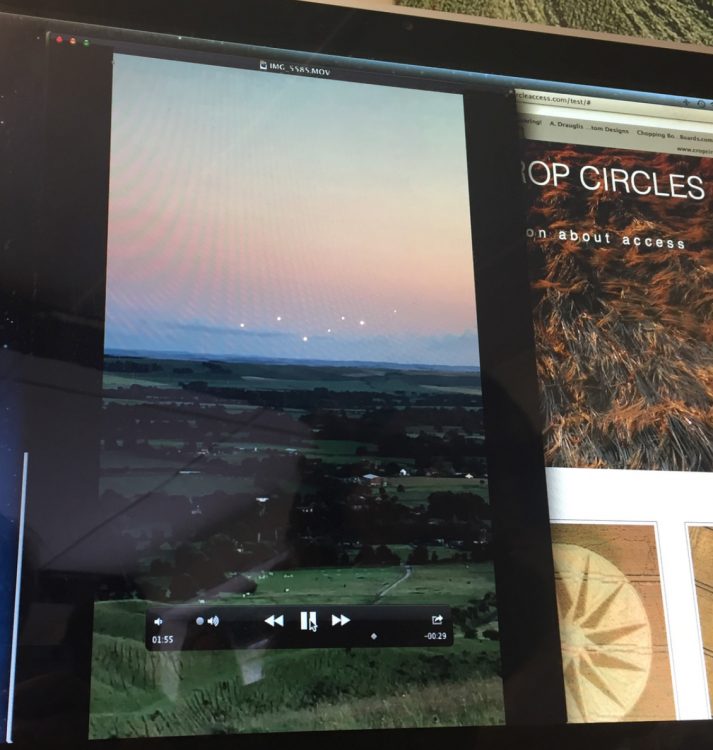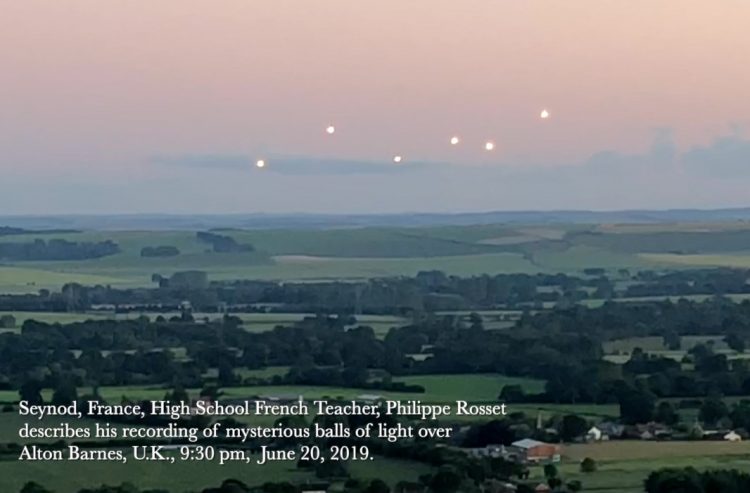 Please CLICK ON IMAGE  to view the 2 min. and 24 sec. cell phone video of the mysteriously changing lights pattern recorded by high school French teacher Philippe Rosset.
Interview:
Philippe Rosset:  "It was 9:30 PM. I was walking at Knapp Hill near Alton Barnes, in England, which was June 20th, 2019, the day before Summer Solstice. And suddenly I saw two lights that I thought they were 'copters — because this is a military zone.
LMH:  SO YOU THOUGHT IT WAS HELICOPTERS?
 Rosset:  Yes, but there was no noise. And the lights were just in the same place. They didn't move at all. I said to my self: 'This could be something strange!' So I took my phone and I began filming. And after that, it was not two lights, but three, four, seven appeared. (edit) And during 2 minutes, something strange  —  seven, eight balls of light without any noise. No smoke. Nothing! And they were just appearing from … it was like a new dimension. I was pretty sure that it was something great. And it reminds me of Phoenix Lights in 1997 (March 13, 1997), you know? I could take pictures in a short video … with lights appearing, disappearing, exactly the same.
[ Editor's Note:   The Phoenix Lights were reported by hundreds of people on the night of March 13, 1997, as a series of unidentified aerial objects that included a mile or longer triangular craft; large, orange balls of light and an arc of lights over the city of Phoenix, Arizona. The date was March 13, 1997, and the hundreds of sightings were reported between 7 PM to 11 PM local Arizona time. The UFOS were observed in the skies over Arizona, Nevada, and the Mexican state of Sonora south of Phoenix. Fife Symington,  the governor at the time, was one witness to this incident. Governor Symington later called the aerial object he saw as "otherworldly."]
LMH:  NOW, CAN YOU EXPLAIN FOR MY EARTHFILES YOU TUBE AUDIENCE THAT YOU HAVE BEEN WORKING ON YOUR OWN BOOK MANUSCRIPT THAT IS NOT PUBLIC YET, BUT IT HAS BEEN DIVIDED IN YOUR MIND INTO SEVEN SECTIONS — AND IF YOU YOURSELF WONDER IF THE 7 LIGHTS THAT KEPT CHANGING NUMBERS MIGHT BE REFLECTING YOUR OWN MIND?
Rosset:  The title is Merlin: The Magic of Consciousness.
LMH:  Merlin: The Magic of Consciousness – and that you were on Knapp Hill in one of the most mysterious regions where so many crop formations have occurred – and that seven lights going four, five, six, seven and changing would be what you saw and videotaped with seven lights being one of your own mental divisions of this new manuscript that only you know.
Rosset: Yes, exactly! This region is called "Merlin's Triangle." It's Avebury, Glastonbury and Stonehenge. They form like a triangle. And in this book I want to show the power of consciousness. How powerful we are. And it (book) is divided into seven chapters. And when I saw the lights, I said to myself,  'My gosh, these lights … I cannot explain them, but it's like a reflection of my own consciousness. It's like a sign, a confirmation of my intuition — a way of saying, 'You are on the good path.' Your book, you worked on it and now that is a sign you are on a good path way. That was just amazing!'"
Also see:
07-08-2003 – Mysterious Lights Videotaped Emerging from Ogbourne St. George, England Crop Formation
---
More Information:
09-10-2004 – Update on Miamisburg, Ohio, Corn Pictogram – Balls of Light?
07-23-2004 – Part 3 – Crop Formations and Mysterious Lights in England, July 2004
07-11-2003 – Updated: Part 2 – Unusual Cylindar-Shaped Cloud Seen Night Before Dutch Crop Circles Discovered
12-13-2000 – Mysterious Clouds of Light in English Crop Formation
08-26-2000 – Pulsing, Jumping Light in West Stowell, England Field
08-23-2000 – Intelligence Sensed In Mysterious Lights Associated With Crop Formations
08-19-2000 – White Balls of Light and Helicopter Videotaped in Woodborough Hill Field
08-17-2000 – Mysterious Light Near Woodborough Hill Night Before August 13, 2000 Formation
---
Websites:
CROP CIRCLE Exhibition & Information Centre, Honey Street, Alton Barnes, England:  http://www.cropcircleaccess.com/

© 1998 - 2019 by Linda Moulton Howe.
All Rights Reserved.