"Sample extraction (Bi/Mg) radiated light for a full (3) hours. Originally located on central underside of Wedge-shaped Disc. … Secondary examinations at Los Alamos Facility. Footlockers subsequently airlifted by Courier to Wright Field, Ohio."
– July 5, 1996, excerpt from 5th typed letter quoting grandfather's diary about his observation in an Army security unit surrounding the wedge-shaped UFO. He described the layered metal on the bottom of the craft as glowing for 3 hours.
Return to Part 1.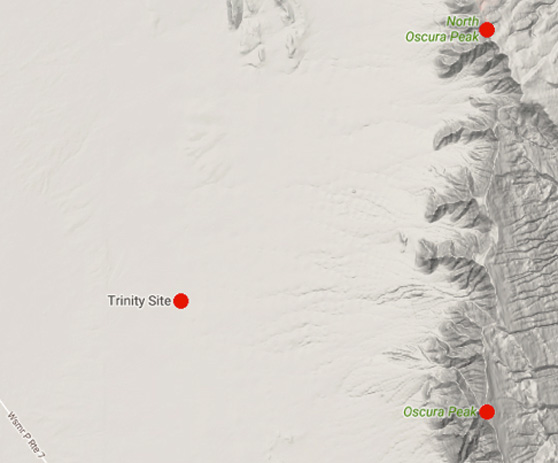 Reposted September 8, 2019 – Updated August 3, 2018  Earthfiles Archive originally posted July 12, 2017  Albuquerque, New Mexico – Art Bell called to tell me that a third letter had arrived dated May 27, 1996. In it were half a dozen pieces about two inches long, an inch wide and about a quarter of an inch thick. One side was dark and the other side was a shiny silver.
I contacted the university professor again and he agreed to analyze the new layered metal pieces. So, Art Bell shipped two fragments to him, keeping the other four in a safe deposit box. The professor's first step was to photograph the metal pieces as they arrived at his laboratory. He placed the dark side of one piece on the left and the silver side of the other on the right, both next to a quarter coin that was about an inch in diameter for size comparison.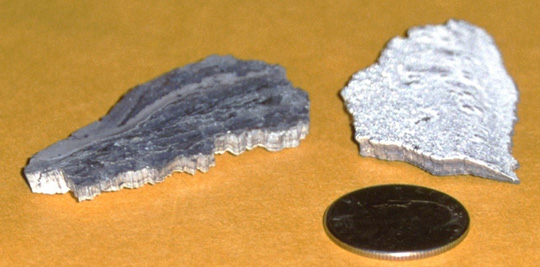 Energy Dispersive Spectroscopy (EDS)
On June 8, 1996, the professor released his first report about the material. He had examined a cut and polished cross-section first with energy dispersive spectroscopy (EDS). He stated: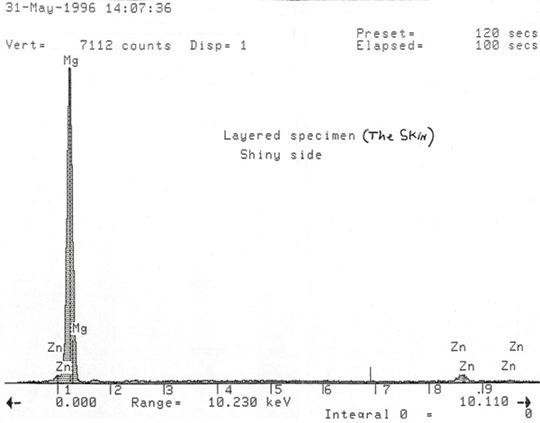 "Each sample had a 'silvery,' shiny side with a rough (granular) appearance. The other side was blackish-gray. Looking at the samples edge-on, numerous layers can be seen. The samples were hard, but brittle, and a few small pieces could be broken off using a small hand vice and manual pressure.
"Energy dispersive spectroscopy (EDS) revealed that the shiny side contained more than 95% magnesium (Mg) and a small amount (2-3%) of zinc (Zn). The material appears to represent layers consisting mainly of magnesium and a small amount of zinc, separated by thin layers containing a high bismuth content."
Energy dispersive spectroscopy (EDS) spectra of "Layered specimen (the Skin) Dark side" showed primarily Bismuth (Bi), Magnesium (Mg) and a little Zinc (Zn).
Scanning Electron Microscope (SEM)
The Scanning Electron Microscope (SEM) was set in a "back-scattering" configuration so that heavier elements show up brighter. Therefore, the dark bismuth appears as thin white lines and the much lighter magnesium/zinc shows as darker shades of grey.
The professor measured the layers and found that the thin, wavy lines of bismuth varied from one to four microns. A human blood cell is about 5 microns in diameter. The magnesium/zinc varied from one hundred to two hundred microns about the diameter of a human hair (100 microns).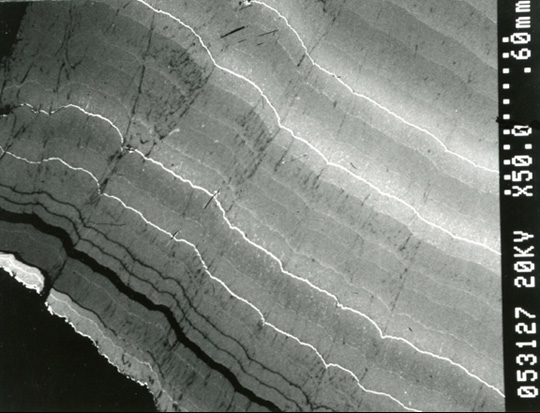 One scientist thought the waviness in the layers might be a fractal wave pattern calculated in the layered material's construction, perhaps to better resonate with a specific frequency. Or, the waviness might be the result of heat absorbed in the metal's production or function.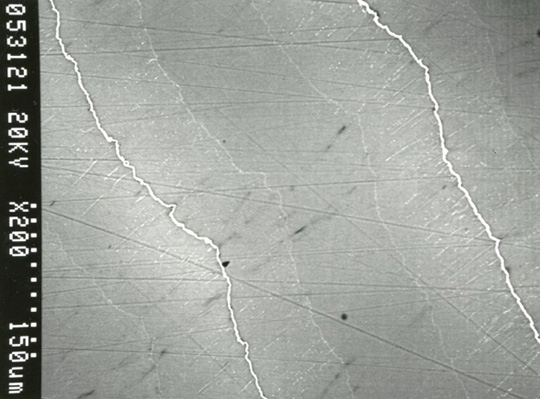 In summary, the metal fragments allegedly from the "central underside of a wedge-shaped" spacecraft found in New Mexico have some 26+  alternating layers. The bismuth layers average one to four microns alternating with the 100 to 200 micron layers of magnesium/zinc. One exotic metals manufacturer in New Jersey that I first called in 1996 said bluntly: "No one layers bismuth and magnesium. It can't be done! The layers won't bond with each other."
What Is Bismuth?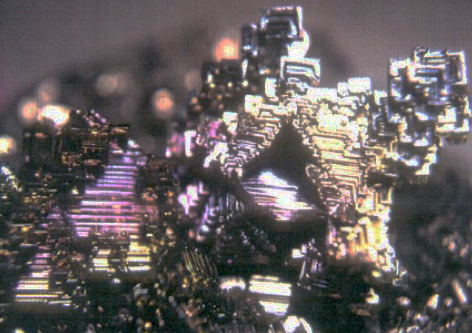 Bismuth is a hard, brittle metallic element that is greyish-white with a tinge of red. Pepto-Bismal is pink because it has bismuth in it. Bismuth's atomic number on the Periodic Table of Elements is 83. Lead is 82, so bismuth is heavier than lead.

Bismuth is frequently found in ores of tin, lead, copper and cobalt. Bismuth is not attacked by hydrochloric acid, and only slightly by hot sulfuric acid. But the element is rapidly dissolved by either dilute or concentrated nitric acid.
Further, the Guide to Uncommon Metals says, "Bismuth is one of the few metals that expands when cooled, like water does when it turns to ice, and that makes bismuth valuable for detailed metal castings. Bismuth also has a low melting point, but its thermal conductivity is lower than that of perhaps every other metal with the exception of mercury. Also its electrical resistance is high. A modern use of bismuth is as a coolant for nuclear power reactors."
"Bismuth is the most diamagnetic of the elements — meaning it resists penetration by magnetic fields more strongly than any other element. Magnetic field lines tend to be displaced around bismuth, rather than passing through it. Bismuth also has the greatest Hall Effect. That means if a voltage is placed on bismuth while the metal is in a magnetic field, a current flow will be induced that is 90 degrees to the voltage. Bismuth is an efficient absorber of infra red energy and researchers are experimenting with bismuth coatings that will convert heat to electricity. Bismuth is also added to metal mixtures in superconducting research."
After Letter # 3, A 4th Letter Dated May 25, 1996, But Transmitted After That Date to Linda Moulton Howe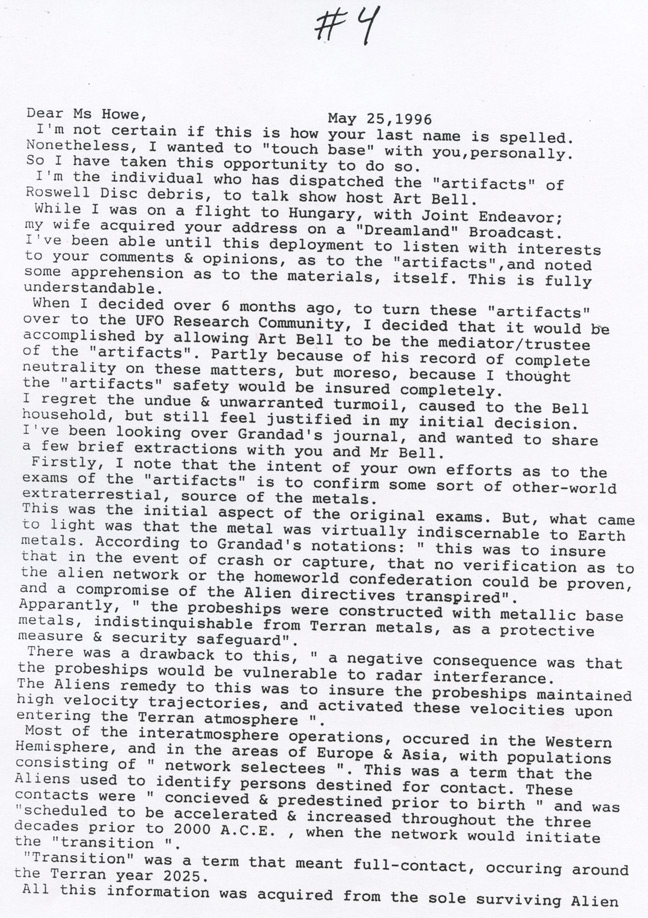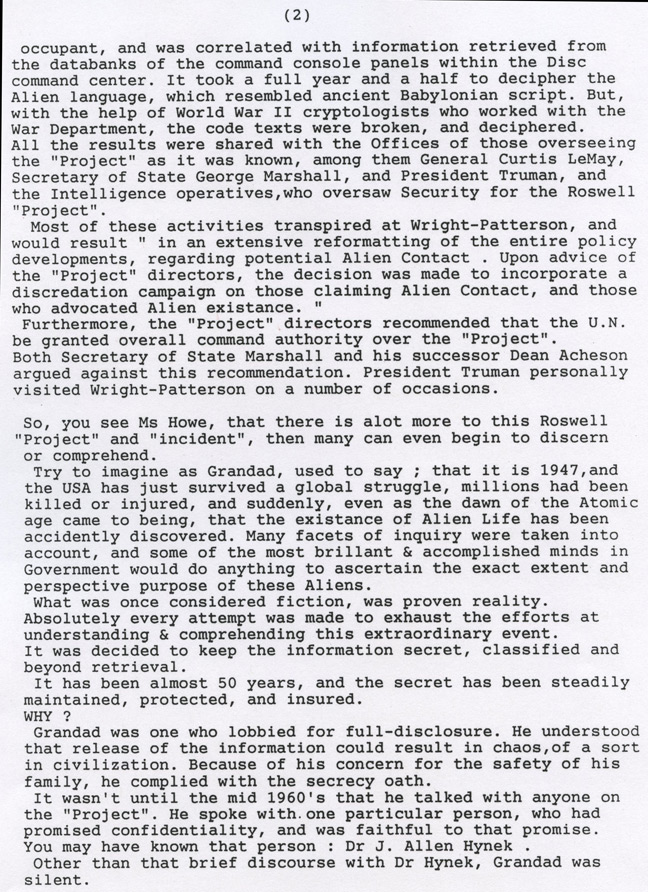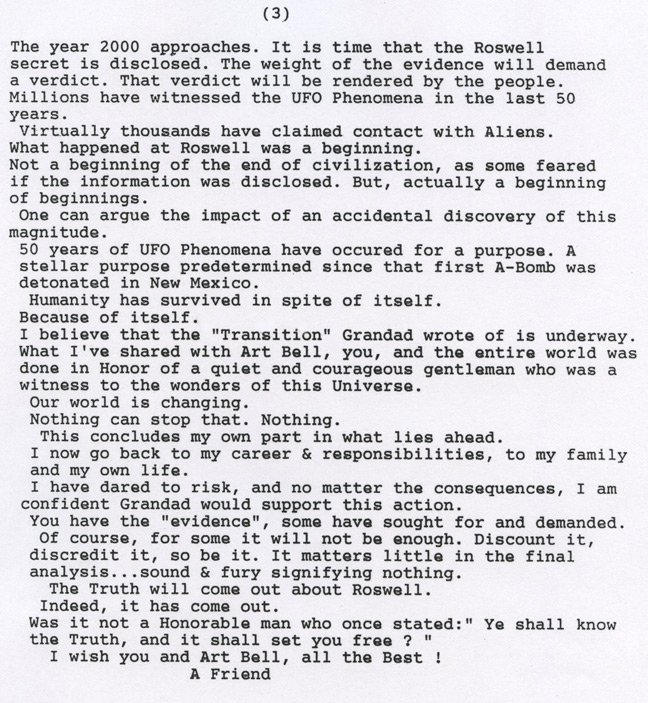 Continued in Part 4.
Return to Part 1.
Also see:
• 07/05/2014 —Part 2: Met Boeing Engineer Who Knew About UFO Bi/Mg Metal
• 07/01/2014 —Part 1: Peruvian Interacts with Small, Grey Being
• 10/09/2011 —Parts 6 to 12: U. S. Government Knowledge of "Interplanetary" Craft, 1942 – 2011
Earthfiles welcomes other information from viewers. All requests for confidentiality are honored. Please email [email protected].
---
More Information:
For further information about an alien presence interacting with Earth and its advanced UFO/UAP technologies, please see An Alien Harvest and the 2-volume Glimpses of Other Realities in the Earthfiles Shop, plus the many reports in the Earthfiles Archive, of which a few are listed below from the more than 2,500 in-depth reports organized in chronological order from 1999 to 2017 ongoing.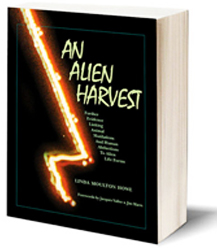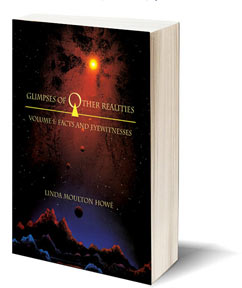 An Alien Harvest, 2nd Edition, © 2014, and 2-Volume Glimpses of Other Realities © by Earthfiles Reporter and Editor Linda Moulton Howe. Please see Earthfiles Shop.
In Earthfiles Archive:
---
Websites:
SOM1-01 Training Manual: "Extraterrestrial Entities and Technology, Recovery and Disposal, TOP SECRET/MAJIC EYES ONLY": https://www.earthfiles.com/news.php?ID=604&category=Real%20X-Files
Majestic 12 Documents: http://www.majesticdocuments.com
American Presidents: http://www.presidentialufo.com

© 1998 - 2020 by Linda Moulton Howe.
All Rights Reserved.