Return to Part 1.
Reposted September 7, 2019 – Updated August 3, 2018  Earthfiles Archive originally posted July 12, 2017   Albuquerque, New Mexico – The first metal pieces sent by the South Carolina writer were at least hard physical facts that I could test. I contacted a scientist in a major Midwestern university, who has helped me analyze unusual materials. He used a scanning electron microscope to examine structure and energy dispersive spectroscopy (EDS) to analyze element composition. He confirmed that these first metal pieces were greater than 99% aluminum of normal density.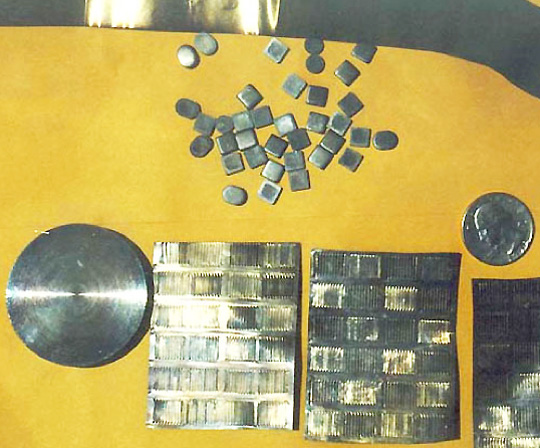 April 22, 1996: 2nd Letter 
After I reported those findings on the radio, we received a second letter dated April 22, 1996.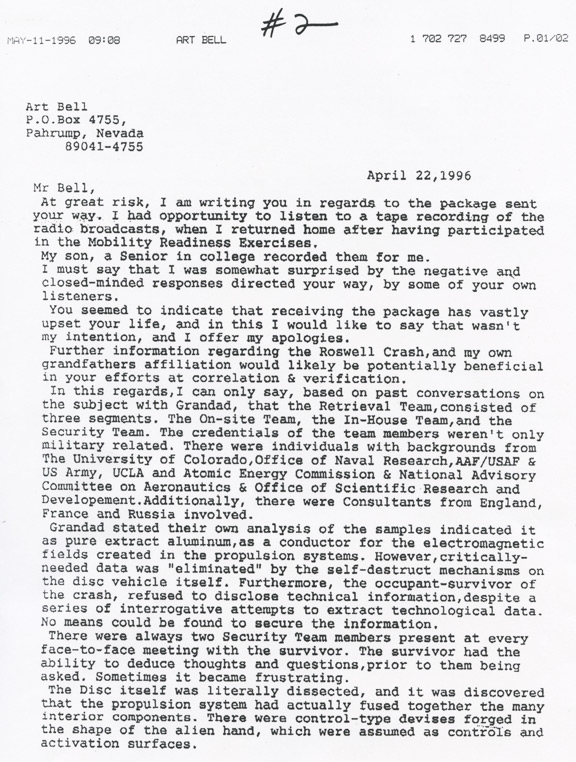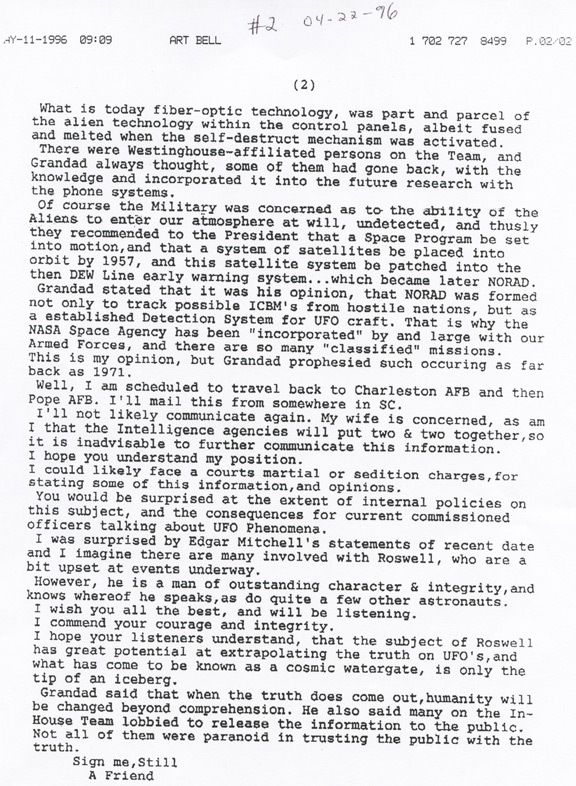 Back-Engineering E.T. Technology
for American Military and Commercial Applications
"The craft was able to displace gravity through the propagation of magnetic waves, controlled by shifting the magnetic poles around the craft so as to control, or vector, not a propulsion system, but the repulsion force of like charges."
– U. S. Army Lt. Col. Philip J. Corso, author © 1998 The Day After Roswell
Back-engineering extraterrestrial technology for American military and commercial development was well known to retired U. S. Army Lt. Colonel Philip J. Corso, former Chief of the Army's Foreign Technology Division in the early 1960s. In The Day After Roswell, his 1997 ground-breaking and best-selling book, Col. Corso described his assignment in 1961 to 1963 to get extraterrestrial technology out of Pentagon storage into the hands of defense contractors.
His boss was General Arthur Trudeau, then head of Army Research and Development appointed by President Dwight D. Eisenhower. The Colonel's list of back-engineered extraterrestrial technologies included:
– Night vision image intensifiers
– Fiber optics
– Supertenacity fibers
– Lasers
– Molecular aligned metallic alloys
– Integrated circuits
– Microminiaturization of logic boards
– Particle beams
– Electromagnetic propulsion systems
– Hand imprinted control panels, which are shown in a frame from 16mm film allegedly shot inside a military tent set up     after a UFO crash of 6-fingered humanoids in the May 31 to June 2, 1947, time period southwest of Socorro, New Mexico.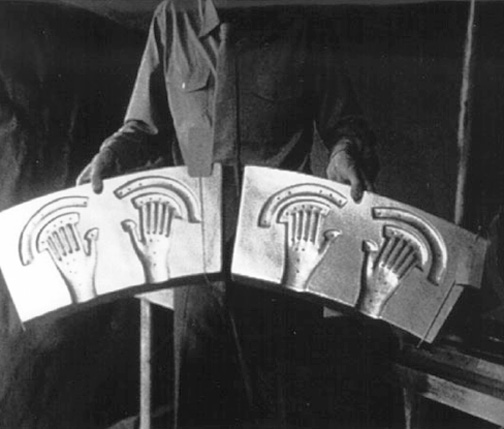 This is what Col. Corso wrote about hand-imprinted panels retrieved from a "crescent-shaped" extraterrestrial vehicle that crashed in New Mexico and which sounds similar to the South Carolina Army writer's description: "… the series of raised deck panels were indentations for the creatures' hands. The indentations on these panels, as the Roswell field reports described them, looked like the handprints pressed into the concrete at the old Grauman's Chinese Theater in Hollywood. Were the directional commands a series of electronic instructions transmitted directly from the creatures' brains along their bodies and through the panels into the ship itself as if the ship were only an extension of the creature's body?"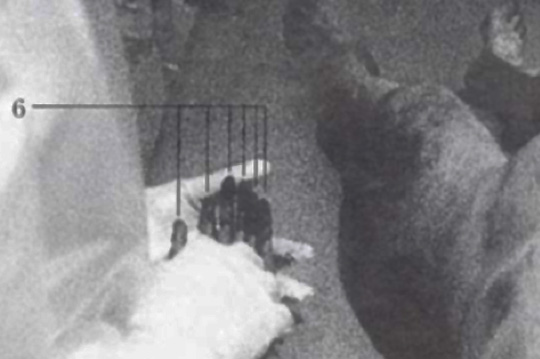 On Page 8 of my third book, Glimpses of Other Realities, Vol. II: High Strangeness, I reported the following about Lt. Col. Philip J. Corso.     [ See Earthfiles Shop.]
"Col. Corso said that extraterrestrial bodies first went to Wright Field in Cincinnati, Ohio, but after the USAF became its own separate branch of the service, "the remaining bodies stored at Wright Field in Cincinnati, Ohio, but after the USAF became its own separate branch of the service, the remaining bodies stored at Wright along with the spacecraft were sent to Norton Air Force Base in California. Experiments were carried out at Norton and ultimately at Nellis Air Force Base in Nevada at the famous Groom Lake site (Area 51 known as Dreamland) where the Stealth technology was developed."
Colonel Corso said that the USAF and Central Intelligence Agency (CIA) "maintained a kind of alien technology museum at North AFB near San Bernardino, California, the final resting place of the Roswell spacecraft" — at least one of them. Norton AFB was closed down in the 1990s and one wonders where the "alien technology museum" went? Or if it is still there, is it underground or disguised in some way?
Col. Corso said the motives of the extraterrestrials were puzzling and of great concern to government insiders when he worked in the White House National Security Staff under President Dwight Eisenhower and later in the Pentagon under General Arthur Trudeau. The priority of the U. S. government was to get as much advanced extraterrestrial technology as possible, keep it out of the hands of Cold War enemies, while "pushing through weapons development that might reduce the advantage" of the advanced and potentially threatening non-human intelligence."
In his own book, Col. Corso wrote on pages 180 to 182 of  The Day After Roswell:
"In the Pentagon from 1961 to 1963, I reviewed field reports from local and state police agencies about the discoveries of dead cattle whose carcasses looked as though they had been systematically mutilated. One of the common threads in these stories were reports by the self-described abductees of being subjected to some sort of probing or even a form of surgery with controlled, intense, pencil-thin beams of light," which Col. Corso associated with a laser instrument retrieved from downed alien spacecraft.
… Local police reported that when veterinarians were called to the scene to examine the dead cattle left in fields, they often found evidence not just that the animal's blood had been drained, but that entire organs were removed with such surgical skill that it couldn't have been the work of predators or vandals removing the organs for some depraved ritual.
… I also remembered that both civilian and military intelligence personnel attached to the staffs of individuals who worked for the Hillenkoetter (first CIA Director) and General Twining working group on UFOs in the 1950s were actively engaging in research into the kinds of surgical methods that would produce 'crime scene evidence' like this."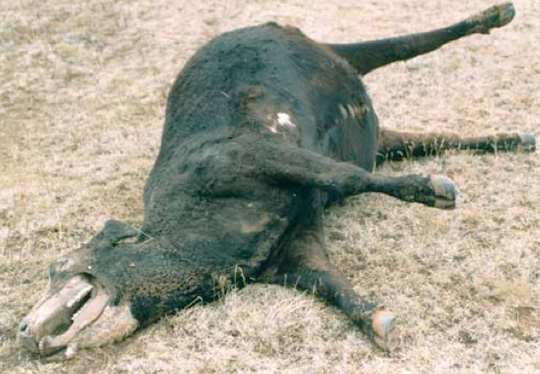 "… Although the first public reports of cattle mutilations surfaced around 1967 in Colorado, at the White House we were reading about the mutilation stories that had been kept out of the press as far back as the middle 1950s — especially in the area around Colorado. … Our intelligence organizations and especially the working group believed that the cattle mutilations that could not be obviously explained away as pranks, predators, or ritual slaughter were the results of interventions by extraterrestrials who were harvesting specific organs for experimentation.
… We had irrefutable evidence that EBEs (extraterrestrial biological entities) were landing on farms, harvesting vital organs from livestock, and then just leaving the carcasses on the ground because they knew we couldn't do anything about it."
I continued to investigate the possibility that the aluminum pieces might be "punch outs" from terrestrial machining operations since they measured as common terrestrial quarter-inch and inch sizes. However, Alcoa Aluminum engineers thought that the purity of the aluminum I submitted to them was not typical of industrial machining, which usually involves harder alloys. So, there was speculation that if the South Carolina writer's story were true, the military handlers might have had samples from the alleged extraterrestrial craft punched out to distribute to American scientists for study.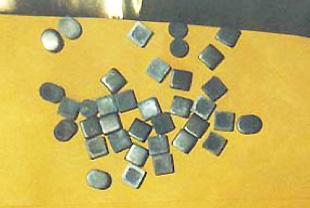 May 27, 1996:  3rd Letter with Bismuth and Magnesium/Zinc Layered Metal
On May 27 1996, a third letter arrived containing a surprise — 6 pieces of metal that were very different from the aluminum. The letter said: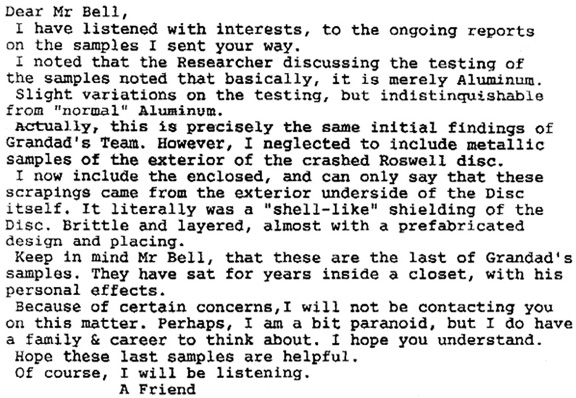 Continued in Part 3.
Return to Part 1.
Also see:
Earthfiles welcomes other information from viewers. All requests for confidentiality are honored. Please email [email protected].
---
More Information:
For further information about an alien presence interacting with Earth and its advanced UFO/UAP technologies, please see An Alien Harvest and the 2-volume Glimpses of Other Realities in the Earthfiles Shop, plus the many reports in the Earthfiles Archive, of which a few are listed below from the more than 2,500 in-depth reports organized in chronological order from 1999 to 2017 ongoing.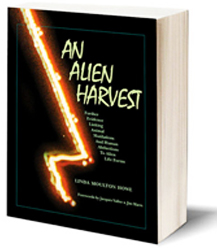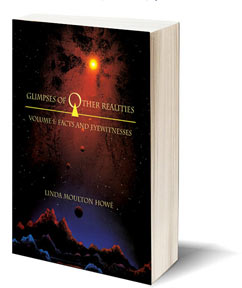 An Alien Harvest, 2nd Edition, © 2014, and 2-Volume Glimpses of Other Realities © by Earthfiles Reporter and Editor Linda Moulton Howe. Please see Earthfiles Shop.
In Earthfiles Archive:
---
Websites:
SOM1-01 Training Manual: "Extraterrestrial Entities and Technology, Recovery and Disposal, TOP SECRET/MAJIC EYES ONLY": https://www.earthfiles.com/news.php?ID=604&category=Real%20X-Files
Majestic 12 Documents: http://www.majesticdocuments.com
American Presidents: http://www.presidentialufo.com

© 1998 - 2020 by Linda Moulton Howe.
All Rights Reserved.