Reposted September 6, 2019 – Updated August 3, 2018  Earthfiles Archive originally posted July 12, 2017   Albuquerque, New Mexico – My research as an investigative reporter into the mystery of an alleged extraterrestrial metal began in April 1996. Over the past 22 years, I have contacted several different scientists and laboratories for tests and analysis of what the metal is made of and what its function might have been on a wedge-shaped craft of unknown origin that crashed "between San Mateo Mountains and Sierra Blanca" on or near White Sands Proving Ground about 90 miles west of Roswell, New Mexico. The specific crash retrieval date is uncertain, but must have been after September 18, 1947, when the U. S. Air Force was separated from the U. S. Army because the source references the USAF.

Over the past two decades, I have learned that the metal is made in layers that alternate from 1 to 4 microns of pure, black bismuth with a magnesium-zinc alloy that is 100 to 200 microns thick. For comparison, a human hair is about 100 microns wide, so that's about the size of the magnesium-zinc layers. A red blood cell is about 8 microns in diameter. So the pure bismuth layer is HALF the width of a red blood cell.
Like an exotic metallic torte cake 26 or more layers high, there's a 1 to 4 micron layer of pure black bismuth and then 100 to 200 microns of magnesium-zinc; then another layer of pure bismuth and another layer of magnesium-zinc and so on for 26+  layers.  Each metal piece was about 2 to 3 inches wide and was formed with a curvature that tapered that you can see in the above high resolution close-up photograph of a layered side that I and graphic artist Tim Bauer produced for a presentation I did in 1999 for the Franklin Mint in Philadelphia about my investigations of the strange metal. It all started three years before in mid-April 1996, with five typed letters and two shipments of metal that came through the United States postal service.
Mid-April 1996 – First Came Nearly Pure Aluminum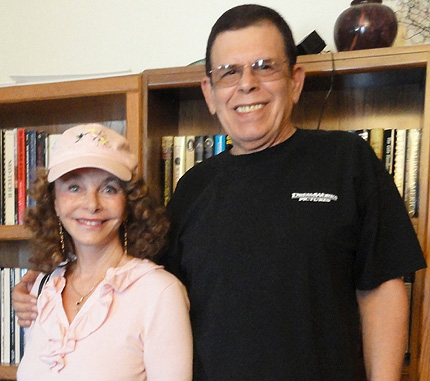 That's when I was doing Real X-files news reporting for a weekly broadcast called  Dreamland and for the nightly Coast to Coast AM, both hosted by Art Bell, and distributed throughout North America. We received the first of five typed letters, each post-marked from South Carolina and signed only "A Friend."  Later the writer called me and explained he was active Army en route to the Middle East and wanted me to know in case he didn't make it back alive. I asked him if the highly strange content of the letters was copied from his grandfather's alleged original diary left in a box with the metal pieces before he passed on in 1974. The Army man said he typed his five letters with excerpts from his grandfather's diary.
The first letter was dated April 10, 1996, and included several pieces of square-cut, grey metal — not the bismuth/magnesium — but allegedly other metal squares and odd shapes cut from the same crashed UFO.
There are startling statements that sound like science fiction, but as I read the entire first letter, keep in mind the Army man is allegedly quoting from his now deceased grandfather's diary, a grandfather who said he was in a security team that surrounded a wedge-shaped craft and that the grandfather left a box with the various metal pieces in it along with his diary of an extraordinary moment in his life — and world history.
April 10, 1996: 1st Letter from Army Sgt.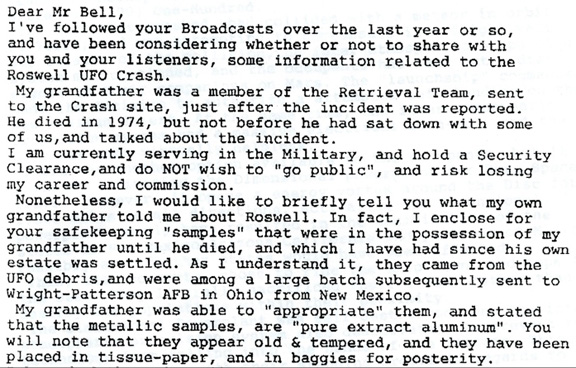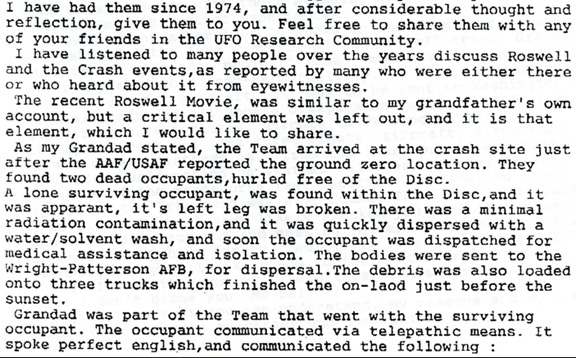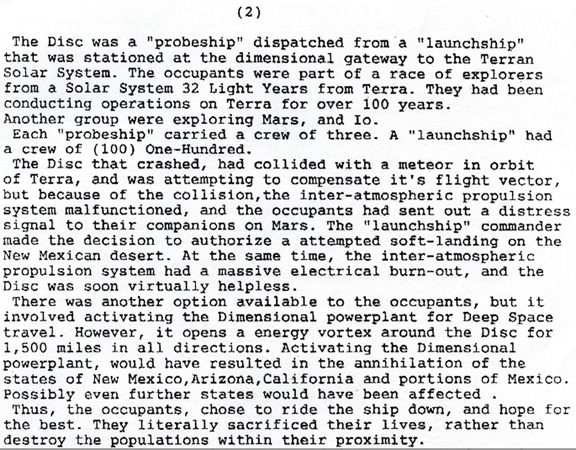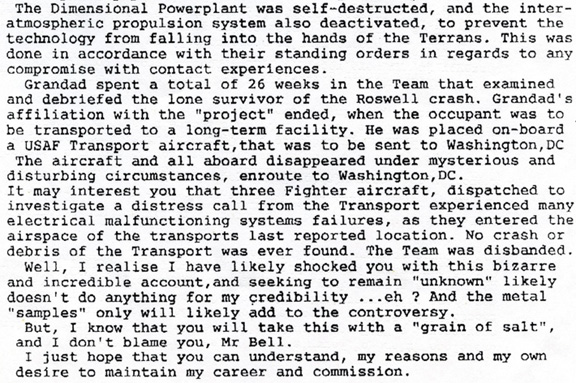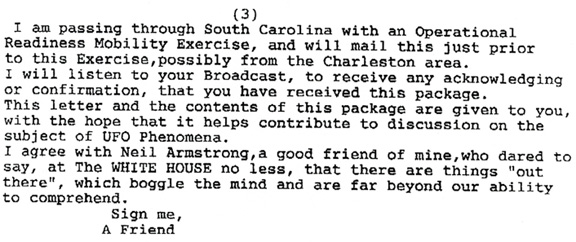 Location of Crash Site Given in 5th Letter of July 5, 1996

It took five letters from the Army Sgt. to specify what his Grandad's journal said about the "precise location of the crash site. Trajectory Track was plotted at 31 degrees 20 minutes to 32 degrees North Latitude. Object reversed course exactly without any discernable (sic)  deviation, proceeding to impact site between San Mateo Mountains and Sierra Blanca. Object debris spotted near Roswell AAF within 30 miles radius of (Roswell) Base."
Between  San Mateo Mountains and Sierra Blanca Mountain is northern White Sands Missile Range. The Trinity Site marks where the first atomic bomb was tested in July 1945. Nearby is North Oscura Peak (marked in orange)  not far from where at least one UFO mentioned in documents allegedly crashed in 1947.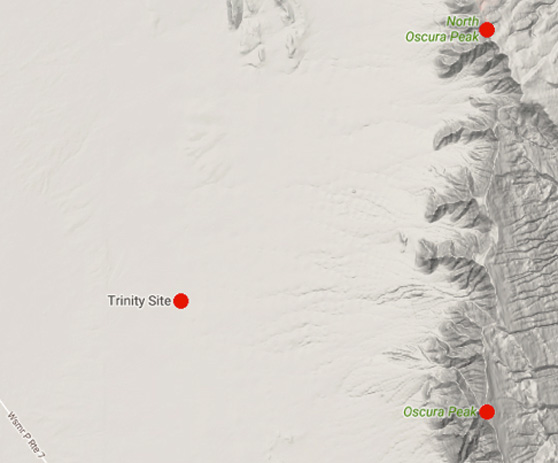 The possible crash location of the wedge-shaped craft from which the Grandfather allegedly pulled the Bi/MgZn layered metal pieces was not far from the 1945 Trinity site below the Oscura Peak to the southeast. There is also a North Oscura Peak in the upper right corner.
Today in 2018, the nanolayered metal has become increasingly important as the sciences of nanotechnology and terahertz frequencies have evolved. Terahertz radiation — also known as submillimeter radiation, terahertz waves, tremendously high frequency (THF), T-rays, T-waves, T-light, T-lux or THz — consists of electromagnetic waves within the ITU-designated band of frequencies from 0.3 to 3 terahertz. 1 THz = 1012 Hz.  Terahertz radiation has emerged as   important not only for airport security screening technology, but for their unique frequency manipulations of matter at the atomic and molecular level of metals such as bismuth and magnesium. Part 7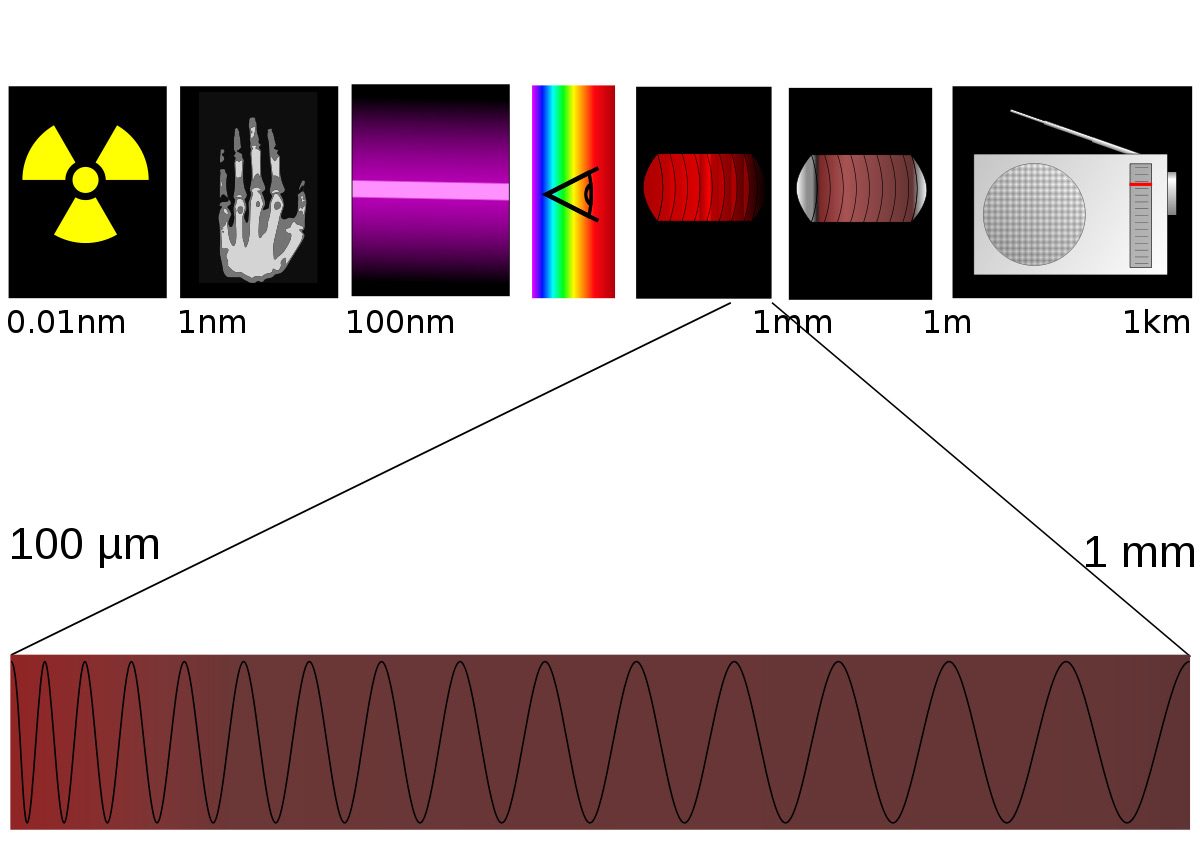 On July 26, 2018, Tom DeLonge, CEO of the San Diego company To The Stars Academy of Arts & Science (TTSAAS), announced a new program for Acquisition & Data Analysis of Materials, also known as the A.D.A.M. Research Project. One of the  materials in an alleged extraterrestrial category that the ADAM Project will be studying is a piece of the layered bismuth/magnesium-zinc from the grandfather's box that I have been trying to understand since 1996.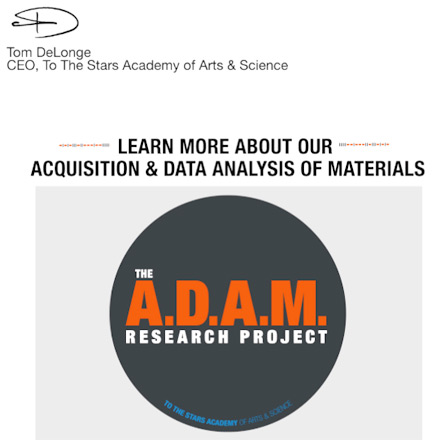 Continued in Part 2.
Also see:
• 07/05/2014 — Part 2: Met Boeing Engineer Who Knew About UFO Bi/Mg Metal
• 07/01/2014 —Part 1: Peruvian Interacts with Small, Grey Being
Earthfiles welcomes other information from viewers. All requests for confidentiality are honored. Please email [email protected].
---
More Information:
For further information about an alien presence interacting with Earth and its advanced UFO/UAP technologies, please see An Alien Harvest and the 2-volume Glimpses of Other Realities in the Earthfiles Shop, plus the many reports in the Earthfiles Archive, of which a few are listed below from the more than 2,500 in-depth reports organized in chronological order from 1999 to 2017 ongoing.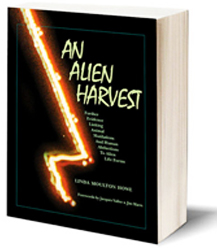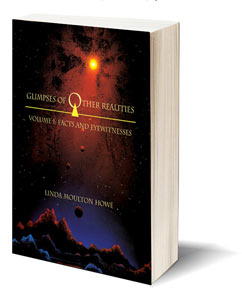 An Alien Harvest, 2nd Edition, © 2014, and 2-Volume Glimpses of Other Realities © by Earthfiles Reporter and Editor Linda Moulton Howe. Please see Earthfiles Shop.
---
In Earthfiles Archive:
Websites:
SOM1-01 Training Manual: "Extraterrestrial Entities and Technology, Recovery and Disposal, TOP SECRET/MAJIC EYES ONLY": https://www.earthfiles.com/news.php?ID=604&category=Real%20X-Files
Majestic 12 Documents: http://www.majesticdocuments.com
American Presidents: http://www.presidentialufo.com

© 1998 - 2020 by Linda Moulton Howe.
All Rights Reserved.