"I heard these scientists talking about that there's some guys there at Pole that were working with these strange-looking 'men.' They weren't saying, you know, 'alien' or 'extraterrestrial,' or whatever. And that the air sampling station (big hole in the ice) was actually a joint base with the scientists and the E.T.s."
– Brian, retired Navy Flight Engineer, Antarctic Development Squadron Six
The following update comes from Linda Moulton Howe's original Earthfiles YouTube Channel broadcast on August 28, 2019, about a half-mile-size carved black stone head in the Admiralty Mountains of Antarctica. Please subscribe to the Earthfiles channel  now to explore Antarctica, alien intelligences and other Earth mysteries. Help Linda bring the pressure of facts to truth about our world's past, present and future.
Updated August 30, 2019 Admiralty Mountains, Antarctica – On August 20, 2019, ufo_scandinavia announced in Instagram (below) the discovery of a Google Earth September 28, 2012, original satellite image of a massive "alien grey" face in the Admiralty Mountains not far from Daniell, Hallett and Adare Peninsulas on the USA's McMurdo Station side of Antarctica. See large map below Instagram.
In Google Earth, the mountain-size black rock head is at latitude and longitude:   72°00′ 36.00" S , 168° 34′ 40.00" E.  That is about 400 miles from McMurdo on the Ross Sea side of the big, icy continent.Why has the 7-year-old Google image suddenly reached public attention now?
So I went to Google Earth, typed in the latitude/longitude and watched the Earth turn and swoop around the planet down to Antarctica and then stopped in mountains covered with snow.
I was puzzled by the face in front of me on my computer screen. The Google Earth Image Date for the photograph was: September 28, 2012, a full seven years before the sudden emergence for the first time of this Antarctica Oriental/GreyAlien face on August 20, 2019. That was only 8 days ago.
Dimensions of Black Mountain Rock-Carved Face
Using the measuring tool in Google Earth, the distance from the bottom of the pointed chin to the top of the pointed head is estimated to be 2,700 to 3,000 feet long. The width of the mouth is approximately 420 feet and the width of the entity's left eye is approximately 520 feet.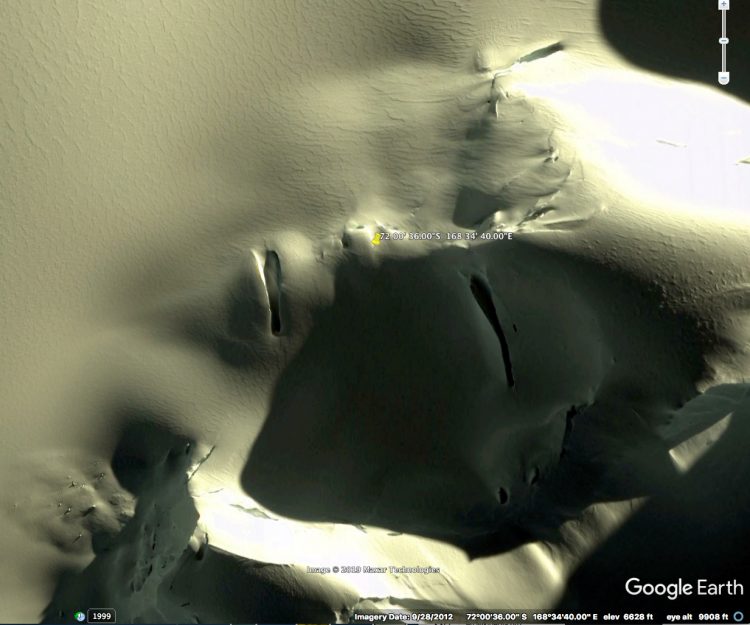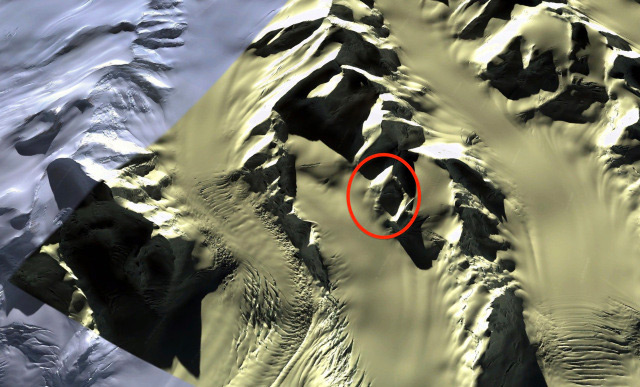 You, too, can copy the Google Earth latitude and longitude at my Earthfiles.com news report about the strange, mountain-size head and face. I placed the latitude and longitude in bold numbers throughout this Earthfiles report, so just copy and paste into Google Earth Pro, an app that is easy to get and explore the Earth.
I also learned that the strips of color on the Google Antarctic image, including the beige-gold color over the large Oriental Alien-Grey-looking head on the mountain is a color feature that Google uses on high res image data.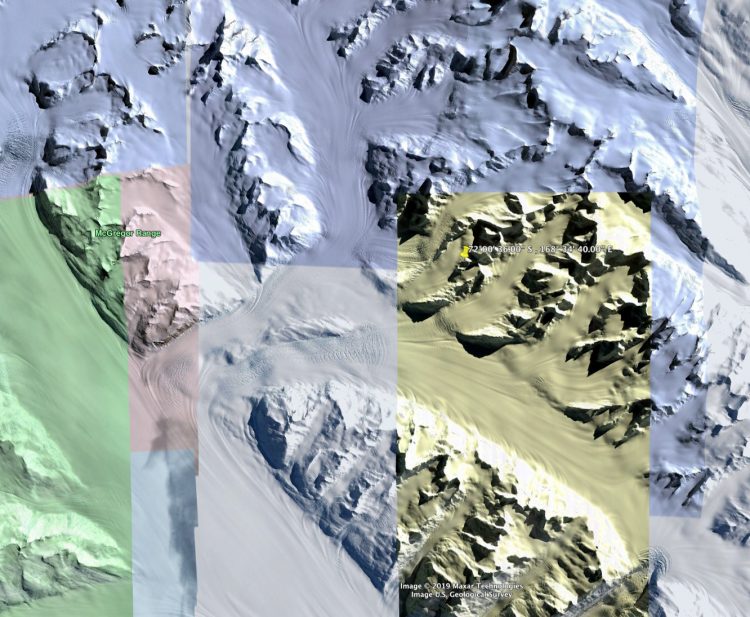 Whatever all the reason for the green, pink and goldish strips at the latitude/longitude of the Antarctic head, the goldish-brown color reinforces an Oriental atmosphere for the huge head carved in the black mountain.
But why has this mysterious and massive head carved in a black mountain emerged now? There are a series of Google Images, both low res and high res, of this exact same mountain-sized head in the Admiralty Mountains going back to 2004? But why only now in August 2019 has this high resolution 2012 image of the face and head emerged publicly?
Perspective from Retired U. S. Navy Captain Mark Wood 
I wanted to ask discuss that question with a military source who has contributed to my Earthfiles investigations for the past decade. The following are some excerpts from my phone discussion with him on Tuesday, August 27th. He is retired U. S. Navy Captain Mark Wood.
Mark Wood holds a Bachelor's Degree in Aerospace Engineering from Georgia Tech and a Master's Degree in Ocean Engineering from Florida Atlantic University. He is also a Registered Professional Mechanical Engineer (P.E.). He was screened for Aviation Command and was assigned as the Executive Officer of the first Reserve Patrol Squadron to be assigned the new P-3C Update III as well as the Commissioning Commanding Officer of a Reserve Patrol Squadron Augment Unit (VPSAU).
Segment 1, Sept. 28, 2012 Google Earth, 3-D View, Interview Audio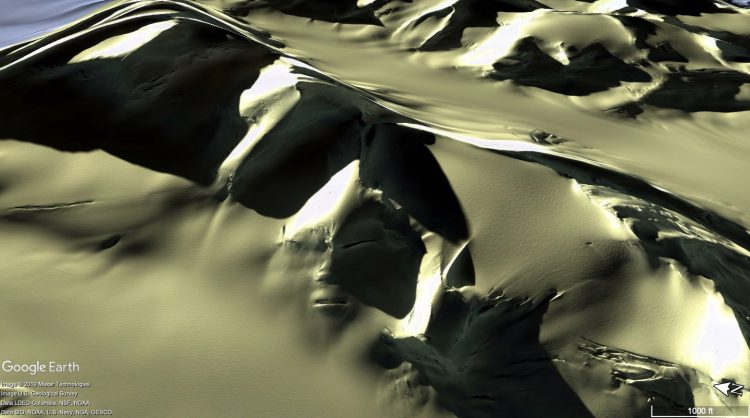 LMH: MARK, WHY DO YOU THINK IT TOOK FROM SEPTEMBER 28, 2012, UNTIL AUGUST 20, 2019, FOR THIS ORIENTAL, ALIEN-TYPE IMAGE FROM ANTARCTICA TO REACH THE PUBLIC?
Retired Navy Captain Mark Wood: Well, obviously somebody who had control of or access to the high resolution photography that was done of Antarctica didn't want this image out in the public. It's not surprising. It ties in with what everyone has talked about regarding when disclosure is going to take place. And anything that would indicate alien presence on the planet is real gets pushed to the back burner and denied or just hidden.
Segment 2, December 30, 2004 Google Earth from 9,750 Feet, Interview Audio :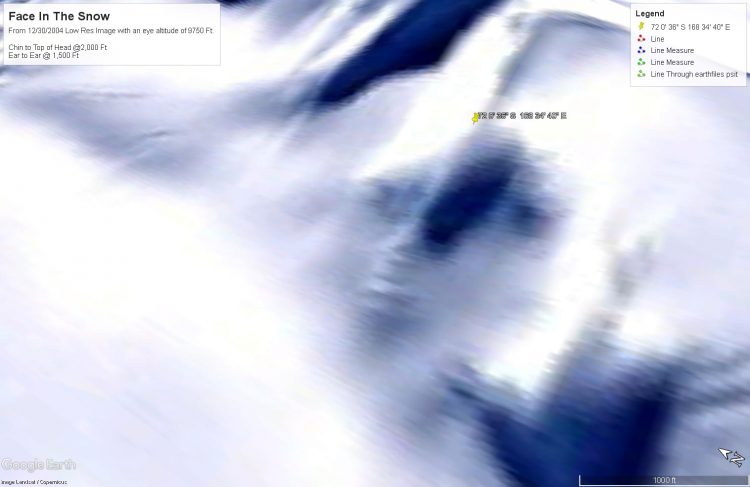 LMH: WHAT YOU MEAN — IF WE GO BACK TO THE BEGINNING OF THE SERIES OF THESE IMAGES, WHICH YOU HAVE LOOKED AT,  ON DECEMBER 30TH, 2004 — THAT WAS AN IMAGE AT 9,750 FEET. YOU COULD SEE THE LIPS, THE CHIN, THE NOSE, AND SORT OF A HEAD SHAPE THEN. IT WAS MORE ICY AND THERE WAS MORE SNOW."
Segment 3, October 30, 2009 Google Earth from 9,950 Feet,
Interview Audio :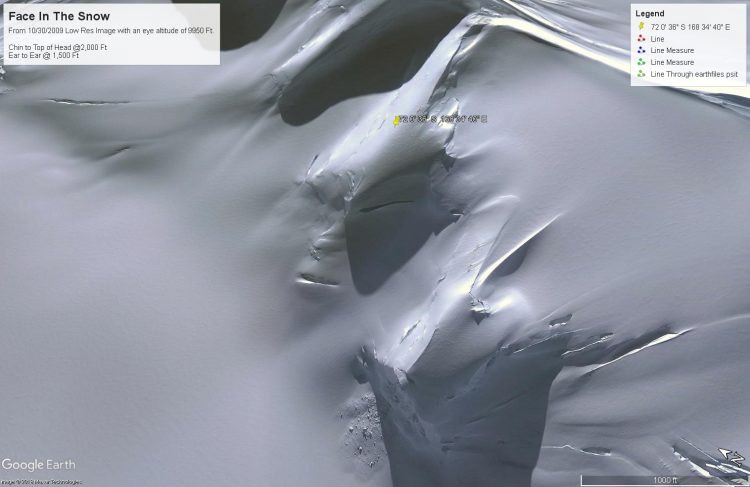 LMH: THEN THE NEXT ONE, OCTOBER 30TH, 2009, SAYS IN GOOGLE EARTH THAT IT WAS DONE FROM 9,950 FEET. AND THAT ONE SHOWS THE LATITUDE AND LONGITUDE CLEARLY AND IT IS A LONGER DISTANCE OF A FACE.
Segment 4, October 30, 2010 Google Earth from 21,000 Feet, Interview Audio :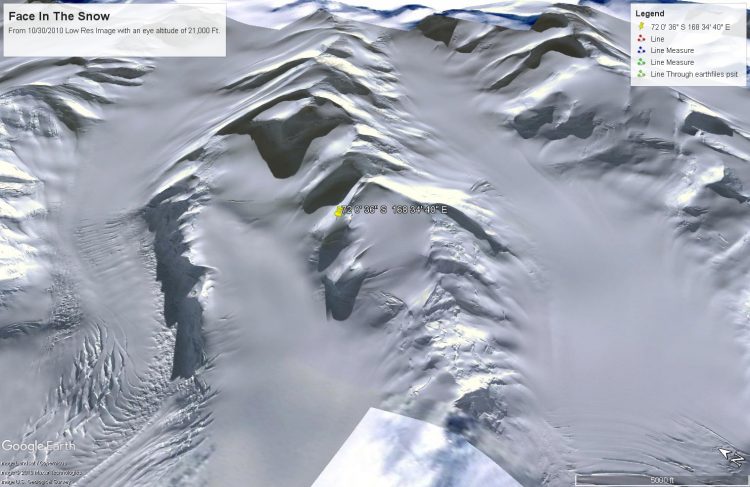 LMH:  AND THEN THE 3RD ONE WAS OCTOBER 30, 2010, FROM 21,000 FEET. AND YOU CAN SEE THE MOUTH, THE NOSE, THE EYES — BUT THIS IS FROM WAY UP HIGH.
Segment 5, October 30, 2011 Google Earth from 10,000 Feet, Interview Audio :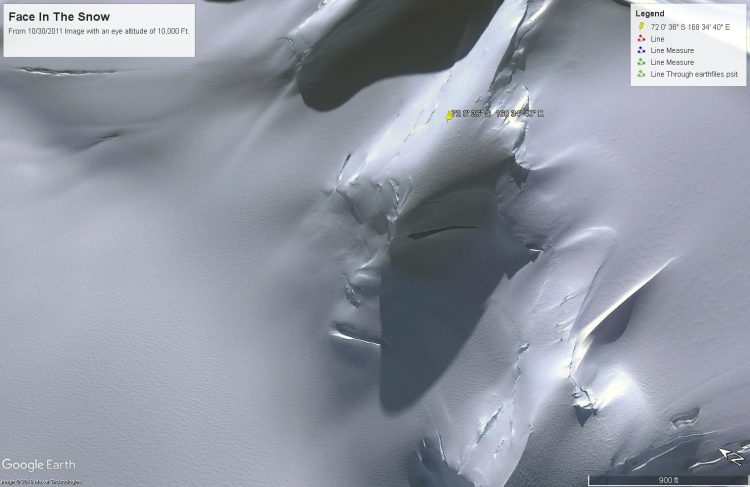 LMH:  THEN NUMBER 4 IS OCTOBER 30TH 2011, FROM 10,000 FEET — THIS ORIENTAL FACE WITH THE SLANTED EYES IN THE SNOW.
Segment 6, September 28, 2012  Google Earth, 3D View,
Interview Audio :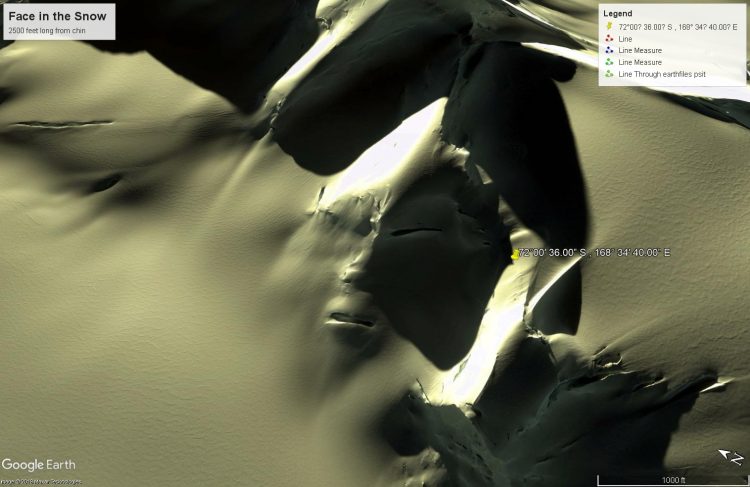 LMH:  NEXT WOULD BE SEPTEMBER 28TH, 2012, THE ONE THAT RECENTLY EMERGED AND IS VERY CLEAR THAT IT IS A HEAD.
Captain Wood: When you see something appear like it appeared in 2012, how do you know that that just wasn't something that was disinformation? That was photoshopped and then put into Google Earth by the request of somebody? Well, we went back and looked at the earlier years and maybe we wouldn't have found anything and that might have led us to the fact that that was a fake photo. But we found things, which means that IS a REAL image in 2012.
Segment 7, September 28, 2012  Google Earth, Color Strips,
Interview Audio :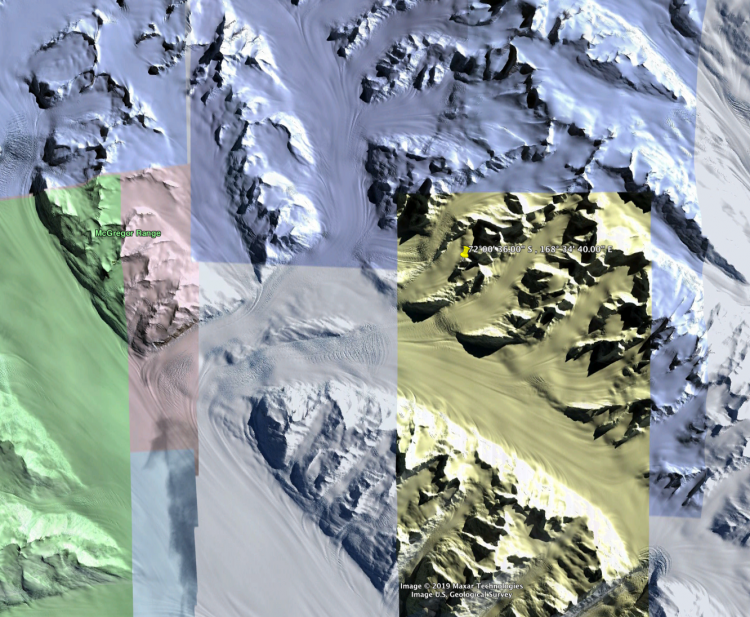 LMH: CAN WE TRUST GOOGLE EARTH? IS GOOGLE EARTH BLURRING IMAGES, CREATING IMAGES UNDER THE ORDER OF SOME GOVERNMENT AGENCY?
Captain Wood: Well, I think the answer to that is yes. They are under contract, they are under non-disclosure agreements, they're under classification agreements and they are in business to make money and they are under contract to do what they are told to do, or to hide what they are told to hide. I have no doubt that Google does what they are told to do.
Segment 8, September 28, 2012  Google Earth, Sumer & Anunnaki,
Interview Audio :
Captain Wood:  The size of this thing is immense – it's 6/10th of a mile. From some of the ancient history that we know about from cuneiform tablets in Sumer (Mesopotamia), their history says that the Anunnaki came here anywhere from 250,000 to 400,000 years ago years ago. Well, maybe they weren't the first. Maybe they were somewhere else on Earth before they went to Sumer.
LMH:  WELL, A LOT OF PEOPLE, INCLUDING ME, WOULD LIKE TO ORGANIZE AN INVESTIGATION AND GO TO ANTARCTICA RIGHT TO THE LATITUDE AND LONGITUDE OF THIS BLACK STONE FACE TO SEE FOR OURSELVES AS THE ANTARCTIC ICE AND SNOW CONTINUE TO MELT FASTER AND FASTER IN GLOBAL WARMING. SO, MARK, CAN AMERICAN CITIZENS GO TO ANTARCTICA TO EXPLORE THIS HUGE, ORIENTAL-ALIEN FACE?
Captain Wood:  Well, there are two answers to the question:
— Can United States citizens go to Antarctica? Yes, they can.
— Can they go anywhere they want to explore? And the answer is that is pretty much no.
In 1982, President Reagan signed a memorandum called the U. S. Antarctic Program and that program controls who goes to Antarctica and what they do when they get there. And it's monitored by the National Science Foundation, which one would think is the correct group of people because it primarily deals with scientific expeditions — whether they are astronomers, biologists, geologists — that through their research, there are programs that have been established. There is transportation provided by the military that can go there for scientific reasons.
If you are a regular citizen and not a scientist that is being funded by the National Science Foundation or some other science research organization, you can apply for an expedition to go to Antarctica. But if you do, you have to provide the plan. You have to be approved. You have to provide all your expenses. You have to provide insurance. You have to assure that everybody is trained in all the safety procedures and survival procedures if something happens. And then you have to agree to reimburse the government — whether it's NSF or the military — if they have to go in and rescue you because you get stuck in the ice or get lost. So you don't have free rein of the continent to go investigate things they don't want you to see."
---
More Information:
05-05-2016 – Update: U. S. Navy Flight Engineer Saw Silver Discs and Entrance to Alleged E. T.and Human Collaboration Base in Antarctica
07-01-2016 – Antarctica Retired Navy Flight Engineer Warned by NSA to Stop Talking About Missing Scientists
---
Websites:
"U.S. Denies 'Spectacular Ruins' in Antarctica Captured On Video," March 18, 2002, Atlantic Mapping Project (AMP) by @lantisTV, news release:
http://www.freerepublic.com/focus/news/665579/posts
"Scientists Believe Hidden Lake May Reside Underneath Antarctica," April 25, 2016, The Weather Channel: https://weather.com/science/environment/news/scientists-discover-antarctica-lake
"Antarctic Lake Vostok Yields 'New Bacterial Life'", March 7, 2013, BBC Science:
http://www.bbc.com/news/science-environment-21709225
Antarctic Development Squadron Six: http://en.wikipedia.org/wiki/VXE-6
Transantarctic Mountains:
http://www.antarcticconnection.com/shopcontent.asp?type=science-transantarctic-mtns
Beardmore Glacier: http://en.wikipedia.org/wiki/Beardmore_Glacier
Davis Station, Australian Antarctic Division: http://en.wikipedia.org/wiki/Davis_Station
Operation Highjump and the UFO Connection:
http://www.bibliotecapleyades.net/antarctica/antartica11.htm

© 1998 - 2020 by Linda Moulton Howe.
All Rights Reserved.