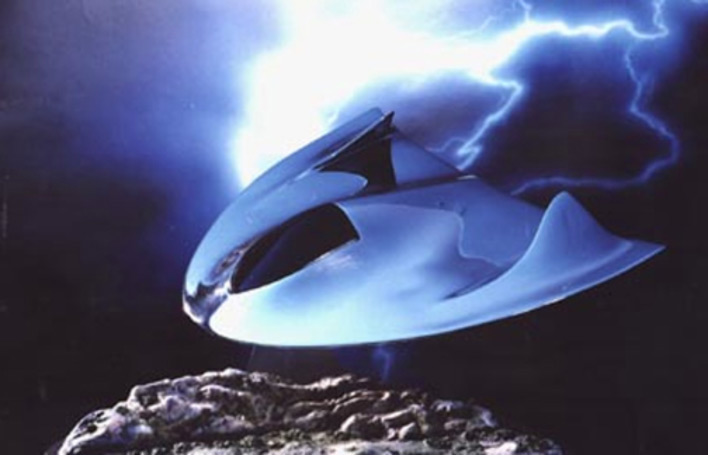 Return to Part 1.
Reposted September 10, 2019 – Updated August 3, 2018  Earthfiles Archive originally posted July 12, 2017  Albuquerque, New Mexico –  Speculation about the metal's possible function included resisting or detecting magnetic fields. Another suggestion came from a man who claimed to have worked on back-engineering technology retrieved from the Soviet Union and Another source during the Cold War in the 1970s. He said metal made out of bismuth and magnesium layers came into a lab at Edwards AFB, California, as an "unknown" and left as an "unknown."
He said later he learned the material might "turn into a lifting body" if placed in a million volt electrostatic field augmented by an unspecified frequency of a "Class C RF signal." He suggested a 7 or 7.5 Megahertz signal be tried.
On the radio, I asked for help to do such RF research. Electrical engineer and physicist Travis Taylor at the Army's Redstone Arsenal in Huntsville, Alabama, volunteered to try the experiment. But first, he asked his superiors and contacts at the Defense Intelligence Agency (DIA) if it was all right to work with me on the Bi/Mg. Taylor told me the DIA officials approved as long as he kept them informed about everything we were doing and learned.
First, I asked Travis if he would do a literature search in scientific and military channels to see if he could find any references to bismuth and magnesium in thin micron layers. After several weeks, he told me:
"I have basically exhausted every resource that I have ever tried to use in the past from about 1940 to now. I have found no reference, even in government research, for bismuth/magnesium layers. This material didn't just make itself. It had to come from somewhere. And that's one of the things about it that excites me — somebody had to build it and no one has reported building it. It's a very high tech piece of material, so if they didn't report it, why did they build it? That's what we do in science. We do some research and then we tell everyone about it. And nobody's told anyone about this material!"

Then he tried 500,000 volts produced by a Van de Graaff generator with a layered Bi/Mg small piece on a plastic insulator. The layered metal at one point moved sideways through the electric field so energetically that it fell off the insulator!
After that, Taylor built a Van de Graaff generator big enough to produce 1.2 million volts. Insulation was a thin piece of paper suspended above the generator. The layered bismuth/magnesium metal and the control were placed on the paper.
To Taylor's  surprise, the Bismuth/Magnesium tended again to move sideways in the electrostatic field while the control did not. When a tunable 1 to 20 Megahertz radio signal was added, the bismuth/magnesium seemed to have a more energetic reaction to back away from the direction from which the radio frequency signal was coming when it was tuned to about 7 Megahertz.
Travis Taylor wondered if there might be a connection to the nuclear magnetic resonance frequency of bismuth, which is about 7 Megahertz, the same as the stimulating radio frequency signal. Nuclear magnetic resonance occurs at the subatomic level under certain conditions when a substance is placed in an external static magnetic field.
I also contacted a California scientist, who knew Travis and was willing to include the Bi/Mg in his company's research for the Department of Defense concerning anti-gravity — as long as I never revealed his or the company's name and location. That scientist working for the Defense Department on anti-gravity technology had already narrowed his interest to two elements most likely to influence gravity:  mercury and bismuth.
But, the Bi/Mg did NOT move in the magnetic fields that were tried. The scientist wondered if the large positive ion emission discovered during the Carnegie test might relate to an ion generation function for an unconventional craft propulsion system.
July 5, 1996 – 5th and Final Letter from Army Sgt.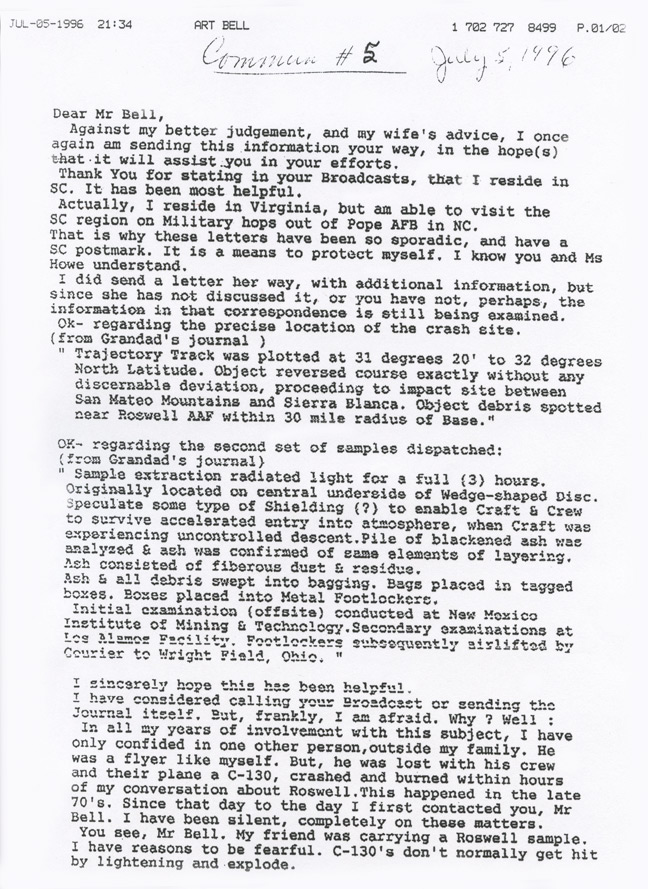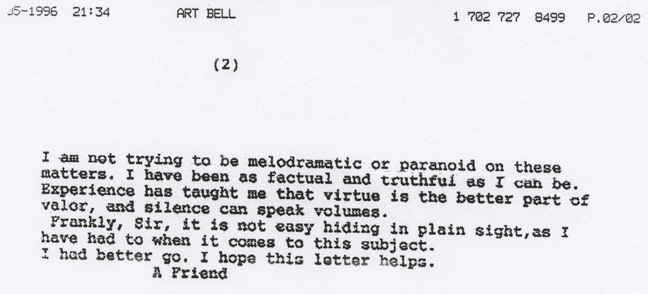 Army Lt. Col. Philip Corso's Understanding of UFO Propulsion
U. S. Army Lt. Col. Philip J. Corso told me he had not heard of layered bismuth and magnesium, but described his understanding of one extraterrestrial spacecraft propulsion this way:
"The craft was able to displace gravity through the propagation of magnetic waves, controlled by shifting the magnetic poles around the craft so as to control, or vector, not a propulsion system, but the repulsion force of like charges."
Whatever the layered bismuth and magnesium/zinc's function might be, it remains a mystery. The information from the South Carolina source could be a controlled government release into public consciousness without the political commitment of official sanction. If government insiders do know about layered Bi/Mg and the extraterrestrial wedge-shaped craft, their silence is consistent with a policy of cover-up since at least the early 1940s.
Military Voices
At least one political representative knows about New Mexico UFOs and our government's strict policy of lies and silence about the alien presence on Earth. He is former New Mexico State Representative Andrew Kissner from Dona Ana County, who told me about his official research into the 1947 Project Paperclip V-2 rocket program of German scientists and the "peculiar phenomenon" of UFO crashes and retrievals in New Mexico.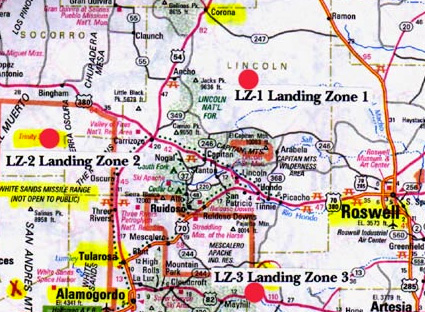 He had off-the-record conversations with military and intelligence operatives from White Sands Missile Range and the Naval Research Lab housed at White Sands. Andy Kissner had assembled many old newspaper articles and some leaked documents he shared with me.
Dona Ana County Rep. Kissner learned from a Naval Research Lab contact at White Sands that in the 1940s to early 1950s, there was an American government policy to shoot down unidentified aerial discs. But the discs retaliated. Many of our pilots died, which forced an end to our "shoot down" policy. Andy Kissner said he learned that President Harry S. Truman ordered a policy of denial in the interest of national security about all UFO crash retrievals — a classified Executive Order that allegedly is still in force to this day.
To underscore the reality of the extraterrestrial presence and government knowledge about it, I would like to share excerpts from a videotaped interview I produced on April 24, 2006, with one of the few military sources in my career who has been willing to talk on the record about files about and photographs of extraterrestrial biological entities.
Continued in Part 6.
Return to Part 1.
Also see:
Earthfiles welcomes other information from viewers. All requests for confidentiality are honored. Please email [email protected].
---
More Information:
For further information about an alien presence interacting with Earth and its advanced UFO/UAP technologies, please see An Alien Harvest and the 2-volume Glimpses of Other Realities in the Earthfiles Shop, plus the many reports in the Earthfiles Archive, of which a few are listed below from the more than 2,500 in-depth reports organized in chronological order from 1999 to 2017 ongoing.
In Earthfiles Archive:
---
Websites:
SOM1-01 Training Manual: "Extraterrestrial Entities and Technology, Recovery and Disposal, TOP SECRET/MAJIC EYES ONLY": https://www.earthfiles.com/news.php?ID=604&category=Real%20X-Files
Majestic 12 Documents: http://www.majesticdocuments.com
American Presidents: http://www.presidentialufo.com

© 1998 - 2020 by Linda Moulton Howe.
All Rights Reserved.