"You look into reality close enough and what you find is that it's not material. It's information based. Information based means it's computed. Computed means there is computer code and if there's computer code, you're going to find error correction!"
– Thomas Campbell, author and applied physicist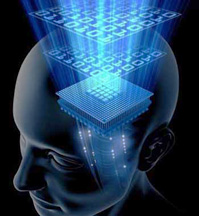 Reposted December 23, 2010 – February 24, 2017 Huntsville, Alabama – Last month in my January 2017 COAST broadcast, I interviewed Phoenix resident Jerry Wills about his 1966 face-to-face contact with a male, blond extraterrestrial humanoid called "Zo."  Zo's home base, he said, was a planet orbiting Tau Ceti about 12 light-years from Earth.
Then in  November 1998, Jerry was at Lake Titicaca, Peru, and his wife saw him disappear into a rock doorway known as Aramu Muru. Jerry reappeared in a flash of light after  being  in what he thought was another universe where an Intelligent Voice showed him a laboratory experiment to create and study a universe. The Voice told Jerry that our cosmos was the result of the Other Dimension's experiment to simulate a universe.
Is our universe a computer simulation? That question keeps coming up in media, science journals and public conferences.  A few months ago at the Recode Code computer conference in Los Angeles, Elon Musk — Owner and CEO of SpaceX and Tesla — was asked about the simulated universe hypothesis. He answered, "The odds we are in base reality is one in billions!" — meaning he thinks the odds are high that we are in a simulated universe.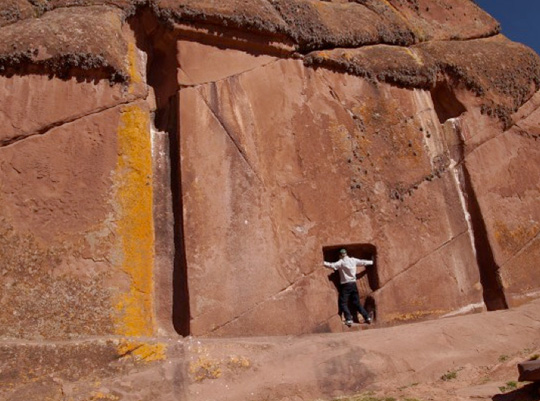 "Is the Universe A Simulation?"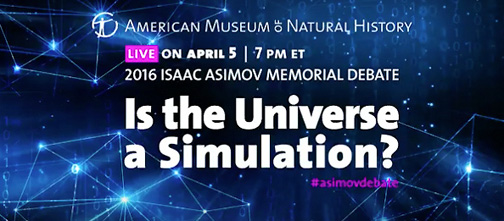 On April 5, 2016, at the American Museum of Natural History in New York City, the sold out 17th Annual Isaac Asimov Memorial Debate took place before a packed audience moderated by astrophysicist Neil deGrasse Tyson. The question before the audience: "Is the universe a simulation?" — meaning computer simulation.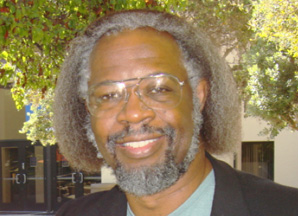 One of the theoretical physicists in the debate was James Gates, Ph.D., Professor of Theoretical Physics, who researches supersymmetry and superstring theory at the University of Maryland, College Park.
Prof. Gates asked:  "How could we discover whether we live inside a Matrix?" He suggests: "Try to detect the presence of codes in the laws that describe physics." When he looked, Dr. Gates was surprised to find in supersymmetry equations what are called "doubly-even self-dual linear binary error-correcting block codes."
More simply, those are codes commonly used to remove errors in computer transmissions to make computer browsers work.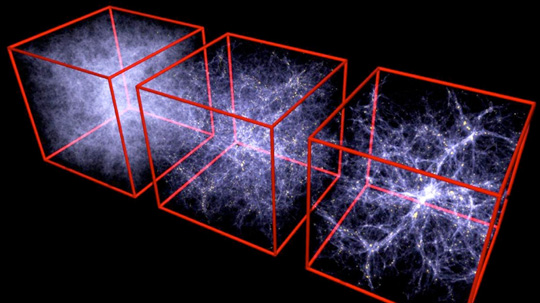 Prof. Gates asked, "Why were those codes in the equations that I was studying about quarks and leptons and supersymmetry? They could even be embedded in the essence of our reality. If this is the case, we might have something in common with The Matrix science-fiction films, which depict a world where everything human beings experience is the product of a virtual-reality-generating computer network."
Physical Review Letters: Is This A Holographic Universe?
Then only three weeks ago at the beginning of February 2017, theoretical physicists published in Physical Review Letters "substantial evidence" that we are living in a holographic universe. Studying our universe's cosmic microwave background left over from the singularity moment when the universe erupted in the Big Bang — the scientists can detect large amounts of what they call "imprints of information" embedded in the white noise or microwaves left over from the moment the universe exploded into this dimension and kept growing.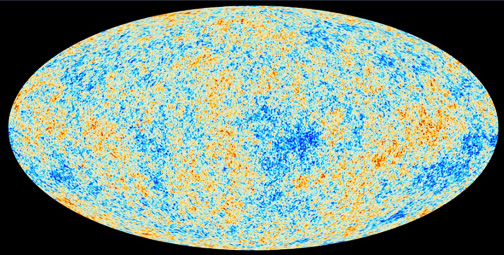 They compare that to the encoding of information in a 2-dimensional surface that projects to a 3-dimensional image, such as the hologram on credit cards. But in the simulation hypothesis, it's our entire universe that is encoded and projected into the 3-dimensional reality that we humans experience with our minds, bodies and souls.
Recently I interviewed one physicist who enthusiastically says, "Yes, we're in a computer simulated universe!" He is Tom Campbell, M. S., now 72 years old, who had a 30-year-career working for U. S. Army Intelligence in Charlottesville, Virginia, beginning in the early 1970s. There at the University of Virginia, he also started a Ph.D. in Experimental Nuclear Physics, but left for the Army intel work before he had completed his Ph.D. Now he calls himself an applied physicist.
Tom also worked for the Strategic Defense Initiative, SDI, during the Reagan Administration in a group called Space and Missile Defense Agency (SMDA) from 1983 to the mid-1990s. Then he did risk analysis for the Aries rocket tests at NASA's Marshall Space Flight Center in Huntsville, Alabama, where he lives today.
After Tom Campbell retired from government assignments, he never stopped working on his conviction that this IS a simulated universe by Something Projecting Information from Another Dimension that caused the original "digital Big Bang."
Tom is a co-author on a new paper to be published in 2017 entitled, "On Testing the Simulation Hypothesis." Tom told me he envisions that our entire universe is simulated by Another Intelligence to be an "Entropy Reduction Trainer for Souls" in which encoded information participates with consciousness.  His ideas began in 1972 when he worked with Robert Monroe on training people to go out of body.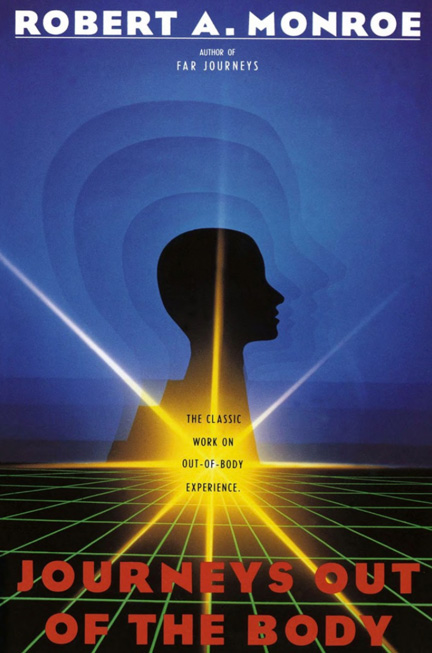 ---
Journeys Out of the Body © 1971 by Robert Monroe.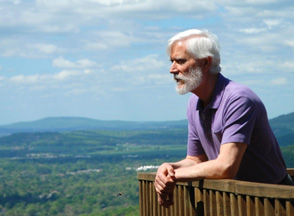 Thomas Campbell, M. S., 73, Applied Physicist and Author of  My Big T.O.E. — Theory of Everything © 2003, Huntsville, Alabama: "In  about 1972, I met up with Bob Monroe. And Bob Monroe is the fellow who wrote Journeys Out of the Body and Ultimate Journey.
He had a farm called Whistlefield Farm and on that farm he built a laboratory for the study of consciousness that was like, 'Build it and they will come!' He built it and myself and another friend of mine, who was an electrical engineer —  we ran into Bob and Bob was looking for some scientists to study consciousness and we volunteered with the idea that he would teach us what he knew about out of body and that sort of thing and we would be his free scientists, who would make sure we had good protocols and did research.
So my interaction with Bob from that time on, which was around 1972 for the next six years, was about 20 hours a week. We'd go out every evening after work from 6:30  to 7 PM in the evening all the way to 2 o'clock in the morning, we would stay with Bob in the lab and then we'd come out on weekends. A lot of time with Bob and he did teach  myself and Dennis Mennerick was the E.E. (electrical engineer) who went with me. He (Bob) taught us about out of body and how to go and  how to get there whenever we wanted to and get there easily. So, we started doing research about how does it work?
Now, I'm a physicist, so what I do is model reality. That's what physics is all about. So my mission was to find out: what is it? What are the limitations?
And we did mostly evidential things at first because both Dennis and I were like: 'Convince us!'  (laughs)  We're not going to believe it until it's our own experience.  So he (Bob) had to have us do a lot of evidential things — remote viewing, healing, going places — what's the number I  just wrote on the blackboard while we're in another room in a booth. Dennis and I went on a couple of out of body adventures together where he (Bob) had us where we couldn't hear each other — we were in an electromagnetically and acoustically isolated booth. He (Bob) was talking to both of us independently and there we were having conversations with each other, answering each other's questions on the tapes. So, we just did a lot of stuff so that's where my background on consciousness studies comes from.
Error-Correcting Codes in Supersymmetry Equations
It's really mathematics!  It's computer code that's computing our reality. So, we've got all kinds of experiments that show the same thing as Prof. Gates did. You look into reality close enough and what you find is that it's not material. It's information based. Information based means it's computed. Computed means there is computer code and if there's computer code, you're going to find error correction!
HOW DOES JIM GATES'S ERROR-CORRECTING CODES EMBEDDED WITHIN THE EQUATIONS OF SUPERSYMMETRY THAT DESCRIBE FUNDAMENTAL PARTICLES. FROM A PHYSICIST'S POINT OF VIEW,  HOW UNUSUAL IS IT TO FIND THESE ERROR-CORRECTING CODES IN THE EQUATIONS OF SUPERSTRING SYMMETRY AND WHAT DOES THAT MEAN TO YOU?
Yeah, well what he has done is that he has taken string theory and in order to model our reality, they have to use equations to do that. And then in those equations, lo and behold, there looks like computer code!
The information system wants to evolve by lowering its entropy. And it does that by organization.
THE KEY  TO THIS IS THAT THE PROJECTOR OF THE VIRTUAL REALITY HAS TO BE IN ANOTHER DIMENSION. PROF. GUTH AT HARVARD IS TALKING ABOUT THEIR BEING AN INFINITE NUMBER OF UNIVERSES. OTHERS THINK THAT UNIVERSES MIGHT EVEN BE SOMEHOW EMBEDDED WITHIN EACH OTHER IN SOME WAY.
IF THE PROJECTOR OF THE VIRTUAL REALITY IS IN ANOTHER DIMENSION AND THE PROJECTION THEN INVOLVES HOLOGRAPHIC PROJECTION, THAT WOULD EXPLAIN WHY THERE  IS A MERGER OF TWO CONCEPTS:  THE  HOLOGRAPHIC UNIVERSE AND THE SIMULATED COMPUTER UNIVERSE BECAUSE WHAT IS BEING PROJECTED IS HOLOGRAPHIC FROM THE MACRO DOWN TO THE MICRO?
The holographic universe is a nice metaphor, but there's no need for holography to get involved in it at all. The simulated universe doesn't need holography to make any connections. It simply computes a data stream. The data stream is sent to a player. The player interprets that data stream as the virtual reality. Everything takes place in consciousness. Consciousness is the computer. Consciousness is the player. That's what's going on. The whole game is played consciousness.
The Matrix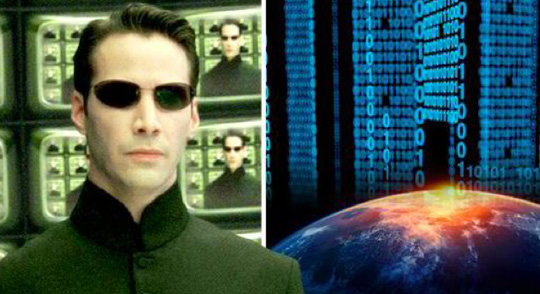 The Matrix movie didn't need any holography either. That's just an additional complication that's unnecessary to get to the answer. Although it is a popular metaphor partly because in a hologram every piece of it has the information of the whole. But that's also true in fractals.
Holographic v. Fractal Simulations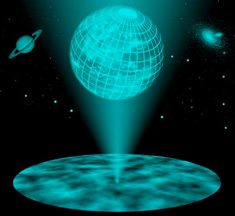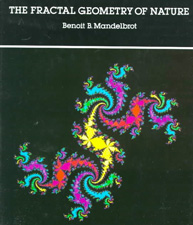 Left: Illustration of our 3-D universe projected from a 2-D Other Dimension.
Right: Mathematician Benoit Mandelbrot's classic 1982 book, The Fractal Geometry of Nature, in which he showed how visual complexity can be created from simple rules, including his first computer generation of the Mandelbrot set in 1979. The Mandelbrot set below shows the black Mandelbrot outlined by a myriad of Julia sets that resemble the spiral patterns so frequently found in Nature from sea shells to ferns further below.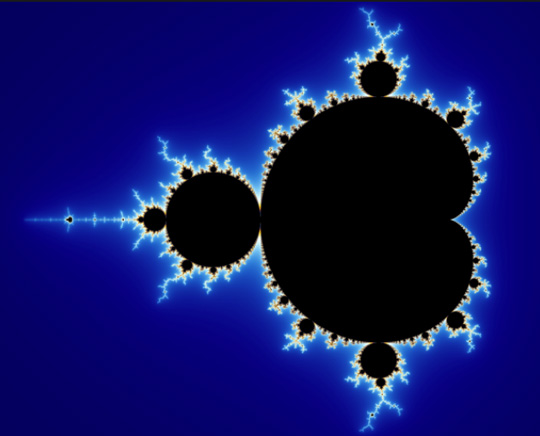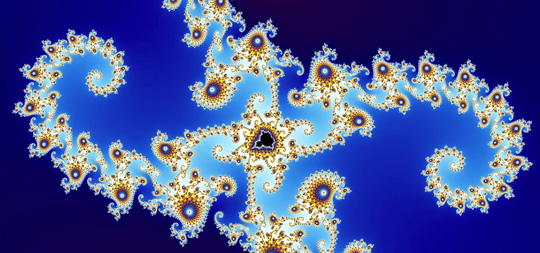 Every piece of fractals has all the information of the whole. In this system of information, a fractal pattern is a pattern of information. That's why a computer can compute fractals. Because it's just information. And the fractal has that same attribute of all the information, part of the whole, so you end up with a process fractal that creates everything.
Bodies and Souls in Virtual Realities Recycle in Reincarnation
And there are also places like the places you get to in out of body that have very loose rule sets as opposed to physical universes which tend to have more complicated rule sets, more detailed, tighter rule sets. So it's all just virtual realities. When your avatar dies, the consciousness doesn't die. You know, just like when your elf dies, the player doesn't die. So the consciousness doesn't die. The consciousness goes on and gets back in the game again.
When it does that, that consciousness ends up in a different virtual reality than this virtual reality. That's a transition virtual reality. Dreaming is another virtual reality that we experience. The dream reality isn't any less real than this physical reality. It's just different. It's a different virtual reality, different rule set, different data stream.
And one of the neat things about it is that once you understand how consciousness works, then you can turn around and derive quantum mechanics and relativity from the ground up. And the amazing thing is that when you do that, quantum mechanics and relativity now get along with each other rather than being opposed to each other, and quantum mechanics is no longer a weird science. It's just a logical science. You can look at a quantum mechanical problem and just look at the logic of it and say what the answer is. You don't need to do a lot of math. It's a perfectly understandable thing.
Who? What? Is the Programmer If Our Universe Is Simulated?
I do lectures, and I talk about the science, I talk about the physics, but then I usually spend as much time talking about what does it matter the individual, you know? Why should you care? People sitting in the audience, why is this important to you? And it's very important to everything about their life. Their choices, their relationships. It matters to all of that. So it's not just physics. It's much bigger than that.
And the neat thing I've found is that once you understand consciousness, you can derive physics. You see, the causality runs the other way. It doesn't run from the physical world to the brain and then the brain somehow creates consciousness. That's wrong. It doesn't run that way. Causality runs from consciousness to the virtual reality, to the rule set, which orders this virtual reality. So once you understand consciousness, you can take that same understanding and come up with a logical quantum mechanics that isn't weird science.
WHAT WILL THE CONSEQUENCES BE IF YOU WITH YOUR COLLEAGUES IN THIS NEW PAPER ON TESTING THE SIMULATION HYPOTHESIS END UP WITH A CONFIRMATION THAT WE ARE IN A COMPUTER SIMULATED UNIVERSE? WHAT ARE THE CONSEQUENCES FOR PHYSICS, SPACE TRAVEL, US, ANY PRACTICAL CONSEQUENCES?
Yes. There's some huge consequences. I mean, there's always consequences to science, but that's not the major consequence. Science will change from the ground up. It will have to get rid of its beliefs in a material reality and will have to see this in terms of information. And that will make a huge difference. But that step brings into question, well, if this is a simulation, who's in charge?
RIGHT.
Who's the programmer? Where's it simulated from? So suddenly questions about this being not the reality, but a subset of something bigger, and what is this bigger thing? You see, it brings up all of those metaphysical questions.
Suddenly the questions have scientific rigor because scientific rigor says if this is a virtual reality then it cannot be computed from inside this virtual reality.
It has to be computed from other elsewhere, from another reality frame. And so consciousness must be in another reality frame. The second step is that they realize that consciousness is the computer.
If you take those two steps, once you realize that consciousness is the computer, it's just a logical inference to come out with love is the answer.
Is Our Universe An "Entropy Reduction Trainer for Souls?"
That's why we're here. This is a virtual reality. OK? It's a trainer just like a flight trainer. This is an entropy reduction trainer (for souls). And suddenly, if love is the answer, cooperation, caring about others, is the way you evolve.
And the self-centered fear thing — fear is the way you devolve — that will make a huge difference not just for the scientists, but for everybody walking around on the planet. And then you realize that because this is a trainer — you know how trainers are?
If you get it right and you do the right thing in a trainer, you get rewards. You know, if you don't crash your airplane in a flight trainer, you get to continue to fly it. So people will realize that as they work in the direction that they're meant to work in, what our goal is, what our challenge is and our mission is, everything starts to work out. Instead of a constant struggle, you find that life is good. You find happiness. You find satisfaction. All of the good stuff starts to fall at your feet once you start collaborating with the system and growing up and getting rid of the fear and becoming love. So it has the potential to change everything at a very fundamental level."
Continued in Part 2: In A Simulated Universe, Why Avatars and Reincarnation?
---
More Information:
 3-Volume My Big T.O.E. — Theory of Everything © 2003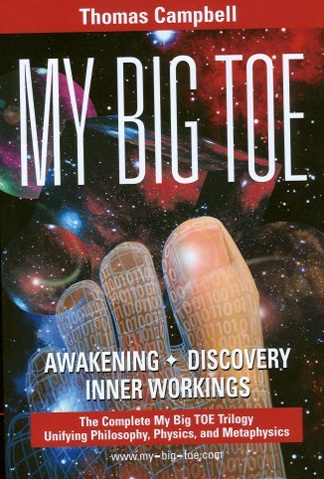 For further information about other dimensions, parallel universes and the cosmic singularity, please see reports in the Earthfiles Archive organized in chronological order from 1999 to 2016 ongoing of which a few are listed here.
12/21/2016 —Part 1: Is Our Universe "Someone Else's" Computer Simulation?
10/13/2016 —What Happens to Human Minds and Souls When E.T.s Show Up?
10/13/2016 —Part 2: What Happens to Human Minds and Souls When E.T.s Show Up?
09/30/2016 —Part 2: Self-Activating Intelligence of Dragonfly and James Webb Telescopes
09/30/2016 —High Strangeness Encounter in Cedar Rapids, Iowa
08/18/2016 —Part 1: Earthfiles Special Report with U. K. Electrical Engineer Winston Keech on PHENOMENON Radio
05/28/2016 —UAPs and Alien "Gods"
01/29/2016 —Pt. 3 UFO/E.T. Experiencers Say Consciousness Is Key to UFO Technology with Grant Cameron
12/28/2015 —Part 3: Viewer Letters about Praying Mantis Beings
12/28/2015 —Part 3: Viewer Letters about Praying Mantis Beings
08/03/2015 —Part 18: Maze of Deception – Epilogue: Abductees Speak
04/13/2015 —Part 2: Maze of Deception
04/09/2015 —Part 1: Maze of Deception
07/01/2014 —Peruvian Interacts with Small, Grey Being
03/25/2014 —Part 7: Hall of Mirrors with A Quicksand Floor
03/19/2014 — Part 6: Hall of Mirrors with A Quicksand Floor
03/10/2014 —Part 3: Hall of Mirrors with A Quicksand Floor
09/28/2012 —How Many People Have Had Encounters with "Angelic Light" About "Something Big Coming"?
01/29/2012 —Part 4: Tall, Cat-Eyed Beings in Pennsylvania Turnpike Abduction
11/06/2011 —Emails from A Time Traveler?
03/10/2011 —Part 9: Private Detective's Encounters with Non-Humans
08/20/2010 —Part 4: 1980 Bentwaters Lights – Were They Time Travelers?
08/20/2010 —Part 6: Is Time Travel Past and Future Possible?
08/27/2009 —Part 4: 1980 Bentwaters Lights – Were They Time Travelers?
08/27/2009 —Part 6: Is Time Travel Past and Future Possible?
06/17/2009 —Updated Part 1: Non-Human Entities (NHEs): One View from Alleged Government Insiders
05/05/2009 —Part 7: High Strangeness Files about EBENs
10/18/2007 — A Quantum Math Description of Parallel Universes
04/12/2007 —First 2007 Crop Pattern in United States
01/06/2006 —Einstein's "Spooky Action At A Distance"
12/02/2005 —Abduction by Grey ETs in Huge, Black Triangle
04/15/2001 —The Ekpyrotic Universe – A Collision Before the Big Bang?
04/24/2000 —A Black Hole in the Big Dipper?
01/28/2000 —Black Hole Mystery at the Center of the Andromeda Galaxy
---
Websites:
Thomas Campbell, M. S., My Big T.O.E. (Theory of Everything) Website:
https://www.my-big-toe.com
"Is the Universe A Simulation? Scientists Debate," April 12, 2016, Space.com:
http://www.space.com/32543-universe-a-simulation-asimov-debate.html
Planck Mission, Cosmic Microwave Background: http://planck.cf.ac.uk/science/cmb
"Fractals in Nature," by Chris Byrd: https://web.cs.wpi.edu/~matt/courses/cs563/talks/cbyrd/pres1.html
"New Quantum Theory Is Out of This Parallel World," October 27, 2014, Griffith University, U. K.: https://app.griffith.edu.au/news/2014/10/27/new-quantum-theory-is-out-of-this-parallel-world/
"Quantum Phenomena Modeled by Interactions Between Many Classical Worlds," October 23, 2014, Physical Review X: https://journals.aps.org/prx/abstract/10.1103/PhysRevX.4.041013
"There ARE Parallel Universes: Physicist State Multiverses Are Interacting," Nov. 26, 2016, Express.co.uk: http://www.express.co.uk/news/science/736841/parallel-universes-multiverse-theory-physics-quantum-mechanics
"4 Weird 'Clues' That Parallel Universes Exist," May 24, 2013, Stranger Dimensions: http://www.strangerdimensions.com/2013/05/24/4-weird-clues-that-parallel-universes-exist/
IBM Rule Set Definitions: https://www.ibm.com/support/knowledgecenter
/SSZJPZ_8.7.0/com.ibm.swg.im.iis.ia.quality.doc
/topics/dq_ruleset_vs_definitions.html

© 1998 - 2023 by Linda Moulton Howe.
All Rights Reserved.