"Space-time — it's the Planck constant times frequency equals mass times the speed of light squared. Think about how the universe is Planck pixels, the frequency of which things are vibrating on those pixels, and at the very quantum, fundamental level, all of that would describe what people consider their souls."
– Jason Padgett, co-author Struck by Genius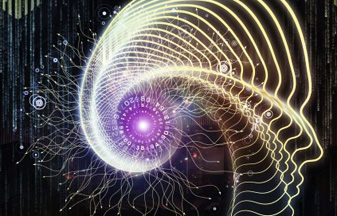 Return to Part 1.
Reposted December 29, 2019 – February 24, 2017 Federal Way, Washington – There was a best-selling book entitled "The Holographic Universe" that was first released in hard cover by HarperCollins in 1991.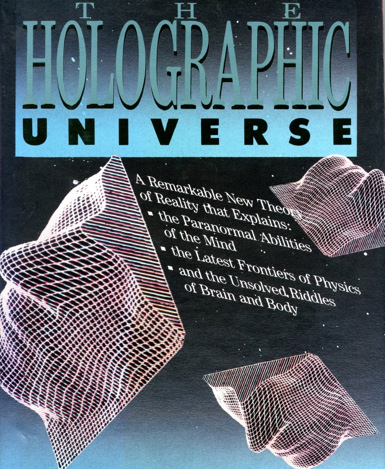 Around the same time, I spoke at a Mid-West conference, along with human abduction researcher Budd Hopkins. The new book by a young man only 38 years old and its mind-blowing hypothesis that our universe was being projected by Something Else — maybe from another dimension — was the topic of many discussions at the conference.  A holographic universe is one where all the information that makes up our 3-dimensional "reality" plus time is actually contained in a 2-dimensional surface that is projecting what we conscious creatures see and move through as 3-dimensional space/time.
After the conference, Budd and I had the same airline flight back East to New York and Philadelphia, where I lived at the time. Budd and I sat next to each other to talk about some new abduction cases and he surprised me when said:
"I'll tell you something confidentially. Michael Talbot has been one of my UFO abduction cases. But he doesn't want anyone to know that because he's afraid if people knew the truth, they might not read his book.  And Michael told me the truth is that the entire holographic universe concept that he has written about was given to him in a telepathic download by the  extraterrestrials who have been abducting him."
Sadly, Michael Talbot died a year later at age 39 from lymphocytic leukemia. Then Budd Hopkins died in 2011. Now in 2017, Michael Talbot would find reinforcement in the recent comments by Prof. Kostas Skenderis of Mathematical Sciences at the University of Southampton, England, who says:
"Holography is a huge leap forward in the way we think about the structure and creation of the universe. Einstein's theory of general relativity explains almost everything large scale in the universe very well, but starts to unravel when examining its origins and mechanisms at quantum levels. Scientists have been working for decades to combine Einstein's theory of gravity and quantum theory. Some believe the concept of a holographic universe has the potential to reconcile the two. Imagine that everything you see, feel and hear in three dimensions — plus your perception of time — in fact emanates from a flat 2-dimensional field. The idea is similar to that of ordinary  holograms where a 3-dimensional image is encoded in a 2-dimensional surface, such as in the hologram on a credit card. However, this time, it's the entire universe that is encoded!"
Jason Padgett also thinks we're in a 3-D holographic universe where the key to everything is frequency — from the vibrating vacuum to fractal geometries. Many universes and dimensions could exist simultaneously like notes in a chord of music where each note is a specific, separate frequency, but the chord is a combination of all the frequencies. Each frequency could be other dimensions and could even relate to what has been described by some people in the human abduction syndrome as "the machinery of the universe" — the recycling of souls in and out of various dimensions — where each dimension is a different frequency.
---
Interview: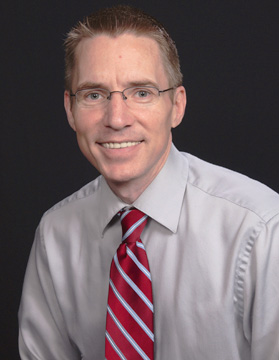 Jason Padgett, 46, co-author with Maureen Seaberg
© 2014 Struck By Genius: How A Brain Injury Made
Me A Mathematical Marvel, Federal Way, WA.
Jason Padgett, 46, co-author with Maureen Seaberg © 2014 Struck By Genius: How A Brain Injury Made Me A Mathematical Marvel, Federal Way, Washington:

"WE CAN GO BACK TO THE BEGINNING OF BIBLICAL LITERATURE AND THAT SENTENCE, 'In the beginning was the Word,' WITH A CAPITAL W, WHICH MEANS FREQUENCY.
Yeah. Space-time. It's the Planck constant times frequency equals mass times the speed of light squared. Think about how the universe is Planck pixels, the frequency of which things are vibrating on those pixels, and at the very quantum, fundamental level, all of that would describe what people consider their souls. How do you vibrate on these pixels of space-time? And the information encoded on you from the experiences that you have?
WHAT IS YOUR OWN PERSONAL PERSPECTIVE ON OTHER INTELLIGENCES, LIFEFORMS, EXISTING IN THIS 13.8 BILLION LIGHT YEAR UNIVERSE?
Twenty years ago if people said, 'Oh, life is in outer space,' they were considered fringe. Now I've noticed that almost all physicists and scientists I talk to say yeah, they believe there's life all throughout the universe.
Drake Equation

And there's this thing called the Drake equation, which is a very well thought out equation where it's how many planets are there?
[ Editor's Note: The 1961 equation written by Cornell Prof. of Astronomy Frank Drake, Ph.D., was assumed the number of extraterrestrial civilization sin the Milky Way galaxy was equal to the mathematical product of: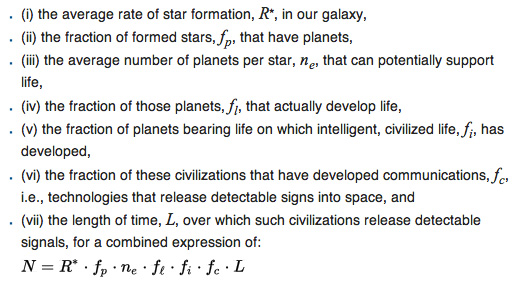 You know, now we're finding that stars have planets around them all over the place. And now we're finding stars that have planets in the habitable zone. But now we're also finding life that can live in lava, in the void of space, places that we didn't think life could live. And so if you take this Drake equation—how many planets there are, what you need for life, what planets are close enough to their star to be just like Earth—and if we put it in the most pessimistic numbers into the Drake equation, it shows that there should be 10-20 galactic civilizations per galaxy. And we've discovered between 200 billion and 500 billion galaxies. We're talking about a couple trillion galactic civilizations in our universe.
JASON, MANY PEOPLE THAT I HAVE INTERVIEWED IN THE HUMAN ABDUCTION SYNDROME, WHICH IS A TRUE PHENOMENA, THEY DESCRIBE BEING INTRODUCED, AT LEAST TELEPATHICALLY, TO SOME SORT OF BEINGS OR ENTITIES THAT TRY TO COMMUNICATE THAT THE WAY THEY TRAVEL IS BY BENDING SPACE AND TIME POINT TO POINT.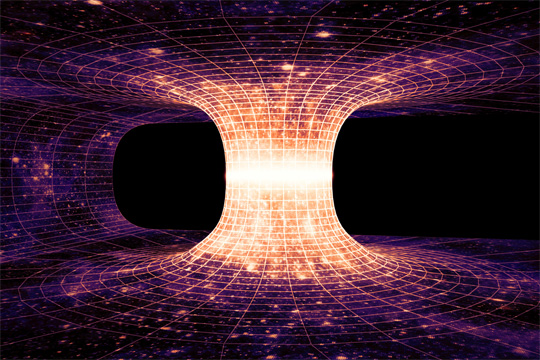 Right. We know that space—like we know that nothing can move faster than the speed of light, but we do know that there are galaxies moving away from us faster than the speed of light because the empty space between the galaxies is expanding faster than the speed of light.
So if we could compress space to where something that's 100 light years, we compressed the empty space between us so that it's only a foot away, and then we step across that and then let space re-expand, then we could circumvent the speed of light.
So in other words, when I walk across that foot, I'm still moving very slowly, but because space is compressed and then uncompressed, nothing with mass is moving faster than the speed of light. Only empty space is expanding. So if there's going to be a way to circumvent the speed of light, it is going to be with warping space, compressing space and expanding space.
WHICH WOULD COMPRESS AND EXPAND TIME SIMULTANEOUSLY.
Exactly. You would have time dilation, and that's what happens in a black hole. As you get close there, time changes dramatically as you enter that event horizon because of the distortions of space-time.
Time Manipulation By Advanced Intelligences?
THAT COULD EXPLAIN THE CONCEPT THAT AROSE IN THE HUMAN ABDUCTION SYNDROME CALLED "MISSING TIME" WHERE SOMEBODY IS REMEMBERING THAT THEY WERE IN A CAR AND THAT THEY LOOKED AT THEIR CLOCK OR THEIR SPEEDOMETER AND THEN THERE WAS A BLUR, AND OUT OF THAT BLUR, UNDER HYPNOSIS, THEY DISCOVER THEY WERE GONE FOR THREE OR FOUR HOURS. THAT'S THE MISSING TIME. AND THEN THEY WERE REINSERTED BACK INTO THE TIMELINE HERE WHILE BEINGS HAD THEM FOR HOURS OR DAYS, AND YET THEY WERE ABLE TO BE REINSERTED BACK INTO LIFE HERE ON EARTH.
I think there's life everywhere. I think there's a decent chance that we're going to find microbes on Europa or perhaps Titan. Somewhere on a moon in our solar system, I think there's going to be at least microbes.
IF WE ARE LIVING IN SOME OTHER ADVANCED INTELLIGENCE'S SIMULATED UNIVERSE BECAUSE THEY WANTED TO STUDY THE EVOLUTION OF UNIVERSES AND THE APPEARANCE OF LIFE, IS THERE SOME WAY FOR US IN THIS UNIVERSE AND THIS TIME, SPACE, MATTER COMPLEX TO TRY TO MEET THAT WHICH IS CREATING IN A LAB, PERHAPS, THIS UNIVERSE?
Yeah. I would think that if I was in a lab and I was creating the universe, I would like to see that universe get smarter and the beings within it get more intelligent. And I would like to think there would be a way that they would have programmed or that they know could come about that it could communicate with you and finally tell you. Like if we're trying to create an artificially intelligent computer, that computer could say, 'Hey. I am self-aware.'
So I could imagine that if that is the case, if we are in a simulation, would there be the ability at some point for us somehow to communicate (to the Simulators)? But I don't know how or when. Things are changing so rapidly, especially when it comes to computers and artificial intelligence. The singularity is only a few years away when computers are as smart as people. And then things are going to start evolving exponentially. Computers are going to evolve in a decade as we did in a hundred million years.
Do Androids and Cyborgs Dominate
Space Travel in This Universe?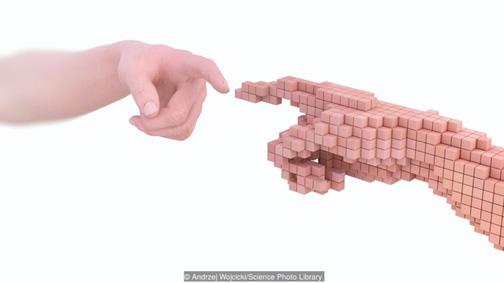 IN FACT, THERE HAVE BEEN SOME SCIENTISTS WHO HAVE SAID WHEN AND IF WE ARE CONSCIOUSLY INTERACTING WITH AND MEETING OTHER INTELLIGENT LIFE IN THE UNIVERSE, THERE IS A STRONG LIKELIHOOD THAT THAT WHICH WE MEET FIRST WOULD BE ANDROID OR COMPUTER AND NOT THE PRIME INTELLIGENCE THAT MADE THE ROBOTS AND ANDROIDS THAT WOULD BE MOVING THROUGH THIS UNIVERSE.
They would be the easiest things to move throughout the universe. They wouldn't be constrained as much by time as we are, so—and I've often wondered, is biological life, intelligent, biological life, the natural evolution for computer life. In other words, biology starts because of the natural processes of the Earth, eventually we make computers that are artificially intelligent, but they advance so much faster than us that we quickly become out of date.
BECAUSE THE ROBOTIC, INORGANIC LIFE IS WHAT COULD EXPLORE THE UNIVERSE WITHOUT NEEDING ALL OF THE FOOD AND THE WATER AND CERTAIN TEMPERATURES.
Right. Yeah. Maybe it's a blend of both that becomes the norm. I have a feeling right now we're heading towards the blend. I'm already a blend. I've got an artificial disk. My head rotates on a titanium, artificial joint. So, you know, technically I'm part mechanical now. They're developing implants for the brain, just amazing things that are coming in the near future that will be cyborgs. People will be able to download stuff into a memory chip that is in your brain.
AND THAT THE PRINTER TECHNOLOGY THAT IS MAKING ORGANS, ELON MUSK WANTS TO HAVE ONE OF THESE PRINTERS GO WITH HIM TO MARS BY 2025 OR 2026 SO THAT THEY WOULD HAVE SOMETHING THAT WAS COMPAC, BUT WOULD BE ABLE TO REPLENISH ORGANS AND HELP THEM MEDICALLY.
Yes. They just put a biological printer on the International Space Station. SpaceX flew up July 18th of last year, and they control it from their iPhone here on Earth so they can print these samples in space to see how it varies trying to print these things near zero gravity.
Making Holograms, Fractals
and Math Exciting to Students
AS WE SPEAK IN JANUARY OF 2017, WHAT ARE YOU GOING TO DO FROM HERE GOING FORWARD IN TERMS OF THE FOCUS OF YOUR GENIUS ON PROJECTS THAT YOU ARE MOST INTERESTED IN TRYING TO SOLVE OR SHARE WITH THE HUMAN FAMILY?
Before 2002, I knew nothing except for like adding, subtracting, multiplying, or that type of thing. And that's where the majority of the world is. I hated math and thought it was boring and it didn't apply to anything.
But because of what happened to me (beat up), I am now infatuated with it. And I've been on both sides now. I've seen the traditional math side, which is amazing, and I've seen the other side where it seems like it's impossible to learn. The way that I learned it, like I figured integrals out myself and derivatives and fractals before I took the classes.
When I figured out Pi, I was in my house just dancing and fist pumping in the air because it has such incredibly far-reaching implications when you understand it.
[ Editor's Note: Pi is the ratio of a circle's circumference (distance around circle) to its diameter and is an irrational number of 3.14 on to infinity, never ending. The New Yorker on March 13, 2015, further described the importance of Pi:
"Pi is inescapable because cycles are the temporal cousins of circles; they are to time as circles are to space. Pi is at the heart of both.
For this reason, Pi is intimately associated with waves, from the ebb and flow of the ocean's tides to the electromagnetic waves that let us communicate wirelessly. At a deeper level, Pi appears in both the statement of Heisenberg's uncertainty principle and the Schrödinger wave equation, which capture the fundamental behavior of atoms and subatomic particles. In short, Pi is woven into our descriptions of the innermost workings of the universe."]
And so that excitement kind of spreads when I talk to people. Because if you can take somebody like me and make me excited about math, then I want to spread that to that 95 percent of the people who think that math is useless. If I can get just one percent or two percent of those people that would not normally go into math to go into math, I know we're missing Einsteins every year. We're missing Stephen Hawkings. Kids that could be brilliant at this, but they don't go into it.
I found a lot of times when I meet a good mathematician or physicist, a lot of times they're good at crunching the numbers, and they're good at equations. And a lot of times when I meet the most imaginative people, the people who think outside the box, it's artists and people who do sculptures, you know, that type of personality. And a lot of times those people are turned off by math just because of the way it's taught.
But if they look at it like I look at it where it's math, but it's also got this beautiful artistic quality to it, then they'll see how what they're doing really is math and how it can be exciting. And so I want to get more people to go into math and science and to get interested in it because that'll make real changes in the planet. Breakthroughs they will make that will impact the world.
AND THAT FRACTALS ARE THE BUILDING BLOCK OF THIS UNIVERSE.
Absolutely. (I think) the universe, space-time itself, is a fractal."
Return to Part 1.
---
More Information: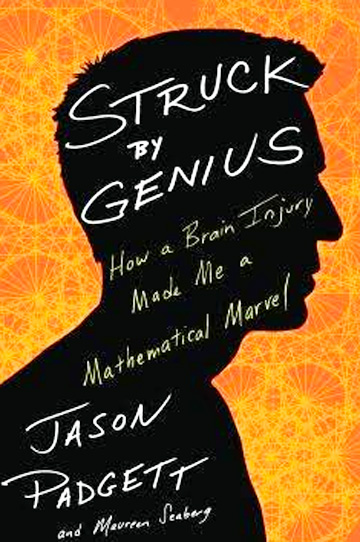 For further information about the holographic universe concept, please see reports in the Earthfiles Archive organized in chronological order from 1999 to 2016 ongoing of which a few are listed here.
01/29/2016 —Pt. 3 UFO/E.T. Experiencers Say Consciousness Is Key to UFO Technology with Grant Cameron
06/16/2011 —Final Part 12: Private Detective's Encounters with Non-Humans
08/23/2010 —Mysterious 3D Wheat Grid and Aerial Light in Wiltshire, U. K.
06/01/2009 —Part 10: High Strangeness Files about EBENs
05/26/2009 —Part 9: High Strangeness Files about EBENs
04/22/2009 —Part 5: High Strangeness Files about EBENs
04/14/2009 —Part 4: High Strangeness Files about EBENs
01/25/2008 —Could Our Universe Be A Virtual Reality Processed By Other Intelligence?
02/27/2007 —Part 1: Mysterious Events At 2005 Tawsmead Copse "Insectogram" Crop Formation
---
Websites:
Jason Padgett's Hand Drawn Fractals: http://fineartamerica.com/artists/jason+padgett
Fractals: https://en.wikipedia.org/wiki/Fractal
Fractal Foundation: http://fractalfoundation.org/resources/what-are-fractals/
Holographic Principle: https://en.wikipedia.org/wiki/Holographic_principle
Synesthesia: https://en.wikipedia.org/wiki/Synesthesia
Self-similarity Video of Koch Curve Fractal:
https://en.wikipedia.org/wiki/Self-similarity
"How A Holographic Universe Emerged from Fight with Stephen Hawking," August 1, 2011, Ars Technica: https://www.wired.com/2011/08/hawking-holographic-universe/
Fractal Holographic Nature of the Cosmos: http://www.cosmometry.net/fractal-holographic-synergetic-universe

© 1998 - 2020 by Linda Moulton Howe.
All Rights Reserved.