"It doesn't seem like the universe cares so much about fairness
as it does care that all things that can happen — do."
– Jason Padgett, co-author Struck by Genius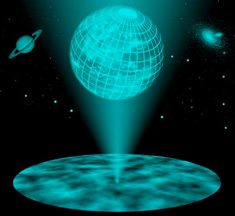 Reposted December 27, 2019 – February 24, 2017 Federal Way, Washington – Even though Thomas Campbell seems convinced that our universe, if simulated, is not holographic but purely information based, perhaps built from 3-dimensional fractal geometries, there are increasingly credible science papers and books about the simulation of our universe as a 3-dimensional hologram.
Only a month ago on January 30th, 2017, theoretical physicists and astrophysicists from the University of Southampton in the U. K. — the University of Waterloo in Canada — and the University of Salento in Italy — published in the Physical Review Letters  "substantial evidence" that we're living in a holographic universe.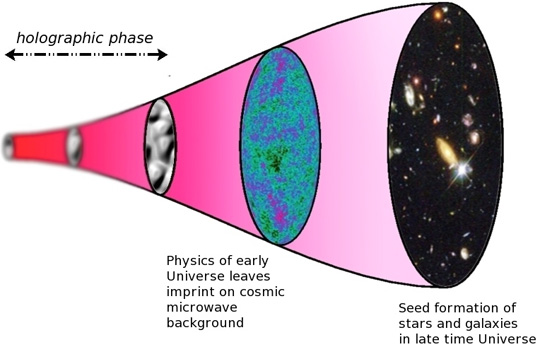 Studying our universe's cosmic microwave background left over from the singularity moment when the universe erupted in the Big Bang — the scientists can detect large amounts of data embedded in the white noise or microwaves left over from the moment the universe exploded into this dimension and kept growing. They found that some of the simplest quantum field theories can explain nearly all cosmological observations of our early universe.
So in their new paper, they conclude that about 375,000 years after the universe's geometric phase in the third oval of this illustration, they begin to see what they call "imprints of information" about the very early universe. The scientists hypothesize that's when the development of star and galaxy structure began to evolve up to what we call the Current Time on the far right of their illustration.
Struck By Genius
One young man born in 1970 became convinced our universe is a 3-D holographic simulation after he was viciously attacked and beaten up on December 13, 2002, in the parking lot of a karaoke club in the Tacoma, Washington, region. At the time, 32-years-old Jason Dwain Padgett had no interest in math, had never heard of fractals or simulated 3-D universes or Planck's constants. He simply worked helping his dad run a futon mattress and sofa store.
But in the hospital after the attack with his skull and brain damaged, Jason Padgett began to see the world as he had never seen it before. Everything moving around him looked like moving film strips of images inside frames. Then he began to see shapes in his mind that were so beautiful he had to try to draw them. Using only a sharp pencil, ruler and compass, Jason hand drew perfect fractal patterns depicting photon interference, wave particle duality and the shape of Pi as light. Each fractal pattern comes into his mind in a different color, a rare neurological phenomenon known as grapheme-color synesthesia. Jason hand draws the grids and fractals he constantly sees synesthetically in his mind.
He went from a normal guy to the very rare condition of "acquired savant syndrome" defined as a person who acquires remarkable musical or artistic abilities after a severe injury or disease. But only a handful of people have acquired the extraordinary mathematical abilities that Jason Padgett has since he was beaten up. He wrote about the dramatic change in his life in the 2014 book Struck By Genius: How A Brain Injury Made Me A Mathematical Marvel co-authored with another synesthesia experiencer, Maureen Seaberg, a writer for Psychology Today and Oprah Magazine. Maureen got Jason the medical testing that confirmed his new genius abilities. See More Information below.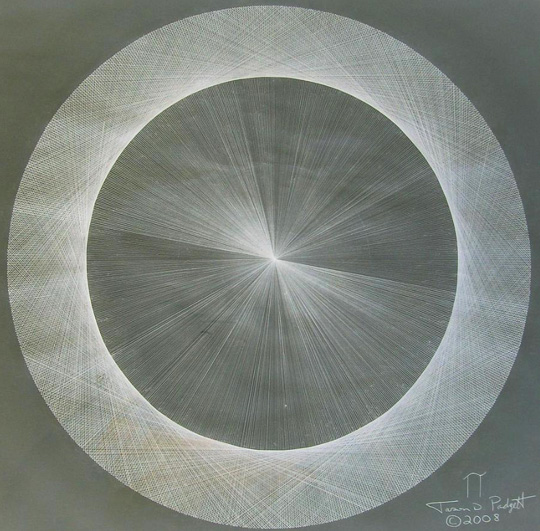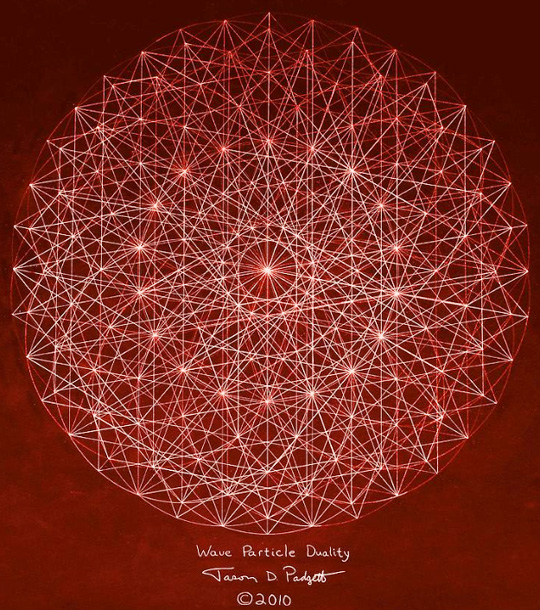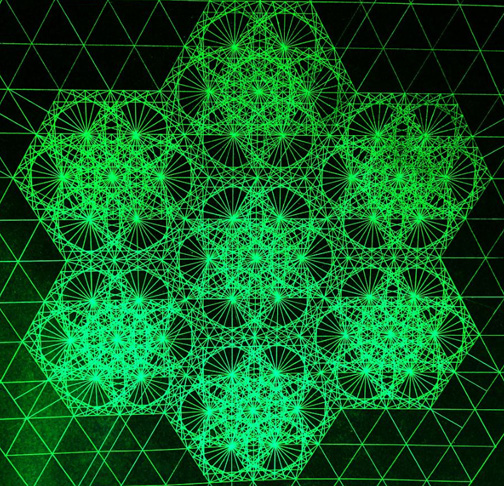 Fractals
What are fractals?
IBM mathematician Benoit Mandelbrot put a small equation in a big computer and had it run for hours to see what would happen in 1975. He ended up with a Mandelbrot set that is outlined by other fractals known as Julia sets.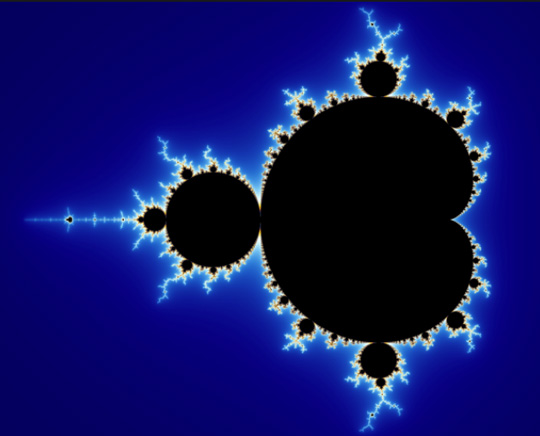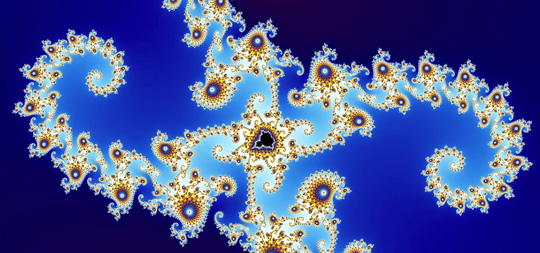 Mandelbrot was the first to use the word "fractal" to describe the patterns. Mandelbrot based it on the Latin fractus meaning "broken" or "fractured." Fractals are also the geometric patterns in nature that keep repeating the same shapes from tiny to huge. That's why fractals are known as "self-similar," exactly replicating the same patterns from the smallest to the largest scales. Think of tree branches and fern fronds and galaxies. See video of self-similarity Koch curve in Websites at the end of this report.
The more he worked with fractals, Mandelbrot said in 2006 in a 24/7 Lecture on fractals at a Nobel Awards ceremony: "Beautiful, damn hard, increasingly useful. That's fractals." Jason Padgett went from never having seen a fractal to not being able to get fractal geometries and moving image frames out of his mind.
---
Interview: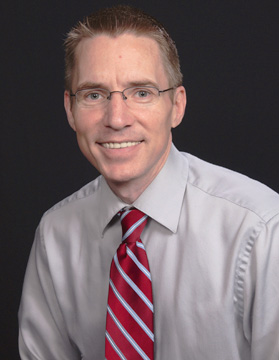 Jason Padgett, 46, co-author with Maureen Seaberg
© 2014 Struck By Genius: How A Brain Injury Made
Me A Mathematical Marvel, Federal Way, WA.
Jason Padgett, 46, co-author with Maureen Seaberg © 2014 Struck By Genius: How A Brain Injury Made Me A Mathematical Marvel, Federal Way, Washington:   JASON, AFTER YOU WERE ATTACKED AT THAT KARAOKE BAR IN 2002, WHAT WAS THE FIRST DIFFERENCE YOU NOTICED IN WHAT YOU WERE SEEING?
The smoothness of how things looked when they moved was gone. Have you ever drawn a flip book on pages where you draw a cartoon character and you change it and you flip the pages and it looks the cartoon character's moving? It's like that, but real time. So when you flip the pages, you can tell that it's jumping from one spot to the next.
[ Editor's Note: Wikipedia – A flip book or flick book is a book with a series of pictures that vary gradually from one page to the next, so that when the pages are turned rapidly, the pictures appear to animate by simulating motion or some other change.

1886 illustration of a kineograph, also known as a flip book.

And our brains normally smooth out that jumpiness so it appears to be continuous, even though it's not continuous. It's discrete, individual frames, and that's the way the universe works, too. When you flip the pages of a flip book, it's like being aware of the picture frames that we're seeing. And our brains smooth them out for us so they don't look jittery.
SO IF YOU SEE SOMEONE RIDING A BICYCLE, YOU WOULD SEE RECTANGULAR FRAMES MOVING LIKE VIDEO OR FILM FRAMES?
Yes. My brain isn't smoothing them out. We are jumping through space-time, so there's like a million, million, billion picture frames per second in the real universe. That's like the maximum number of pictures that can be taken at Planck time. That's that quantum leap that you always hear people talk about.
[ Editor's Note: Wikipedia – Planck's Time: In physics, the Planck time (tP) is the unit of time in the system of natural units known as Planck units. It is the time required for light to travel, in a vacuum, a distance of 1 Planck length, approximately 5.39 × 10 −44 seconds. The unit is named after Max Planck, who was the first to propose it.

From Moving Frames to Fractals
WHEN THIS FIRST HAPPENED BACK IN 2002, AND YOU BEGAN TO SEE THIS WHOLE WORLD IN A NEW WAY, DID FRACTAL PATTERNS HOLD IN YOUR HEAD UNTIL YOU SAT DOWN AND STARTED TRYING TO DRAW THEM?
Yeah, I can't not see the frames and fractals. There's no way for it to ever go away. And sometimes it's almost a pain because when I just want to relax, I'm still constantly seeing that picture frame pulsing, even when I'm trying to go to sleep. Sometimes it can be tough to deal with.
WHICH LEADS TO YOUR EXTRAORDINARY ILLUSTRATION OF THE HAND. WHAT DOES IT MEAN TO YOU?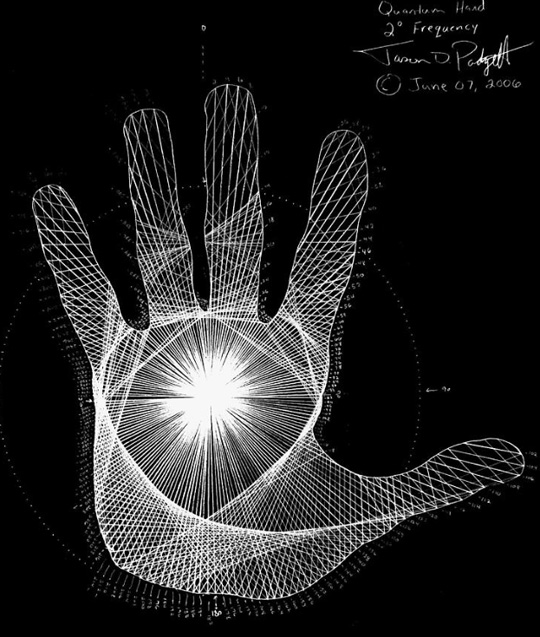 It means everything comes in quanta. Everything comes in discrete little chunks. Nothing is perfectly smooth. And I know I go back to that a lot, but it's such a huge concept, and everything in the universe, everything in physics, everything in calculus is based on this concept of nothing is perfectly smooth. And you can't count infinity, but you can count like the velocity that you approach infinity. And so keeping this concept of slicing like pixels tinier and tinier and tinier, eventually it applies to everything.
WHEN YOU STARE AT YOUR ILLUSTRATION OF THE QUANTUM HAND, WHAT DO YOU FEEL?
That everything is just a wave and that your observation creates your reality.
DOESN'T THIS SUPPORT EVEN MORE THE IDEA THAT WE ARE IN SOME KIND OF VERY ADVANCED SIMULATED UNIVERSE?
It definitely seems to me that it works like a simulated universe, absolutely.
AND WHO WOULD PUT THIS KIND OF A LABORATORY EXPERIMENT INTO EXISTENCE, AND FROM WHICH DIMENSION?
Yeah. I want to know how it all got here, is there a purpose?
IF I'M UNDERSTANDING CORRECTLY, ALL MASS, AS PHYSICIST BOHM SAID, IS FROZEN LIGHT, AND THAT WOULD MEAN THAT NO MATTER WHAT WE ARE—HUMANS, DRAGONS, SPIDERS, ANYTHING—THAT WE ARE ALL ENTANGLE PHOTONS, MEANING WE ARE ALL ONE, EVEN IF WE KNOW VIOLENCE AND WAR AND YOU WERE BEAT UP IN THAT KARAOKE BAR.
Yes. Yes. We're all entangled, and we're all connected, and we're all light. We're all photonic beings. The universe is light.
If Simulated Universe,
Is It A 3D Projected Hologram?
LAST YEAR IN APRIL 2016, THERE WAS A SCIENTIFIC PANEL DISCUSSION IN NEW YORK CITY MODERATED BY ASTROPHYSICIST NEIL DEGRASSE TYSON ABOUT THE QUESTION IS THIS A COMPUTER SIMULATION UNIVERSE.
It definitely seems to operate like the holographic universe principle. The holographic universe, you can overlay a grid of Planck length pixels like in the room that you're in, and what is on each of those little pixels describes reality.
WELL, MATHEMATICIAN PROF. GUTH AT HARVARD HAS HAD THE HYPOTHESIS THAT THERE ARE AN INFINITE NUMBER OF UNIVERSES. WE ARE IN ONE. IS IT POSSIBLE THAT ALL THE OTHER UNIVERSES, IF THEY EXIST, HAVE DIFFERENT PHYSICS?
Yes. When I think about how the universe and the multiverse works, every time I come down to thinking and believing, even though I can't prove it, I am a firm believer in the multiverse theory because it always comes down to fractals.
DO YOU THINK IN YOUR MIND NOW AFTER BEING STRUCK BY GENIUS THAT THERE IS A FRACTAL STRUCTURE TO THE UNIVERSE? AND WHAT I'M THINKING OF IS MYSELF AND MANY OTHERS WERE INTRODUCED FOR THE FIRST TIME TO FRACTALS THROUGH THE CROP FORMATIONS GOING BACK TO THE 1980S AND THE EARLY 1990S. THERE WERE TWO FUNDAMENTAL FRACTALS THAT WERE PUT DOWN IN CEREAL CROPS THAT MADE EVERYBODY STAND BACK AND WONDER. ONE WAS THE MANDELBROT THAT IS DEFINED ON THE EDGES BY JULIUS SETS.
Right.
IS THERE SOMETHING FUNDAMENTAL ABOUT THE MANDELBROT AND THE JULIUS SETS AS A STRUCTURE THAT OUR UNIVERSE MAY MIMIC?
Absolutely. The definition of a fractal is it's a shape that when you decompose it into pieces, the pieces are the same as the whole. So the universe, by being this giant 3D grid structure, breaks down into tiny little smaller 3D grid structures, which breaks into smaller grids, which breaks into smaller grids. So the universe itself is a perfect fractal. You take it apart into pieces, the pieces are the same as the whole. And the Mandelbrot set is an equation that is being put onto a computer screen grid. The way I view everything is just basically as waves. The universe itself is like a wave that is rippling outwards like a fractal.
I'M LOOKING AT YOUR BEAUTIFUL SKETCH THAT YOU CALL THE "QUANTUM HAND."
What that is, if you put a little circle in the center of that hand, and you divide that hand into segments.
IS THERE A RELATIONSHIP IN YOUR ILLUSTRATION TO WHAT APPEARS TO LOOK LIKE LIGHT COMING FROM THE CENTER OF THE HAND TO PHOTONS AND TO THE CONCEPT THAT ALL MATTER IS FROZEN LIGHT AND THAT WE ARE IN ESSENCE PHOTONS?
Yes. I believe everything is light. And everything is moving through space-time exactly at the speed of light. So light is absolutely paramount to everything.
IS THAT WHY SOME PEOPLE'S HANDS CAN HEAL?
The more I get into it, the more I have a hard time discounting anything because the universe is so much weirder than science fiction. I know that people who are positive heal faster. So our minds can do amazing things, and our bodies can do amazing things.
When you think about the quantum weirdness of the universe, that you can be in an infinite number of places at once, that there's a multiverse, that we can be inside of a large computer program, to think that somebody could somehow do something like that isn't so strange anymore.
Space Is Geometry and Numbers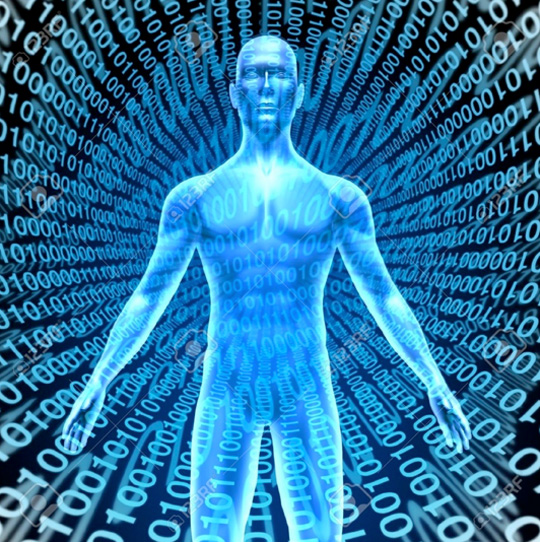 We know that space is geometry, and that is numbers. We've also found that nothingness, the vacuum of space vibrates with quantum fluctuations from uncertainty. So "Nothing" vibrates. So now we have a vibrating grid structure of nothingness that always is, that will always vibrate from uncertainty and that is infinitely large and infinitely small, then you've pretty much got the ingredients you need for all math, which is basically just a grid structure and something that allows things to at least appear across the grid.
Big Bang Entanglement?
"It doesn't seem like the universe cares so much about fairness
as it does care that all things that can happen — do."
We all came out of that Big Bang together. Every planet, every star, this whole universe, we were all squished right next to each other, you know, at the Big Bang. Our atoms were more than hugging each other, all of us. And at that point we were all quantumly entangled.
IF ENTANGLED, WHY IS THERE SO MUCH DEATH AND VIOLENCE AND ABUSE?
Yeah. You know, I wonder. I always think of that as being kind of all things that can happen do. You know, in quantum mechanics, everything that can happen does happen. And it doesn't seem like the universe cares so much about fairness as it does care that all things that can happen — do.
CAN YOU TAKE ALL OF THIS AND MOVE THE TRACK TO THE QUESTION OF THE SOUL THAT ANIMATES THE BIOLOGICAL CONTAINERS?
I think of the soul as being like every tiny quantum movement and measurement of me from the moment I was born to the moment I die — that is me and my soul. Matter is energy. E=MC2. So matter literally is energy, and matter can become energy, and energy can become matter. They can switch back and forth forever, but they're never destroyed. That means that the matter that is me has always been and always will be. It's been light. It's been in everything.
You know, a lot of people talk about what happens after you die. But when you're dead and your energy is not in a form that can observe time, time is meaningless. So we know that this universe is 13.8 billion years old. Do you remember waiting to be born? All the matter that's you existed. You were in dinosaurs, you were in stars, but to you it was instantaneous. You've always existed. When you die, you can't observe time, so time is meaningless to you, so you don't notice that time goes by, just like you don't notice the time waiting to be born.
So to me, when you die, the next thing you know, if there's an infinite number of Big Bangs, dying is being born. The next thing you would know is you're popping into existence again in the next universe where maybe it's identical to this one, but I'm left-handed. Every single possibility happens eventually in an infinite amount of time.
SO THE SOUL COULD BE SOME SORT OF SUBSTANCE DESIGNED AND MADE SPECIFICALLY TO TAKE ALL OF THE FREQUENCIES OF A CONSCIOUS LIFE INTO IT FOR RECYCLING.
Yeah. And the universe just automatically does that."
Continued in Part 2.
Also see:
• 12/21/2016 — Part 1: Is Our Universe "Someone Else's" Computer Simulation?
• 12/21/2016 —Part 2: Is Our Universe "Someone Else's" Computer Simulation?

• 01/25/2008 —Could Our Universe Be A Virtual Reality Processed By Other Intelligence?
---
More Information: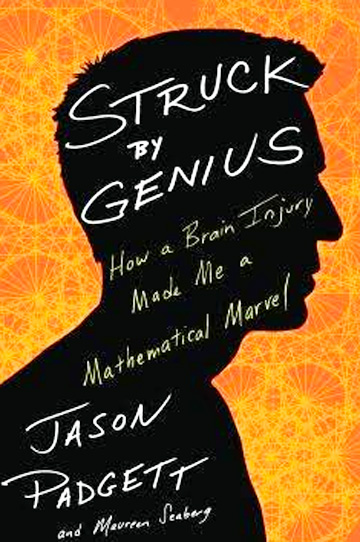 For further information about the holographic universe concept, please see reports in the Earthfiles Archive organized in chronological order from 1999 to 2016 ongoing of which a few are listed here.
01/29/2016 —Pt. 3 UFO/E.T. Experiencers Say Consciousness Is Key to UFO Technology with Grant Cameron
06/16/2011 —Final Part 12: Private Detective's Encounters with Non-Humans
08/23/2010 —Mysterious 3D Wheat Grid and Aerial Light in Wiltshire, U. K.
06/01/2009 —Part 10: High Strangeness Files about EBENs
05/26/2009 —Part 9: High Strangeness Files about EBENs
04/22/2009 —Part 5: High Strangeness Files about EBENs
04/14/2009 —Part 4: High Strangeness Files about EBENs
01/25/2008 —Could Our Universe Be A Virtual Reality Processed By Other Intelligence?
02/27/2007 —Part 1: Mysterious Events At 2005 Tawsmead Copse "Insectogram" Crop Formation
---
Websites:
Physical Review Letters, January 27, 2017, "From Planck Data to Planck Era: Observational Tests of Holographic Cosmology": https://journals.aps.org/prl/abstract/10.1103/PhysRevLett.118.041301
Jason Padgett's Hand Drawn Fractals: http://fineartamerica.com/artists/jason+padgett
Fractals: https://en.wikipedia.org/wiki/Fractal
Fractal Foundation: http://fractalfoundation.org/resources/what-are-fractals/
Holographic Principle: https://en.wikipedia.org/wiki/Holographic_principle
Synesthesia: https://en.wikipedia.org/wiki/Synesthesia
Self-similarity Video of Koch Curve Fractal:
https://en.wikipedia.org/wiki/Self-similarity

© 1998 - 2020 by Linda Moulton Howe.
All Rights Reserved.