"The orbs are different and distinctive. They move totally unaffected by wind currents, rain, snow. Whatever they are, they activate the motion sensors to start the (infrared) video recording.  I enjoy watching them and pondering what they might be, and I have come to believe that they are intelligently controlled."
— Raymond D., Owner of trail and wildlife night vision security cameras, Cushing, Oklahoma, November 12, 2020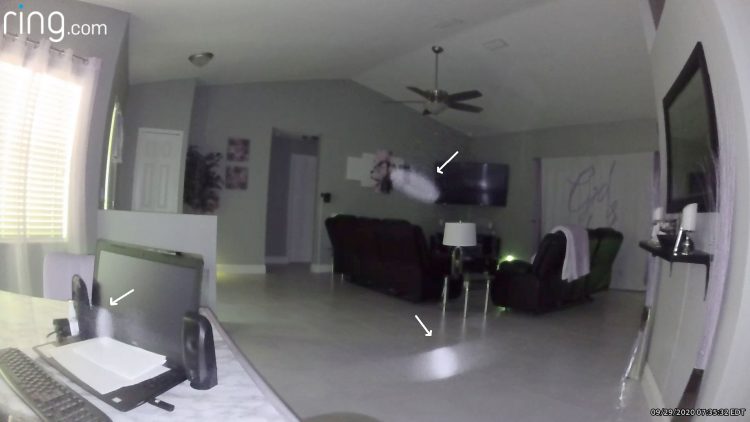 November 13, 2020 Albuquerque, New Mexico – On Wednesday evening, November 11, 2020, I featured a video segment in my live Earthfiles YouTube Channel broadcast about the mysterious moving and glowing orbs that showed up over a five hour span of time between 3:30 AM to 8:30 AM EDT at the home of 52-year-old Pastor Ford Monzell.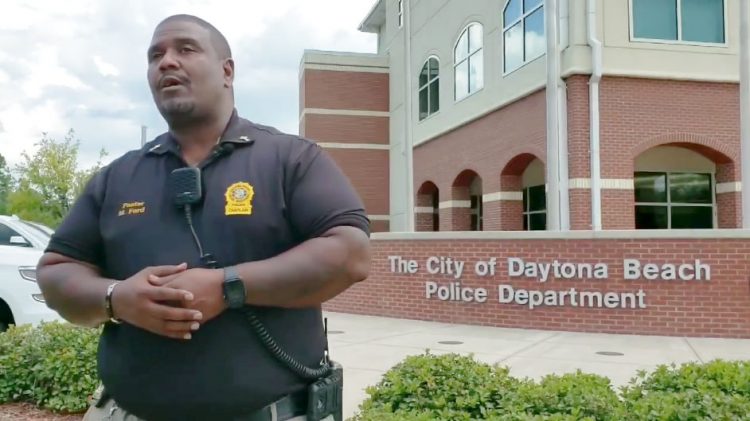 He has a Biblical Science degree from Liberty College and Seminary in Florida. For the past four years, Pastor Monzell has been the Head Chaplain for the Daytona Beach Police Department. This year to better protect his home, Pastor Monzell purchased Ring security cameras for indoor/outdoor wired monitoring. The Ring model he bought is shown here.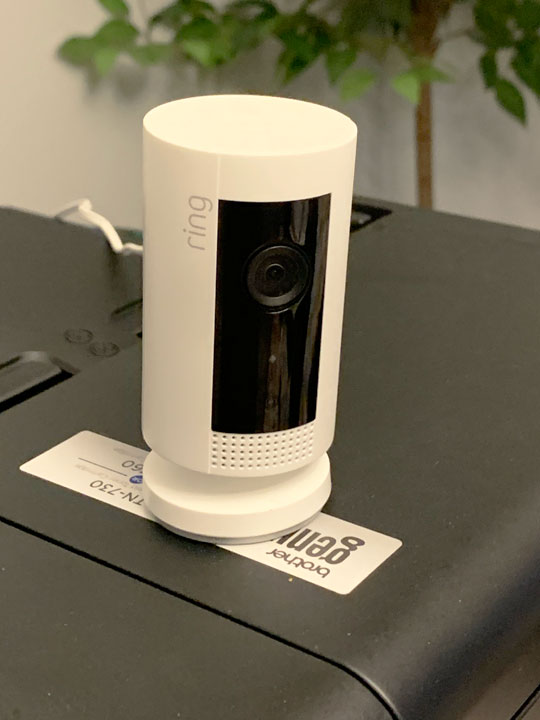 Pastor Monzell purchased this model of Ring.com security camera and placed on his printer at the far end of his living room in Daytona Beach, California. It works in both infrared and visible light, depending upon the darkness or brightness of the rooms being monitored.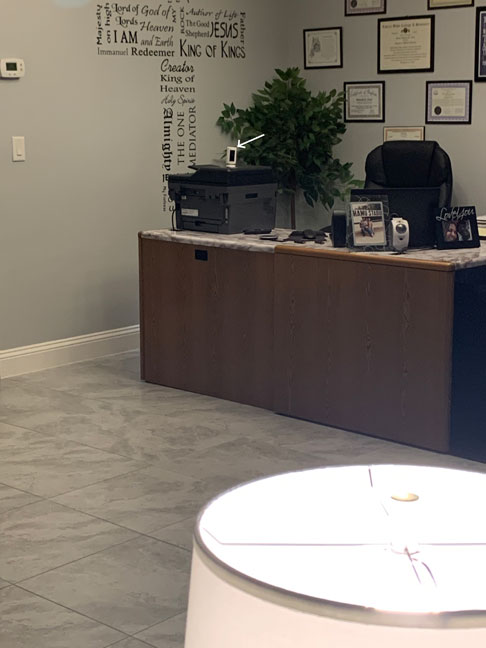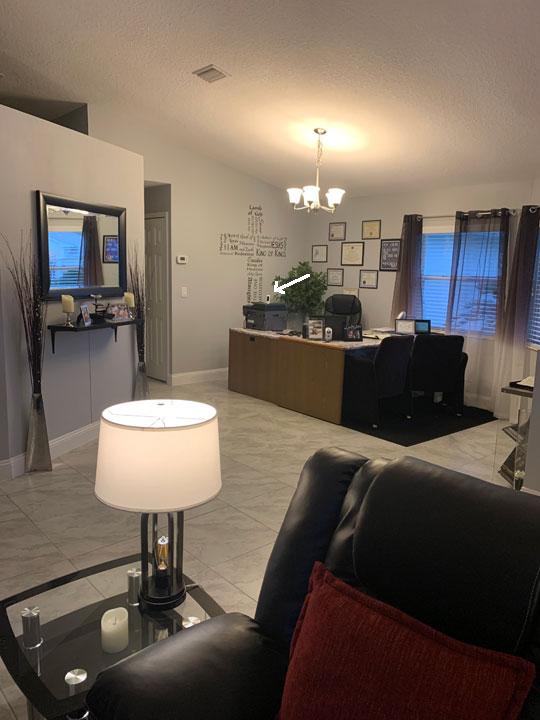 After my Wednesday evening broadcast about Pastor Monzell's Ring recordings and his puzzlement about what the glowing orbs were, I asked everyone watching about your own experiences with glowing orbs. The following are a few of the many emails Earthfiles received after the November 11th show.
From:  Charles B.
To:  Linda Moulton Howe, [email protected]
Re:  Orbs on IP security camera


Date:  November 12, 2020
"Hi my name is Chuck. I live in Scottsdale, Arizona. While my family and I were away on vacation, we have IP security cameras set up in our house.
[ Editor's Note: Internet Protocol camera, or IP, is a type of digital video camera that receives control data and sends image data via an IP network. They are commonly used for surveillance, but unlike analog closed-circuit television (CCTV) cameras, they require no local recording device, only a local area network.]
We had a niece staying there at our house while we went on vacation. I checked the cameras one night and saw floating orbs around my sleeping niece. She was sleeping on a couch.
We called on the phone and she could not see them. When she turned on the lights, you could not see them on the IP camera. They would move around the room and up into the ceiling when the lights were off and the infrared of the camera was on. There were multiple orbs. I have checked those cameras before when she was not there and have never seen the orbs," except for that vacation time."
2.
From: Del in London, England
To:  Linda Moulton Howe, [email protected]
Date:  November 13, 2020
Re:  A professional view on the orbs mystery
Dear Linda:   I am a photographer from London, England, and come from a photographic background where I have a keen interest in the development of CCD and CMOS imaging sensors related to the science behind their development. I regularly read and keep up to date with the research and development of the science and hardware involved.
I watched your November 11, 2020, orbs video with great interest. A number of years ago I was approached by a British TV company, who was recording orbs on a basic digital camera — but could not obtain anything on analogue film. This started me researching into the area. As CCD/CMOS sensors have become smaller and more powerful with greater bandwidth sensitivity, they have the ability to record very small photon energy/associated radiation capture from an extended set of wavelengths/frequencies well outside of the human visible spectrum and past UV and IR.
Additionally it has been known that some forms of more exotic radiation can be captured by CCDs and science is pushing further development in sensors to become better at capturing frequencies such as TetraHertz radiation in the far infra red and around 1mm wavelength spectrum. There is quite a multitude of fascinating science studies and articles related to this. However, it is my theory that the Orbs are produced as a by-product energy or residual energy flux that is an unusual radiation, only picked up by specific types of CCD/CMOS sensors.
It would be wonderful to have the resources and funding to carry our a multi-spectrum test scenario to try and capture orbs with sensors calibrated at only specific sensitivity ranges. If this were achieved, we could possibly isolate the wavelength and frequency that the orbs function within. I have always considered that 'orb-dwelling frequency' in this universe to be the key to unlocking everything!
Thank you for your brilliant and continuing hard work and professionalism. Take care. Del from London
3.
From:  jean
To:    Linda Moulton Howe
Re:    Orbs
Date:  November 13, 2020
First of all I want to thank you for your excellent reporting of science and other phenomena. I especially appreciate your willingness to share your own personal experiences bringing a very human element to your reporting.  I am a retired high school science teacher and I have followed you on and off over the years and have always found you to be honest, level headed and detailed in your explorations.
I watched your November 11, 2020, Earthfiles YouTube live broadcast tonight on the Pastor's orbs with fascination and, as per your request, wanted to share with you three of my experiences.  Unfortunately, I don't have photographic or video evidence.  I can only explain what happened as I experienced it.
1st:

 About 12 years ago I awoke one night and sat up in bed.  I sat there for a moment when I felt something coming out from inside of me through my abdomen.  I looked down and saw approximately 8-10 white, illumnated, mostly translucent, 1-1/2 to 2 inch spherical orbs coming out of my abdomen one by one. The immediate feeling I had was that they were some kind of probe.  I was utterly amazed!  I watched them float away from me disappearing over the half-wall of my bedroom (our bedroom overlooks the first floor).  They felt like perhaps a soap bubble coming through the skin – very light and gentle, not painful at all.  The really odd thing about that experience was the fact that I wasn't in the least bit alarmed nor did I wake my husband who was asleep next to me on the bed.  I then laid back down and went back to sleep!  However, I've never forgotten it.

2nd:  Back in January of 1988 or 1989 on a Saturday evening, I had another experience.  This time with a friend who was visiting me for the evening.  The two of us were sitting on my living room floor with a small coffee table between us talking about spirituality, past lives, and paranormal experiences.  I had a candle or two burning and only a light over the stove in the kitchen on, so there was some light in the room — just not a bright light.  As we were chatting, we both caught movement in our peripheral vision so we turned to see a partially opaque object, dull silver in color with a smooth surface. It resembled a soccer ball (hexagons and pentagons) and was about 2-1/2 inches in diameter. It flew from the corner of the ceiling (from my right) between us where it stopped for perhaps 20-30 seconds.  It then flew off to the opposite corner near the ceiling where it de-materialized before it hit the wall.  Again, I had the distinct feeling it was a probe and it had somehow downloaded our thoughts.  I also want to mention that over the course of four hours that evening, my entire house slowly filled with what appeared to be white fog. Yet when we looked outside, it was completely clear.  Needless to say, we were pretty freaked out and my friend left soon after.  When I closed the front door, it woke my son who asked me why it was so foggy in the house?  I then woke my husband to tell him what had happened and he, too, noticed the fog.  I remained awake for most of the night and the fog finally dissipated by morning.

3rd:  The third instance I want to share happened last October 2019 at about 9:30pm.  I was in our family room watching TV with a lamp on when I noticed something to my right in my peripheral vision.  I turned to look and saw a partially opaque object appear over my laptop computer, which was sitting on a TV tray. The opaque object moved slowly upward towards the ceiling.  It was 3-dimensional and donut-shaped (but no hole in the middle). It was approximately 7-8 inches in diameter and was composed of several muted colors (green, brown, rust, gold and blue).  It acted like it was being pulled upward in an even, steady motion, but it also was moving on its own somewhat like an amoeba in fluid.  It de-materialized before it hit the ceiling.  This took less than 15 seconds.  Again, I had the thought that it was a probe, but this time it didn't feel like it was necessarily probing me.  I ran upstairs to tell my husband, but unfortunately there was nothing for him to see by then.  And, unfortunately, I didn't grab my phone to try and take a photo.  I also want to mention that while I could see all these objects (and I'm using that term loosely), I could also see through them and I believe if I had put my finger out to touch them, my finger would have gone right through them — like they were partly of this world and partly of another (dimension?).

My family and I have had many, many experiences over the years too numerous to go into here.  I hope this information helps add to all that you have learned and experienced in the course of your career.  Linda, I know that you and others yearn for our government to finally disclose what they know to be the truth of our Earth's history.  I don't see it happening for many reasons.  But, truth be told, disclosure has already occurred because of all the brave souls (like you) who have already come and continue to come forward.  We the people with our vast and varied experiences and knowledge are the disclosure.  At least that is my humble opinion. So thank you for your investigations and every experiencer from the bottom of my heart for your courage and exemplary example.

If you share any of this, please use just my first name.  And again, thank you for all that you do to bring truth out into the open.
Jean     
P.S.  Hello from my kitty to both of yours :)"
From:  HBH
To: Linda Moulton Howe
Re:  Translucent spheres in Alabama
Date:  November 13, 2020
"I work at a fortune 300 company here in north Alabama. I have been employed for 13 years now. I have a family and very happy life. The story starts out as nothing more than mistaken lights. 
My co-worker and I were watching a train leave the rail yard, and I took notice of what appeared to be moving street lights. Orange in color. Just like the old school street light. As the train was passing, it appeared to make this street light move. I told my wife about this on the phone as I was leaving work that night. 
I was on the phone for no more than 20 seconds. As I was walking to my truck to leave work for the night. I walked outside and I see a very bright white/yellow type light directly over my truck. I'd say about 50 feet high. This craft wanted to be seen, because when I saw it, the lights sparked (like a sparkler on the 4th of July) and then the craft went dark. 
While the craft was dark, it was so close that I could see what it looked like in detail. The bubble-shaped sphere had no light at that time, but I could see plainly the front glass. If you can picture a heart monitor line that zig zags horizontal, that's the image that scanned across the windshield part of the craft. As the line scanned horizontal, a few sparks fell from the craft.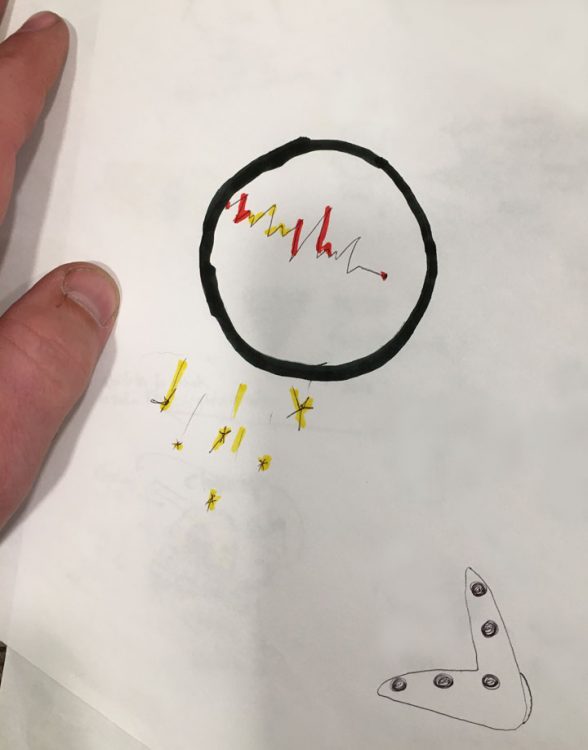 The craft then rose up and followed me home and left. I immediately went to the shower with my jaw On the floor. I knew for the first time.. ufos are real. Something in me changed that night, forever. I wasn't taken or there was no missing time. However, I feel as if I'm entangled quantumly with this craft. When you witness this phenomenon as I have, it grabs you. You become engulfed in it. 
The craft itself was the size of a small Volkswagen. It was roughly 9 feet in diameter. As the craft was over my truck I'd say it was about 50 feet overhead. Linda, it was parked directly over my truck. It was sending a message. To show they're real. 
On an old SD card I have saved, is video of the crafts cloaking and flying overhead. You're welcome to get them analyzed by anyone you wish. I'm willing to take a polygraph as the events that occurred over those few months. 
The events I encountered were not like anything I've ever read or heard about. For example, a craft came down and a white panel lit up. The panel was roughly fifteen feet wide and four feet long. The panel was rectangular. What made this event unique was the panel lit up as it was within 20 feet of me directly overhead. The lit panel showed honeycomb shaped lights. They were all white. In my mind I got the impression white was for peace. I felt more love radiating from this craft than I ever have felt in my life."
5.
Steven G.
To: Linda Moulton Howe
Re: White Orbs
Date:  November 12, 2020
"I just finished watching your Earthfiles Nov 11, 2020 – Unexplained 'Oval Orbs' Caught on Camera & Interview w/ Pastor Ford Monzell & Q&A video on Youtube.  I think I experienced something similar on October 31, 2019, while visiting a B & B in Gettysburg, PA.  I stayed at the Farnsworth House, one of the most haunted residences on the East Coast.  I experienced white orbs when I was alone in the basement during a tour.  I caught the images on my cell phone, but could not see them with my naked eyes.  I was told by the proprietor that they were 'the spirits of the young soldiers who had died.'  The video captured many small white orbs dancing all around the room.  A trick of the lens or something atmospheric?  I don't know.  I wanted to share that with you."
6.
From:  Raymond D.
To: Linda Moulton Howe
Re:  Orbs in Cushing, Oklahoma
Date:  November 12, 2020
"Linda, 
I wanted to share my observation with you in response to your November 11, 2020, Earthfiles YouTube feature on orbs captured by the pastor's Ring security camera.
This is purely my observation, nothing more scientific.  I began putting out trail or wildlife cameras about 25 years ago on my property because I was interested in capturing videos of wildlife.  I enjoy knowing what is on my property and learning more about the various creatures habits.  Through the years since then, I have expanded gradually to the point of keeping about a dozen cameras active at any given time now.  My cameras are all inexpensive models — none above the $200 price range.
For as long as I can recall, I have captured infrared orb videos from time to time.  I also capture dust, moisture droplets, other tiny debris, spider webs with dust attached, etc.  I have come to recognize all of these things from repeated instances.  Dust specs on spider webs are common and puzzled me for quite some time, but are easily recognized after much experience. 
The orbs are different and distinctive.  They move totally unaffected by wind currents, rain, snow, etc.  They move in all directions and often seem to be hanging out in one small area as though examining the surroundings and then eventually move away.  I don't recall if I have ever seen any just fade away or not.  Whatever they are, they activate the motion sensors to start the video recording.  I enjoy watching them and pondering what they might be, and I have come to believe that they are intelligently controlled.
I don't recall ever seeing any daytime videos, only the nighttime infrared videos.  I have come to recognize that they are common enough that I assume they are around often.  I probably capture maybe a dozen such videos each year.  My brother also keeps a few cameras out on his property and has shared some orb videos with me.  We both find them intriguing and thought provoking."
---
More Information:
Earthfiles YouTube Channel November 11, 2020 Broadcast about moving orbs on Pastor Monzell's Ring Camera:
https://www.youtube.com/watch?v=FiedsxmyRzY
10-06-2014 – Silent, Stationary White "Orbs" in Utah and Colorado
08-23-2014 – A Real Live Gnome in Pennsylvania?
09-11-2009 –More Aerial "Milk Bottles" Photographed By Game Trail Cameras
04-07-2008 – Part 2: Bizarre Objects Caught by Illinois and Missouri Game Trail Cameras
04-07-2008 – Part 1:  Bizarre Objects Caught by Illinois and Missouri Game Trail Cameras
11-02-2007 – Mysterious Orbs – Emanations from A Divine Field?
---
Websites:
Internet Protocol IP Cameras – How Do They Work: https://www.safesitefacilities.co.uk/knowledge-base/internet-protocal-cameras-how-do-they-work
"Ghostly 'blob' floats past NC home at 3 a.m., setting off security cam. What was it?" April 4, 2019, Charlotte Observer: https://www.charlotteobserver.com/news/local/article228821544.html
Klaus Heinemann, Ph.D.:http://www.acviews.com/kh/klaus.htm
Miceal Ledwith, D.D.:  http://www.greatmystery.org/newsletters/orbs_micealledwith.html
NDEs and Orbs: http://www.near-death.com/experiences/research17.html
The Orb Project Book:  http://www.orbprojectbook.com

© 1998 - 2021 by Linda Moulton Howe.
All Rights Reserved.