"We found a central part of Valles Marineris to be packed full of water — far more water than we expected."
— Alexey Malakhov, Space Research Institute, Russian Academy of Sciences, Moscow, Russia
December 19, 2021  Pasadena, California – The astronomy journal Icarus published in November 2021, an online edition of hydrogen mapping down in the largest known canyon of our solar system. It's the Valles Marineris on Mars investigated by the European Space Agency's ExoMars orbiter and Russia's Space Research Institute, Roscosmos. Icarus will publish the whole report in its March 2022 edition.
The Trace Gas Orbiter  was looking for hydrogen when it found very high levels of that gas alongside oxygen — the ingredients of H2O water. If the hydrogen detected is in fact bound together with oxygen, they will form water molecules — a lot of them.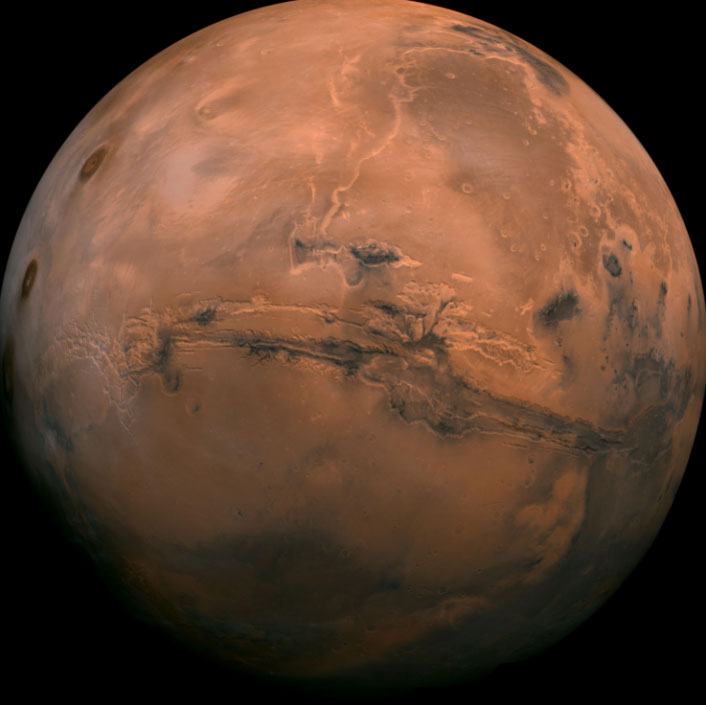 Valles Marineris canyon on Mars is 10 times longer and 5 times deeper than the Grand Canyon in the American southwest. Scientists used the Trace Gas Orbiter to map the hydrogen content in the canyon's Martian soil by detecting neutrons rather than light photons.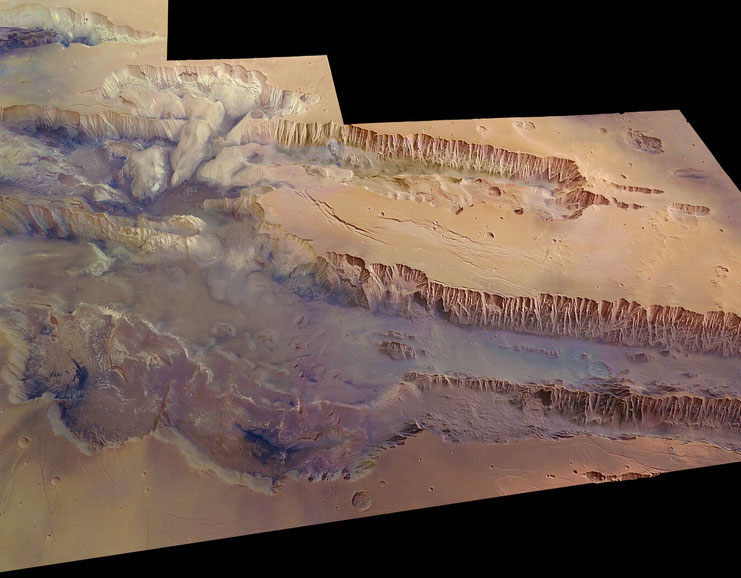 The scientists were surprised to calculate that "as much as 40 percent of the near-surface material in Valles Marineris ground appears to be water." That's 40% of 15,830 square miles (41,000 km) or about 6,000 square miles of the canyon. Russian scientist Alexey Malakhov at the Space Research Institute of the Russian Academy of Sciences released a statement: "This is very much like Earth's permafrost regions, where water ice permanently persists under dry soil because of the constant low temperatures. …We found a central part of Valles Marineris to be packed full of water — far more water than we expected."
LiveScience Contributor Isobel Whitcomb reported: "Mars may seem barren and inhospitable today, but long ago the Red Planet once looked very different. Once upon a time, Mars was warmer than it is now, and covered in rivers, lakes and seas. There's mounting evidence that Mars was not only habitable in theory, but actually home to some kind of extraterrestrial life. It's even possible that remnants of that life still lurk undiscovered beneath Mars' surface."
---
More Information:
07-24-2021 – Martian Interior Mapped for First Time — Three Distinct Layers and Molten Martian Core "Is Surprisingly Large."
06-13-2021 – Human Births On Mars? New Research Indicates Human Sperm Could Last 200 Years On Red Planet.
05-30-2021 – Iridescent Twilight Clouds On Mars.
05-16-2021 – New Space Force Base Evolves from Vandenberg AFB.
04-19-2021 – NASA Ingenuity Helicopter Made Historic First Brief Test Flight On Mars Today.
02-18-2021 – Perseverance Landed On Mars Today Near 2 PM Mtn in "Seven Minutes of Terror" That Worked!
---
Websites:
"Valles Marineris: The Grand Canyon of Mars":  https://solarsystem.nasa.gov/resources/683/valles-marineris-the-grand-canyon-of-mars/
"Searching for Life in NASA's Perseverance Mars Samples": https://mars.nasa.gov/news/8863/searching-for-life-in-nasas-perseverance-mars-samples/

© 1998 - 2022 by Linda Moulton Howe.
All Rights Reserved.