"After 14 years, the James Webb Telescope will be lifting off from Europe's Spaceport in French Guiana on an Arianespace Ariane 5 rocket with the new target date of December 25, 2021, and a launch window of between 7:20 AM and 7:52 AM Eastern time."    Launch was a success!
— NASA press release, December 21, 2021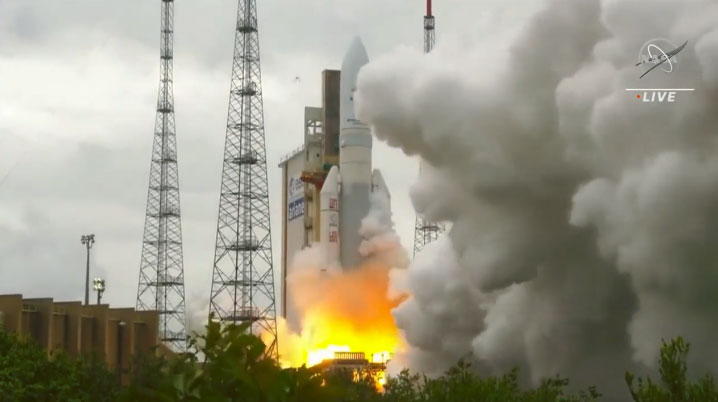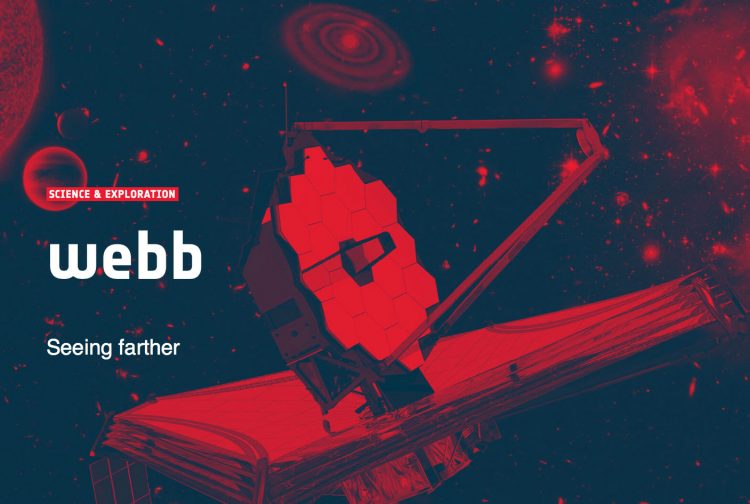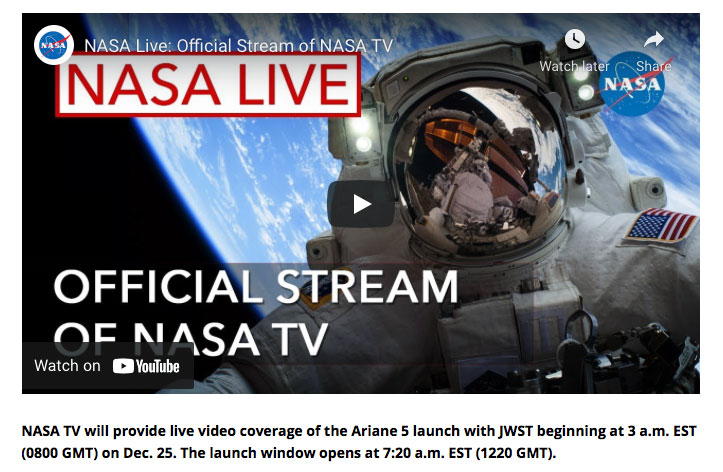 December 25, 2021  Christmas morning in French Guiana, South America – Beautiful James Webb Space Telescope launch!
Fourteen years ago in 2007, the most extraordinary telescope ever made by humans began to be assembled in a joint effort by NASA, the European Space Agency (ESA) and the Canadian Space Agency (CSA). The mission was to see the beginning of this universe — photon light 13.8 billion light-years old back in the Big Bang, or whatever actually happened to create this particular cosmos. Webb can detect objects 10 billion times fainter than the faintest stars visible without a telescope, or 10 to100 times fainter than what Hubble can observe.
But now as it is finally ready for travel from Earth, the weather forecast for Europe's Spaceport in French Guiana in northeastern South America is stormy. So NASA decided yesterday to postpone James Webb lifting off on an Arianespace Ariane 5 rocket — until Christmas Day, December 25, 2021, between 7:20 AM and 7:52 AM Eastern time.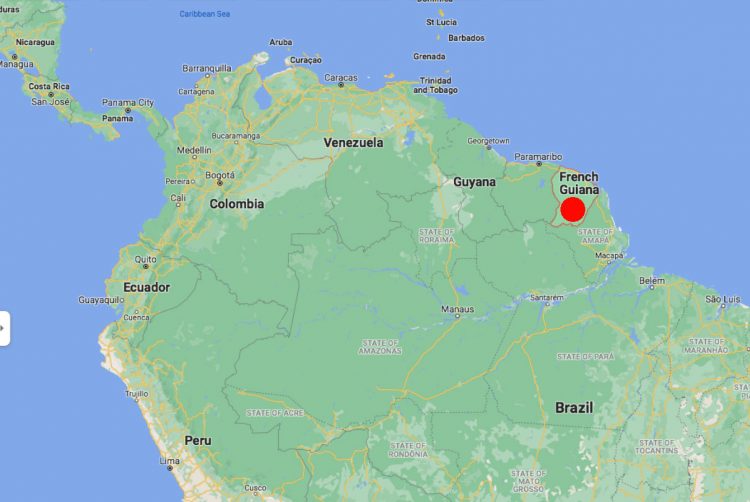 James Webb Will Stay At the L2 Second Lagrange Point Between Earth and Sun
NASA says Webb will be guided to the Second Lagrange Point "that is a wonderful accident of gravity and orbital mechanics, and the perfect place to park the Webb telescope in space. There are five so-called 'Lagrange Points' — areas where gravity from the sun and Earth balance the orbital motion of a satellite. Putting a spacecraft at any of these points allows it to stay in a fixed position relative to the Earth and sun with a minimal amount of energy needed for course correction."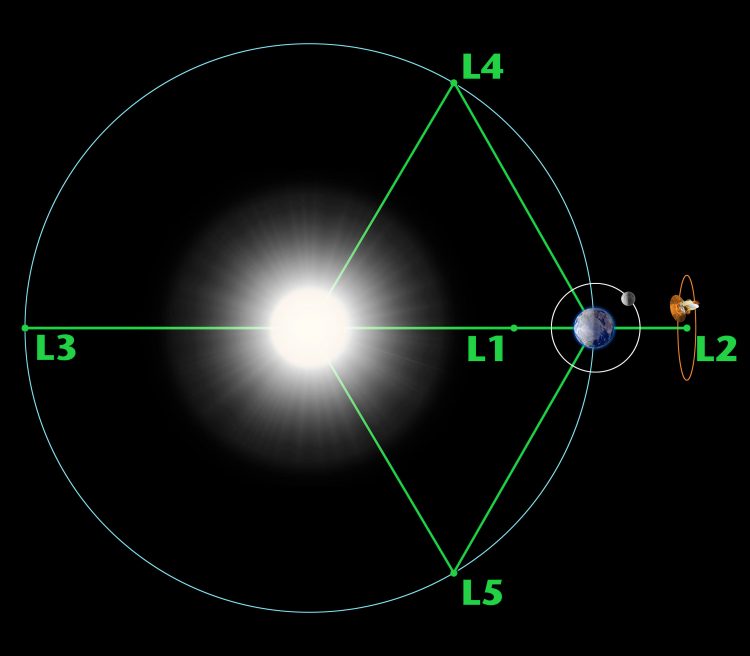 If James Webb gets there without any problems and can unfold itself into the magnificent, unprecedented telescope with a mirror the size of a tennis court — it will be able to see the mysterious beginning of our universe.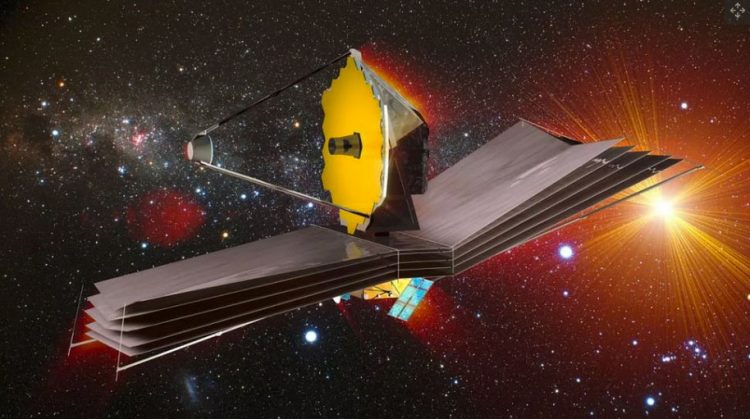 Comparison of Webb and Hubble Mirrors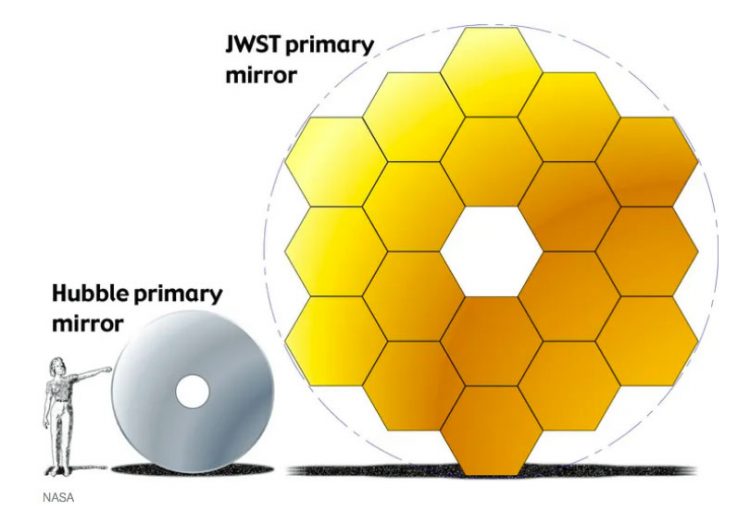 Webb's frequency-seeing range will go from about 600 nm to 28 microns, adding more visible light ranges from about 700 to 400 nm, versus Hubble which can see light in wavelengths ranging from about 200 nanometers (nm) to 2.4 microns. Webb will be looking most of the time in infrared light. The gold coating of its mirrors absorbs blue light from the visible spectrum, but it will still see red and yellow visible light.
Will James Webb Be Able to See Artificial Structures On Planets Four Light-Years from Earth?
A physicist told me at a conference before the Age of Covid that if there were artificial structures on a planet orbiting a sun like Alpha Centauri 4.37 light-years from Earth, James Webb will be able to see those surface structures. This extraordinary telescope might be the tool that will finally crack open the Big Secret:  We're not alone in this universe — it is teaming with consciousness and NASA and the Pentagon have known, but covered up those facts, for years.

Also See:
01-05-2019 – Elon Musk Tweet Links Apollo 11 Astronaut Neil Armstrong to Alien Presence.
02-19-2019 – Part 1: Glowing Disc Encounter with Military in Albuquerque, NM
02-07-2019 – Part 2: Non-Human Blonds, Greys and Big-Nosed, Cat-Eyed Lizards
01-13-2019 – Part 3 – U. K. Engineer Describes Some Real NASA Secrets.
---
More Information:
11-21-2019 – Hubble Has Found "Highest Energy Ever Observed" in Our Universe.
10-02-2019 – Both NASA and ESA Getting Ready for Mars Missions to Search for Life.
09-13-2019 – Second "Interstellar Visitor," After Oumuamua, On Its Way To Our Sun.
08-09-2019 – Update Aug. 10th – Object Slams Into Jupiter – See Video. Amazing Jupiter in New Hubble Photograph.
04-28-2019 – "Why the idea of alien life now seems inevitable and possibly imminent." – The Conversation
02-28-2019 – What Really Happened At the Beginning of Our Universe? And Why Is It Expanding Faster Than Expected?
---
Websites:
"James Webb Space Telescope vs. Hubble: How will their images compare?" LiveScience, December 20, 2021:  https://www.livescience.com/james-webb-space-telescope-hubble-images-comparison
"What is a Lagrange Point?" by NASA Solar System Exploration:  https://solarsystem.nasa.gov/resources/754/what-is-a-lagrange-point/

© 1998 - 2022 by Linda Moulton Howe.
All Rights Reserved.