"In the future, our 'cyborg' descendants may look back on us with pity —
how sad it was that there was that phase during which this wondrous thing called consciousness and life were housed in such a delicate constraint."
– Brian Greene, Ph.D., Prof. of Physics,
Columbia University, NYC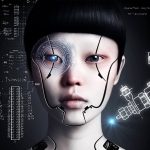 Return to Part 1.
Reposted August 16, 2023 – July 28, 2017 New York City, New York – Last year on April 5, 2016, at the American Museum of Natural History in New York City, the sold out 17th Annual Isaac Asimov Memorial Debate took place before a packed audience moderated by astrophysicist Neil deGrasse Tyson. The question debated before the audience was: "Is this universe a simulation?" — meaning computer simulation. Some physicists and mathematicians say the answer is more likely to be yes, than not, and that eventually the "simulated universe theory" will be proved.
The 1999 Hollywood science fiction movie, The Matrix, depicts an Earth future dominated by robots created in the 21st Century that rebelled against the Homo sapiens sapiens to take control over humans. The robots in The Matrix forced human minds under their control with cybernetic implants that connect the human brains to a simulated virtual reality called the Matrix that is mostly indistinguishable from reality.
There have been several science journal papers about the hypothesis that we're in a computer simulated universe projected as a hologram from another dimension, and that Earth Homo sapiens sapiens are evolving into a new species that will be part organic and part computer — cyborgs that will be stronger, smarter and able to periodically upgrade to avoid death.
American DARPA Funding Human
Brain Interface Directly with Computers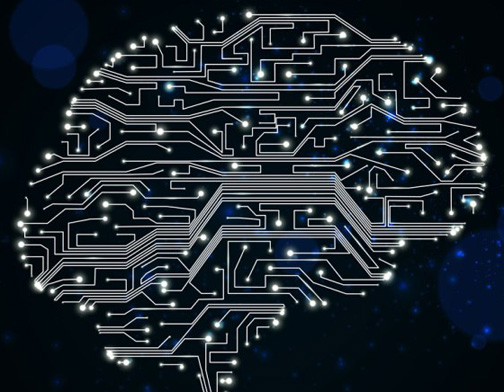 On July 10, 2017, DARPA, the U. S. Defense Advanced Research Projects Agency, announced that it is allocating $65 million in new funding to develop neural implants that could allow the human brain to interface directly with computers. The implants would be no larger than two nickels stacked on top of one another and inserted on top of or in the cerebral cortex. DARPA wants "high resolution" neural implants that can record signals from as many as one million neurons at once and be capable of two-way communication — receiving signals and transmitting them back out.
I asked Brian Greene, Ph.D., Professor of Physics and Mathematics at Columbia University in New York City what he thinks about the computer simulation hypothesis and the possible Earth future of a new species of human-machine cyborgs.
---
Interview: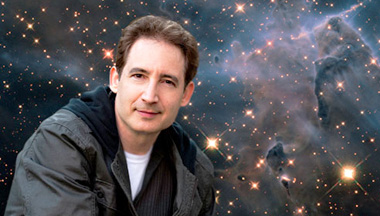 Brian Greene, Ph.D., Prof. of Physics and Mathematics, Columbia University, New York City, New York: "IN APRIL 2016, NEIL DEGRASSE TYSON LED A PANEL IN NEW YORK AT THE MUSEUM THERE ON A QUESTION BEFORE A LIVE AUDIENCE, "IS THIS UNIVERSE A COMPUTER SIMULATION?" AND THAT THERE ARE GROWING PIECES OF EVIDENCE ABOUT VARIOUS DISCOVERIES THAT SUGGEST THIS COULD BE EITHER A HOLOGRAM OR AN INFORMATION SYSTEM. WHAT DO YOU THINK?
Well, I think it's an interesting possibility. As computer architecture and software have progressed even just over the last 20-30 years, we've found that we're getting ever better at creating realms that can simulate reality ever more closely. Right? I mean, virtual reality is kind of starting to be a real thing, and a convincing way of fooling the observer into thinking that they're in a real domain even though they're just exploring a digital domain.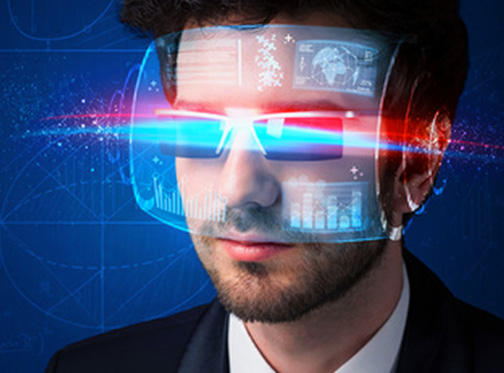 Therefore you can imagine that 50, 100, I don't know, 1,000 years from now, things will have progressed to the point where not only can we create realms that are close to what we normally call reality, but they might be indistinguishable from what we call reality. And they might even be inhabited with digital observers who themselves think they're in a real realm, perhaps even have consciousness, but are just figments of a digital creation.
And if that's the case, if you really can create artificially simulated realms with conscious beings within them, then things radically change, because if you think about it, it's very difficult to create a real physical universe. We don't know really how our universe began, and certainly there's nobody that can step into the laboratory today and create a brand-new universe.
But if all it takes to create a simulated universe is a powerful computer and some good software, then in the future, everybody will be able to create simulated universes. A kid will just come home from school, flip on the computer and start up a brand new simulated world. And if that actually is how things will play out in the future, then you need to say to yourself, if there's only one real universe, and there are a gazillion simulated universes, then the sheer probability suggests that any conscious being should say to themselves, 'Well, am I in a real universe? Or a simulated universe? There's only one real universe and there are a gazillion simulated ones. Therefore, the odds are I'm in a simulated universe, right?'
I mean, if these things are possible, then even right now, we should at least accept the possibility that all this stuff around us that we think of as being real, maybe it's all simulated. Maybe we are in a simulation. It sounds utterly farfetched, but if you think through these ideas, you realize there's at least a possibility that this could actually be true.
RIGHT. AND HOW WOULD WE TEST THAT HYPOTHESIS?
I don't think you can. I mean, there have been papers that have been written where people say, 'Oh, here's how you test it. You kind of look around for glitches, for something that's inconsistent, that doesn't work.' I think people are modeling that kind of thinking on that scene in The Matrix when remember the black cat walks by Neo and then it walks by Neo a second time right afterwards?
RIGHT.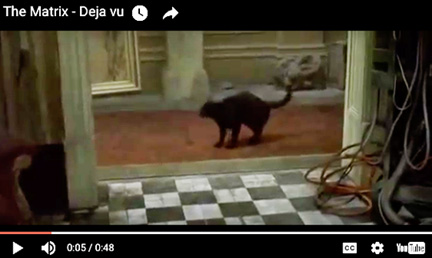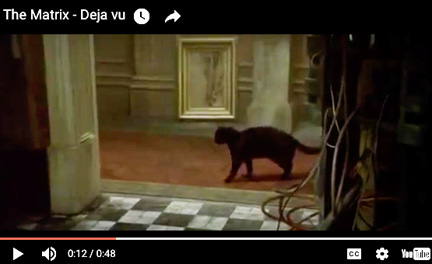 So there's a glitch in the matrix. But clearly if the software is sufficiently powerful then even if there were a glitch because  — I don't know, maybe the computer lost power for a moment — if the software's sufficiently powerful, it can erase any memory of that glitch in any observer, and therefore there would be no remnant that that glitch actually took place.
So from that perspective it seems to me that it's at least possible that these ideas might be untestable. There may be no way for you to definitively ascertain whether you're in a real universe or a simulated one. Now that's not to say that we couldn't learn that we're in a simulated one. Perhaps that kid who came home from school created our universe and at some point decides to part the clouds and look down upon us and say, 'Hey! Look up here! I'm your simulator. How're you guys doing?' And at that point, we would know.
(Laughs)
But there you have it. So at least in principle it could be revealed to us that we're in a simulation. But it's hard for me to see any foolproof way that simulated beings could determine that they're in a simulation.
Dawn of Human-Robot Cyborgs —
Next Earth Species?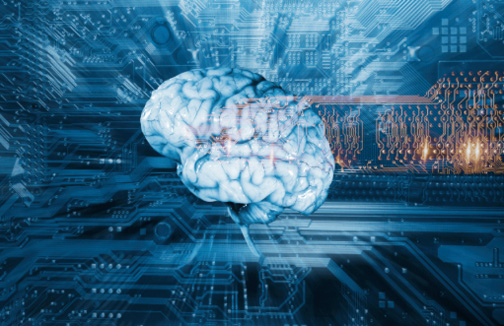 WELL, THERE ARE INCREASING NUMBERS OF PAPERS RECENTLY ABOUT HOW TO PLUG OUR BRAIN WITH SOME KIND OF CYBORG INTELLIGENCE, CREATING SORT OF, I GUESS, SUPERHUMANS OR SUPER CYBORGS — WHICHEVER WAY YOU WANT TO LOOK AT IT— IN THE FUTURE.
AND AS WE MOVE ALONG THAT PATH OF INCREASING ARTIFICIAL INTELLIGENCE AND EVEN COMBINING BIOLOGY WITH ARTIFICIAL INTELLIGENCE, WHERE FROM YOUR POINT OF VIEW IS CONSCIOUSNESS? AND WHAT IS THE DIFFERENCE BETWEEN CONSCIOUSNESS IN US RIGHT NOW AND A UNIVERSE THAT'S NOT CONSCIOUS?
Yeah. Again, it's a tough question, but an important one that will become increasingly relevant as technology progresses. We will have ever greater linkages between brain and machine. We will have computer interfaces between human brains and digital devices.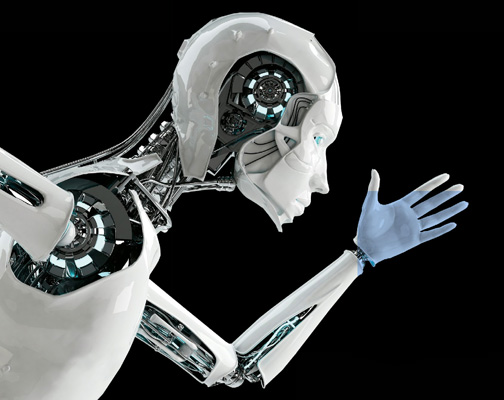 So you're right. As you integrate more and more technology into the brain, at what point do you say that consciousness is shared between the brain and these technological devices that have been incorporated into the brain?
And at some point, technological devices are in charge of more and more of the processing power taking place in the brain. Do you then say that that's where the center of gravity of consciousness now sits in the bits and bytes of the digital version versus the gloppy, wet processing taking place in the organic biological part of the brain? So these are hard questions.
I think it goes back to the issue of what consciousness actually is? And until we know that, I think it's very hard to answers these questions in abstract. I mean, we may find that even though we don't know what consciousness is, we're able to create digital devices that speak and talk and emote in a way that we can't help but assign some conscious quality to them. And at that point, our notion of what consciousness is may shift. Not because of abstract ideas but because of practical applications. The same may happen with computer/brain interface. Our very definition of the brain may change in the future. It may no longer be the grey thing inside our heads. It may be the grey thing and how it organizes and interacts with a whole slew of digital devices into which it has become interconnected.
Quantum Communication Satellites —
More Peace? Or More Weapons?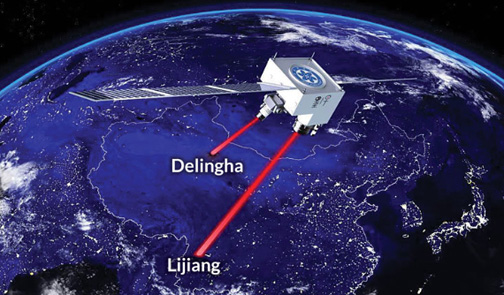 IS THERE ANYTHING ABOUT THE CHINESE QUANTUM SATELLITE, AND I'M SURE MORE WILL COME FROM THE UNITED STATES AND OTHER PLACES, THAT WOULD HELP US NOT BE SO VIOLENT? OR CAN QUANTUM SATELLITES BE USED AS WEAPONS?
Well, I'm sure everything can be used as a weapon, so it just requires the time and creativity of the darkest sorts. So I'm sure that everything will ultimately have that dark quality, too. Moreover, I would say that it's not only the Chinese that have accomplished these tasks. They've broken the record doing it in space over the longest distances. But other groups, other countries, too, have definitely achieved entanglement and teleportation, so I wouldn't want this to seem that there's somehow an imbalance in the world of science (toward China) as to where progress in quantum mechanics is taking place.
But to get more precisely toward the question you asked, that the sheer wonder of the quantum world, the sheer wonder of how the laws of physics are put together, if that could only be absorbed by a greater fraction of the public, I can't help but think that we would be a better species. We would care more about this wondrous world if we embraced it, understood it, absorbed it, and fully had a sense of how it's put together. And that's part of my mission as well as other scientists to try to get these ideas out there to the world because these ideas transcend all of the unfortunate things that divide us.
IT ALMOST SEEMS INEVITABLE THAT CRO-MAGNON HOMO SAPIEN SAPIENS WILL ULTIMATELY BE REPLACED BY CYBORGS.
Yes, and many people find that distressing and frightening. And if that's the way things evolve, I'm perfectly fine with it. I'm not particularly wedded to this biological organic form in which we currently reside. And if it turns out that this is a stepping stone en route to a form of life and consciousness that resides in digital and a more technologically oriented housing, I'm OK with that. In fact, maybe that's the way that we'll achieve a kind of immortality.
I mean, in the future, our quote, unquote, 'cyborg descendants,' may look back on us with pity. You know, how sad it was that there was that phase during which this wondrous thing called consciousness and this wondrous thing called life was housed in such a delicate framing that it could only persist for say a hundred years. How terribly, profoundly sad that so many generations of humans had to live with that kind of constraint.
THAT IS THE FINAL QUESTION FOR ALL OF US. CAN HUMANS SURVIVE THEIR VIOLENCE AND EVOLVE TO NONVIOLENCE SO THAT WE DO HAVE A LONG FUTURE IN WHICH MAYBE WE'LL END UP TELEPORTING TO MARS AND BEYOND?
Well, your guess is as good as mine. All I can say is I hope so, but the state of the world doesn't always give you a good deal of confidence that that's how things will turn out. But ultimately I am an optimist, so if you were to press me for an answer, I would say, I imagine the answer to be yes."
Return to Part 1.
Also see:
---
More Information:
For further information about the mysteries of quantum physics, please see in the Earthfiles Archive more reports including these:
06/27/2015 — Is Time An Illusion and the Future Already Written, As Einstein Thought?
03/16/2014 — Part 5: Hall of Mirrors with A Quicksand Floor
10/30/2012 — Part 2: High Strangeness in 43-Circle-Corn Pattern Near Ancient Mounds of Chillicothe, Ohio
07/27/2012 — Was Biggest Canyon in the Solar System Scarred by Plasma?
09/09/2008 — Part 2: Getting Close to the "Big Bang" Inside Large Hadron Collider?
01/25/2008 — Could Our Universe Be A Virtual Reality Processed By Other Intelligence?
10/18/2007 — A Quantum Math Description of Parallel Universes
09/14/2007 — Part 1: Psi Spies – True Story of America's Psychic Warfare Program
08/10/2007 — Levitation Possible by Reversing Casimir Force
10/08/2006 — Part 1: Time Travel, Insights from USAF Sergeant and UFO Abductee
01/06/2006 — Einstein's "Spooky Action At A Distance"
---
Websites:
"What If We're Living In A Computer Simulation?" April 22, 2017, The Guardian:
https://www.theguardian.com/technology/2017/apr/22/what-if-were-living-in-a-omputer-simulation-the-matrix-elon-musk
"How A Holographic Universe Emerged from Fight with Stephen Hawking," August 1, 2011, Ars Technica: https://www.wired.com/2011/08/hawking-holographic-universe/
"DARPA Awards $65 Million to Develop the Perfect, Tiny Two-Way Brain-Computer Interface," July 10, 2017, TechCrunch.com:
https://techcrunch.com/2017/07/10/darpa-nesd-grants-paradromics/
"Brain-inspired Intelligent Robotics: The Intersection of Robotics and Neuroscience," 2016, AAAS ScienceRobotics: http://www.sciencemag.org/sites/default/files/custom-publishing/documents/Brain-inspired-robotics-supplement_final.pdf
"Dawn of HUMAN-ROBOTS: Elon Musk to found new company to merge brains with AI," March 28, 2017, U. K. Express: http://www.express.co.uk/news/science/784709/Elon-Musk-human-brain-computer-Neuralink-robots
"How Combined Human and Computer Intelligence Will Redefine Jobs," November 1, 2016, TechCrunch.com: https://techcrunch.com/2016/11/01/how-combined-human-and-computer-intelligence-will-redefine-jobs/
Fractal Holographic Nature of the Cosmos: http://www.cosmometry.net/fractal-holographic-synergetic-universe

© 1998 - 2023 by Linda Moulton Howe.
All Rights Reserved.