"That red light came on simultaneously with a really deep, low-pitched throb, a deep base that was not loud, just perceptible, an immense amount of power."
– Kris Bales, Hunter
Reposted September 26, 2023 – May 28, 2009  Bend, Oregon  –  One of the most important UFO-related government documents to emerge since the early 1980s is entitled:  "Restricted SOM1-01 Majestic-12 Group Special Operations Manual, Extraterrestrial Entities and Technology, Recovery and Disposal – TOP SECRET/MAJIC EYES ONLY." It's dated April 1954, only seven years after a UFO crash made headlines in July 1947 near Roswell, New Mexico. The cover page is also stamped with the official United States War Office seal that was still used in 1954. In Part 3 of this report, I am reprinting the entire SOM1-01 training manual for Earthfiles viewers.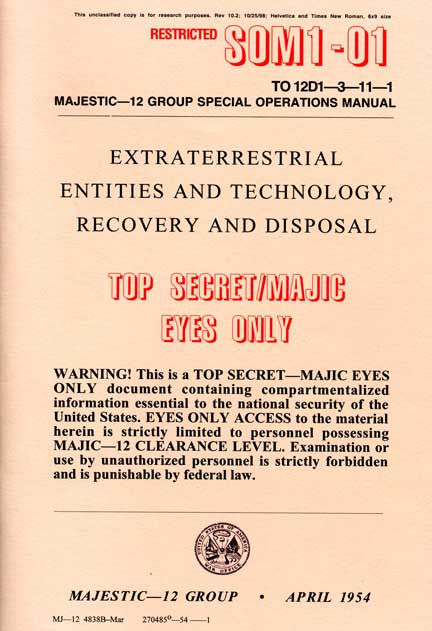 Chapter 2 begins:  "Extraterrestrial Technology is defined as follows:
Aircraft identified as not manufactured in the United States or any terrestrial foreign powers, including (and not) experimental military or civilian aircraft. Aircraft in this category are generally known as Unidentified Flying Objects, or UFOBs. Such aircraft may appear as one of several shapes and configurations and exhibit extraordinary flight characteristics.
Extraterrestrial Biological Entities (EBEs) are described as:
a.  Creatures, humanoid or otherwise, whose evolutionary processes responsible for their development are demonstrably different from those postulated or observed in Homo sapiens."
Page 5 describes four categories of Unidentified Flying Objects (UFOBs):
Elliptical or disc shape.
Fuselage or cigar shape.
Ovoid or circular shape.
Airfoil or triangular shape. About the triangular shape, the training manual states:  "This craft is believed to be new technology due to the rarity and recency (sic) of the observations. Radar indicates an isosceles triangle profile, the longest side being nearly 300 feet in length. Little is known about the performance of these craft due to the rarity of good sightings, but they are believed capable of high speeds and abrupt maneuvers similar to, or exceeding, the performance attributed to elliptical, disc or circular-shaped craft."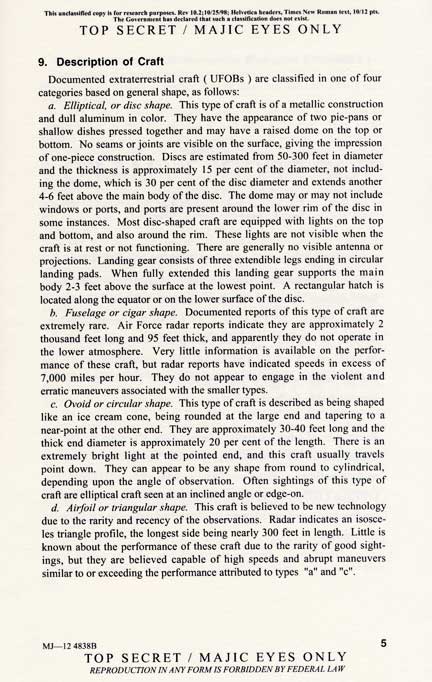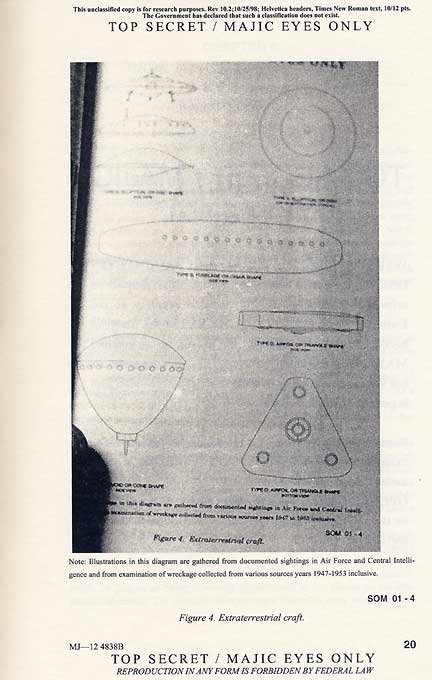 1954 was 55 years ago. In the past half century, many people around the world have reported seeing large, triangle-shaped aircraft that are silent – including the Belgium flap of 1990 [ See last section of this Earthfiles report.]  At each triangle corner, eyewitnesses report a circular white light and at the center of the triangle is a larger circle of red light.
[ Editor's Note:  Wikipedia – "Dark, aerial triangles at night are a class of unidentified flying objects (UFOs) with certain common features which have reportedly been observed from the 1940s (and possibly earlier) to the present. They have appeared most commonly over cities of the United States and England, but have been spotted worldwide. Hundreds of observers have reported enormous, totally silent, triangular craft hovering or slowly cruising at low altitudes over cities and highways, usually at night and making no attempt to evade detection. The craft are often described to have white lights at each corner of the triangle and a red glowing, sometimes pulsating, larger central red light. Their origin and existence remain shrouded in mystery." ]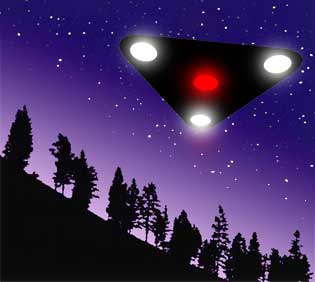 One of the most dramatic close-up encounters happened in the Idaho back country of Challis where four hunters had camped on September 27, 2000. Kris and Marc Bales are brothers who work together in their Bend, Oregon, construction company that builds homes and commercial offices. The brothers have been going to the same Challis hunting area for nearly twenty years. Their hunting site is in a valley ravine at about 6,000 feet surrounded by mountains peaks ranging up to 12,000 feet.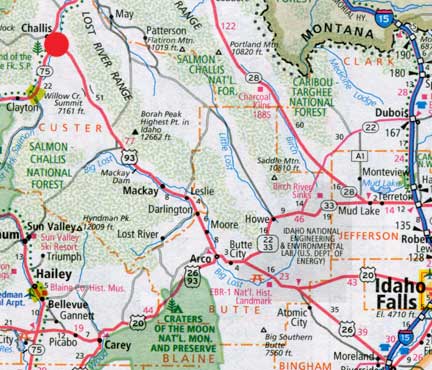 With them on that September 2000 trip was their good friend, Rob, and Rob's father. The group had been out all day in the woods and had returned to fix dinner in their camp trailer. Around 9:15 PM, Kris Bales left the trailer to go to his pickup truck to get food.
---
Interview:
Kris Bales, Owner, Construction Company, Bend, Oregon:  "I reached over and opened the lid of the box – I had a sack of groceries in there and was going to take them inside. Just as I reaching down in there, I got a really strange feeling. The only way I can explain it is that there was like if you were in a dark cave and people were holding like a really heavy wool blanket just over the top of you and it was not touching you, but you kind of knew something was there.
And for whatever reason, the hair on the back of my neck stood up and I looked up, and as I was looking up, I stepped back off of the tire. I had a small flashlight in my right hand. As I was looking up, my right hand just kind of automatically went up with the light and there was an object. I remember my light going up the trees and then the light hit an object that was blocking out the sky completely. It was a perfectly clear, windless, really beautiful evening. This thing was blocking out the whole sky basically from one side of the draw to the other.
With my flashlight, I could actually see texture and color. It was a big triangular shape – and why I remember it being on each side about the length of a football field is what popped into my head, like goal post to goal post.  So, it was huge!
THAT WOULD BE MAYBE 300 FEET ON A SIDE.
Correct, yes. So, it was pretty intimidating. (laughs) for me at that point! The outer edge was like a flat black, kind of charcoal-looking, smudgy dark that kind of blended into a greenish gold, but pretty muted like suede leather – that's what it reminded me of. The black charcoal sides that came around down about to the bottom of the craft, or whatever it was.
Kris Bales Notes from September 27, 2000: "Feeling of a thick heavy blanket above me. Dark shape directly above me and the trailer. Looked up and saw shaped outline because it blocked out the sky and stars. NO SOUND. My flashlight shined across bottom – was it back right hand corner? Or front side to back? At about a 45-degree angle in very defined look (for less than 1 second),
I could see color and texture and edge. The flashlight seemed to activate the aircraft, like it knew it had been spotted. A very deep low 'throttling up' sound of intense power increased slightly and it began to levitate straight up and then move forward up the canyon very slowly. As it 'throttled up,' the light glowed like a dim dome light and the deep red center light began to slowly pulse (no flash) as it moved up the canyon until out of sight. NO NOISE after 'throttle up' sound."
THAT BOTTOM WAS WHAT COLOR?
The bottom of it was kind of a muted goldish-green and really flat, nothing shiny. And at first, there were no lights on. That thing was just sitting above my head somewhere between 100 and 200 feet above me. I know the trees were approximately 100 feet tall, so it was probably no lower than that. It was just sitting there not making a sound. Something that huge just basically levitated in the air not doing anything.
No comprehension of just about everything that I saw is probably one of the best ways to explain it. When my flashlight went across the bottom of it, it was like, 'Whoops, we've been spotted!'
These lights on each corner on the underneath side, they were approximately – just a guess – like 30 feet in diameter. After I shone my flashlight, they just came on really slowly. They reminded me of a really dim dome light, but they did not illuminate anything at all. It didn't light up the trees; didn't light up the ground. I could see the lights, but they obviously were not for illuminating an area.
KRIS, DID THEY HAVE COLOR?
No, they were just a dim, yellowish-white dome light (in a car) is the closest thing I can come to describing what they looked like.  This is all happening in parts of a second. It takes a lot longer to tell it than what happened. And then about the same time those three lights came on first, in the center of the craft was something that reminded me of a Skippy peanut butter lid upside down on the bottom center of the craft. It was probably three times as big as the outer corner lights. And that central light came on real slowly and it was like a really deep, ruby red color. Again, it was not bright. It did not illuminate anything.
YOU ARE SAYING THAT IF THE THREE CORNER LIGHTS WERE 30 FEET IN DIAMETER AND THE CENTRAL RED LIGHT WAS ABOUT 100 FEET IN DIAMETER.
Yeah, like 90 feet, somewhere in there.
THAT'S HUGE!
Yes!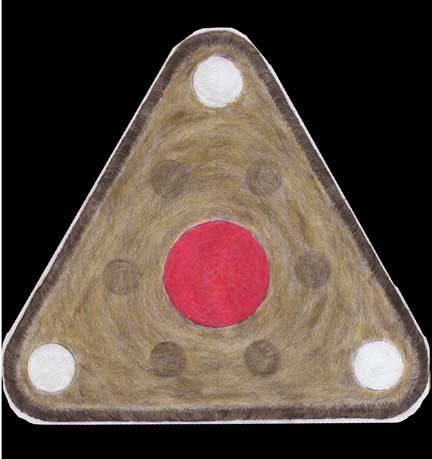 DID THAT ENTIRE CIRCLE IN THE CENTRAL PART COME ON AS THE DEEP, RUBY RED?
Yes, it was all the same color and brighter than any other part of the craft. I saw that come on and at the same time, there was an extremely deep, subsonic sound. The only thing I've been around that kind of sounds like it is if you go down into a big dam on a river where there is a big turbine engine turned by the water – immense feeling and sound of a really low volume, low bass sound. I heard that. That's the only sound that we heard. It had been dead silent up to that point. That happened for only like a fraction of a second and then this thing started to rise straight up above me.
Actually, it had to rise straight up because it could not move side-to-side or forward because of the way the valley ravine sides came up – the craft would have hit something on one of the corners. At that time – excuse the language – I just yelled out. I was on my knees trying to comprehend the thing and yelled out, 'Holy shit! Holy shit! Holy shit! You guys have got to come see this!'
That's when my brother, Marc, heard Rob and me.  Marc came out the door and I was trying to half stand up – half on my knees and half on my feet.
HOW DID YOU GET TO YOUR KNEES?
When I dropped down off the side of the pickup – I mean, the lack of comprehension of what it was just basically floored me. I mean, I just gave out.
YOU FELL TO YOUR KNEES IN COMPLETE ASTONISHMENT.
Yes! Non-comprehension. Astonishment does not even come close to describing it. I had a few bear encounters and had been chased by a bear once. He didn't get me, but I thought I had been scared that time with the bear, but after seeing this, I knew I didn't ever really know what the word 'scared' meant. But I do now.
YOU ARE SCREAMING FOR YOUR BROTHER AND YOUR TWO HUNTING BUDDIES – WHAT HAPPENED?
Well, Marc came out first. I basically crawled half on my knees and grabbed hold of Marc's shirt and pulled myself up and pointed up above me. I didn't say anything, just pointed up. So, Marc looked up and Marc and Rob had the presence of mind to run to their pickups and both of them grabbed their binoculars and were looking at the object in their binoculars. The craft had started moving forward when I pointed up with Marc. So, it was not still hovering above us. It was starting to move forward and up this valley. It seemed like an extremely slow moving rate. And I describe the movement as if you take a hockey puck on ice and put the hockey puck on ice and gave it a little shove, so smooth and soft and slid along the ice. That's what this craft reminded me of, extremely powerful, making no noise. How can something this size do that? What is it?
One of my other first impressions was that's not from here (Earth). Don't know why. Another impression was how perfect it was!  When the flashlight went across the bottom, there were no rivets, no screws, nothing shiny, no insignia, no identification of any sort on the bottom side of that big triangle.
HOW LONG HAD YOUR TRUCK BEEN PARKED WHEN YOU WENT OUT TO GET THE FOOD?
Well, I was parked there when we got back from hunting. We drove back in the truck, so we had probably been there maybe 45 minutes, I guess.
SO, KRIS, HOW DID THIS HUGE FOOTBALL-FIELD-SIZE ON THREE SIDES GET INTO CAMP OVER YOUR TRUCK AND BE THERE HOVERING 100 FEET OR 200 FEET ABOVE? IT HAD TO HAVE BEEN THERE WHEN YOU WENT OUT TO THE TRUCK FOR GROCERIES AND DISCOVERED IT BECAUSE YOU FELT THAT STRANGE FEELING.
That would be my guess. I have no clue how long it was there. Obviously, Rob had not looked up, so he did not notice.
IT IMPLIES STEALTHINESS ON THE PART OF THE TRIANGLE AS IF IT CAME DOWN LOW WHERE YOU ALL WERE ALMOST AS IF WHAT?
Sneaking up on us and monitoring what we were doing, I guess, was my impression. I can't think of any other reason to do that unless they just tried to see how close they could get before we discovered it was there. I don't know if that was the intent or not. But it was obvious, whether it could hear or see us, with my yelling and the flashlight on there, it was pretty obvious that I had seen it.
WHAT HAPPENED TO THE RED CENTRAL LIGHT AND THE THREE CORNER WHITE LIGHTS WHEN IT BEGAN TO MOVE?
They just stayed the same. They really didn't do anything, didn't get any brighter in intensity. The slight pulse wasn't like in an airplane light where you can see where it flicks pretty good. It just seemed to be a really slow heart beat type throb.
The white lights came on after my flashlight went across the bottom of it and after I had yelled for Marc. This was almost simultaneous that the three white lights, or dim yellowish-white lights on each corner came on. And then, the center big, ruby red, Skippy-peanut-butter-lid-shaped light on the bottom of the craft, a dark, ruby red – that came on really slowly, just kind of like turning a dimmer on real slowly. The intensity came up on it. The red light was not bright. It did not illuminate anything, did not light anything up.  That red light came on simultaneously with a really deep, low-pitched throb, a deep base that was not loud, just perceptible, an immense amount of power. That all happened as the object lifted straight up above.
At that point, there was no more noise and just dead silence and the big, ruby red light kind of started to throb like a really slow, pulsing heartbeat and it started to move forward and up the draw.
You know it's there. It's not some sort of an illusion. This was dead real. It was there! There is no question about it, just like the trees and the mountains were there beside us. This thing was over the top of us. The seconds clicked by slowly, but we kind of put a timeline together and the whole time from me spotting it to when it was out of sight was somewhere between 45 seconds and 60 seconds.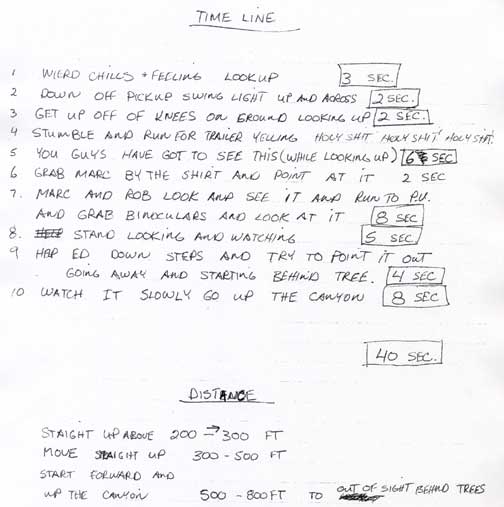 DO YOU HAVE ANY GUT SENSE ABOUT WHAT YOU WERE SO AFRAID OF?
Just not knowing what it was. Not comprehending. Pretty much what you see in the world right now, you can put something together with it and know what it is or what it might be. But this was just – the non-comprehension factor – I couldn't put together what it was or how it could do that. You know, you can't have something that big  – it looked heavy, it looked solid. You can't do that! That doesn't happen! I've never seen anything like that happen, so how can that be happening.
AND BE SILENT FOR MOST OF THE TIME.
And be completely silent for all but a partial second. We had mules that were tied up. They didn't do anything. Normally, they are like a watchdog. If anything happens, they let you know.  There was no movement from them – no braying or anything else. It's just incomprehensible.
My impression of immense power was the only thing that came through – almost like you could feel the sound more than hear it.
YOUR FINAL VIEW OF IT WAS WHAT?
My final view was that we watched it for maybe 15 seconds as it slid like an escalator or ice up out of this valley going from 6,000 feet to a little over 11,000 feet and approximately for 7 miles distance.
I was guessing it was moving about 40 mph, but to go that far in that amount of time, it would be going over 100 miles to cover that distance in that amount of time. But with no sound, I guess, to be able to tell and it was so big.
Everything was so smooth. It didn't really seem like it picked up speed, although it had to have speeded up. We watched it until it went out of sight over the horizon of the mountain at the top.
WHAT DID YOU ALL SAY TO EACH OTHER AT THAT MOMENT?
You know, I really don't even remember us saying anything. We went back to the trailer. I walked in first. The other guy was an older gentleman. One of the things I remember is that I walked to the door and he was looking at me kind of strange. I said, 'What?' And he said, 'Well, you are completely white!'
I had a short sleeve shirt on and looked down and my arms and I assume face was, from what he said, were as white as a sheet of paper.
LIKE THE BLOOD HAD DRAINED TO YOUR ORGANS.
Like the blood had drained clean out of me! (laughs) Yeah, it had a traumatic effect, more than anything else I'd ever experienced.
I was pretty shook up.  I couldn't stay there. I tried, but I couldn't do it. So, we had to drive three hours to get to a motel (laughs)! I was going to try and stay there, but I couldn't do it. Like I say, I was just too shook up about the whole thing.
WHAT WAS GOING THROUGH YOUR MIND WHEN YOU THINK ABOUT IT THAT YOU WERE SO AFRAID OF?
That I don't know. There was nothing – I guess like Marc said, something sitting right over the top of you is kind of a threatening posture. When he saw it, the craft was moving away, so it was not in a threatening posture. It would be like the difference between if you had a grizzly bear standing over you to eat you, or if a grizzly bear is running away from you. You have a whole different feel for what is going on.
There was nothing I can say was threatening other than it was totally no comprehension of what it was. That's what scared me."
After our interview, I emailed to Kris and Marc a scan of the SOM1-01 Page 20 with extraterrestrial craft illustrations, including the triangle. Kris told me that he and his brother had never seen any triangular aircraft or photos before their own encounter and that my email of the SOM1-01 page surprised them. Kris said, "I was shocked at how close the 1954 illustration in that document was to what I saw on September 27, 2000."
Continued in
Part 2
– Marc Bales
Earthfiles would like to learn about other unidentified aerial triangle sightings similar to the illustration in the SOM1-01 1954 training manual, what the Bales brothers saw and what flew over Belgium in March 1990. Please email: [email protected].  All requests for anonymity are honored.
---
More Information:
To report unusual aerial phenomena and/or entity encounters to the National UFO Reporting Center, contact:
Peter Davenport, Director
National UFO Reporting Center (NUFORC)
P. O. Box 700
Davenport, WA 99122
Website:  http://www.ufocenter.com/
Director : Peter Davenport – [email protected]
Webmaster : Christian Stepien – [email protected]
NUFORC Hotline: 206-722-3000
(Use only if the sighting has occurred within the last week.)
For further information, please see my books:  An Alien Harvest, the 2-volume Glimpses of Other Realities and my documentaries A Strange Harvest and Strange Harvests 1993 now available in DVD format in the Earthfiles Shop.
Also, see Earthfiles Archive for dozens of unidentified flying objects and extraterrestrial biological entity case studies from 1999 to 2009. As an example, here is only a partial Archive list:
05/29/2009 —Part 3: 1954 SOM1-01 Training Manual and Challis, Idaho, Huge Triangle
05/29/2009 —Part 4: 1954 SOM1-01 Training Manual and Challis, Idaho, Huge Triangle
05/28/2009 —Part 1: Idaho Hunters Describe Huge Triangle Aircraft Over Their Campsite
05/28/2009 —Part 2: Idaho Hunters Describe Huge Triangle Aircraft Over Their Campsite
12/24/2008 —Part 14: Army/CIA Unit Studied the Real UFO Blue Book Cases
11/21/2008 —Colorado State Patrol Officer Encountered UFO and "Human" Stranger
11/17/2008 —Part 3: Morphing UFO Over Levittown, PA – Scientific Research
11/17/2008 —Part 4: Morphing UFO Over Levittown, PA – Scientific Research
11/14/2008 —Part 2: Morphing UFO Over Levittown, PA – Scientific Research
11/13/2008 —Part 1: Morphing UFO Over Levittown, PA Drops Little Squares of Light
10/30/2008 —More Encounters with Glowing Humanoids, Green Orbs, Strange Aerial Lights and "Thunderbirds"
10/10/2008 —Part 1: Two Pennsylvania Hunters Encountered Strange Lights and Lime Green, Glowing Humanoid on Oct. 4
08/26/2008 —Update: Earthfiles Viewer Comments About UFOs and 14th Century Black Death
08/22/2008 —UFOs and 14th Century Black Death
07/13/2008 —Part 6: Insights from An Experiencer with Greys and Blond Humanoids
07/12/2008 —Updated – Part 2: Roswell Rock Matches August 2, 1996, U. K. Crop Pattern
07/11/2008 —Updated – Part 1: Roswell Rock Matches August 2, 1996, U. K. Crop Pattern
06/27/2008 —More Military Sightings of UFOs in U. K.
06/06/2008 —Updated: Mysterious Crash Near Needles, California
04/24/2008 —Strange Aerial Lights Like Texas – But Now Photographed in Indiana, Illinois, and Massachusetts
04/23/2008 —Four Red, Unidentified Lights Change Patterns Over North Phoenix
04/07/2008 —Part 1: Bizarre Objects Caught by Illinois and Missouri Game Trail Cameras
04/07/2008 —Part 2: Bizarre Objects Caught by Illinois and Missouri Game Trail Cameras
04/06/2008 —Final Part 10: Real X-File, Source Unknown
04/02/2008 —Part 9 – Real X-File, Source Unknown
03/30/2008 —Part 8 – Real X-File, Source Unknown
03/28/2008 —Deer Mutilation in Longs, South Carolina, Two Helicopters and Large, White Sphere
03/20/2008 —Part 7 – Real X-File, Source Unknown
03/15/2008 —Part 6 – Real X-File, Source Unknown
03/08/2008 —Part 5: Real X-File, Source Unknown
03/04/2008 —Part 4: Real X-File, Source Unknown
03/03/2008 —Updated Part 1: Real X-File, Source Unknown
03/02/2008 —Part 2: Real X-File, Source Unknown
03/02/2008 —Part 3: Real X-File, Source Unknown
02/22/2008 —Updated: Three Eyewitnesses in Selden, Texas, Saw Two, Large Rectangles of "White Flames" in Sky
02/14/2008 —Update: Mysterious Symbols Projected in Night Sky by Aerial Disc Near Stephenville, Texas, Local Airport
02/08/2008 —Law Officers Describe Unidentified Shape-Shifting Aerial Craft in Stephenville, Texas, Region
01/28/2008 —Updated 01-28-08: Viewer Letters About Aerial Craft and Military Flyovers Above Dublin, Stephenville and Selden, Texas
01/18/2008 —Updated: Huge Aerial Craft Over Dublin, Texas, "Longer Than 3 Football Fields"
01/15/2008 —Updated: More Sky Spiral Mysteries in Iraq, Canada and Germany
01/11/2008 —Canadian "Disc" and Smoke Spiral Still A Mystery
12/20/2007 —Updated: Viewer Letters About Secret American Military Space Program
12/11/2007 —More Confirmation of May 1974 Discs in Albuquerque and Huge Cylinder Craft At White Sands Proving Ground.
12/08/2007 —Another Eyewitness to Glowing Disc and Military Security in Albuquerque, New Mexico
12/07/2007 —Part 2: Secret American Military Space Program?
12/01/2007 —Part 1: Secret American Military Space Program?
11/29/2007 —Part 1: Glowing Disc Encounter with Military in Albuquerque, NM
11/29/2007 —Part 2: Glowing Disc Encounter with Military in Albuquerque, NM
11/29/2007 —Part 3: Glowing Disc Encounter with Military in Albuquerque, NM
10/21/2007 —Viewer Comments About Big Triangles and Lights – In Conflict?
10/19/2007 —Updated: Huge, Silent, Black Triangle Craft Over Youngstown, Florida
08/01/2007 —Part 3, Non-Human Blonds, Greys and Big-Nosed, Cat-Eyed Lizards
07/31/2007 —Part 2, Non-Human Blonds, Greys and Big-Nosed, Cat-Eyed Lizards
07/28/2007 —Mysterious Aerial Lights Over Stratford-upon-Avon, July 14, and Farnborough, Hampshire, on July 22, 2007
07/26/2007 —Part 1, Non-Human Blonds, Lizards and Big-Nosed, Cat-Eyed Greys
07/14/2007 —Schofield Barracks, Oahu, Hawaii – Huge, Lime Green Oval Craft Hovered Over Battalion Headquarters
06/14/2007 —High Strangeness Encounter in Tucson, Arizona
06/13/2007 —Into the Unknown with George Noory
03/16/2007 —Tenth Anniversary of March 1997 Phoenix Lights: What Was the 2-Mile-Long Triangular Craft?
---
Websites:
Peter Davenport, Director, NUFORC:  http://www.ufocenter.com/
Majestic-12 Documents:  http://www.majesticdocuments.com
Presidential UFO Information:  http://www.presidentialufo.com/
Richard Nixon, Jackie Gleason and UFOs:  http://www.presidentialufo.com/richardm.htm
UFO Casebook:   http://www.ufocasebook.com/
Majestic Twelve:  http://en.wikipedia.org/wiki/Majestic_12

© 1998 - 2023 by Linda Moulton Howe.
All Rights Reserved.