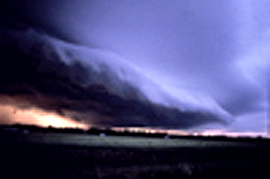 FACTS:
– 1998 was the warmest year on record globally.
– 1999 was the second warmest year on record
for both the U.S. and U. K.
– The earth warmed 1 degree Fahrenheit
between 1900 and 2000.
– The earth is projected to get 2 to 6 degrees F.
warmer by 2100.
– Ocean levels rose 4 to 10 inches
between 1900 and 2000.
– Ocean levels will rise 18 to 36 inches
higher by 2100.
"There's no question that greenhouse gasses are there, that they are going to increase and even if we started action now, it takes a long time for them to come out. They have a residence time of about 300 years in the atmosphere, so it's going to take a long time. We really have to do two things. One is we're going to have to learn to live with the world that has a different climate than it has today. And we're going to have to learn how to be more energy efficient."
– James Baker, Ph.D., Administrator, NOAA,
January 7, 2000


January 9, 2000  Washington, D. C. – Three massive storms with high winds swept across England and Europe in December knocking down 300 million trees in France alone. Scientists told the American Geophysical Union that the polar wind pattern has changed and "could be responsible for fiercer winter storms across western Europe and western North America."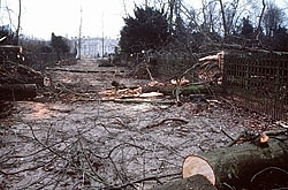 What caused the change? Upper atmosphere winds have been blowing in a smaller, stronger circle around the polar region, not moving as far south. That means warmer temperatures at low altitudes across Europe and Asia clash even more strongly with the very cold temperatures above the North Pole. The result: stronger winds that pull heat and moisture from the Atlantic and Pacific oceans. Already, Spain has had a sharp decrease in rainfall.
In December, various scientific reports confirmed that 40% of the Arctic North Pole ice has melted in the past thirty years. That ice melt is diluting some Atlantic Ocean currents which could end up affecting the North Atlantic Drift. That drift brings warm water from the tropics to the British Isles and Europe. The strange possibility exists that in a steadily warming world, Europe could become cooler.

The National Oceanic and Atmospheric Administration, known as NOAA, and the United Kingdom Meteorological Office in London recently issued a joint alert about global warming trends. The official letter states: "The rapid rate of warming since 1976 of .35 degrees Fahrenheit per decade is consistent with the projected rate of warming based on human-induced effects. In fact, scientists now say that they cannot explain this unusual warmth without including the effects of human- generated greenhouse gases and aerosols. …We must learn to live with the likely consequences: more extreme weather, rising sea levels, changing precipitation patterns, ecological and agricultural dislocations and the increased spread of human disease."
The letter is jointly signed by James Baker, Ph.D., Administrator, United States National Oceanic and Atmospheric Administration in Washington, D. C. and Peter Ewins, Chief Executive Officer of the United Kingdom Meteorological Office in London. I talked with Dr. Baker about what provoked the joint statement.
---
Interview:
James Baker, Ph.D., Administrator, U. S. National Oceanic and Atmospheric Administration, Washington, D. C: "The precipitating thing was the release of the temperature records for 1999. We found globally it was the fifth warmest year on record and in fact, for the U. S., the second warmest. It was a similar thing for the United Kingdom. And we felt, both Peter Ewins and I felt, that this was significant both in terms of the fact that the temperature has been warming throughout the last 20 years at a rate which is fully consistent with what the global warming theories say. So, we thought it was an important point to make.
With these three recent storms in December across Europe, the last two being the strongest and doing so much damage, especially in Paris, it seems consistent with reading I have done in NOAA and GISS (Goddard Institute for Space Studies) in New York about greater instability in the upper stratospheric temperatures. The upper is getting colder while the atmosphere nearer the earth is getting warmer. That sets up instability and a potential for greater energy in storms. Would the three recent European storms fit that category?
There certainly was a lot of instability, as you say, in that storm. It was a very powerful one. The last time we saw something like that was in 1988 when there was a big storm that hit England. And there were two storms that hit France – very concentrated and very strong.
You can never ascribe any one storm to global warming because that's a gradual change. But there's no question that you expect to see a world where it is stormier, wetter and drier – all the extremes get stronger when you go into this world where there is more energy being absorbed by the increased greenhouse gasses.
I think it's important for us to learn how to use energy efficiently to try to reduce our greenhouse gasses that we put in the atmosphere. There are a lot of things we can do. And I think we have to work very closely with other countries. China and India, in particular, as they grow and start to use more energy to raise their standard of living, we need to give them the technology so they can do that in a very energy-efficient way. It can be done. We're doing it now, but I think it is very important for us to help these countries to do a leapfrog of the old technologies.
It's my understanding that the amount of carbon dioxide going into the atmosphere is at a level that even if we stopped all industrial production now, we would still see over the next 100 years an increase in average global temperature to perhaps as much as six or more degrees Fahrenheit.

There's no question that greenhouse gasses are there, that they are going to increase and even if we started action now, it takes a long time for them to come out. They have a residence time of about 300 years in the atmosphere, so it's going to take a long time. So, we really have to do two things. One is we're going to have to learn to live with the world that has a different climate than we have today. And we're going to have to learn how to be more energy efficient.
What do you say to countries such as India, Thailand and South America who say, 'You industrialized countries have had your air conditioners and appliances. Now we want the same ability?' Such increasing energy demands will intensify the greenhouse gas problem, won't it?

What we're saying to them now – and we're doing this jointly with industry – is that as you put in new industry and as you provide more appliances and energy use, try to make this as carbon-free as possible. And that way, they'll be able to leap frog some of the difficulties that the developed countries already went through.
Now, that doesn't solve the whole problem. But at least it makes everybody aware and it slows it down so that as we look for other technical solutions, we can find a way to do that. In the end, what we hope to do is to find some ways that we can increase our energy use without putting carbon into the atmosphere. We don't know the answer yet, but at least if we can be as efficient as possible and we can get these countries that are growing rapidly to do the same thing, that will be a big help.
One of the criticisms has been that this particular administration (Clinton/Gore) has not been aggressive in leading the way in terms of reducing greenhouse gases enough in terms of the industrialized world. That was the main criticism at the Kyoto conference.

There's no question that the United States right now is the major emitter and there are a lot of things we can do. The Administration has proposed a number of things that might be done to the Energy Department. We've proposed BTU taxes, a variety of things that might have an impact. But Congress has in fact refused to act on any of these and I think it's partly because the Congress is reflecting a public view that this is less of a problem than it really is. I think this is a real issue. We need to get the American public aware that this is a serious issue for all of us and that we need to do something about it.
I think there were more tornadoes in the last two to three years than in the entire previous century. Then Hurricane Floyd dumped flood waters along the East Coast. Does NOAA project that the numbers of hurricanes and tornadoes will increase with more energy?

We have definitely seen more tornadoes in the last couple of years. That's a fact. Whether that's a global warming effect or not, it's hard to say. But the hurricanes – we saw more tropical storms in the last five years than we have seen at any time in recorded history. We're definitely on the upswing in terms of numbers of tropical storms. And we've seen some very, very strong ones. In fact, this past year we got more strong hurricanes than we've seen in a very long time. And it is also true that as you add these greenhouse gasses and put more energy into the environment, that feeds the energy of these things. It's something where the two things go together.
Do you see a projection over the next 30 years in which wind systems alone could keep on exceeding 200 mph?
This is a good question. I don't have a strong answer for that. But wind and wind speed is something our scientific researchers are looking into very carefully. We have a better understanding of how the temperatures change at this point. But we are very concerned about that and that's one of the subjects we have been studying.
If the energy systems increase with greater instability in a global warming atmosphere, isn't the time approaching when insurance companies are going to say to coastal residents, 'We cannot afford to insure any more.' And shouldn't this issue be a big political priority in Congress?

Well, it should. There's no question that the insurance companies are very concerned that the losses due to weather-related disasters have been rapidly rising. You have more people living on the coast. You've got more expensive homes. So this is something where the insurance companies are vulnerable. They have been helping us in terms of doing research and trying to understand the systems and trying to improve our forecasts. This is a segment of industry that is very concerned.
They are having increased losses every year because of the number of storms and because we have more people living in vulnerable area. And they have formed some pretty strong coalitions that come to Congress and try to do something about it. Insurance companies are a very important part of our economic stability in the United States and they are being listened to.
Why isn't Congress listening?

It's hard to say. I can't really give you an answer about how Congress makes its decisions, but I hope we will find some progress on these issues in the next few years.
Do you think it's going to take a catastrophe beyond anything we have imagined so far?

Well, sometimes catastrophes are ways to get action. We've certainly seen that after some of the major hurricanes. That was one of the reasons to write this letter (alert)- that we get enough awareness, some real action without having to suffer a major catastrophe.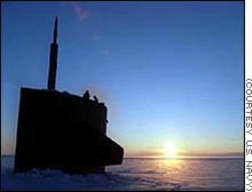 The Arctic – in December there was the report that 40% of the North Arctic ice has now melted. I talked with GISS in New York a couple of weeks ago and their projection is that if the current melt rate persists, there will be no Arctic ice in summers at the North Pole in another thirty years. That would be 2029 to 2030. If the Arctic ice is completely gone, that would dilute the salt content in some of the ocean currents, especially the North Atlantic Drift which provides warm water from the Tropics to the British Isles and Europe. Are you concerned at this point about the North Atlantic Drift changing?
This has been one of the big issues because our models – although they are certainly not complete as far as oceans are concerned – all seem to say that as you add greenhouse gasses and change things like the Arctic ice, it's very possible that you could change some of these major currents. That changes the heat that goes to Europe. It certainly could lead to things like little Ice Ages and other things. Whether this happens is still a question. But like you, I was very concerned to hear that the ice pack in the Arctic is diminishing with these very accurate new measurements that we have – another indication that we are probably seeing a global warming effect.
I think every scientist I've talked to would agree with that and another area of deep concern is that the Wilkins and Larsen B ice shelves in the Antarctic melted enough in the summer of 1999 to open up ice on land to more sun. If that continues and ice on the Antarctic mainland melts into the sea, that will raise ocean levels.

Yeah, exactly. And of course, we've been concerned about that for a long time. If you get this ice which is currently on land melting and then running into the ocean, not only does it change the salinity, but it also changes the sea level. So, we've been following this whole question of the ice melting in the Antarctic very carefully.
What kind of response do you get from the administration officials when you present this data and say we have a very serious problem that's going to continue to affect us decade after decade?
The Clinton Administration has been very interested and supportive of all these issues and as you know, Al Gore has been a leader in identifying global warming as a very serious issue for a long time. He identified this as something we had to be very serious about.
And as I say, the Administration has proposed a number of energy measures, addressing both new technology and trying to reduce energy use and so on. None of them have gone very far in the Congress, but I would say that we have an Administration that is very aware of the problem and would like to see some action.
Are you personally dismayed that all of this cannot happen faster?

Well, faster would be better, there's no question about that."

---
More Information:
In November 2000 – the next big global climate conference will be the Framework Convention on Climate Change in the Hague, The Netherlands. That will be the major meeting this year where countries will come together from all over the world to discuss what can be done to better understand, mitigate, and develop technologies to cope with climate change.
One technology that has been endorsed by the Sierra Club is the Honda Insight, a hybrid car that combines solar electric power with gas to get 70 miles per gallon. The Sierra Club honored the Honda hybrid with its first Excellence in Environmental Engineering Award in Los Angeles on January 7th. Honda's Insight is priced at about $20,000 and is the first hybrid to be sold in the United States. Sierra Club Executive Director Carl Pope presented the award "because the auto industry is finally moving to produce vehicles that represent a major step forward in improving the environment."
---
Websites:

© 1998 - 2018 by Linda Moulton Howe.
All Rights Reserved.