"If the prediction of total Arctic ice melt by 2030 is correct, then it is truly frightening because I think it would result in huge ecological changes to the polar oceans, the loss of species, changes of balance. The effects on climate change around the Northern Hemisphere particularly could be quite dramatic."
– Ian Sterling, Ph.D., Zoologist and Research Scientist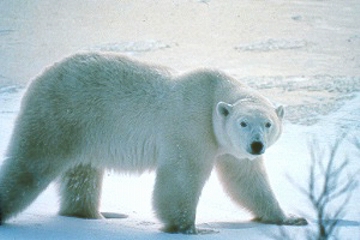 September 10, 2000  Churchill, Manitoba, Canada – The Arctic and northern latitudes have been singled out by the World Widelife Fund as the most vulnerable to the rapid rate of global warming. Their sobering statistic is that 20 percent of all species in northern environments could die out as melting ice and tundra completely change the habitats.
According to the July issue of the Dutch journal, Climate Change, Arctic temperatures in recent years have been the warmest in four centuries. Researchers reported data from 100 separate studies which show that parts of Alaska and Eurasia have warmed by as much as 11 degrees during winter months over the last thirty years. The September 4th issue of Time Magazine featured "The Big Meltdown" in the Arctic and showed photographs of highways cracking and buckling and houses propped up on jacks because permafrost is melting. Arctic sea ice is now 40% thinner and covers 6% less area than in 1980. And one of the most beautiful and photographed animal species in the world might be facing extinction because of the meltdown: and that's polar bears.
This weekend I talked with Dr. Ian Sterling, Zoologist, Research Scientist and world expert on polar bears with the Canadian Wildlife Service. Currently, he is at the Churchill Northern Study Center in Manitoba on the western shore of Hudson Bay. Dr. Sterling discussed the consequences if the Arctic warming trend and shorter winters continue over the next decades.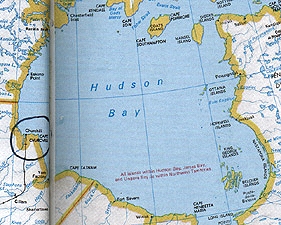 ---
Interview:
Ian Sterling, Ph.D., Zoologist and Research Scientist, Canadian Wildlife Service, Edmonton, Alberta, Canada: "The climate seems to be warming over much of the Arctic and the amount of ice and times of break up seem to be changing. In other words, the amount of ice over all seems to be getting less in the polar basin. It's getting to be a bit thinner. And my work is centered on polar bears in western Hudson Bay which is one of the most southerly populations of polar bears in existence. So, we think the sorts of things we would expect to see with polar bears in more northern areas we might see at an earlier stage in Hudson Bay.
First you have to understand that Hudson Bay is frozen over all through the winter with what is called "annual ice." That means it's only there for one year. Then it all melts, usually around the middle of July, and there is nothing there but open water. So, all the bears in Hudson Bay have to come ashore and fast to live on their stored fat reserves for a minimum of four months before they can go back on the ice after freeze up around the middle of November.
Now, pregnant females when they come ashore are going to be giving birth so soon after the middle of November that they can't go back out. So, they have to fast on their stored fat reserves for a full eight months which is quite a long time.
It happens that the most important feeding time for bears is in the late spring and early summer because they feed predominantly on ring seals which are born around the first of April and the young take about six weeks to wean and at six weeks of age they are on their own. And they are 50% fat weight by wet weight. And it's that fat that the polar bears really want to take on and store.
They feed on these rather naive animals. They are easier to catch than wily old adults until the time the ice breaks up normally around the middle of July. But if you look at the records for the last 20 or 30 years, you find that the time the ice breaks up – the average date has actually gotten to about two weeks earlier which is a pretty substantial difference. That means up to two weeks of key feeding time for laying on fat reserves is being lost. If that trend continues, and there seems to be some indication that it will, it's going to cause very serious stresses on this southerly population. It indicates the kind of thing we're going to see probably further north if this trend continues.
BECAUSE THERE IS A MORE ACCELERATED MELT OF THE ICE AND THAT THEY ARE HAVING TO COME ON TO THE LAND BECAUSE THEY DON'T HAVE THE ICE TO WORK FROM TO GET TO THE RING SEALS, THAT IS WHAT IS INTERFERING WITH THEIR STORING UP FAT AT THAT PARTICULAR TIME?

That is correct. They need the ice as a platform from which to hunt the seals. And when the ice is gone, the seals are no longer accessible to them. In a simplistic sense, if the temperatures continue to get warmer and warmer and the ice break up continues to get earlier and earlier and there is less and less ice, there are going to be fewer polar bears.
I THINK THE NASA GODDARD INSTITUTE FOR SPACE STUDIES (GISS) AND CENTER FOR CLIMATE SYSTEMS RESEARCH, COLUMBIA UNIVERSITY, ARE PROJECTING THAT AT THE CURRENT RATE OF MELT, THERE WOULD BE NO NORTH POLE ICE IN 30 YEARS.

That's one model of a variety with a range of predictions. But all of them seem to say we are going to get more warm weather and less ice and whether it will go to no ice in 30 years, I personally think that might be a little extreme. If it's correct, it's truly frightening.
THAT IT IS TRULY FRIGHTENING.
If that prediction is correct, then it is truly frightening because I think it would result in huge ecological changes to the polar oceans, the loss of species, changes of balance. The effects on climate change around the Northern Hemisphere particularly could be quite dramatic.
BEYOND THE POLAR BEAR POPULATION YOU ARE STUDYING, WHAT OTHER ANIMALS RIGHT NOW ARE UNDER EXTREME STRESS BECAUSE OF THE INCREASING TEMPERATURES AND MELT IN THE ARCTIC?

One animal that might come under significant influence is the ring seal which is the main food species for polar bears because they in the winter time maintain their own breathing holes with their claws and their fore flippers, they maintain breathing holes through the ice and the snow drifts over top. And they come up through the ice in the spring time, the pregnant females do, they give birth to the young inside these snow drifts underneath the ice. With earlier melts or maybe complete melt earlier on, those snow drifts are going to melt down and not be there to hide the pups while they are babies and they will be much more vulnerable to predation. They will be much more vulnerable to rainstorms and to severe cold weather which will probably increase mortality.
It's also true that not everything in terms of the future of a particular species is necessarily going to be bad. You might find, for example, that animals that live in the high Arctic that are concentrated around areas where there is some open water in winter at the moment – these areas are called polynyas. A polynya is an area of open water surrounded by ice. There are quite a few around the Arctic and varying in sizes from the size of a football field to several hundred square miles. And these areas have concentrations of species which do not maintain their own breathing holes, but which are quite happy to stay in the Arctic cold if they can breathe. That includes things like walruses, belugas, bow head whales and bearded seals. I think we might see a significant increase in the numbers of those animals. We may see increases or more northerly distribution of some of the fish species. There is a great deal of unknown out there to be dealt with.
THE RATE OF THE CHANGE SEEMS TO BE MORE RAPID RIGHT NOW THAN IT HAS BEEN IN RECORDED HISTORY, ISN'T THAT CORRECT?

I think that the evidence suggests at the moment that the rate of change is more rapid than anything we've ever seen before. Or that we've been able to find out about from ice cores.
IF IT DOES HEAD TOWARDS A COMPLETE MELT DOWN OF THE ARCTIC ICE WHICH YOU HAVE DESCRIBED AS FRIGHTENING, WOULD THAT IN AND OF ITSELF MEAN THE END OF POLAR BEARS? AN EXTINCTION?

I think the odds are pretty good that it would.
THAT IT WOULD BE?

Yeah.
IT WOULD BE THE END OF POLAR BEARS. AND THE WAY THINGS ARE GOING WITH MELTING ICE, IT COULD ALSO MEAN THERE COULD BE A HUGE REDUCTION IN THE NUMBER OF RING SEALS THAT THE POLAR BEARS EAT.

Yeah, I think so.
WOULD THE RING SEALS HAVE ANY OTHER ALTERNATIVE TO GO TO?

I suppose they could do what other species of seals do and go pup on land, give birth to their young on land or islands that don't have predators like wolves or grizzly bears or foxes on them. And certainly other species of seals right off the east coast of the U. S., the harbor seals all up and down the place are doing just fine. And they are a close relative. So, I don't think ring seals would go extinct, but I think it would be very difficult for polar bears.
Now you may find some polar bears – polar bears have evolved from land bears. They evolved from grizzly bears. And we see down here in Hudson Bay that they are eating a certain amount of vegetation – not a lot. But there are some other alternatives. They occasionally kill a caribou. It may be that some animals might learn to make a living on land on something. But the real difficulty – although species have changed off and on over evolutionary time forever. So, change in and of itself is not necessarily a bad thing. But the rate of change here is so fast, I think they would have a very difficult time adapting.
What concerns me very much is the proportion of the change that seems to be going on that may be a result of human activities and that we may be accelerating things far faster than the normal rate. The extent to which that is happening is not truly known, but it seems to be quite significant. And it's the degree to which humans are influencing the change that is the major concern to me."
---
Websites:

© 1998 - 2019 by Linda Moulton Howe.
All Rights Reserved.