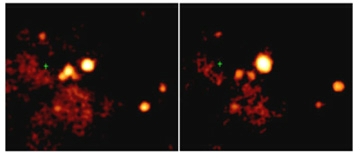 September 12, 2000 Washington, D. C. – Today at NASA headquarters in the nation's capitol, astrophysicists presented new x-ray images by the Chandra X-ray Observatory that indicate something with the mass of at least 500 of our suns is packed into a region about the size of our moon in a nearby galaxy called M82. Such concentrated mass is probably a black hole. And if so, it is the first discovery of such a large black hole outside galactic centers. Until now, scientists have found evidence of small black holes only ten to twenty times bigger than our sun (one solar mass) or massive ones millions of times more massive than our sun, but only at the center of galaxies. This new discovery is at least 600 light years from the center of M82 and could be a new type of black hole that evolves and grows from the merger of many black holes. Further, the scientists reported that the intensity of the X-rays was rising and falling every 600 seconds, a ten minute cycle. Cycles are more consistent with matter falling into a black hole than the collapse of one gigantic star.
Why would any black holes be so close they could merge together? Could this huge fluctuation be some other phenomenon other than a black hole? I asked Donald Kniffen, Ph.D., a gamma ray physicist who worked at the Goddard Space Flight Center for 31 years and was Project Scientist on the Compton Gamma Ray Observatory when it was launched. Dr. Kniffen is now Deputy Program Scientist for the Chandra X-Ray Observatory at NASA Headquarters in Washington, D. C.
---
Interview:
Donald Kniffen, Ph.D., Deputy Program Scientist, Chandra X-Ray Observatory, NASA Headquarters, Washington, D. C: "The reason why this object is of interest is that it is by far the brightest object with the greatest mass in M-82.
COULD YOU EXPLAIN WHY A BLACK HOLE CAN BE DEFINED BY A BRIGHT LIGHT OBJECT WHEN BLACK HOLES BY DEFINITION ABSORB PHOTONS?

We're not seeing the black hole itself. What we're seeing is the result of matter surrounding the black hole, circling around the black hole, heating up very hot and getting ready to fall in. Some of it will eventually spiral into the black hole. So, it's not directly the black hole itself you're seeing, but matter that is swirling around it getting very hot because of friction, so hot that it heats up to millions of degrees where it will emit x-rays.
WHY WOULD THIS HAVE INCREASED WITH SUCH INTENSITY OVER THE PAST THREE MONTHS?

More in-falling matter. The characteristic of a black hole compared to a supernova which can also get very bright is that the supernova would get bright, flare up, and then have a continuous decay. And this one, they see it brighten up and dim and brighten up and dim. This has to do with the sort of spastic nature in which matter falls into the accretion disc and into the black hole.
WHAT IS THE SIGNIFICANCE OF FINDING THIS PARTICULAR SIZED BLACK HOLE ALMOST AS IF BLACK HOLES COME IN THREE SIZES: SMALL, MEDIUM AND LARGE – AND THAT THIS MEDIUM SIZE SEEMS TO BE POSSIBLY FILLING IN A HYPOTHESIZED ACCRETION OF MANY BLACK HOLES CREATING A MEDIUM SIZED ONE?

Yeah, a merging of several black holes – that is certainly one theory. It's not necessarily the only way it could happen. As they said at the press conference, it's entirely possible, but not probable, that entirely new physics is involved here and that we're seeing the collapse of a star much more massive than any we ever knew existed. Or a process that leaves behind more mass. Maybe there is new physics here that causes this to be so bright that it fakes us out into thinking it's got this much mass. This is all highly unlikely because the mass is determined in two different ways here: one is just the brightness which scales with the mass. That is, the more mass, the brighter it is. And the other thing is the oscillations that occur in the accretion disc itself, like the ringing of a bell. They are the oscillations in brightness that occur. Those can also be used to make an estimate of the mass and the two estimates are in agreement.
THIS M82 OBJECT IS HOW MANY SOLAR MASSES?

A minimum of 500 solar masses. And a maximum, I think, of about 80,000 solar masses as determined from the oscillations.
THAT COMPARES TO THE GIGANTIC ONE AT THE CENTER OF GALAXIES WHICH ARE HOW BIG?

Millions or billions even. (solar mass size)
UP UNTIL NOW, YOU'VE EITHER HAD SMALL ISOLATED BLACK HOLES …

Yes, a few times our solar mass…
OR THE GIGANTIC ONES AT THE CENTER OF GALAXIES.

Yes.
WITH THE DISCOVERY OF M82, THIS SEEMS TO SUGGEST THAT BLACK HOLES OR SOMETHING MIDWAY CAN BE CREATED IN THAT 500 TO THOUSANDS SOLAR MASS SIZE?

Yes. By some processes yet to be determined, but the most likely one – at least speculated by the scientific panel, is the merging of smaller black holes. And the reason for that is that one of the things that is special about M82 is that it's a star burst galaxy, so there really should be a cluster of black holes there. The suns are packed in fairly tightly and they have the opportunity to interact and coalesce to form larger black holes.
A STAR BURST GALAXY IS?

One where a lot of stars are being formed.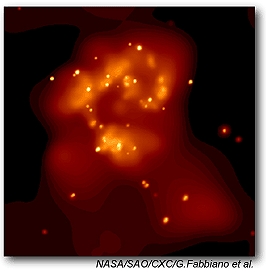 WHEN YOU HAVE A LOT OF STARS BEING FORMED FROM NEW GAS AND DUST, WHY IS THAT A BREEDING GROUND FOR BLACK HOLES AS WELL?

Simply because the more massive the stars that are formed will live for a very short time and live through their life and then die out and they die out in a violent event that would leave behind a black hole – a hypernova as we might call it where massive stars collapse to form massive black holes. If the apparent star is above three solar masses or so, then it can form a black hole. So, all those massive stars – and we know there are lots of them up in the 10 to 20 solar mass range – will collapse at the end of their life to form a black hole and these are precisely the ones that are going to go first. The more massive it is, the more quickly it burns out.
THE MORE VIOLENT ITS COLLAPSE.

Yes.
SINCE A BLACK HOLE IS BASICALLY PULLING INTO ITSELF EVERYTHING INCLUDING LIGHT, IF THERE IS A CLUSTER OF BLACK HOLES THEN IT'S GOING TO BE A QUESTION OF TUG AND PULL OF WHICH BLACK HOLE SUCKS IN WHICH BLACK HOLE, SO TO SPEAK?

Yeah, that's right. That's sort of a matter of chance, depending upon their relative speeds to each other.
M82 MAY BE THE FIRST DISCOVERY OF WHAT COULD BE THE RESULT OF MULTIPLE BLACK HOLES MERGING?

That's right.
THAT'S WHY THIS IS A SIGNIFICANT DISCOVERY?

Yeah, and it may give us some clues. Not having ever seen anything in this mass range before, it may give us some clues about how these super massive black holes form. They may form by such coalescence as well. Or they may form in the process of the galaxy formation. Or they may even precede the galaxy formation and this is how the galaxies actually form by matter that falls in around the super massive black hole. We just don't know much about massive super hole formation and it's entirely possible that by seeing the formation and learning about the formation of this intermediate mass type of object that would shed some light on that.
THERE IS A MASSIVE BLACK HOLE AT THE CENTER OF THE MILKY WAY GALAXY, CORRECT?

Probably so, yes.
WHY DO WE NEED NOT WORRY ABOUT THE EARTH AND OUR SOLAR SYSTEM NOT BEING SUCKED INTO A BLACK HOLE AT SOME POINT?

It's just because of distance. There are lots of things tugging on the earth and since the pull of these things falls off as one over r squared – all of the black hole candidates that we know about are so far away that by the time the force falls off as the square of the distance, there are less massive objects closer by that have at least as much pull or more so and this all sort of balances together with our – you have to consider the fact that we are orbiting around the center of the galaxy, our solar system is, just as planets orbit around the sun.
Why don't those planets fall into the sun? It's because they are orbiting. These black holes are not so massive that we are orbiting about the black hole. We are orbiting around the dynamical center of our galaxy.
THE PARADOX IS THAT WE ARE IN A UNIVERSE WHERE IT APPEARS INCREASINGLY THAT BLACK HOLES ARE A RESULT OF SUN CREATION AND DEATH.

Yes. It is sort of paradoxical and it's in part because we need more evidence that the M82 object could help us better understand black hole creation."

---
Websites:

© 1998 - 2019 by Linda Moulton Howe.
All Rights Reserved.