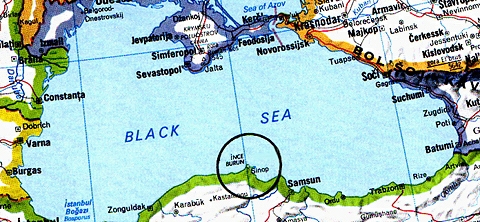 September 17, 2000  Sinop, Turkey – This week a discovery twelve miles off the northern coast of Turkey near the town of Sinop (SIN-op) was announced that could force archaeologists and anthropologists to rewrite history about the relationship of Neolithic cultures in Europe, Asia and Mesopotamia seven thousand years ago.
Dr. Robert Ballard, the marine geologist who discovered the wreck of the Titanic, has now discovered signs of ancient human habitation three hundred feet below the surface of the Black Sea. Never before in world archaeology has any human habitation been found so deep under water. He has been using submersible vessels to look for old river beds beneath the Black Sea where people might have lived before a great flood inundated the region about 7000 years ago turning it from fresh water to salt water and burying the surrounding lands under hundreds of feet of water. Using that river bed strategy, he found the remains of a stone house with fire place and grooved wooden beam.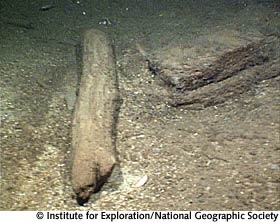 Many ancient Middle Eastern cultures have legends of a great flood, including the Bible story of Noah escaping rising waters in a boat after a warning and guidance by the god, Jehovah. A 20th Century edition of The Living Bible says in Genesis Chapters 7 to 8 states:
"…the rain came down in mighty torrents from the sky and the subterranean waters burst forth upon the earth for forty days and nights. … For forty days the roaring floods prevailed, covering the ground and lifting the boat high above the earth. As the water rose higher and higher above the ground, the boat floated safely upon it; until finally the water covered all the high mountains under the whole heaven, standing twenty two feet and more above the highest peaks. …the flood gradually receded until 150 days after it began the boat came to rest upon the mountains of Ararat…" which is in Turkey.
In fact, it was a 1997 book entitled Noah's Flood by geologists Dr. Bill Ryan and Dr. Walter Pitman at Columbia University that gave Robert Ballard the idea to look along the Turkey coast for underwater river beds where humans might once have lived. But the Black Sea north of Turkey is a long way from the Middle Eastern Mesopotamia homeland of Noah.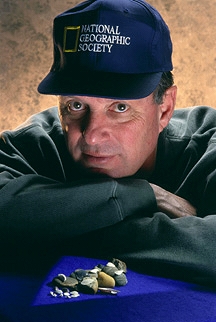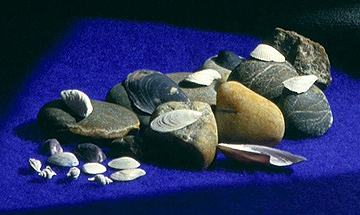 This week, on September 13th, National Geographic organized a press conference by phone with Dr. Ballard and his research team directly from their boat on the Black Sea about his Black Sea expedition and the underwater beaches and shells that indicate the underwater structure is at least 7,000 years old.
---
Interview:
Robert Ballard, Ph.D., Marine Geologist, Titanic wreck discoverer and Director, Institute for Exploration, Mystic Connecticut, (mysticaquarium.org) from Black Sea near Sinop, Turkey:
"I'm aboard the research vessel, Northern Horizon, in the Black Sea off the north coast of Turkey working in 300 to 500 feet of water. I came here with two goals:
1) One goal was to test a theory that has been proposed by two scientists at Columbia University suggesting that there was a great flood that occurred in the Black Sea and that flood occurred when humans were living in the now-flooded area.
2) The second reason I came here was to search the deep waters of the Black Sea which are the largest body of water in the world that has no oxygen in hopes of finding some of the best preserved ancient ships.
The first part of the expedition that we're on right now is focused on the Ryan-Pitman theory. I'm hoping you know what that is or I'll give you a brief synopsis. In the Ryan-Pitman theory, a great flood occurred 7,000 years ago and flooded the Black Sea with the Mediterranean water. Prior to this flood, the Black Sea was 150 to 160 meters below the level of the Mediterranean and that it was a fresh water lake. And then as a result of that flood, the Black Sea rose suddenly inundating 150,000 square kilometers of land and converted the Black Sea from a fresh water lake to a salt water sea.
I'll deal with that first and then we'll talk about the human aspects of it. We came in last summer with National Geographic and we found that ancient shore line at a depth where they said it was. We collected shells from that beach and we had those shells analyzed by specialists on shells. The specialists who analyzed those shells told us we had two collection of shells. We had a group of shells that were salt water shells and their closest affinity was to the Mediterranean. They said that we had a second – and the person who did this is Dr. Gary Rosenberg at the Museum of Natural History in Philadelphia. He told us we had two collection of shells: the first being salt water and the second being fresh water. He said not only are the second fresh water, but they are extinct, are gone.
We then took that shell collection and sent them to the Woods Hole Oceanographic Institution and asked their Carbon 14 laboratories to date those shells. They told us that the shells were between 2,000 and 15,000 years in age. They said that the shells, the fresh water shells, were from 15,000 years ago up to 7,400 years ago B. P., before present. They said the salt water shells were from 2,000 years ago up to the oldest being 6,400.
In other words, we had a sudden conversion of the Black Sea from a fresh water to a salt water sea exactly as Ryan and Pitman proposed. We did see, though, in our data – and this might just be an artifact of our data – a 600 year gap between our youngest fresh water shell and our oldest salt water. In other words, how fast did this occur? In geologic time, it occurred very rapidly. But in human context, did it occur very rapidly?
Our data says, we cannot say it occurred over night. Or that it occurred in 40 days and 40 nights. Our data says it's no more than 600 years, but it could be faster. So, that we know.
We then came out this summer to search for an area in the Black Sea that would be most optimum for human habitation. What we did is that we took a map of the Black Sea and we drained it to this ancient shore line exposing 150 square kilometers of land. Along the coast of the Black Sea, most of that land is steep cliffs. So, clearly it was not ideal for human habitation. But we did find a very large area of about 200 square miles where at that ancient lake you could go ashore and find a rolling and inhabitable countryside with streams meandering across it. We then put down our sonar system and began searching for targets. There are many targets in this area. You have rock outcrops. You have sunken ships. You have trash that people throw overboard, 55 gallon drums and so on. So we have to wade through all of these targets, which we did.
But we found one target and one target only that was distinctively different from all the rest. And that target was rectangular in shape, 4 meters by 15 meters in size and we then pulled the sonar and went down to investigate that target. And what did we see at that target? We saw crafted wood, notched and cut. We saw implements that were drilled implements. We saw stone slabs that had been arranged.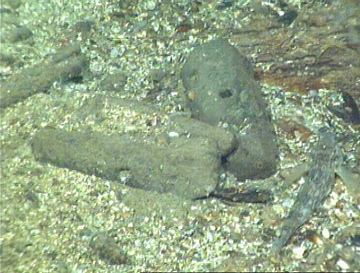 In other words, we saw evidence of human activity. So, from what we have seen thus far, we can say safely that we have found evidence of human habitation prior to the flooding of that surface. But that's all we can say right now. We have not recovered any of the artifacts. We have not dated the wood we see there. And those are the silver bullets that can still be fired through the heart of this theory. And we want to go and recover that wood. We want to recover those artifacts. But we can only do so with the permission of the Turkey government and we have yet to go down and do the necessary documentation that will permit us to do that recovery. So that's where we are.
Right now what we are doing is we are back down searching for targets that look like this other one to see if we can find more. We've searched a small area and we hope over the next several days, we'll search 4 to 5 times more than we've searched already. And that we will find other targets. But right now we have one.
Reporters wanted to know if this evidence of a Black Sea flood 7,000 years ago might relate to the Noah's Ark story in the Bible.
Frederick Hiebert, Ph.D., Professor of Anthropology and Archaeology, University of Pennsylvania and Chief Archaeologist from Black Sea near Sinop, Turkey: "I think one of the surprising things is that because we've all been compelled by the story of flooding in the Bible and the stories that are so familiar to our way of life, one of the surprising things for me as an anthropologist and an archaeologist, is to see how different this Black Sea world is from the world responsible for these myths. There is a Biblical world, the world of the Bible that has provided this myth.
To tell you the truth, this new data from my perspective, this new data suggests we are looking at an incredibly important event in human history that impacted on the spread of farming, the spread of perhaps Indo-European languages, but it really didn't affect directly the development of these stories that deal with a different part of the world. We are discovering the Black Sea world is a whole culture area of itself. And this is a wonderful event to discover, a wonderful thing to work on at the beginning of the 21st Century when we thought most of the world was pretty much known. And here we have a whole new culture area."
As Dr. Ballard said, he found this Neolithic structure 300 feet below the surface of the Black Sea because he was following up on the research of geologists Bill Ryan and Walter Pitman from Columbia University. Doctors Ryan and Pitman hypothesized in their ground breaking 1997 book, Noah's Flood, that geologic and sea shell data around the Black Sea indicated a massive flood 7,000 years ago. Their theory was that melting ice caps in the last ice age raised ocean levels so high that the Atlantic Ocean spilled through the Mediterranean and what is now the Straits of Bosporus and flooded the Black Sea with salt water.
William Ryan, Ph.D., Co-author with Dr. Walter Pitman of Noah's Ark, Geologist and Senior Research Scientist, Columbia University's Lamont-Doherty Earth Observatory, Palisades, New York: "And when that salt water of the oceans got to that level, it found that it could pour back into the Black Sea. And the Black Sea was below the world sea level, much like the Dead Sea is today or Death Valley in California is.
THE IRONY IS THAT IT WAS THE FRESH WATER MELT OF THE ICE INTO THE OCEANS THAT RAISED THE OCEANS HIGH ENOUGH TO FLOOD BACK INLAND?

That's right.
WOULD THIS HAVE BEEN SOMETHING THAT WOULD HAVE HAPPENED OVER FOUR OR FIVE DAYS? WEEKS?

There is work that Walter has calculated. He has taken the shape of the Bosporus and 'removed' all the mud that sits in the Bosporus floor that is younger than the flood. You look at it as a pipe. And you just do a hydraulic calculation and you can come up with numbers that say how fast the water was rushing through it, how fast the lake was rising. Walter has published a very conservative number. Other researchers have done calculations and come up with much faster rises. Walter's conservative number would have the lake rising maybe half a foot to a foot a day and then taking a good portion of a year to complete the flood.
WOULD THIS HAVE BEEN SOMETHING THAT WOULD HAVE HAPPENED OVER FOUR OR FIVE DAYS? WEEKS?

There is work that Walter has calculated. He has taken the shape of the Bosporus and 'removed' all the mud that sits in the Bosporus floor that is younger than the flood. You look at it as a pipe. And you just do a hydraulic calculation and you can come up with numbers that say how fast the water was rushing through it, how fast the lake was rising. Walter has published a very conservative number. Other researchers have done calculations and come up with much faster rises. Walter's conservative number would have the lake rising maybe half a foot to a foot a day and then taking a good portion of a year to complete the flood. And others would raise those calculations by ten to a hundred times the rate.
MEANING TEN TO ONE HUNDRED FEET A DAY?

Something that would be over in a month. And so, we're content to sit with the conservative calculations because even happening in a year or so, that's rapid. That's a big impact.
CAN YOU EXPLAIN WHY A DISCOVERY OF THESE UNDERSEA ARTIFACTS ABOUT TWELVE MILES OFF THE NORTHERN COAST OF TURKEY SUGGEST THAT THERE WAS AN ANCIENT FLOOD?

It's not so much how far off Turkey. It's how deep under the Black Sea this settlement, these human artifacts are. They are more than 300 feet under the surface of the Black Sea today. And if you look at the age of this at that time, the world sea level, the world's ocean, was just 40 feet below what it is today. These villages were built on dry land. It gives a setting that is more than 250 feet below the ocean. And so, it means the area could be flooded.
250 FEET ABOVE WHAT WAS ONCE DRY LAND INDICATES WHAT A HUGE VOLUME OF WATER FLOODED INTO THE BLACK SEA.

Yes! In fact, if you look at the opening that was carved away – the modern day Straits of Bosporus where Istanbul is and you explore the size and shape of that chasm – the size and breadth, it would indicate that water would have flown through once the dam collapsed at the rate of 12 cubic miles a day or more. To a lay person, that's like standing at Niagara Falls and watching water come at you maybe 200 to 400 times greater volume than you would see today.
WHY DO YOU AND WALTER PITMAN THINK THAT THIS COULD EXPLAIN THE BIBLICAL STORY OF NOAH'S FLOOD?

It really can't explain the Biblical story of Noah's flood. No scientific method that we can apply can show that the Black Sea flood was the one that Noah witnessed and survived. What you have in the Black Sea flood is a permanent flood that would have driven people away for ever who would have to have settled a new land. In the legends and genesis story, Noah goes to a far away land. His sons disperse. They carry the different languages to Asia and Africa.
IS THERE ANY EVIDENCE FOR A COMPLETELY GLOBAL FLOOD 7,000 YEARS AGO?

Oh, no, there is no evidence in the oceans, record in the land, of a global flood other than the very slow rise of global sea level with the melting of the ice caps beginning 15,000 years ago when sea levels were 350 feet below where they are today and more or less getting to where they are today five or six thousand years ago. At times, that rise in sea level might have been as much as ten feet in a century.
HOW FAR IS MOUNT ARARAT FROM THE SINOP AREA?

Hypothetically, if you were to escape the flood and arrive at what is called the Trans-Caucus which is the southeast corner of the Black Sea. And through trading and commerce of your village, you knew of the people who lived outside the Black Sea and you wanted to go into the river valleys of the Tigris or Euphrates Rivers, you could do that by following rivers up from the Trans-Caucus to the watersheds, especially the continental divide. And then you would land in the head waters, for example, of the Euphrates Rivers. Such a trip would take you right around the flank of Mt. Ararat.
THE IDEA THERE COULD HAVE BEEN A FLOOD SO GREAT THAT IT COULD HAVE RAISED AN ALLEGED BOAT OF SOME SORT UP TO THE TOP OF A MOUNTAIN LIKE MT. ARARAT….

Oh, that, no. No. Mt. Ararat is huge, tall, a volcano. This flood never got anywhere near Mt. Ararat. What this flood would have done, though, is that it would have taken water ­ imagine you are on a lake and suddenly the level of the lake rises 50 or 60 feet. Your beach disappears. The water is now lapping in among the trees. There is no conventional shore. Trees are poking out of water that are drowned. If you try to get to the edge of the lake, you're going to row your boat in amongst treetops. And so, anybody coming back to shore of this lake that is permanently drowned would land their boat amongst treetops. And of course, if you did this, what would you think? You would think you were landing on some mountain slope. But, no, Ararat stayed high and dry all the time during such an event.
A FEW YEARS AGO, RESEARCH WAS DONE IN EGYPT AT THE SPHINX BY A GEOLOGIST FROM BOSTON UNIVERSITY NAMED ROBERT SCHOCH. HE AND SOME OTHERS HYPOTHESIZED THAT THERE WERE WATER MARKS AROUND THE BASE OF THE SPHINX THAT SUGGESTED TO HIM THAT THERE HAD BEEN FLOODING AROUND THE SPHINX SOMEWHERE BETWEEN 7,000 AND 10,000 YEARS AGO. IS IT POSSIBLE THAT THIS SAME SEA RISE THAT YOU ARE DESCRIBING MAY HAVE ALSO AFFECTED THE NILE RIVER VALLEY?

Yes, it affected the Nile River Valley. But there is no evidence that it rose to the level of the base of the Sphinx or the Pyramids during the lowering of sea level at the time of the glacier activity. The last big Ice Age was 20,000 years ago. The Nile River cut a deep valley to get out to the edge of the Mediterranean Sea. And then with the rise in sea level, that valley filled in and the delta built out. But it wasn't until the delta was completed that the first city-states were built there in Egypt. And that would have been thousands of years after the Black Sea flood and long after sea level came more or less to its present position today.
WHO WERE THESE PEOPLE WHO WERE LIVING AT THIS PLACE THAT WOULD HAVE BEEN 300 FEET LOWER THAN CURRENT SEA LEVEL?

That's a great question and I hope it's a question we learn answers to, or at least some answers to from the further work of Bob Ballard and their team as they explore these settlements and then begin to bring up some of the artifacts. But if you look at people living at the contemporary time in the inland of Turkey, for example, or living in southeast Europe 7,000 to 8,000 years ago, they live in towns. There is an ancient town called Catal Hoyuk on the Anatolian Plateau that would have had a population as large as 10,000 inhabitants. And they lived in mud-brick houses, some multi-storied. They were carpenters. They painted elaborate frescoes on the plaster walls. They wove rugs. They chipped the most elegant tools and knives and arrowheads. They traded all across the Middle East and into Europe. They were quite remarkable people and they were spiritual. They elaborately buried their dead. They had rituals. They were concerned with life after death.
AS EVIDENCED BY?

As evidence by various burial practices. By something called excarnation where the head of the body was removed after death. The body was left out on elaborate racks for the birds to remove the flesh and the bones were very carefully placed in graves in certain portions of the house, always in the same place in all houses.
WHERE WOULD THAT PLACE BE IN A HOUSE?

The place might be under a bench on which you slept. It could be beneath the floor. It's usually in the part of the house furthest from the entrance way and furthest from the cooking areas.
DOES ANYONE HAVE ANY UNDERSTANDING ABOUT WHY EXCARNATION WAS DONE?

I think it was for one, sanitary reasons. Burying a body with the flesh in your basement, it's going to smell awful. But if you leave it outside or bury it in a shallow grave, it's going to be dug up by animals. So, if it's put up on a high rack, it can be delicately consumed and all the bones left for burial.
WITH ALL THESE COMPLEXITIES IN PEOPLE LIVING SEVEN OR EIGHT THOUSAND YEARS AGO, WHY IS IT THAT SUMERIA IS ALWAYS FOCUSED ON AS THE 'BEGINNING OF CIVILIZATION'?

That's the appearance of the first big complex cities, cities that have to rely on intensive farming and farming had a great dependency upon irrigation and irrigation channels. If you look at the ancestors of the Sumerians, the so-called Ubaids, they appear in Mesopotamia on virgin soil. And one of the things that struck Walter Pitman when he was carrying out the research for our book and interviewing various archaeologists is that the Ubaids appear – their first occupation in Mesopotamia is within the accuracy of radiocarbon dating the time of the Black Sea flood.
7,000 YEARS AGO.

That's right. And if you look at the construction of the Ubaid's very first houses, they are of the post and beam, wattle and daub, style that is being described from the Black Sea. So, people have often wondered, actually puzzled, why is the lowest levels of the Ubaids a style of house architecture characteristic of the southeast Europe and northern most Anatolia? It's never been explained before.
YOUR HYPOTHESIS IS THAT WAS FROM THE DIASPORA OF THE BLACK SEA FLOOD, THE PEOPLE MOVED AWAY FROM THERE AND INTO MESOPOTAMIA?

We would ask the question: Could it be? We can't demonstrate it. We can't make it a strong hypothesis, but we can point out that it's an interesting curiosity. And then when you look at the first tools to appear – the chipped blades – they are chipped from a volcanic rock called obsidian. And a geologist, a geochemist, has analyzed the chemical composition of the obsidian and it can actually fingerprint the volcano from which this lava erupted. The obsidian that arrived in Mesopotamia arrived in Palestine, gets to Jericho, all comes from Turkey. Isn't that interesting?
BUT THE BIG MYSTERY IS THEN THAT IF YOU ARE ESTABLISHING MORE AND MORE THAT THERE WAS A LARGE POPULATION AT LEAST 7,000 OR MORE YEARS AGO IN THAT BLACK SEA TURKEY AREA, WHO WERE THEY THAT THEY COULD HAVE ENDED UP IN THE UBAID AND SUMERIAN REGION WITH SUCH SOPHISTICATION?
That's just exactly the question to be asked. You've hit the nail on the head. And so as this exploration continues, we wait with baited breath and with great excitement to find out what they are seeing, what they are bringing up. What is the density of settlements. The fact they found these houses so quickly in their first expedition looking for them. Does it mean they are all over the place? What settings are they in? Are they along rivers? Or along the lake edge? Is their evidence of farming? What are the pottery styles? All of these are going to be important clues to answering your question.
I had a Russian astronomer contact me. He had been studying the earliest zodiac calendars of Mesopotamia. And he contacted me and he wrote a wonderful article for Sky and Telescope showing that the earliest Sumerian zodiac is exactly the time of the Black Sea flood.
ALMOST AS IF SOME ONE WAS TRYING TO…

…remember the date.
… AND THAT SOMETHING REALLY EARTH CHANGING OCCURRED AT 5,000 B. C.

Something was happening around that time, yeah. I wouldn't want to say that the flood was causing it all. But there were changes in landscape and climate.
WHY WAS DR. BALLARD LOOKING IN THE SINOP AREA?

They were in that area because Walter and I met Bob and Fred and other members of his team up at MIT and we discussed how would you do this? And the consensus was that you would find old rivers under water and essentially move along the edge of Turkey until you intersected rivers and then you would survey up the rivers. You would look for optimum sites on banks. You would look for areas where rivers had joined a confluence in the river and you would look at a bank in the middle. Locations like those that are settled elsewhere. And in fact, one of the students I supervise is out on that expedition and she has geological training and from the reports from the ship, that's what they did do. They did intersect rivers and they find these sites in proximity to the old rivers because the villages needed fresh water.
WHY WOULD THERE BE ANY REMAINS OF OLD RIVERS FROM 7,000 YEARS AGO UNDER WATER THAT IS 350 FEET DEEP? WHY WOULDN'T IT HAVE ALL BEEN OBSCURED LONG AGO?

That's a good question. On our offshore of New Jersey and Long Island, the Atlantic margins, the Native Americans were out there hunting, fishing, living. But as the sea returned slowly, just progressively, the waves would have pounded the beach. The beach would have moved across that whole surface and all elements would have been churned in the surf and sand and scattered and buried and destroyed.
When a flood happens and water suddenly pours in and you are buried hundreds of feet in a matter of months to a year, you find yourself deep under water where the currents are very quiet and you are only slowly dusted with mud.
BUT EVEN THAT MUD WOULD NOT FILL IN THE EVIDENCE OF AN OLD RIVER?

In areas that Walter and I explored off Russia and the Ukraine, off Rumania and Bulgaria, we can map that surface layer, the covering. We call it a 'mud drape.' And it ranges from about a few feet down to a few inches. The further you go away from land out near the edge of the continental shelf, the mud covering becomes quite thin. And Bob has stumbled on an area – we are quite amazed – that seems to be almost free of this cover. At least from what we're hearing from the ship.
WHAT FINANCES THE BLACK SEA EXPEDITION?

This project is strongly funded by the U. S. Navy which also funded the Titanic research, as well as other government agencies. NOAA plus private foundations and the National Geographic is handling all the filming. Ballard is a research fellow at NATIONAL GEOGRAPHIC.
THE NAVY WOULD FUND THIS RESEARCH BECAUSE?

Because they funded his research on the Titanic. They have a need for putting robots and survey instruments in the deep oceans and even though they develop a lot of these tools themselves in government labs, it's of great value to see what the academic sector can do. I think they want to be up on what's the latest and best. When Bob gets back, every stone tool and artifact will be known to the precision of better than an inch. Everything will be mapped in 3-D. The technology is extremely impressive.
HOW WILL THEY CONTROL SECURITY ON THIS UNDERWATER SITE NOW?

Bob Ballard, myself and others would like to convince the public that the best place for this is where it is. Turkey is adamant that nothing leaves Turkey. Everything you dig or find must remain in Turkey. "
---
Websites:
http://www.nationalgeographic.org/ngnews/blacksea.html
http://www.mysticaquarium.org/




© 1998 - 2019 by Linda Moulton Howe.
All Rights Reserved.