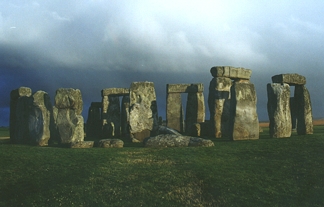 June 16, 2001  Washington, D. C. – Astronomer Gerald S. Hawkins, Ph.D., educated at Manchester University in England and now retired in Washington and Virginia, wrote a book in 1973 entitled Beyond Stonehenge. The Daily Express in London wrote about it, "If Hawkins is right, and most experts now agree that he must be, then Stonehenge is the Eighth Wonder of the ancient world."

Dr. Hawkins had already proposed in an earlier work, Stonehenge Decoded, that the massive, circular stone structure on the gently rolling pastures west of Andover, Wiltshire functioned like a computer to keep precise track of the moon and sun. Then, he traveled to Peru and Upper Egypt to study the mathematical configurations in the architecture of those cultures. In addition to markers of sun and moon cycles, Dr. Hawkins discovered architectural orientations focused around the brightest star, Sirius, the Pleiades constellation and other astronomical bodies. The result of that research is Beyond Stonehenge which establishes archaeoastronomy as an important tool in comprehending ancient motivations for building megalithic stone circles, pyramids, mounds and oddly angled street grids.
Beyond Stonehenge has been printed in a new 2001 edition (See: More Information below) at a time when enigmatic crop formations have been emerging in England and worldwide since 1990 with geometries that have provoked Dr. Hawkins to also wonder about the intellectual profile of the circle makers. Great Britain has more than 2,000 stone circles, the most of any land on Earth. Why? Who put them there? Is there a connection between the stone circle makers and the crop circle makers? Dr. Hawkins describes in Beyond Stonehenge how the megalithic builders were extremely intelligent monitors of cosmic cycles:
"Knowledge of periodicities gave power ­ power to predict eclipses, to predict the bright shining of Venus, the future movement of the planets ­ and it gave confidence in the sky environment, the cosmos, in the reliability of nature, of god."
---
Interview: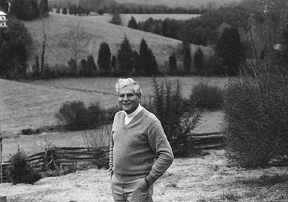 Gerald Hawkins, Ph.D., Radio Astronomy, D. Sc., Astronomy, and author of Stonehenge Decoded and Beyond Stonehenge, Washington, D. C.: "At Stonehenge, whoever was organizing it, would be at the top of the culture. They would be leaders and they would be reporting on the movement of the sun and the moon almost as a calendar and as various events took place. They would be able to announce that we have reached the highest point of the sun at mid-summer and they would be able to announce that we have reached the lowest point of the sun in mid-winter. And they would be able to announce that the moon perhaps this month will be, as we would say, eclipsed. They would have the power of the cosmos, or the universe, at their fingertips.
What I found at Stonehenge was also an intelligence in understanding cycles. There is a ring of 56 filled chalk holes called the Aubrey holes (John Aubrey, 16th Century British Stonehenge investigator) which completely describes the movement of the moon over an 18 or 19 year period and all of this was something well beyond what we would have expected from people who were not literate.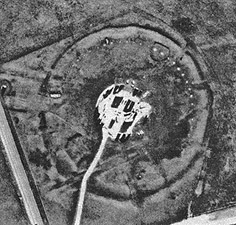 The problem with the Stonehenge people is that they didn't write. Therefore, they are pushed aside. But I always say they wrote in stone. I can read what they were doing and science, you see, has enabled us to find out a lot about the mind of people in the past. And, of course, it raises the question: what will we learn about ourselves in years to come?
THAT'S WHAT INTRIGUES ME – THE MIND BEHIND THE CREATION OF STONEHENGE AND ALL OF THE STONE CIRCLES IN ENGLAND AND THE POSSIBLE CONNECTION TO ALL OF THE CIRCLES IN THE CEREAL GRAINS ALSO FOCUSED IN THE BRITISH ISLES.
Yes, your very fine book Mysterious Lights and Crop Circles deals, of course, with the present and my book, Beyond Stonehenge, deals with the people of the past. Now whether we can connect the two geographically, Stonehenge people were interested in the sky, the sun and the moon. And the crop circle mind is interested in very esoteric mathematics. You see, I am interested in intellectual profiles. I study the intellectual profile from the past of what remains and I do study the intellectual profile of the crop circle people. You kindly have an account of what I found in your book. And what I found is beyond the textbooks and beyond the normal thinking of mathematicians or architects, but a strange sort of mind that is maybe too clever for its own good. (ironic laugh)
YOU'VE BEEN TRYING TO GET INSIDE OF THE MIND AT STONEHENGE AND YOU HAVE BEEN STUDYING THE CROP FORMATIONS FROM THE EARLY 1990S ON. IF YOU WERE GOING TO DESCRIBE HOW THEY ARE SIMILAR, WHAT SIMILARITIES WOULD YOU FIND?
We have two connections on page 243 in my book. I show the flattened stone circle where the ancient people presumably were trying to make a circle where the pi came out equal to 3. Of course, in your book Mysterious Lights and Crop Circles, you've got the Hackpen Hill formation which is exactly that curve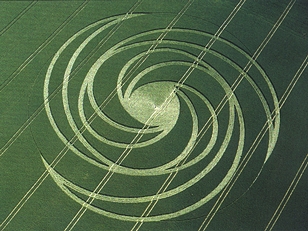 There is another correlation between the ancient past and the present and this is a very delicate one, Linda. At Silbury Hill, you may remember the formation that had five stars, each with six arms, and one arm was broken off. We thought the crop circle makers never make goofs like that. And there was that floating arm. But in Beyond Stonehenge on page 24, I speculate that the Stonehenge people knew that 29 and 30 were the key numbers for following the months and the calendar, 29/30. Well, if you count the arms of the stars, you get 29. Then when you add the one that's off to the side, you get 30. So you've got a pattern that is 29/30. That's a very strange correlation. I don't know how the patterns are made. You have done a wonderful piece of work in Mysterious Lights and Crop Circles to describe all the mysterious effects that exist in the crop circles. But I only study the intellectual profile and these are two places I see a connection – the 29/30 and the Hackpen Hill curve.
LOOKING BACK SO MANY THOUSANDS OF YEARS TO THAT ANCIENT MIND, HOW COULD THEY HAVE WORKED ALL THAT OUT?
The ancient mind mathematics is different from the crop circle mind mathematics. We feel that they were very interested in geometry in those stone circles. As you know, the circles at Stonehenge are perfect circles to within inches. But what is in the crop circles, the mathematics I found there is not in the text books. It is beyond Euclid and Euclid was 300 B. C. And one could say it is very ingenious application of mathematics that is not in the mainstream now.
It was something I realized was behind the crop patterns. We found Theorems 1, 2, 3 and 4 which were just simple ideas of a triangle with a circle around it and a square with a circle around it. But these gave musical notes, that is – diatonic ratios.
And so they were very understandable, although nobody that I could find in the history of mathematics had ever coupled a geometry and music. And I think, of course, in Glimpses of Other Realities, you have a lovely title for your chapter ­ what is it, frozen music. Geometry is frozen music. And so, that is what I found.
And then there was a 5th Theorem which would swallow up all those 4 theorems and I had stumbled across that. I was sort of advised, 'Don't publish it.' But look, if Doug and Dave are doing it, let them come forward and say they know the 5th Theorem. But of course, they didn't come forward to say they knew the 5th Theorem.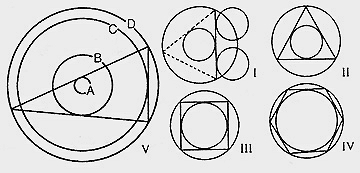 NO ONE DID.
That's right. We tried Science News and 250,000 circulation and no one came up with the 5th Theorem. We tried the Mathematics Teacher journal and their 50,000 high school math teachers could not come up with the 5th Theorem. So, it was a terrible embarrassment.
FOR PEOPLE. BUT IT SAYS TO YOU AND ME AND OTHERS THAT THERE IS SOMETHING AT WORK IN THE INTELLECTUAL PROFILE BEHIND THE CROP FORMATIONS THAT IS CAPABLE OF THAT KIND OF SOPHISTICATION.
It is stunning to realize that it's there. These are not just trampled masses of wheat. There is a mind behind it, of course. There is an intellectual profile and that's the one I'm tracking, tracking, tracking all the time and I tell you the truth, Linda. I've learned a heck of a lot about mathematics in studying crop circles. Euclid stopped short with Book 13, Proposition 12. If he had continued, he would have got the four crop circle theorems and perhaps because he didn't know the musical ratios as we do today, he would not have even got that. But the 5th Theorem has turned out to be a most amazing geometrical theorem because it's in Science News on their web page and it's also in the Mathematics Teacher from literally 1998. The theorem involves circles which expand and contract and as they pulse, they make these shapes – the triangle, the square and they hit musical notes.
Now, I've never been able to see it done, but you could put the 5th Theorem on a moving screen and it would pulse like a heart beat and at certain points, a musical note would come out and a crop circle theorem that's appeared in the fields of England would come out from this. Geometry does not move. It's frozen, as you say. But now you have to alter your chapter next time and it's moving geometry now, not frozen.
WE SEE SLICES OF IT.
Yeah, I know. We see a little window here, a little window there. But what happened when the Litchfield thing came down is that I realized the 5th Theorem involved concentric circles expanding and contracting and that the 5th Theorem was a general theorem.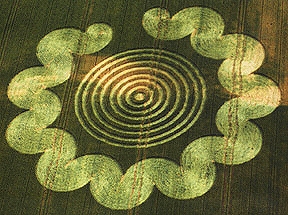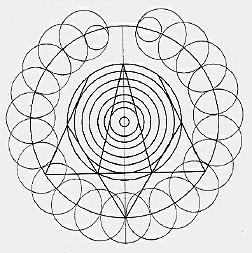 You could describe it this way: geometry drawn inside targets, inside concentric circles. I think that was the final version of the 5th Theorem that you have printed now.
IN MYSTERIOUS LIGHTS.
Yeah. We got it in Mathematics Teacher in 1998.
THAT'S RIGHT. AND EVEN THEN, PEOPLE HADN'T SPOTTED THE CONNECTION.
Yes.
I'M LOOKING AT THE (LITCHFIELD 1995) GEOMETRY AND I REALIZE THERE WAS A THREE YEARS DISTANCE BETWEEN THE LITCHFIELD FORMATION WHICH IS SO EXTRAORDINARY AND YOUR NOT PUBLISHING THE 5TH THEOREM UNTIL THREE YEARS LATER. SO, THIS COMPLEX FORMATION ENDED UP PROVOKING YOU TO SEE EVEN YET A FURTHER REFINEMENT.
Absolutely. I've learned a lot from crop circles, but, Linda, I've learned a lot from studying Stonehenge. We didn't know there was this 56 year cycle. We didn't know about the effect of the high moon and the low moon. And I was able to help Prof. Alexander Thom (Chair of Engineering Science, Oxford) a lot from my work on Stonehenge in interpreting his. So, one does learn by studying the present and the past. And I have learned a heck of a lot from the crop circles from the mathematical point of view.
And of course, the trouble is with skeptics and people who are always embarrassed about new things that there is always an escape hatch they will use. And of course, the escape hatch for crop circles is, 'They are all made by hoaxers. Hoaxers can do anything. Hoaxers are smart.'
And to close the lid down on that escape hatch and keep the skeptics quiet about it, we have to dispose of the hoax theory. And that of course is not up to me. All I do is study the intellectual profile and say that the crop circles and, of course, ancient stone circles themselves show an intellect which is very surprising."
---
More Information:
New Printing. First 1973 edition sold over 100,000 copies worldwide.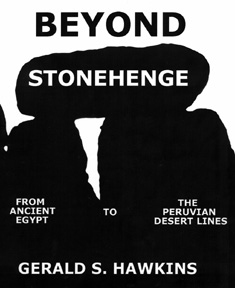 Beyond Stonehenge
© 1973 and 2001 by Gerald S. Hawkins
Trade paperback, 260 pages.
B& W drawings and photos throughout.
ISBN: 0-9641694-8-7.
Retail price: $19.95.
Published by Hubert Allen and Assoc.
Tel: 505-797-3520
Fax: 505-797-3521




© 1998 - 2019 by Linda Moulton Howe.
All Rights Reserved.