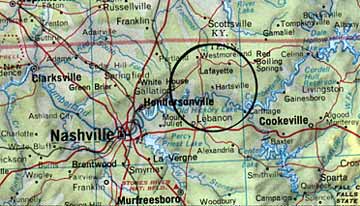 July 14, 2001 Hartsville, Tennessee – Friday, July 6, was a clear and sunny morning. But at 10:45 a.m., something very odd surged through the air, radio transmitter, power and phone lines at country music radio station WJKM (1090 AM) near the city park in downtown Hartsville, Tennessee. It also affected theVidette newspaper office next door and shocked one of the employees sitting at her desk.
Employee, Vidette Newspaper, Hartsville, Tennessee: "I heard this, it sounded like a surge of electricity running through the building. And the lights went off for a second. And I looked up real quick when I heard that and saw light – a flash of light on the front wall there in front of me. Lights came back on. Then it did that again and they stayed off. And again, I saw that flash of light and heard that sound. I don't know how else to describe it, except that it sounded like a surge of electricity coming through the building. It was just like a big old block of light, like it came in through that window."
Next door at country radio station WJKM (1090 AM), the sales manager also heard a strange, powerful sound and the whole building shook.
Sales Manager, WJKM (1090 AM), Hartsville, Tennessee: "The lights flickered a time or two and then there was kind of a low level rumbling kind of noise. It sounded like an electric current (mimics sound). It lasted only two or three seconds tops, two maybe. Then the lights were down. I never heard anything quite like it. It was quite unusual. It sounded like somebody, or something hit something and there was a charge go off or something like a rumbling like an electric current kind of thing."
WJKM's General Manager, Ted Randall, talked to me this weekend about the shocking chaos of at least 60 birds dead with charred and melted wings around the radio station and the damage to his transmitter, phone lines and most of the station's computer equipment.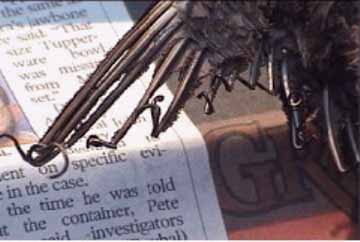 ---
Interview:
Ted Randall, General Manager, WJKM (1090 AM), Hartsville, Tennessee: "So, these birds were burned very badly. With the wings, you can actually see the bone structure where it curled from the heat.
I LOOKED AT THE PHOTOS ON YOUR SITE TODAY.
I just told my son, David, 'Shoot some pictures because it was just too weird.'
DOESN'T THAT SEEM STRANGE?
The whole thing seems strange.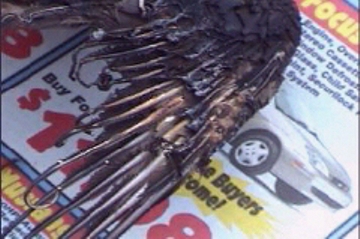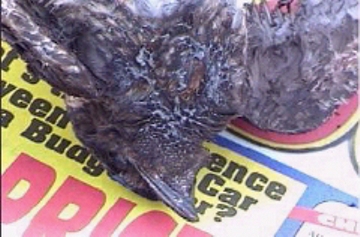 It's a disturbing thing, and I just don't understand it. Now, the phone company reported to the editor of the newspaper that the ground wires on all of the lines from the radio station, from the newspaper and from the co-op had been burned completely in two. So, birds flying into a transformer ­ the central office for the phone company is about three blocks away from the radio station. But all the phones were not out. I called the Chamber of Commerce. Their line was working. Their answering machine was working. They had power and phones. So, if indeed, something that powerful blew the grounds out of just those circuits, I would have thought – I don't know, it just seems like it would have taken out the central office. But it didn't. It just bothered the specific lines that were effected. Now, of course, the lines are extended above ground on poles. Power lines are extended above ground on poles. Our antenna system outside which is an AM antenna system is in the air.
So it seems like it bothered anything that was suspended above the earth and it got the birds. Because I thought everyone else felt the shake or felt something – Steve and the editor from the newspaper, but they – no harm came to them. But the birds obviously took a major hit and so did the electrical system, the electrical power, and the telephone lines. So this remains a very big mystery.
We've had a lot of power surges. We've had to replace a lot of equipment. We've got circuit protectors ­ I should say, surge protectors. We've got surge protectors plugged into surge protectors plugged into surge protectors. We've done everything we know how other than enclosing the radio station in a Faraday shield or something.
HAVE YOU HAD ANYBODY FROM THE FEDERAL OR STATE GOVERNMENT CONTACT YOU ABOUT THIS?
No. And I placed some calls to the TVA and they didn't return my calls. The only reason I called them is that we have a nuclear power plant that was never completed, according to what they say, and it's supposed to be completely non-operational. It's supposed to be a storage facility for TVA junk, discarded stuff that they don't have any use for. Occasionally they have auctions out there. But there's been a lot of things reported in regards to this nuclear plant that are just abnormal. Sound strange.
WHAT HAS BEEN THE STRANGEST?
The thing started off with a farmer who called me one day. He's a very country fellow, obviously an elderly gentlemen, who told me his beagles had gotten loose and they had wandered off and a friend had called and said they had heard or seen the beagles over by the cooling tower. So this old gentleman got in his pickup truck and drove over there and when he got near the area, he jumped over the fence and could hear the dogs out in the thicket, as he said. He said he was out there 10 or 15 minutes and a helicopter came over head and the next thing he knows, he's got about 30 people on the ground escorting him off the property. He said he had to take a nitro tablet he was so upset. And so I thought, 'Boy, for a place where nothing is going on, that's really overkill.'
But we've been told stories of black, silent helicopters coming in and out at night; C-130 transports coming in and out; shiny 18-wheel rigs coming in at 3 o'clock in the morning, three or four of them in a row going out to the site. People who live in the area who are up high enough that they can see the place say it is very, very active at night, a lot of activity.
HOW FAR IS IT FROM YOUR RADIO STATION?
By air, I would say no more than 3 to 4 miles at the most.
VERY CLOSE.
I don't know. Not to blame the nuclear power plant or say that's what the cause is, but when people call up they report strange humming sounds that occur in the middle of the night and are usually accompanied by helicopters. And the humming sound is nondescript. We've had a couple of callers say they can feel it, that it raises the hair on the back of their head, that type of thing. But they (TVA) will tell you that nothing is going on out there.
And we got on the air and said, 'If nothing is going on and the TVA is maintaining this ungodly piece of land which is hundreds of acres, then why don't they just turn it over to the county for development and bow out of the situation and then it's no longer an expense.'
They don't have all this liability they claim they have. And as soon as we began to talk that, they (TVA) scheduled a press conference and they went on and said they were going to donate this land to the county and that the local electric company and TVA were going to develop a power park where you can go in if you are operating some kind of industry where you need some kind of guaranteed flow of power and current with no outages, they were going to put something like that together.
And all of a sudden, they (TVA) came back and made the announcement that it would be at least three years because they had to do an environmental study. And I said, 'Now wait a minute. They did a study that said they could put a nuclear reactor on the banks of the Cumberland River where Nashville, Tennessee gets its water supply. They have approved this property for nuclear fission and then they decided they are not going to build it?!'
Now they say they simply want to put an industrial park in. What kind of environmental study could they do that would exceed what they did to approve a nuclear power plant?!
ANY ANSWER?
No. No, of course not. I attended a meeting where they were at and I asked them about the helicopters and all such as that and the guy that was talking, he got very nervous. And he stayed nervous through the remainder of his speech. But never so much as a clue.
I went for a drive out there with my sons one day. When I first moved into the community I was just curious what was out there because there were a bunch of buildings that looked like Army barracks. And they have an incubator set up out there supposedly for new businesses. And there are some businesses operating out there. But there's a good portion of that property that does not meet the eye.
And all of a sudden here comes the nose of a C-130 pops up over the top of a hill, very close to the ground. I said, 'That thing must have just taken off.'
I began to ask questions (in town) and everyone said, 'Well, there's no runway out there. There's no place for a C-130.' And I said, 'Well, what in the world ­ what did we see?' And you're constantly seeing three and four of these C-130s go out in that direction.
So, interestingly enough after all this took place, we had some satellite photos that my son Mat had gotten off the internet. We put them on the (radio) website. And I've had two or three people e-mail those satellite images back to me with arrows on them all pointing to a strip that each one of these people e-mailing say the strip is at least 7,000 feet long, or something like that, and it would be an ideal place. A C-130 would have no trouble taking off or landing there.
IS IT VERY FAR FROM THE SO-CALLED COOLING TOWER?
No, it's right in that same complex. There must be, I don't know how many hundreds of acres there are. It seems to me they had talked about turning 700 acres over for development to the county. But then, there's always some reason like this environmental study.
But the helicopters, I've seen those myself. We're a good distance away from Fort Campbell, Kentucky, built a lot of people say they do maneuvers from Ft. Campbell and fly the C-130s from there and turn around and go back in helicopters and what not.
IT WOULD NOT EXPLAIN THE 30 MEN SUDDENLY TURNING UP WHEN THE MAN WENT AFTER HIS BEAGLE DOGS.
No, it would not. And there are a lot of stories similar to that.
There's a radio tower that they mysteriously claim is being used by NOAA. A friend of mine has a spectrum analyzer, has monitored the area pretty closely and says the tower is never used during any sort of a storm or tornado activity. So there is a lot of mystery about the place.
And I guess what bothered me when this happened with the birds and all that, I look at the community of Hartsville and I say, 'How far are we away from a military installation?' Well, it's a long ways.
And yet this place is surrounded by a lot of mystery and there are a lot of odd things going on surrounding the place and that was my first suspicion. I wonder if they are playing with something out there? Is something going on?
HAS ANYONE RESPONDED TO YOUR CALLS SINCE FRIDAY, JULY 6, WHEN ALL THIS STUFF HIT YOUR STATION?
No. I haven't heard a word from anyone.
DOESN'T THAT SEEM STRANGE?
The whole thing seems strange.
BUT I MEAN ESPECIALLY GIVEN THE FACT THAT THIS MUCH DAMAGE OCCURRED AT YOUR STATION AND YOU ARE INQUIRING. WOULDN'T SOMEONE CALL YOU?
I would think so. But see, in the past I've called because I've had listeners call me and say, 'We've heard this humming sound at night. What's with these black, unmarked helicopters? They don't make any noise until they are right overhead.' You hear these stories and I would call as a public relations person from the radio station and say, 'Well, I've got listeners calling and they are asking these questions.' I would always get a voice answering machine and I would leave a message, but never a call back.
Now, these people have showed up at public meetings. Now, I'll tell you a very strange thing that took place right after all of this happened. I believe this last week, the supposed director of the area stopped in to talk to our lady over at the (Hartsville) Chamber of Commerce.
THIS WOULD BE REPRESENTING WHAT AGENCY?
The nuclear site. And he said, 'I need to tell you what's going on. You need to know. Every week now, we're going to be bringing in 150 people for training purposes each week. And we're not going to do this over a short term. We're going to do this over an 8 year period.'
TO TRAIN FOR WHAT?
I don't know. She mentioned something about fossil energy and some other kind of energy.
So, we have a partially constructed nuclear power plant that was scrapped. There is supposedly nothing there except junk and what remains of the construction. What would they be training people for in an area like that? What on earth could they possibly have to train someone? Maybe I'm just crazy and stupid and don't know. I mean, I think it is a legitimate question. But 150 people a week?!
FOR EIGHT YEARS?
Yeah! What are they doing? Maybe it was a little target practice and those birds were …..? I mean, I just don't know. I think what ever happened to those birds hit them in the air.
WHAT WOULD EXPLAIN THE VERY LOUD BUZZING THAT SHOOK THE BUILDING, FOLLOWED BY THE FLASH OF LIGHT AND THEN THE HUMMING AGAIN?
And the ground wires being burned off the phone lines. All of that is – I don't know. What really bothers me over there is playground equipment. And it extends up in the air quite a little ways. You know, monkey bars and stuff. Super park for kids to play. And I thought, 'If a child were elevated up there 15 or 20 feet off the ground…
WHAT WOULD HAVE HAPPENED?
Yeah, what would have happened then? And that makes me angry. Whatever this is, unless it's a natural occurrence that we can explain somehow, …
IF IT IS A MILITARY EXPERIMENTATION, IT'S IRRESPONSIBLE.
Absolutely. If that's the case. But, you know, who's to say what it is.
And I would say this: if when you call government agencies they would at least respond and return telephone calls, you wouldn't be nearly as suspicious of them as you would as they are now, totally silent and just ignore you."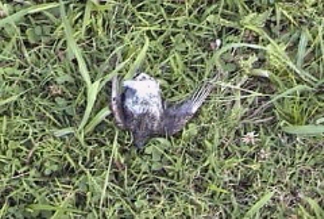 ---
More Information:
If anyone has more information that might connect the Hartsville, Tennessee nuclear power site's current training program to the destructive power surge in the town last week, please contact me by e-mail at: [email protected]. Or fax me at 215-491-9842.
---
Websites:
http://www.infowar.com/mil_c4i/mil_c4i8.html-ssi

© 1998 - 2019 by Linda Moulton Howe.
All Rights Reserved.