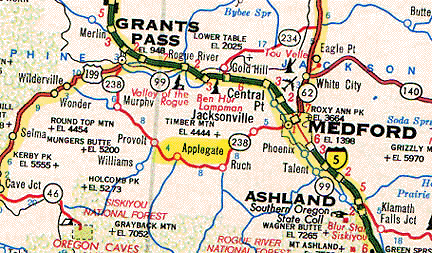 June 15, 2002  Grants Pass, Oregon ­ Oregon now has two active mutilation regions: the Christmas Valley east of Bend (See Earthfiles 05/15/02) and the Applegate Valley in the Siskiyou National Forest south of Grants Pass. On Monday night, June 10 around midnight, graphic artist Dwain Wright and his wife were getting ready for bed when their five outdoor cats came running inside the house in a panic. The Wrights live on an isolated hilltop in the forest and thought coyotes or other natural predators might have scared their cats. Later Mrs. Wright woke up to see a bright light outside, but went back to sleep.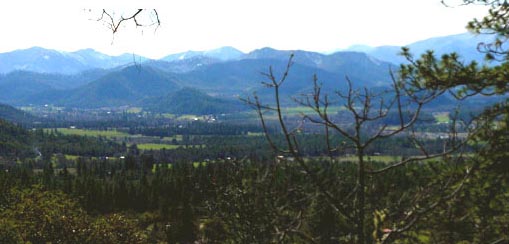 By Wednesday morning, June 12, Dwain noticed buzzards circling low about 200 feet from his house and went to investigate. He was shocked to find a deer lying on top of 3-foot-tall fescue grass that was flattened and swirled under the dead and mutilated doe.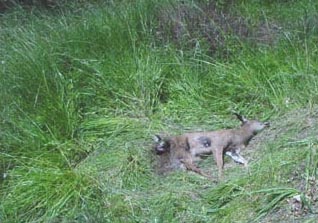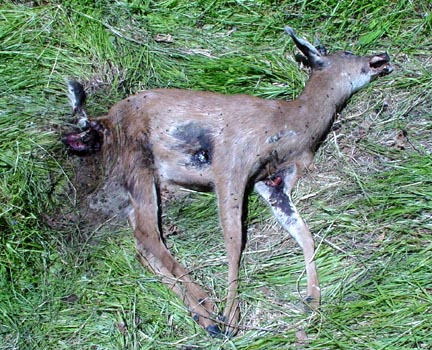 ---

Interview:
Dwain Wright, Graphics Artist, Applegate Valley, Oregon: "The first thing I noticed was the eye was missing. It was lying with its right side, right eye, face up and the right eye was missing as were the lips.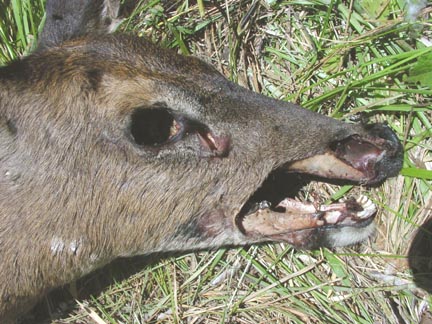 I noticed there was a puncture wound behind the front leg. At first I thought maybe it was a gunshot. But it didn't go through. And then looking through the hole, I noticed that all the internal organs were missing. There was an incision around the rear portion ­ a large portion of the rear was missing and whatever had been removed. There was no blood. That was the other odd thing.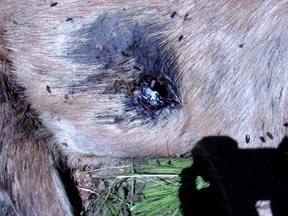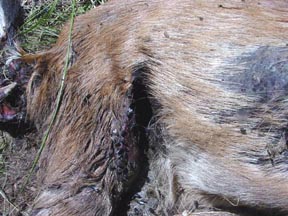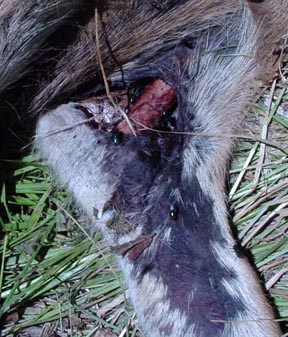 The State Police Fish & Game people came from two different counties and were a little suspicious and first tried to explain it away as a cougar death. And I said, 'I've been here 14 years and I know when cougar attack deer, they generally bite them on the neck and there are claw marks on both sides. That wasn't the case.
Then they tried to explain it away as small arms (gunshot wound). I said, 'No.' When they looked at the hole behind the front leg, they noticed that none of the ribs were missing or broken. Where the hole was, it would have gone through a rib.
Meaning the police meant that somebody might have shot this deer?
Yes. Then they tried to explain away the brilliant light my wife saw as being a spotlight from a poacher. But we know this entire area and there is no one around here that would poach a deer because there are so many deer anyone could shoot one in their front yard with a bow and arrow. The deer are that tame.
Back to that hole and looking into the rib cage.
A police officer noticed that the internal organs were missing. He looked inside with a flashlight. He said, "There's nothing in here.'
No internal organs at all?
No. Part of the large intestine was intact because you could see the excrement in the back.
But a space between ribs would not be big enough to get the heart out, would it?
I don't know. Not normally.
Did either of the state patrol game officers investigating make any comment about the unusual bloodless excisions surrounded by the dark discoloration?
No. He tried to bluff me, basically. I explained that I have a Ph.D. from UCLA and spent the first two years in Fish & Game management. I was aware of my 14 years here on this property about what happens to animals and animal wounds and how quickly it happens. Before that, they tried to tell me that birds simply swooped down and popped the eyes right out and flew off with them.
I have tried to take eyeballs out of animals in the past that we've either butchered or found dead and it's a very difficult operation to get an eye out of a socket.
And it would be messy.
Very messy. Eyeballs are very strong. It's all tendons and muscles. It's very difficult to cut one apart or to excise from a eye socket."
Left Eyeball and Tear Duct Removed After Dwain Wright First Found Deer
"One puzzling thing is that when I first found the deer and took pictures, I looked under its head to see if both eyes were missing. I noticed the left eye was still intact. I went back to the house and returned about two hours later with my camera again. The deer had been turned over and the left eye was then cut like the one on the right, eyeball out and tear duct taken, exactly the same way. But they were all there two hours before. My wife was working in her small grape vineyard the whole time about 100 feet away, yet she did not see or hear anything."
After State Police Left, Small Plane Circles
"What happened after the two Oregon State Patrol game officers had checked out the deer?
After they left, I would imagine most of the state police vehicles have global positioning sensors in them so they know where their officers are at all times. After they left about 45 minutes or an hour after they were gone, a single engine aircraft came in low from the east and made a very sharp turn right above the trees, about 200 to 300 feet off the ground right above where the deer was located below it. Then went low across the valley to the south and disappeared. It obviously took photographs, but I don't know who it was or what it was."
To be continued in Part 2.
---
More Information:
1) Soil and Plants To Be Tested, But No Necropsy
Dwain Wright contacted me by e-mail with some of his images on Wednesday night, June 12. The next day, Thursday, June 13, I contacted biophysicist W. C. Levengood about getting plant and soil samples from around the deer's body. He agreed and Dwain Wright collected samples per Levengood's instructions and shipped them to Levengood's lab in Michigan for study.
Further, I contacted Colm Kellerher, biologist, at the National Institute for Discovery Science (NIDS) about getting a veterinarian to the scene to do a necropsy. Colm ultimately talked with the Ashland Veterinarian Forensics Laboratory not far from Applegate Valley. Colm called to tell me that the lab was open to doing a necropsy on the deer for NIDS, but that Oregon state government protocol required that Fish & Game authorities first investigate before signing off on transportation to the Ashland laboratory.
The two Oregon State Patrol game officers who saw the deer and talked with Dwain Wright told him, "the forensics lab in Ashland would be too backed up with projects from around the world to take time on something as small scale as the deer.
I asked him if the officers were saying they wouldn't even approve having the deer transferred to the Ashland laboratory because it would not have any priority there?
Dwain said, "That's correct."
When Biophysicist W. C. Levengood has information to report about the fescue grass and soil collected for analysis, I will report at Earthfiles.com and in radio reports.
2) Dwain Wright Saw A Mutilated Bull in 1980
I reported in my book, Glimpses of Other Realities, Vol. II: High Strangeness © 1998 another experience of Dwain Wright's which first exposed him to the animal mutilation mystery.
From pages 169-170: "In 1980 east of Bend, Oregon, then 34-year-old Dwain Wright had joined a friend on a hunting trip. Wright, who received a Ph.D. in Psychology from UCLA and a Masers Degree in Graphic Design, went along to enjoy the beauty of the outdoors, not to hunt. The men were in a place called Sand Springs where forest and open range desert meet. The year before in that same area, Wright had discovered a dead cow wedged in the upper limbs of a huge Ponderosa pine tree. He never learned what happened. This time he went off to explore again on his own and stopped at some cattle watering tanks. In a 1994 interview, Dwain Wright told me what happened.
"This old cowboy came walking out of the woods nearby. He had a small travel trailer back there so he could keep an eye on the cattle. Out in open range like that, rustlers could steal pretty easy. We got into a conversation about cattle and then he asked me, 'Do you believe in flying saucers?' And I said that I did. And he said, 'Well, they come across the desert here at night. I want to show you something.' He took me to another area and there was a dead bull pressed into the ground as if it had been dropped from a great height."
"And he said they came at night (glowing discs). The cattle were just drawn up. They floated right up off the ground. He had seen it happen. And he said that sometime later, they just dropped them back down onto the desert or through the trees into the forest. And he said you could hear them at night making a horrendous crash through the trees."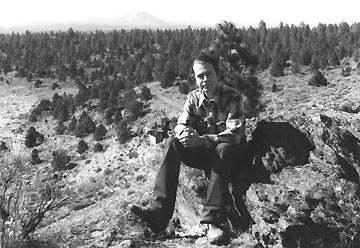 Continued in Part 2

© 1998 - 2019 by Linda Moulton Howe.
All Rights Reserved.