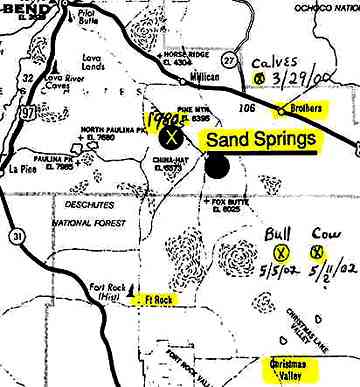 Christmas Valley Cattle Mutilations:
June 17, 2002 Christmas Valley, Oregon ­ Christmas Valley, Oregon is about six hours northeast by car from Applegate Valley where the doe was found dead and mutilated by Dwain Wright. On Monday, June 10th, Lake County Deputy Sheriff Keith Bumpass showed field investigator and writer, Jean Bilodeaux, another mutilation about six miles from where the large 2400 pound bull was found dead and mutilated on May 5. (See Earthfiles 05/15/02) The name of the mutilated cow's owner is withheld at his request. In the interviews below, first Deputy Bumpass describes the mutilated cow discovered two weeks after the bull's unusual death, but thought to have been killed around May 11 based on ranchers' experiences with deterioration in other dead animals.
Jean Bilodeaux has been to several mutilation sites in northern California and Oregon and discusses in Part 3 her observations of the bull she and the deputy went back to, plus another mutilated cow from December 2001 and a third long-horn bovine that the rancher said died in early spring 2002. The two older mutilations are still well preserved without predation.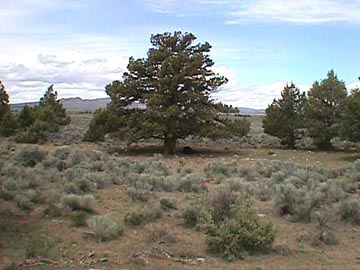 ---
Interview:
Keith Bumpass, Deputy, Lake County Sheriff's Office, Lakeview, Oregon: "It was Saturday morning, May 18, when we found her about six miles from where the bull was discovered on May 5. The cow was laying underneath a big juniper tree, one of the larger ones we have around here. The head was facing southward and it was laying on its right side.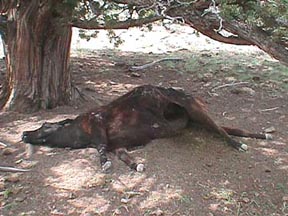 I noticed that the anal area had been really cored out big, a lot bigger than the other one (the bull) and went way up inside quite a ways. The udder area was missing all the way up into the lower hip area and between the legs, also quite a ways. Also, the cow is actually sitting on its own tail. One thing that I have found out since is a cow will not lay on its own tail at all. I didn't know this until talking with some ranchers recently and the photographs definitely show the tail curved under her body.
As if she had been set down there on her tail while unconscious.
Right. The farmers have told me there is no way you can make a cow do that. They just don't lay down on their tails.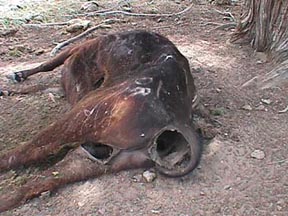 Its left eye was gone completely through so you could see inside the skull area. the only thing that had been around it was some buzzards. No flies on it. Nothing had ripped any flesh off at all. No human foot marks. No tire tracks. I looked for drag marks. Maybe one of the farmers had found it and dragged it underneath the tree. I did ask the ranch owner if he did do that and he said, 'No, found it just like that.' I took pictures of the area there. No drag marks, no foot marks, no anything.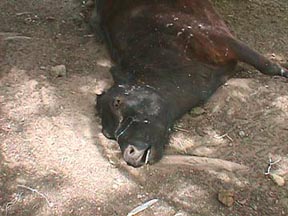 There seems to be a lot of sticks and debris right around where the animal's head is that look undisturbed.
Yes. In fact, that cow shouldn't have been out there where it was. The rancher was not pasturing that area with his cattle. He doesn't use that pasture at all until the fall.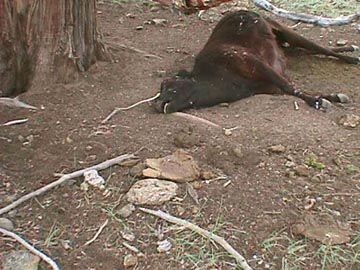 So there were no other cattle anywhere in that grazing pasture land?
No, not at all. Just the dead and mutilated cow under the true.
How long do you think that cow had been dead?
Inside the udder area the sac that holds one of the stomachs there, the main one, the grass itself had lots of water in it. That shouldn't have been there if the cow had been there for a long time. So we're guessing that cow died about a week or so before May 18.
If you subtract seven days from the 18th, you would be at approimately May 11 which would be about a week after the big bull was found.
Yes, pretty close to that time. I showed the cow's owner some of the mutilation pictures from your books. He said, 'Yep, I've had animals like that back in the 1980s and this year, two more cows up on the hill on the Derrick Ranch, the anal areas were missing also. But another deputy and I went up there and both of those animals were eaten down to bone. So, we didn't think they were like the bull and this cow that have laid out here with nothing touching them for so long. And, man, we've got a lot of coyotes and other predators out here that are always hungry! Again, I was just by the cow and bull a couple of days ago and nothing has eaten on these animals.
What was amazing about this cow, though, is how it was underneath the big branches. That kind of baffled me because if it had been dropped from the sky, none of the branches up above the juniper where the cow was at were broken at all. No signs of it. Everything was full length. What got me is with no footprints, how did this cow get underneath these big limbs?
Right. In looking at the photos, the legs look like they have settled into the ground without a single bit of movement by the legs, no signs of death struggle, no signs of disturbance of any kind around the animal in the photos.
The photos don't do enough justice. If that cow was standing up on its feet, there is a big branch right underneath it. The branch would actually be pushing on the cow's back. So for the cow to walk underneath there would be extremely uncomfortable for that cow where she was laying. I was scratching my head on that one.
Again, there were no footprints around the whole area. No footprints even from the cow where it was standing there and fell over. You can easily see footprints about 20 or 30 feet away, you can see where lots of cows have been through there and you can see old footprint marks. But nothing where the cow was at. Even at the end of the hooves laying there, there are no depressions at all. Strange.
Also, the tongue was out. I didn't mention that. The tongue was removed way back in the back. I think all the teeth were there, though."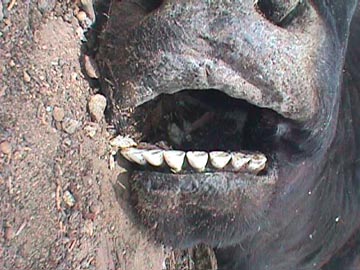 Continued in Part 3 with Jean Bilodeaux.
---
More Information:
See my book Glimpses of Other Realities, Vol. II: High Strangeness in Earthfiles Shop for more information about unusual animal deaths linked to glowing aerial objects and beams of light in the Sand Springs, Oregon area north of Christmas Valley.

© 1998 - 2019 by Linda Moulton Howe.
All Rights Reserved.