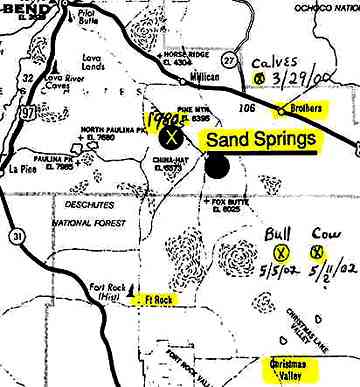 Christmas Valley Cattle Mutilations:
June 17, 2002 Christmas Valley, Oregon – Jean Bilodeaux is a freelance field investigator and writer from Cedarville, California. She has been to several mutilation sites in northern California and Oregon and in this report discusses her observations of the Christmas Valley bull that she examined with Lake County, Oregon Deputy Sheriff, Keith Bumpass, and a long-horn mutilation that the rancher said he found in early spring 2002, yet the animal is still well preserved without predation, its head propped up off the ground by one of its long horns.
Interview:
Jean Bilodeaux, Freelance Field Investigator and Writer, Cedarville, California: "The ground around the bull in the original site was still extremely pounded by the other animals' feet where there was no vegetation at all, just soft, sandy ground around it. The bull where he left it laying showed the eye being cut. We couldn't see in the mouth to the tongue, but the rectum had been cored out and that was still visible. The rest of the animal's skin had dried and desiccated. The bull's body seemed very collapsed for an animal that had weighed 2400 pounds only five weeks before.
Mutilated Bull Discovered May 5, 2002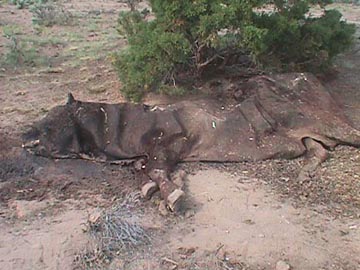 Mutilated Cow Discovered May 18, 2002
Then we went to this rancher's cow mutilated approximately the same time, or within a couple of weeks. We examined that. (See 06/16/02 Part 2.)
This is the one six miles from the site where the bull was found mutilated on May 5?
That's right. Again, the predators had not chewed on this animal at all and neither had they on the bull. This is in an area where the deputies and locals have all seen unidentified lights in the sky. Not very high in the sky, but low enough to stop their cars and jump out and listen and look and not hearing any sound and observing erratic behavior from these objects.
Comparison to Cow Death of Natural Causes Around Memorial Day Weekend
We then went to the rancher's home place and went to and looked at a cow that had died of natural causes about two weeks earlier. This animal had been chewed up by the coyotes pretty well and decimated. Pieces were dragged off into the brush and everything.
Mutilated Cow Found in December 2001
Then we went off about a mile further down the road and the rancher took us to the site of another cow that had been mutilated. The predators had not touched this animal. Again, the deputy and I began to realize something. This latest one we were viewing had been mutilated in December of 2001. We realized that not only had the cow that had died of natural causes two weeks earlier, but this cow that had died of mutilation, both had their rib cages intact. The weather there is dry, even in the winter the humidity runs probably as high as 10%. So the animals don't necessarily rot. They just dry out and desiccate and the connective tissues on these animals just keeps the animal rigid and in the basic cow shape.
Mutilated Long-Horn Cow Found in Spring 2002
We then went out to a site that the deputy suspected was a mutilation after having discussed it with me. We looked and this animal was a long-horned speckled type animal that had been mutilated some time in the spring of 2002. It had the classic eye removed very precisely and the flesh was removed around the jaw. And again no predators. This is a very harsh climate. Everything is hungry, especially by spring because there is not much food so anything that is edible will be eaten there. There's eagles, there's hawks, coyotes, lots of mountain lions and everything like that. So everything dead is fair game to be recycled almost immediately.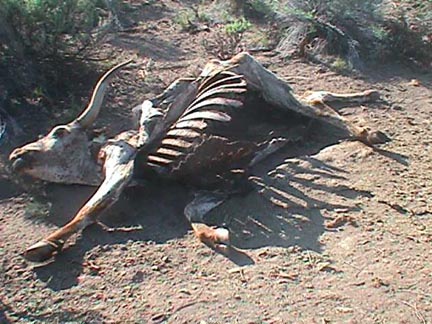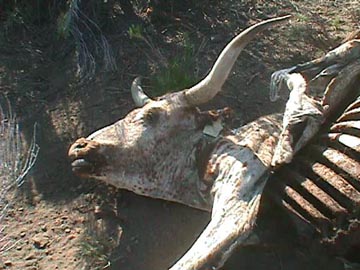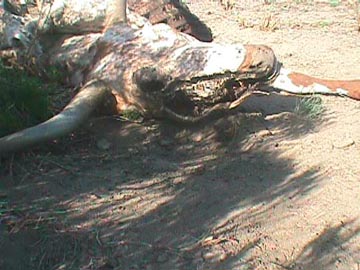 You found what appeared to be a mutilation from months ago that was still intact without predation?
Yes, that's true. There were some maggots working the animal and on all the animals, but the older they were, there wasn't much maggots. Still, coyotes would have chewed the legs off, they would have chewed the ears off and dragged the legs off in the brush. They weren't, nothing had happened to them.
We noted again that the long-horn's rib cage was intact. The flesh, the connective tissue, had just desiccated and become hard. But the bull didn't appear to have a rib cage. So we decided we would go back to the bull site.
Ants Found Dead At Site Where Bull First Found Dead With Eye Removed on May 5, 2002
We also stopped at the original spot where the bull had been found. (The owner dragged the bull 200 yards away from the water trough to avoid any potential contamination from the mutilated bull.) There are ant hills in the area. There had been an ant hill where this bull was originally put down. Now, there were no ants. All the ants were dead on this ant hill. However, in the vicinity about 20 feet away, the ants were still working on the ground. So, I don't know if that connects to what happened to the bull or not.
Was there a pattern of distribution in the dead ants on the ground?
No, I couldn't tell. Again, the ground had been trampled by the other cattle. They are still concerned. The other cows seemed to be concerned about everything. But the ant hill was no longer active.
The deputy went to the bull again to check on the ribs. We couldn't, the bull was still fairly big. We couldn't roll the bull. So, we took a hammer and shovel and started pounding on it trying to break the skin, but the hide had dried out so much it was solid. But this bull that should have been very thick with a rib cage was only about a foot high and it sounded hollow in there. So we were very puzzled.
Rib Bones Fall Out of Bull's Carcass, Sponge-like and Blackened
We called the rancher and he came with a chain and we dragged the bull and immediately when we pulled it loose, all of the bones fell out of the bull. this was quite puzzling because all of the other animals, the natural deaths and the mutilation deaths of the animals always had the ribs intact. When we pulled it, immediately a big pile of ribs just lay there at the original site. These ribs had never been exposed to the air and for some unexplained reason, those rib bones had already become disconnected from the bull before we even pulled on it.
That would explain the bull's small chest width. It was collapsed because there were no ribs holding up the hide.
Yes. That's right. That explained that. But when we pulled it, the rancher was flabbergasted and the deputy and I were surprised that if there was any connective tissue in this animal ­ and about the only we could see was on the spine ­ it was black. The bones were hollow. They were like black sponges, only solid. Not soft like a sponge, but looking like a very porous sponge and black colored.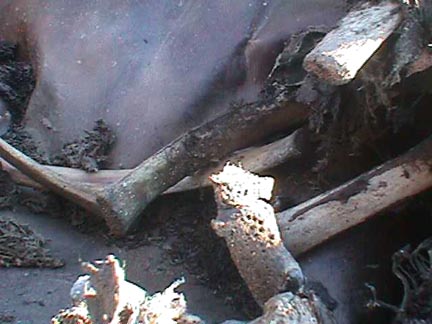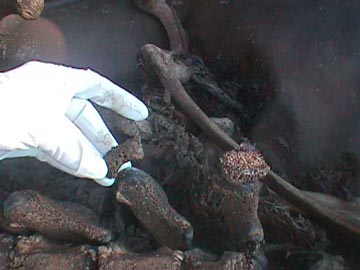 Your photograph shows both bones that appear to have been cut and ones that are sponge-like and darkened.
Yes.
Could something like microwave radiation that heats and cooks cause that?
This would be a good thing to try to find out. The rancher said that when he burns bones, that's what they look like. They become extremely porous.
The fact that it was only a half inch on the sternum part, there was a little bit of cartilage left and it held the ribs to the sternum, a half inch up the ribs appeared to be cut straight off. This could possibly be attributed to the rancher jerked the bull too hard when he pulled it. Or maybe he rolled it, but he swears he didn't roll it. But the fact that the ribs were cut on both sides of the sternum would indicate to me that it was not just a chance breaking.
How do you cut the ribs straight across inside a large bull in the first place?
Yes, especially if the parts that would make the bull accessible is solid. There is no break in the skin there. So, you couldn't have cut the ribs because they were inside the bull. The cowhide, bull hide, on the downward side of the animal had kind of rotted away. But yet, nobody had moved that bull and he had ribs when the rancher dragged him to that spot. So whatever, it would be interesting to find out.
The bull bloated right at the beginning and had rigor mortis set in when it as too soon. And the bull had never been moved, so how did those ribs get cut? And when did they get cut?
This animal could not have had naturally that porous a bone. It was a 2400 pound bull. It could not have supported that weight with this porosity in the bone structure.
This might be consistent with biophysicist Levengood's hypothesis that some kind of energy system containing microwave frequencies is interacting with the animals, grass and soil.
The connective tissue was black, all of it, not just on the spine. And usually that's kind of pink or a lighter color or even a reddish or white. This was all black inside. The inside of the hide was slick, real clean, shiny. I don't know what caused that.
Meaning if you lifted up the hide, on the underside it was shiny?
Yes.
Again, could that be caused by microwave heating?
I don't know. It might have been maggots, but would they clean it that slick? I know the weather had been cold and snowy up to a week or so before I got there. At a certain temperature, you need a certain temperature for the maggots to grow. It was warmish that day we were there, but not too warm. Would maggots have had that much time to do that work?
Besides these mutilated animals, have you heard about any new high strangeness in Christmas Valley or Sand Springs the past few months?
People do encounter strange lights in that whole area, and especially in the Christmas Valley where you have not only that huge radar site, but also that dioxin dump.
Can you explain more about the radar site – who runs it and what is its purpose?
It was built in either the late 1970s or early 1980s. Supposedly it was used for only a few months before it was closed down. A terrible expense for something so short-lived. These are huge over-the-horizon back scatter stations. The sending station is located near Tule Lake in Modoc County, California and it consists of 3 big arrays and I believe it covers almost 360 degrees. These arrays are charged grids of wire that are maybe 45 feet in height and a quarter mile long and stretching along the ground 1000 feet out. You don't dare go near them when they are being used or tested. They say they are decommissioned, but the one at Tule Lake was using more electricity than a town of 3000 people. so, that would indicate to me it wasn't quite as decommissioned as they would like us to believe.
Tule Lake does the sending and Christmas Valley does the receiving at these huge radar waves. Then the waves are downloaded and sent to Mountain Home in Idaho.
Originally, it was stated they could track incoming missiles and according to Keith, the only thing they did was track a plane taking off from Japan and flying to Hawaii. It had that ability to see over the horizon.
Today it is not supposed to be in operation?
Right, it's not supposed to be functioning today, but everyone I've talked to up there at Christmas Valley, people have seen strange lights. Whether it's because of the radar station, I do not know.
Christmas Valley and Sand Springs have had animal mutilations and unusual phenomena for decades.
Oh, yeah. I have a bunch of police reports from the 1970s in the area."
---
More Information:
Recent 2001-2002 Chronological Summary of Cattle Mutilations in Christmas Valley, Oregon:
1) December 2001 – Cow discovered on same ranch where bull found on May 5, 2002.
2) Early Spring 2002 – Long-horn cow discovered on neighbor ranch adjacent to where bull was found.
3) May 5, 2002 – 2400-pound-bull discovered near water trough.
4) May 18, 2002 – Cow discovered in neighbor rancher's unused pasture.
See my book Glimpses of Other Realities, Vol. II: High Strangeness in Earthfiles Shop for more information about unusual animal deaths linked to glowing aerial objects and beams of light in the Sand Springs, Oregon area north of Christmas Valley.



© 1998 - 2019 by Linda Moulton Howe.
All Rights Reserved.