June 26, 2002  Western Europe –
To date in cereal crops, there have been 13 formations in Germany, 5 in Holland and 14 in England. New formations in all three countries have been discovered since the June 21st summer solstice. One of the most extraordinary was reported yesterday in the North Farm near West Overton, Wiltshire, at the top of a hill. It is like a labyrinth made of two coils winding around each other in opposite directions. Each coil ends up with a 25-foot-diameter serpent head that contains two eyes of standing crop.
ENGLAND
West Overton, Wiltshire England, Reported June 23, 2002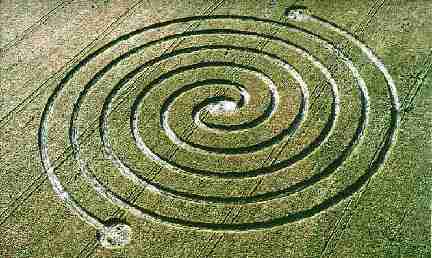 That photograph was taken by professional photographer, Steve Alexander, who has many crop formation photographs at the website, www.cropcircleconnector.com. The connector is an invaluable service for everyone interested in following the crop patterns as they emerge and studying all those in past years. Mark Fussell and Stuart Dike produce the website and maintain its large archive, asking for only modest subscriptions and donations to keep producing the extensive website. For only $23/year, a subscriber has access to all of the archives and receives immediate news flashes by e-mail of every new formation reported to cropcircle connector.com.
Part of the new double coiled serpent formation in West Overton's North Field goes over the hilltop and part way down the hill. Yet, from the air, the pattern seems to accommodate the irregularities of the undulating field so that the coil appears perfectly shaped.
I talked about the new Overton formation with British crop formation investigator, Charles Mallett. Charles and his wife, Frances, operate the new Silent Circle Cafe near the White Horse of Cherhill. The couple visited the formation on June 23, the day it was discovered.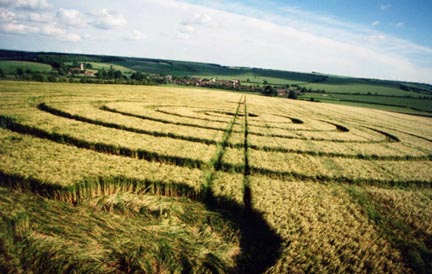 ---
Interview:
Charles Mallett, The Silent Circle Cafe, Cherhill, Wiltshire, England: "It was very impressive and rather large, somewhere in the range of 250 to 300 feet diameter, spread across the field. A double coiling serpent, fairly original for this area. There were some very interesting features as can be seen in the aerial shot at the cropcircleconnector website. Each head are like polar regions. I got a feeling, even though I didn't have a compass, that they were north and south. You can see standing sections in each representation of the heads, standing sections like eyes from the aerial point of view, which is fairly interesting. It seems to look like two serpents coiled together and meeting at a center.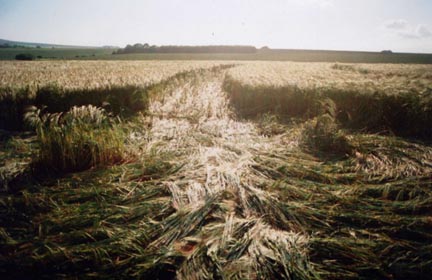 To give you a sense of the size of this particular formation, each of the two heads spans something like 25 feet in diameter, as does the center circle. The actual pathway is almost exactly 6 feet wide consistently throughout the entire event and consistently throughout the entire formation it is neat, clean, tidy. In some places, it is extremely fluid. Very neat. Very cleanly cut, almost cookie cutter style.
It is fairly mature barley. It's probably about 4 feet high. I'm 5'9″, fairly average height. You can't really see much, just parallel lines receding off into the distance. It was very hard to work out and particularly difficult to draw. Simple circles are easy to draw. But try to draw two continuous spirals wrapped together, it is extremely difficult. And it has been executed in the field to a very high degree. I've gone in hundreds of formations over the years. We're pretty familiar with looking at formations. If they are easy to figure out, we usually can pretty quickly. This one, we're still not quite sure how we could actually do that at all. How we could draw it on a large piece of paper on a table, let alone on a sloping and undulating field in the middle of the night. It would be extremely difficult and my experience at this time is telling me that formation is for real.
Esoterically speaking, it is a very significant pattern for this area because it is kind of over the hill from the Avebury complex. The Avebury complex essentially being a huge serpent in the landscape. It covers an area something like 5 square miles with the main Avebury stone circles as the body and there is a snaking serpent head that goes all the way up to Overton Hill and finishes at the Sanctuary which was perceived as the head with the tail drifting off toward Beckhampton, another circle hot spot.
The ancient Celts perceived the serpent as symbolic of energy flowing through the earth. Such energy lines in Great Britain are known as "ley lines." But serpent energy, from the dowsing point of view, is described in huge, coiling spirals of energy concentrated at Avebury. I guess that's why those places were constructed in the first place to concentrate this energy for ceremonial and metaphysical purposes. Maybe one has just manifest in the field for, I'm not quite certain what reason, but there seems to be a kind of symbolic representation up there in that crop circle as the ancient complex at Avebury."
Longwood Warren, Cheesefoot Head, Near Winchester, Hampshire, Reported June 23, 2002
Monday afternoon, June 24, British researcher and author, Lucy Pringle, flew over Longwood Warren in Hampshire to photograph another formation discovered there yesterday. Six rings around a large flattened center contain 40 circles.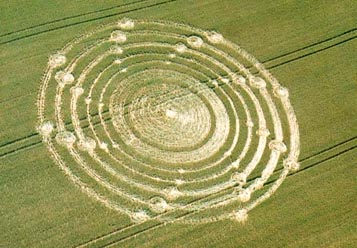 Lucy says it is in the same field where the so-called "Solar System with the Missing Earth" was found on June 26, 1995. That formation also had six rings that contained 69 circles, of which 65 were counted on the outer "asteroid" ring alone. Now in June 2002 almost exactly seven years later, is this supposed to represent another solar system?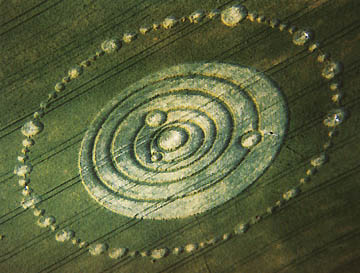 GERMANY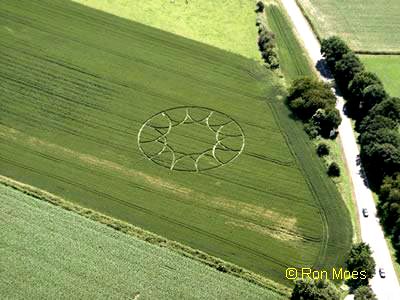 Between Groesbeek, Holland and Kranenburg, Germany, Discovered June 23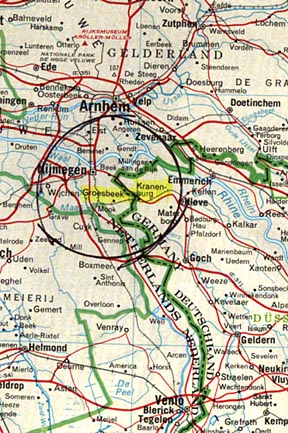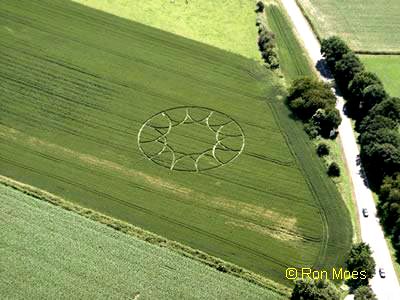 Across the English Channel outside Groesbeek, Holland, researchers from the Dutch Crop Circle Archive website went to photograph a new formation ­ also reported June 23. This one is similar to other patterns in past years that have overlapping half circles inside the perimeter of a larger circle. To their surprise, the field was not in Holland. It was 50 meters across the border into Germany.
Robert Boerman and Bert Janssen say it's a very puzzling formation because it looks good on the ground. He and Janssen could not find any human or other tracks in the formation and the plants themselves seemed to have been put down so lightly that even the stalks did not leave imprints in the soil. Yet, from the air the geometry is unfinished and sloppy ­ not the perfection found in truly mysterious formations.
While the men were studying the formation, a German TV crew showed up, interviewed them and later discovered something odd on the television videotape.
Robert Boerman, Crop Circle Researcher, Dutch Crop Circle Archive, Brummen, Holland: "We did an interview for German television and radio and newspapers. They called me a few hours ago, German television, and they said they recorded a very strange high sound on tape.
That was during an interview at the formation today?
In the formation, yes. When they were out of the formation, they didn't hear anything. But in the formation, there was a very high sound.
That's like England in 1989 when the BBC recorded a strange, unidentified high-pitched trilling sound on videotape when they were inside a large circle at Beckhampton, Wiltshire.
Yeah. The German television people promised to put this sound of the new formation on CD and send it to my place. So if I have it, maybe I can edit it and put it to the website and anyone can hear it.
In summary, what you've got is a formation that apparently emerged this past weekend on the German side of the border beyond Groesbeek, Holland. On the ground, the plants appear to have been pushed down by some kind of energy because you cannot find imprints of the plants in the soil and no human or other tracks in it. But the geometry is confusingly sloppy and unfinished.
Yes, in the photos you can see that one of the half circles inside the big circle, it isn't finished. We have absolutely no idea what to think about it. It's a very weird formation.
Could it be that this is only Stage One of something that is yet to come?
Maybe. A very good dowser, he said to me he predicted this formation. He said there will be a formation at Groesbeek and we should go do some research there. He said that last week to me. And now there is a formation in Groesbeek. He was with me today and he said, 'I have a feeling there is more coming on here.'"
Mysterious Lights Seen Near June 18, 2002 Hoeven, Holland Crop Circle
Robert Boerman also visited Hoeven, Holland recently to see two circle formations in the wheat field near the home of Robbert van de Broecke. Robert is the young man, now 22-years-old, who has repeatedly seen mysterious plants go down in patterns in the presence of lights.
See Archives in Earthfiles coming on-line June 28, 2002:
. 08/23/2000 ­ Intelligence Sensed In Mysterious Lights Associated With Crop Formations
· 05/21/2000 ­ Crop Formation Update as of May 21, 2000 – Part 1
· 08/01/1999 ­ 1999 Crop Circle Update from Wiltshire, England
· 06/09/1999 ­ Dutch Eyewitness Says Two Crop Circles Created By Pink-Purple LightRobert thinks the mysterious luminosities are from another dimension, possibly angelic, that are very concerned about the environmental deterioration of this planet.
On May 25th, Robbert van de Broecke reported a simple circle near his home. Then on the night of June 17, he told Robert Boerman that he saw two lights over the field the night before the June 18th formation was discovered, a simple circle with two smaller circles nearby.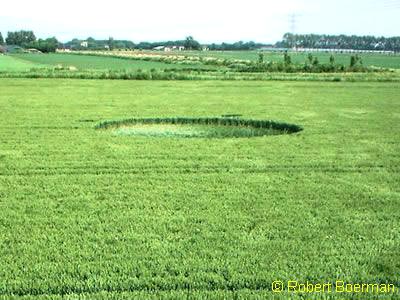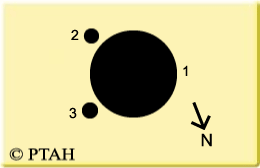 Robert Boerman: "I know Robbert has seen a crop circle formed in front of his eyes. At the last circle formed on June 18. He gets the idea that he has to bike around in the area there, in the neighborhood, and gets a feeling. And he thinks that something has happened in this field and that's about the formation from June 18.
He got the impression in his mind that something had happened in the field?
Yes. Just a feeling. And then he biked around the neighborhood. And then he says, 'Maybe this field.' And then he sees some lights above it. And he thought, 'Wow, maybe it's a car.' But it wasn't a car because the lights came over the ditch and then hovered above the field and then they seemed, the lights, go together. And then become one light and then go smaller and smaller light and then disappears.
The next day, he found the crop circle."
Continued in Update on German Formations
---
Websites:
http://www.cropcircleconnector.com
http://www.temporarytemples.co.uk
http://www.dcca.nl/update%202002-nl.htm

© 1998 - 2019 by Linda Moulton Howe.
All Rights Reserved.