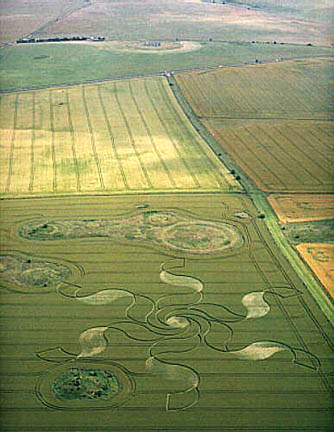 July 6, 2002  Stonehenge, Wiltshire, England ­ The greatest number of crop formations are now in Germany, not England. As of July 4th, England has twenty. In Germany, new formation reports from Baden-Wurttemberg and the Saarland near the French border in southwest Germany will increase the number of German crop patterns to more than 30. Photographer Frank Laumen is going to fly over the Baden-Wurttemberg fields on Monday and I will have photographs after he returns for a more in-depth look at three German crop formation hot spots.
---
Stonehenge, July 4, 2002
A formation discovered July 4th near Stonehenge, England is being described by many seasoned crop circle researchers as one of the finest formations of all time. The crop is young wheat and the formation spans more than 700 feet, placed very specifically between three burial mounds at one end of the field. Charles and Frances Mallett, owners of The Silent Circle Cafe in Cherhill, Wiltshire, first saw an aerial image on Thursday night and were down in the field at 6 a.m. on Friday morning.
Charles Mallett, Crop Circle Investigator and Co-Owner with Frances Mallett, The Silent Circle Cafe, Cherhill, Wiltshire, England: "When we saw it first on the computer, it was like, 'Jesus! That is something really amazing there in the field!' You can see Stonehenge in the picture (Steve Alexander's aerial) ­ it is adjacent and across the A-303 and a couple of fields back, half a mile maybe, up a dirt track.
What we were looking at is a formation 11 tramlines wide. Huge. We did a rough calculation and it's between 720 and 750 feet, approximately. From a purely aesthetic point of view, it is absolutely stunning!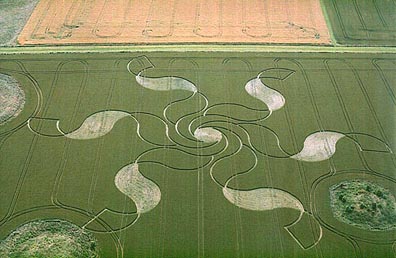 I would say something very interesting. We only determined this ourselves 15 minutes ago sitting around our kitchen table which is: Do you remember the formation at Hackpen Hill in 1999, Linda?
Absolutely.
You've seen the resemblance at the center of this formation.
Yes.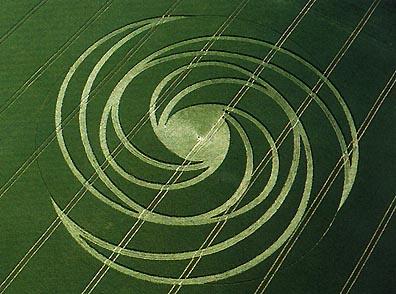 OK. Hackpen Hill 1999 happened on the Fourth of July. I think what we're looking at is an aesthetically amazing elaboration on the Hackpen Hill. The geometry is essentially the same at the center so we're looking at almost a completing of the task. If you remember that particular formation at Hackpen Hill, Wiltshire, was 400 and some feet in diameter, pretty huge and highly sophisticated for its day. An amazing formation. We went in on the first day it appeared and it was spectacular. No doubt about that one.
Stonehenge 2002 is a 6-segmented design as was Hackpen Hill. From the center out, it's as if it is an open version of the same thing where Hackpen Hill 1999 turned in on itself and kind of finished in a dead-end kind of path, folded into the main body of the design.
This one is as if the ends have been pulled out to produce huge, 3-dimensional ribbons splaying out across the field going on for 800 feet or so. It is stunning from the air. It looks like it is flapping in the wind. It's really effective.
What were your very first impressions as you moved along the soil and plants?
For the proceeding few days, the weather has been a typical English summer and has been absolutely dismal. It has been raining every day essentially and practically ever night. The conditions out there on the ground are horrific ­ wet, boggy, muddy, terrible conditions. So we stepped into the formation with mud dropping off our boots everywhere and leaving obvious traces, clearly apparent that two people had just stepped into the formation. Apart from this, our own feet, and one other person we knew had visited the formation, we made our way into a formation where there was no mud. The whole formation was absolutely clean. I can assure you, it was clean, smooth, consistent. No footprints. No mud. None of that. It was as if the thing had just arrived there and we had just stepped in. That was pretty impressive and fairly amazing in itself.
We pretty much examined the whole formation. It is clean and consistent. It was kind of cookie cutter crispiness, you know? The immediate impression was that a single entity or single hand, whatever, had created this formation. Essentially, the whole formation looks as if it started in the middle as a swirl and splayed out in six elaborate directions to create something pretty spectacular which is absolutely beyond our comprehension in terms of construction.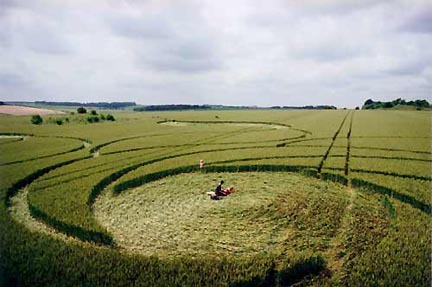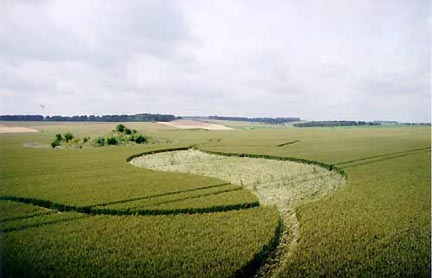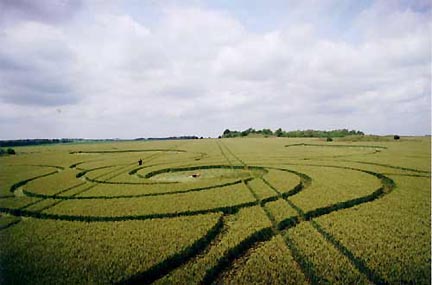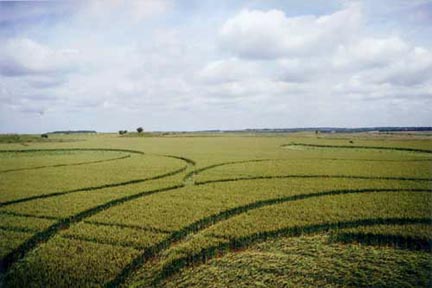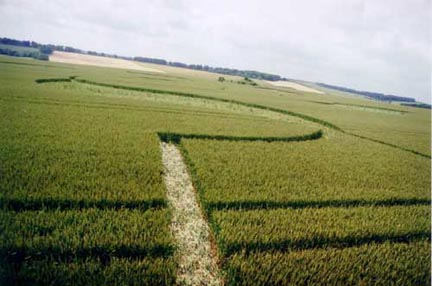 Anything unusual about the plants themselves? Did you see any changes in the growth nodes, soil, seeds, anything?
A couple of credible researchers looked at it in detail. They spent two hours in there on July 5 and what would be expected of a genuine formation was present; i.e., expansion and expulsion in the nodes, primarily in the growth nodes on the plants which is consistent with the work of (American biophysicist) W. C. Levengood.
Just it's positioning alone adjacent to Stonehenge. As you would have seen from the aerial shot. It actually sits among three megalithic round barrows, burial mounds essentially. It could have been positioned out in the main body of the field much, much easier. Just positioning that huge formation in amongst such a tight area is quite a feat of engineering in itself. Why would it happen among three ancient burial mounds? It clearly is relating the entire formation to the land in some way, you know?
Right. What might the relationship be between those burial mounds in that particular field near Stonehenge and the field at Hackpen Hill?
Yeah, I wish I knew. I would say, typically this area has received unbelievably sophisticated formations in the past. Remember the 1996 Julia Set? Highly sophisticated mathematical design of an order barely comprehensible to the average person. Just creating that single curve on a piece of paper is difficult, let alone doing it for 600 or 700 feet across a wheat field.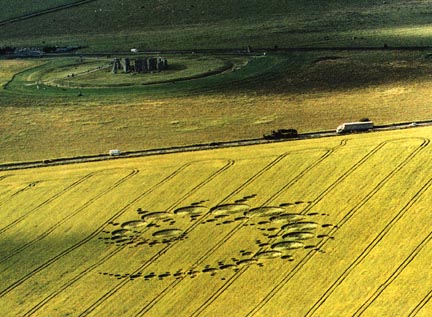 This current formation has happened in very close proximity to that site and formation. I think it is one field out from that particular location. But this time, it seems to have chosen to lay itself down among the ancient sites as if to say this is part of the land as well as part of everything else. It almost seems like a connection thing with the earth.
Does anyone know archaeologically what was buried inside those particular round barrows at Stonehenge?
I've never been on top of them, so I don't know if they have been excavated. Often, if they have been excavated, they usually have a shallow depression on the top where they have been dug out and filled back in which sinks down. But I didn't go on top of these and they are covered with weeds and brambles. I don't know.
It was fashionable in the 16th and 17th centuries for the English gentry to excavate these mounds in the hopes of finding treasure. More than not, they would find a corpse or skeleton in a fetal position and a few personal treasures. The positioning of these mounds in relationship to the larger landscape is probably far more significant than just having a place to bury a body. It's like the positioning of Silbury Hill. That's regarded as a burial mound even though it has never been proven to be so. I'm sure it's there for a very good reason. And the way the crop circles appear in connection with these sites makes me think that this is very much not ­ just aliens coming here and dropping circles in corn fields. It is very much related to the human consciousness, the earth and something else. I'm just not quite certain what that something else is yet, but quite possibly it is an interdimensional communication.
Yes, and some researchers think it all has to do with those who have passed on of a particular intellect coming back to say or do something that is other-dimensional from our point of view. But from its point of view would be an interaction with the earth from great knowledge about our past.
I think it is entirely possible that these are reflections of our past, or as if we are coming full circle (historically) and the crop circles are appearing because of that.
As if that which knows our past is somehow responsible.
Sure. A lot of the crop circles, the information presented within these formations are mathematically, numerologically geometrically, can be looked at from two perspectives:
One, the most ancient forms of philosophy and spiritual belief, these formations, these patterns, have been used for thousands of years as almost magical tools. These particular shapes are not just pretty patterns. They are what would be considered sacred geometry, sacred proportions.
On the other end of the scale are the latest technologies and sciences which are saying that the non-linear dynamics of nature and reality seem to more or less collide with the most ancient concepts of spiritual belief. There seems to be a kind of coming full circle.
Look at the state of the world. Look at the state of the average individual. Do we need to wake up and understand we are part and an important part of a comprehensive whole which is fundamentally spiritual? And I think that is essentially what the crop circles are about ­ to wake us up to who we really are and to our potential as individuals and to us as a collective.
Before we have destroyed everything.
Indeed.
Isn't it ironic that this season of more than 30 formations in Germany and the extraordinary patterns in England, along with unusual formations in Holland, are occurring at a time that a Hollywood movie is about to come out using crop formations as a kind of background for fear that has nothing to do with the real crop formations? (Signs with actor Mel Gibson opens in early August in the United States and in England in September.)
Sure. My one hope is from this Hollywood movie that it will ­ clearly Hollywood never makes realistic movies. They never have and never will. But there is the hope that it will put the thought in the consciousness of millions of people. And that is virtually been proven in the past that the thoughts of people effect the crop circle phenomenon. So, the fact that millions of people might start thinking about the situation could potentially cause a massive explosion in numbers of crop circle complexities, sophistications, whatever. It's a theoretically possible and it would be in keeping with how the phenomenon works.
I think, personally, if suddenly millions of people really thought, 'Wow, this is quite amazing actually!' They would receive more amazing things just thinking positively about it. Our experience on the ground from a completely objective point of view leaves us with no other choice but to conclude that this is something entirely real, entirely needed, and it will continue until whatever it really is doing is done. But my feeling is that it's fundamentally spiritual, fundamentally benevolent and it is very much for the good of the individual that wishes to seek it and any individual that wishes to seek it will gain more than they could have believed simply by opening their minds to what is really happening on the planet and where we are heading."
---
More Information:
---
Websites:
http://www.cropcircleconnector.com
http://www.temporarytemples.co.uk
http://www.dcca.nl/update%202002-nl.htm



© 1998 - 2019 by Linda Moulton Howe.
All Rights Reserved.