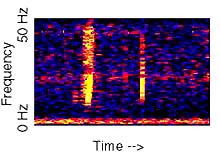 June 30, 2002  Woods Hole, Massachusetts – The June 13, 2002 issue of New Scientist featured an article by reporter John von Radowitz in London about an underwater sound deep in the ocean recorded in 1997 by NOAA scientists that remains unidentified. The "Bloop" was detected and recorded from an array of underwater hydrophones (microphones) originally set up by the U. S. Navy in the 1960s to track Soviet submarines. The listening technology is distributed in a deep ocean level known as the "sound layer" which marine animals such as whales and human technology such as submarines use for long-range communication.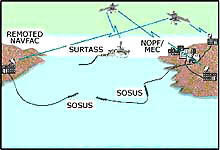 The "Bloop" was detected by hydrophones up to 4,800 kilometers apart (2,983 miles). That is a long distance for a single sound to be heard. Thus, speculation began about what the "Bloop" might be. The New Scientist article stated that the great distance it covered "meant it had to be much louder than any recognized animal noise, including that produced by the largest whales."
Recently, NOAA scientist Chris Fox who originally recorded the "Bloop," sent one recording to Dr. Phil Lobel, a marine biologist at the Woods Hole Laboratory in Massachusetts and a Professor of Marine Biology at Boston University. Dr. Lobel studies underwater sounds made by fish and other marine animals. I asked him what he thought the Bloop could be.
---

Interview:
Phillip Lobel, Ph.D., Associate Professor of Biology, Boston University and In-Residence at Woods Hole Marine Biological Laboratory, Woods Hole, Massachusetts: "In fact, I just got an e-mail from Chris today and he says,
E-mail from NOAA's Chris Fox 6/24/02: "Hi, Phil: Just in case you think I've lost my mind. I never said that giant sea monsters made bloop sounds. Somehow between a popular article in New Scientist and CNN, the sea monsters appeared.

I actually think the bloop might be related to ice calving, breaking off of ice sheets."
Icebergs.
Right. When I heard the sound, it was a low frequency sound with a frequency modulated swoop. I told the guy who was writing the story (New Scientist), 'It kind of sounds like a whale sound,' and told him to consult a whale expert which he never did.
What I've been telling the press and people like yourself is that there was a lot of hype associated with this story that is really hype. There is no better way to say it.
What frequency was the bloop sound?
I would have to go back and look at it. As I recall, it was in the 50 hertz to 150 hertz range.
In that range, what do you know in the ocean from other research that is in that same frequency range?
Whales.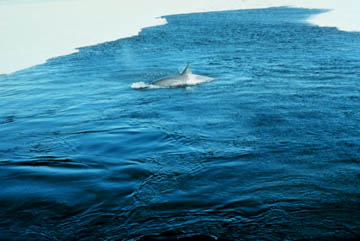 Killer whale cruising the edge of an ice pack, hunting for seals.
Photograph courtesy NOAA.
Only whales?
Well, fish make sounds in that frequency range, but fish don't make sounds loud like that sound is. Fish sounds only transmit on tens of meters in the water. This sound was recorded over kilometers and whales typically broadcast sounds over those distances. In addition, of course, there are lots of natural sounds that are caused ­ as just mentioned ­ by ice calving, breaking up of icebergs, hydrothermal activity, underwater volcanoes, the movement of rocks. All sorts of things.
Isn't the reason that it is referred to as a mystery because even if New Scientist didn't report everything, they did say, 'This 1997 bloop was detected (by NOAA) by sensors up to 4,800 kilometers apart and that meant it had to be much louder than any recognized animal noise, including that produced by the largest whales.'
That's an incorrect statement. In fact, whales ­ the ocean is a highly complicated body of water that is stratified. There is something called the sound layer that whales, submarines and other things use for long-range communication. Given the right set of oceanographic conditions and the right location of the whales, whale sounds regularly broadcast across ocean basins. I referred the author (New Scientist reporter) to a number of publications. Humpback Whales, Sperm Whales, other things are known to do that in the sound layer.
Wouldn't Chris Fox at NOAA know that the bloop might be a whale sound?
Yeah, he does. And I think just like I read in this e-mail, but he is a geophysicist. He doesn't study whales either. He works on hydrothermal vents and listens to sounds as a way of measuring geologic activity in the ocean.
The bloop has remained unidentified though, and I wondered if it could be some unknown technology that our military or someone else's military might be using?
No.
Because?
I mean, I work with the military a lot on a lot of different issues. I can't say I know everything, but there is nothing that makes that particular type of spurious sound that a military would be interested in doing.
I mean if the military is trying to communicate across those distances, they've got many other methods that they use that are better. Sound in the water ­ the military wants to communicate, they want to avoid eavesdropping. The last thing you want to do is broadcast the sound everywhere. That's why submarines do everything they can to make themselves quiet.
What about the speculation that it could be one of the mysterious, big squid that live down deep and are quite large?
Well, as I said in the article (New Scientist), the first thing is: certainly, as a biologist, we do discover new things. We can't rule out anything completely. but as a scientist, one looks at the weight of the evidence and asks: What's a reasonable plausibility?
Many people have studied squid in the water from little squids to big squids and the only difference between giant squid and little squids is size. Anatomy-wise, they are extremely similar. Squids have no mechanism to produce biologically-generated sound. They certainly make a hydrodynamic sound, the noise of whishing through the water when they jet propel themselves. But they don't have a swim bladder like I mentioned. And something else that would be required at least to our knowledge of today to produce a sound loud enough to carry across an ocean.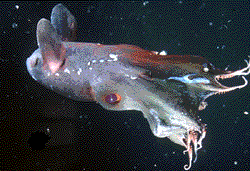 The bloop sound, itself – Chris Fox sent me just one example. So I haven't studied it or looked at it in any great detail. But it was a frequency-modulated sound which is not typical of hydrodynamics.
From your educated point of view then, a squid is completely eliminated as a possibility for the source of the bloop sound?
As a scientist, we never say completely. Whatever we know today is wrong tomorrow. I would just say, it is highly improbable. And certainly they know the anatomy of giant squids and there is nothing in them to suggest anything different.
If a giant squid were making the sound, it would seem logical to me that small reef squids that we have studied commonly would make sounds and none of the many species worldwide ­ squids, octopuses ­ none of them make purposeful biological noise.
For the last 60 years scientists ­ particularly Navy and government scientists ­ have been studying sounds in the ocean. There are many cases of sounds that they considered incredibly mysterious. I remember one from when I was a student and it was called the "Roar." Navy scientists had hydrophones on the bottom of the ocean and they would hear this incredible roaring sound. And they were really like, 'What was it?' They had the same kind of story ­ big, big sea monster.
Well, it turned out when they finally sent divers down to look at the hydrophones and see if they could find anything, it was a tiny little hermit crab crawling over the surface of the hydrophone.
So, NOAA is out there listening. They are getting a lot of good information. Sometimes when they are lucky, they get a recording and have observers in the water at the same time. But, it's often hard to link it.
Whale researchers have a very similar problem. When I study fish, it's easy for me. Fish live in a general area. I can look at individuals, follow them around and see their behavior and record the sounds synchronously. Someone looking at whales for a long time ­ they know this is a whale sound, but if there are six or seven whales, you can't often get close to them to tell which one might be doing something that is producing the sound.
So, it's part of the problem of the study. Certainly where the NOAA deep hydrophones are, it's a deep water, often dark. With video, you can't see very far in water. If the sound source is more than tens of meters away, you wouldn't be able to tell who it is. Often, it's just the happen chance of being at the right place at the right time with the proper equipment that you discover who happens to be making a particular sound.
Is there any way to hone on the bloop when it is occurring in real time? Do we have satellites that could focus on that frequency when it is ongoing?
Certainly we do. Not satellites, but that's the business of submarines and certainly any military submarine, particularly an attack sub, has all the sonar capability to hone in on any type of sound source in the ocean.
But so far no one has been able to hone in on the sound while it was happening and identify a source?
I don't think anyone is really that interested. There are lots of unknown sounds in the water and this bloop is being made into a big case of hype, but when you really look at the data ­ if you put a hydrophone in the water and let it record for a long period of time, we do hear all sorts of noise. The other part about it is, if you had said in this case that this sound was heard at two different hydrophones at nearly the same time ­ that's a real coincidence. The leap of faith they made intellectually is that it was the same sound source that transmitted that far. And that's not the case at all.
If there is a population of animals ­ and I study reef fishes. A common little reef fish like squirrel fish or damsel fish ­ if you put a hydrophone in the Caribbean at Jamaica and a hydrophone at Grenada, you're going to hear the same kinds of fishes make sounds. If you record long enough, you're going to get two squirrel fishes that just happen to be making noise at similar times. That's what biology often does.
In the spring time wherever you are in the United States, birds are courting across the country. So if you record Red-wing Blackbirds, you're going to hear them in Connecticut and Ohio. Know what I mean?
There is no evidence in the data that indicates this is the same sound source. It could have been coincidental. It could have been made by two similar fish or whales that just happened to be at two different parts of the ocean, but happened to say the same thing close enough to the same time.
The New Scientist reporter was concluding that the sound was simultaneous across 4800 kilometers.
That was his inference, but he ­ for example, he did not provide me with both recordings so that I could look at them and say is this in fact the same sound. I'm skeptical. Science usually proceeds more carefully than reporters report it. But it is so easy to be mislead. It is so easy to fall for circumstantial evidence.
Like the little crab walking across the microphone?
Exactly.
The challenge now is to see if there is any way to link up a physical identification with whatever makes the bloop sound?
Right. And certain sounds just occur so infrequently. If it really is a biological origin and it's something that an animal is doing, animals don't do things ­ like make sounds randomly. And if they are going to do it, they are going to do it in a particular fashion and you are going to hear it repeatedly. If you only hear something once in a millennium or once a decade, it very well could be a spurious phenomenon or like Chris Fox says, it could be ice breaking off. It just happens to create that kind of sound.
Because the bloop has not been very common?
Exactly. I think that's one of the things that is very uncommon. And when things are very uncommon, you go, 'Well, that is probably …."
A mystery.
Yeah. Or just, a random event."
---
Website:
http://oceanexplorer.noaa.gov/explorations/sound01/sound01.html

© 1998 - 2019 by Linda Moulton Howe.
All Rights Reserved.