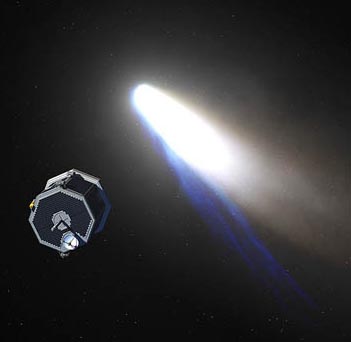 NASA UPDATE ON AUGUST 26, 2002:
"On Aug. 15, CONTOUR's STAR 30 solid-propellant rocket motor
> was programmed to ignite at 4:49 a.m. EDT, giving CONTOUR
> enough boost to escape Earth's orbit. At that time, CONTOUR
> was about 140 miles above the Indian Ocean and out of radio
> contact with controllers. The CONTOUR mission operations team
> at APL expected to regain contact at approximately 5:35 a.m.
> EDT to confirm the burn, but NASA's Deep Space Network (DSN)
> antennas did not acquire a signal.
>
> Since then, there has been no contact with CONTOUR. Commands
> pre-programmed into the spacecraft's flight computer system,
> designed to instruct the spacecraft to try various alternate
> methods of contacting Earth when contact is lost, also have
> not worked to date.
>
> Images from a Spacewatch ground-based telescope at Kitt Peak,
> Ariz., show three objects at the location where CONTOUR was
> predicted to be, images which may indicate the spacecraft has
> broken apart. Mission controllers at APL will continue
> listening for signals from the spacecraft periodically until
> early December, when CONTOUR will come into a more favorable
> angle for receiving a signal from Earth."
August 16, 2002  Laurel, Maryland – Late this afternoon at Johns Hopkins University's Applied Physics Laboratory (JHUAPL), Dr. Robert Farquhar, Mission Director for the Comet Nucleus Tour (CONTOUR), teleconferenced with reporters about the status of the missing CONTOUR spacecraft. CONTOUR's STAR 30 solid-propellant rocket motor was programmed to ignite at 4:49 a.m. EDT yesterday, August 15, to launch the probe out of Earth orbit onto a trajectory to study two or three comets over the next few years. At that burn time, CONTOUR was over the Indian Ocean at 140 miles (225 kilometers), too low for NASA's Deep Space Network stations to track the spacecraft during the burn. All systems seemed to be OK going into the burn, but 45 minutes later when the JHUAPL mission operations team tried to regain contact with the probe, no signal was received.
Since then, the scientists have been "looking at the nominal path, as if the burn occurred," Dr. Farquhar said. "We're working on the assumption that the motor fired, and the team is putting its priority there."JHUAPL ­ which built and managed the probe ­ says that "CONTOUR's on-board computer is also carrying a command that about 24 hours after the scheduled burn time, the craft would turn about 40 degrees and perhaps improve its antenna's fix on Earth."
At first, scientists were optimistic that communication would be re-established with CONTOUR. But this morning, Jim Scotti with the Spacewatch Project at the Lunar and Planetary Laboratory at the University of Arizona, made an image with the 1.8 meter Kitt Peak telescope which might mean bad news. The image shows two objects paralleling each other 250 kilometers apart near one of the predicted positions for CONTOUR after the burn. So, one possibility is that the probe broke apart.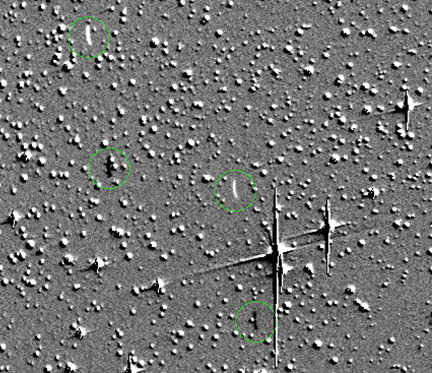 Arizona's Spacewatch office released the image with this description:
"In this subtracted image in which moving objects are revealed by pairs of images, one dark and one bright, there are two parallel trails near one of the predicted positions of the CONTOUR spacecraft. Radio contact with CONTOUR was lost the day before (August 15, 2002) following a commanded large velocity impulse maneuver (rocket burn).These trails were discovered and measured by Jeff Larsen during his re-examination of the data. The curvature of the trails is a natural characteristic of the drift scanning process at this high declination. The images are oriented with north at the right and west at the top.The positive images are the earlier time. The fact that there are two trails indicates that the spacecraft must have separated into two pieces that are still moving in nearly parallel directions."
---
Interview:
August 16, 2002 Teleconference Excerpts:
Robert Farquhar, Ph.D., Comet Nucleus Tour (CONTOUR) Mission Director, Johns Hopkins University Applied Physics Laboratory, Laurel, Maryland: "But when you try to do things that have never been done before, sometimes they are not successful. We haven't given up yet, but I'm a little discouraged with the news today of these space launch images.
Later on today, we are going to be using the Arecibo radar along with the radar station at Goldstone and try to do some radar bounces off of the contoured spacecraft. That will also give us some more information. There are also other telescopes trying to confirm the observations of The Spacewatch team (University of Arizona). So, even though the news isn't very good, I think this all needs to be verified. So we are going to continue to try to make contact through Monday at the very least.
Are there any alternatives you have here on earth to tune up the spacecraft and make it talk if it is still intact? Or do you have to be in a passive mode and wait to see it?
The first thing we have to do is try to locate it in the sky, but we've probably been trying to make contact with it, but we have probably been looking in the wrong place. We have very narrow beam widths on the ground antennas. So, we've just been in a listening mode up to now, but we haven't heard anything. We've also tried to send commands up to try to turn on the transmitter or switch to a different antenna. Things like that. There are quite a few things we can go through and we have been going through.
How far off from where you were looking was this found?
It wasn't that far off. I think it was off about 3%. I mean it was back 3% from where we would expect it (CONTOUR) to be, about 6/10th of a degree in the sky. So, fairly close.We haven't found any smoking gun about what could be wrong with the thing. It seems that everything was OK going into the burn, but when it came out we just didn't see anything. We haven't heard anything the entire time. Now, we did look for it in earth orbit and did not find anything. But with (this morning's) image, it shows pretty much that something is there. The only bad feature for us is that there are two objects there.
There are two objects traveling in a parallel trajectory which could mean the spacecraft has broken into two pieces?
That certainly one conclusion one can make, yes.
Could you explain the timer activation you talked about earlier, the possibility of a backup system?
If no commands are sent up to the spacecraft for 96 hours and the last command was sent up some time prior to the engine firing, then the spacecraft automatically turns on both transmitters, works through the two processors on board the spacecraft and does a round robin of all the transmitters of transmitting out the different antennas. This takes quite awhile, something like about 30 hours to go through all the possibilities.
Do we know if that does not happen would that be the time for you to conclude that the whole project is dead?
That's another data point, of course. But this is when that will happen. This is on Monday and this is eastern daylight time. The first possibility is 4:09 a.m. and then since we did send some commands up shortly after we noticed we weren't hearing from the spacecraft, so if those commands did get in, that could extend this period out to about 10:09 p.m. on Monday. Then, if we don't hear anything then, we are going to caucus on Tuesday to see what the next step is.
If the spacecraft did not split in two, is there any explanation for that space launch image?
Yeah, I've heard some people which I think is a little hopeful, but we'll grasp at any straws we can get right now, that they might be some insulation that came off the spacecraft. It is a magnitude less, an astronomical magnitude less in brightness. But I'm not that optimistic about that.
If you had a normal burn. Would there have been time for you to have gotten any kind of a glitch notification that if there was either an explosion or something had happened, would you have been able to pick that up?
We weren't able to see the burn from any of the DSN (Deep Space Network) stations because it's a perigee burn and it's at a very low altitude, 225 kilometers. So, unless you were right over one of the stations, you wouldn't be able to observe it. For some people, I guess there were some amateurs out trying to look at it optically. I don't know if they were successful or not. We haven't tracked that down yet. With a solid rocket motor, once you light it, it's going to go all the way. It's going to do something. But we don't know the details of what happened to the motor itself during the burn.
If you do re-establish contact with this spacecraft, how far back would this set the mission?
If the spacecraft is still operating, it doesn't set us back in the slightest because we have enough fuel to make any necessary orbit corrections and the mission would go on as usual. What we have to do is contact it and then find out what the status is. Looking at this image, I don't feel very good about it.
If the two objects are the spacecraft, how far are they away today?
They are roughly about 250 kilometers apart from each other. And 400,000 kilometers from earth. That's where this image was taken.
When will the Arecibo attempt be made? And is NORAD involved as well?
Arecibo is working with Goldstone and that attempt will be made tonight. NORAD, as far as that goes, JPL navigation had requested some help from them, but as far as I know, they didn't see anything. They were mainly looking for the spacecraft in earth orbit and they did not see it yesterday.
What will the impact of this loss have on comet science and how long would you speculate it would take to duplicate this data?
That's a good question. It's difficult for me to answer right now because of my personal involvement in this thing for such a long time. I wrote my first paper on getting to Encke's Comet in 1972. So, I've been at this for 30 years. I would like to have gotten some images and I've sort of given up. It's pretty bleak.As far as how important this is. Encke's Comet is a very unique object. It's been in its present orbit for thousands of years and it comes around every 3 1/3rd years and comes very close to the sun. So, it is a big mystery about why it is still so active. that's one thing.We were also going to follow up that with a flyby of Comet Schwassman-Wachman 3 which has recently split up into several pieces. Both of these things would have been things done for the first time."
---
Websites:
http://www.contour2002.orghttp://spacewatch.lpl.arizona.edu/contour.html



© 1998 - 2019 by Linda Moulton Howe.
All Rights Reserved.