September 12, 2002 - For the most up-to-date research on this evolving story, see Lucy Pringle's report at: http://lucypringle.co.uk/
EDITOR'S NOTE ABOUT TIME LINE OF EVENTS: Since the interviews below with Winchester farm owner, Mike Burge, and his farm hand, Sydney Collis, Charles Mallett in Cherhill, England confirms that www.cropcircleconnector.com was contacted by e-mail on Thursday, August 15, about the Winchester formation. Also contacted by e-mail that day (by the same person who mailed the connector) was researcher and photographer, Lucy Pringle in Hampshire. Mike Burge and Sydney Collis both were in the cherry picker above the field on Monday afternoon, August 12, and are adamant the wheat field was perfectly normal then. So, the possible creation period is Tuesday night, August 13, producing what seemed to be a partial formation according to farm worker, Sydney Collis, who found "marks in the wheat" at 8 a.m. on Wednesday morning, August 14. That leaves Wednesday night into Thursday as other possible creation times. The formation notification first went out by e-mail on Thursday, August 15, followed by an Ocean FM radio report on Friday morning, August 16, around 9 a.m..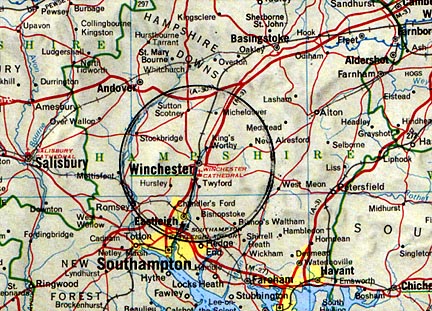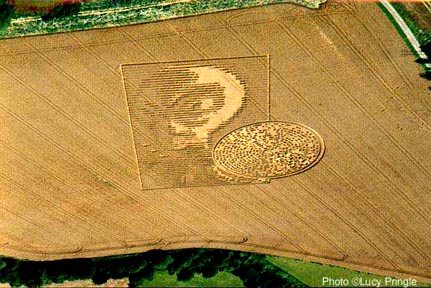 August 17-18, 2002  Winchester, Hampshire, England - Crop formation researcher and photographer, Lucy Pringle, received an e-mail dated August 15, 2002 at 19:30 (7:30 p.m.) Hampshire time from a man who reported a "New Crop Circle Near Winchester" which Lucy did not download until midnight, working into the early hours of August 16. Lucy e-mailed a request for the Survey Ordnance and he replied with SU447297, which Lucy received in e-mail early Friday morning, August 16, and notified Paul Vigay, Director, Independent Research Center for Unexplained Phenomena.
Lucy booked an airplane to fly over the field at 2:30 p.m. She did not know that the Ocean FM station in Southampton, Hampshire, received a telephone call around 9 a.m. on Friday, August 16, 2002, from a woman who said she had been riding her horse by the Vale Farm in the village of Pitt east of Winchester when she saw a formation in the wheat field. The radio announced the discovery and farm owner, Mike Burge, heard about it from his farm hand, Syd Collis.
Click here to subscribe and get instant access to read this report.
Click here to check your existing subscription status.
Existing members, login below:

© 1998 - 2023 by Linda Moulton Howe.
All Rights Reserved.