September 12, 2002 – For the most up-to-date research on this evolving story, see Lucy Pringle's report at: http://lucypringle.co.uk/
EDITOR'S NOTE ABOUT TIME LINE OF EVENTS: Since the interviews below with Winchester farm owner, Mike Burge, and his farm hand, Sydney Collis, Charles Mallett in Cherhill, England confirms that www.cropcircleconnector.com was contacted by e-mail on Thursday, August 15, about the Winchester formation. Also contacted by e-mail that day (by the same person who mailed the connector) was researcher and photographer, Lucy Pringle in Hampshire. Mike Burge and Sydney Collis both were in the cherry picker above the field on Monday afternoon, August 12, and are adamant the wheat field was perfectly normal then. So, the possible creation period is Tuesday night, August 13, producing what seemed to be a partial formation according to farm worker, Sydney Collis, who found "marks in the wheat" at 8 a.m. on Wednesday morning, August 14. That leaves Wednesday night into Thursday as other possible creation times. The formation notification first went out by e-mail on Thursday, August 15, followed by an Ocean FM radio report on Friday morning, August 16, around 9 a.m..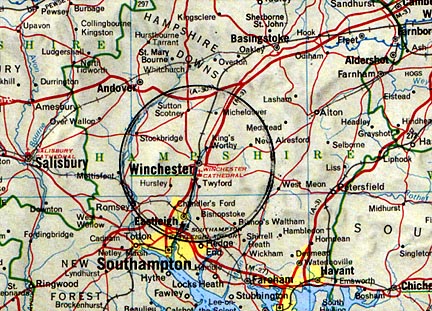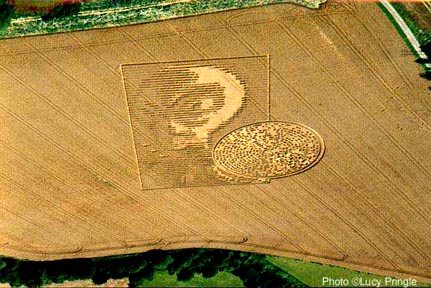 August 17-18, 2002  Winchester, Hampshire, England – Crop formation researcher and photographer, Lucy Pringle, received an e-mail dated August 15, 2002 at 19:30 (7:30 p.m.) Hampshire time from a man who reported a "New Crop Circle Near Winchester" which Lucy did not download until midnight, working into the early hours of August 16. Lucy e-mailed a request for the Survey Ordnance and he replied with SU447297, which Lucy received in e-mail early Friday morning, August 16, and notified Paul Vigay, Director, Independent Research Center for Unexplained Phenomena.
Lucy booked an airplane to fly over the field at 2:30 p.m. She did not know that the Ocean FM station in Southampton, Hampshire, received a telephone call around 9 a.m. on Friday, August 16, 2002, from a woman who said she had been riding her horse by the Vale Farm in the village of Pitt east of Winchester when she saw a formation in the wheat field. The radio announced the discovery and farm owner, Mike Burge, heard about it from his farm hand, Syd Collis.
The first reported confusion was that the hill top wheat field cannot be seen from any road and he wondered if the caller was involved in the formation's construction and used the radio station to provoke public attention. But Lucy Pringle was able to establish that the report was from a horse rider near the field, so that first "prank" concern was based on wrong information. Later, Mr. Burge was visited by a man named Julian Gibsone who showed him videotape taken from a helicopter or airplane over the alien face and circular disc in Mr. Burge's wheat field. Mr. Burge was surprised and amazed by the complexity and size.
Based on the tramline width of 21 meters, the formation was about 250 feet wide and 360 feet long. Mike Burge and his family have worked on their Vale Farm for twenty-seven years and have never seen a crop formation on their land before.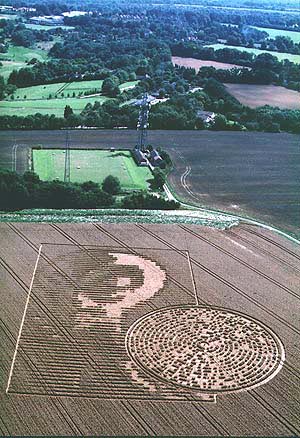 Lucy telephoned me about her conversation with the farmer's son who told her that a partial outline of the formation had been found in the field prior to the completed event. Lucy gave me the farmer's phone number and I talked with him Saturday, August 17, 2002, to find out if anyone had asked his permission or paid him money to put the formation in his wheat field. The following is from that interview and my discussion with his farm hand, Sydney Collis, who saw some of the formation laid down by 8 a.m. on Wednesday, August 14, 2002. Mr. Collis did not think the "square," as he called the rectangular frame, was filled in that day and does not think he could see the circle. Partial completion does not prove the formation was human-made, but raises the question.
---
Interviews:
Mike Burge, Owner, Vale Farm next to the Crabwood copse near the village of Pitt east of Winchester, Hampshire, England: "The first we knew of it was through our local radio station. We hadn't even seen it.
ON YOUR OWN FARM.
Yeah.
HOW DID THE RADIO STATION HEAR ABOUT IT?
I imagine someone tipped them off.
IN WHAT WAY DO YOU THINK?
I don't know. No, I think I do know because one of the chap's was listening on the radio in his tractor and he said a lady phoned in saying she was on her way to work and saw it. That actually can't be true because you can't see it from any road at all. So, she may have had inside information.
OK, NOW, INSIDE INFORMATION IMPLIES THAT YOU THINK PEOPLE MADE THIS?
Well, that would be my opinion. But I'm no expert. Certainly I would think it has been manmade, yes.
WHO WAS THE WOMAN WHO SAW THIS IF YOU CAN'T SEE IT FROM THE ROAD?
Yeah, that's really what makes me believe that she had inside information or knew the people who had created this thing. Unless she was riding a horse or something across our land, she wouldn't ­ there are no roads or tracks anywhere near it that are public access. I would doubt very much an ordinary person passing by would ever have noticed it. In fact, when you're near the site, even when you're 50 meters away from it, you can hardly see anything. It's not something you would ­ you can't look down on this field. It's right on the top of a hill. So, there is no place you can look down on the field.
SO, YOU'RE FORCED TO GO TO THE AIR TO SEE WHAT IT IS IN THE FIRST PLACE?
Absolutely. Absolutely.
HAD ANY ONE APPROACHED YOU PRIOR TO AUGUST 14 ABOUT MAKING A FORMATION IN YOUR FIELD?
No. No, we've never had a crop circle or anything similar on the farm before, so it was a complete surprise to us.
AND THE IDEA THAT THE DISNEY CORPORATION THAT HAS PRODUCED THE MOVIE SIGNS WOULD HAVE ANYTHING TO DO WITH APPROACHING YOU TO PAY YOU TO PUT THIS IN THE FIELD, THAT IS NOT TRUE?
No. This was something that was mentioned to me yesterday: did I know there was a film coming out with Mel Gibson, is it?
RIGHT.
Right. Well, that was news to me. Someone said yesterday that a film with Mel Gibson was coming out about aliens or something like that?
YES, ALIENS, CROP FORMATIONS AND THE INVASION OF EARTH. AND IT DID OPEN IN THE UNITED STATES ON AUGUST 2 OR 3, AND IT IS EXPECTED TO OPEN UP IN BRITAIN THE MIDDLE OF SEPTEMBER.
Oh, right. Does the image on our crop circle ­ is that similar to something in the film?
THAT'S WHY I WONDERED IF THE STUDIO THAT HAD PRODUCED THE FILM MIGHT HAVE BEEN RESPONSIBLE FOR THIS?
Not to my knowledge. It's a shame really. If it is, it's a jolly good idea and I wish they had come to me. It might have been to my advantage, might it?
BUT NOBODY HAS PAID YOU OR ASKED FOR YOUR PERMISSION?
No, sadly not. I mean, part of me is angry, or a bit upset that the crop has been damaged and it may cost me money. Probably not a lot, but it may cost me money. The other half of me is actually full of admiration that someone is able to do such a thing.
I know for absolute certain there was nothing in that field on the Monday, August 12. Have you seen an aerial photo of this?
I HAVE.
Right. And in one corner, I suppose 100 meters from this crop circle, there are some radio masts going up to about 40 meters in height. In total, there are six of them. They are going to erect another radio mast at 45 meters in the next month or two for mobile phones. So, they had a cherry picker, a crane with a basket on the end. They were doing contacts to see whether the new mast will be able to connect with 25 or so masts in the area up to 30 miles away. So, they were doing this and I actually went up in the cherry picker 45 meters and I was looking right down on this site. So, I know on Monday there was absolutely nothing there whatsoever.
WHAT TIME WERE YOU IN THERE?
1 o'clock.
SO, 1 o'clock in the afternoon on Monday there was nothing in the field, and that would include that you did not see the outline of the frame?
No, that definitely wasn't there.
BUT ON WEDNESDAY MORNING AT 8 A.M., MR. BURGE'S TRACTOR DRIVER, SYDNEY COLLIS, FOUND SOME 2 x 6 FEET SECTIONS OF CROP LAID DOWN. DURING HIS LUNCH BREAK BETWEEN NOON AND 1 P.M., HE EXPLORED THE FIELD FURTHER AND FOUND "LINES GOING ACROSS" IN A PARTIALLY COMPLETED RECTANGLE. SYDNEY COLLIS IS 62-YEARS-OLD AND HAS WORKED FOR MIKE BURGE FOR TWENTY YEARS.
Sydney Collis, full time farm hand, Vale Farm in Pitt Village east of Winchester, Hampshire, England:
"WHEN DID YOU ARRIVE IN THE FIELD?
8 o'clock in the morning. 8 to twelve. Then I went home for dinner and was back at 1 to half past four.
DID YOU SEE THE DOWNED RECTANGLE AT 8 A.M. WHEN YOU ARRIVED?
Yeah. I saw some marks. I never saw the rectangle then. But I went back down there after dinner (noon to 1 p.m.) to take a look at it.
NOW, WHEN YOU SAY MARKS, WHAT WERE THE MARKS YOU SAW AT 8 O'CLOCK IN THE MORNING?
2 x 6 feet wide where the crop was actually flattened.
SO, THESE WERE LIKE RECTANGULAR SECTIONS OF THE CROP HAD BEEN LAID DOWN?
It was a rectangular piece with some other lines going across it.
SO, IT WAS ALREADY IN THE FIELD WHEN YOU ARRIVED AT 8 A.M.?
Yep.
WAS THERE AN ENTIRE RECTANGLE THERE?
Yes. The rectangle weren't completely finished. The stems weren't across all of it and there was no circle there when I was there.
DID YOU SEE ANY PART OF THE FACE INSIDE THE RECTANGLE?
Not in the rectangle. You couldn't see that then. That couldn't have been there then.
SO, THERE WAS STANDING CROP INSIDE A RECTANGLE THAT WAS MADE OF PLANTS THAT HAD BEEN LAID DOWN IN WHAT FROM THE AIR LOOKS LIKE A NARROW FRAME?
Yes.
COULD YOU SEE ANY BOARD MARKS OR FOOTPRINTS IN THE FIELD AT THAT TIME?
I never looked that closely because I never bothered. I never looked to see if I could find anything. I just walked around the corner and over to where it was, walked a bit there. Some of it was down and some wasn't.
The funny part about it was, in the field where it is, nobody would have seen it unless it was the people who done it who reported it.
YEAH, YOU COULDN'T SEE THIS EVER FROM THE ROAD?
No.
SO, THE PERSON WHO CALLED THE RADIO STATION AT 9 O'CLOCK ON FRIDAY MORNING, COULDN'T HAVE SEEN IT FROM DRIVING IN A CAR?
No. They couldn't have seen it driving in a car. It's completely off the road.
THAT'S WHAT MR. BURGE SAID, SO THE PERSON WHO CALLED THE RADIO STATION ­ HOW DO YOU THINK THEY WOULD HAVE KNOWN ABOUT THIS?
Probably it was them who done it, or knew someone who had done it.
IN SUMMARY, YOU HAD NOT BEEN IN THE FIELD ON TUESDAY, HAD YOU?
No.
AND MR. BURGE WAS THERE ON MONDAY HAVING TO DO WITH THE CHERRY PICKER AND THE MASTS.
Yeah, I was up in the cherry picker with Mike.
THERE WAS NOTHING IN THE FIELD ON MONDAY.
No.
AND TUESDAY, WE DON'T KNOW. BUT BY WEDNESDAY MORNING BY 8 A.M. WHEN YOU ARRIVED IN THE FIELD, THE FRAME WAS PARTIALLY COMPLETED?
Yes.
SO, IT COULD HAVE BEEN TUESDAY NIGHT, WEDNESDAY NIGHT AND THURSDAY NIGHT, THEY MIGHT HAVE USED THREE NIGHTS TO MAKE IT.
Yes."
Mike Burge:
IF YOU WERE IN THE FIELD TODAY, COULD YOU GIVE ME ANY ROUGH ESTIMATE ABOUT HOW LARGE THE FACE IS AND THAT CIRCLE?
I can tell you those tramlines, right ­ the tractor lines we use, the tramlines ­ they are 21 meters apart. And I think it's about 4 or 5 tramlines wide, so that would be 80 meters wide by ­ it's probably 120 meters tall or long, I guess.
OK, SO THAT'S ABOUT 250 FEET WIDE BY ABOUT ­ WOULD THAT BE 360 FEET LONG?
That's about right. Could even be 400 feet long.
SO, IT'S PRETTY BIG.
Yeah, it is big!
AND WHEN YOU WALKED AROUND LOOKING AT THE CROP TODAY, DID YOU NOTICE ANYTHING UNUSUAL IN THE WAY THE CROP WAS LAID OR THE STEMS OR WHEAT HEADS OR ANYTHING?
No. Not really. It's the first time I've ever stood in a crop circle. It basically looks as though feet, lots of feet, have trodden it down in a very precise manner. I mean, for instance, you can see, I noticed on the dish, the round circle, you could see that they had trampled the circle first and then after that, they had trampled the little cross pieces that left the markers in the circle.
COULD YOU SEE ANY FOOT TRACKS OR BOARD TRACKS OR ANYTHING LIKE THAT?
No. The soil is pretty dry, so it didn't leave any impressions whatsoever.
HAVE YOU TALKED WITH ANY OF YOUR NEIGHBORS ABOUT WHETHER THEY HAVE SEEN OR HEARD ANYTHING UNUSUAL SINCE WEDNESDAY, THURSDAY OR FRIDAY?
The only one is that we have a neighbor who has a small farm next door. Their house is actually closer to the site than mine and they thought on the Friday night, (August 16), they thought that they heard ­ they thought it was a helicopter. Then they thought perhaps it was a generator someone had going. But I was speaking to someone today about these crop circles and obviously some of them are manmade. I said, 'Do they ever use generators?' And he said, 'No, they wouldn't use generators to create these things.' So, I don't know what it was, but there was these neighbors did mention they had heard during the night that sounded a bit like a distant helicopter.
(EDITOR'S NOTE: Crop circle researcher and author, Freddy Silva, talked with local residents and one reported hearing a helicopter on Thursday about 2 a.m., August 15.)
DID YOU CONTACT ANY AUTHORITIES?
No.
BECAUSE?
Because I consider it a hoax, if you like. There seemed to be a lot of other people around. I've been working and haven't been on site all day, but I think there have been 50 or more people who have visited the site.
IF PEOPLE DID DO THIS, WHAT DO YOU THINK THEY ARE TRYING TO ACCOMPLISH?
I would think it's just a sense of achievement, self-satisfaction that you are able to create something like that. It's a bit like creating a maze, or something like that maybe. If it is manmade, the planning that goes into it must be very considerable, must it?
AND THEN WATCHING THE WORLD'S REACTION?
Yeah, that must be fun, isn't it? Assuming it is manmade, these guys are probably sort of having a really good smile to themselves, I would think. I'm told this will appear on a calendar and all sorts of things.
AT THIS POINT, WE ARE AT AUGUST 17 ON SATURDAY AFTERNOON AS YOU AND I ARE SPEAKING…
Yep.
WHEN DO YOU THINK YOU WILL HARVEST THIS FIELD?
The earliest possible day is Tuesday.
NEXT WEEK.
Yes.
SO, THIS FORMATION WILL REMAIN ­ TODAY IS SATURDAY, SUNDAY, MONDAY AND THAT YOU MIGHT HARVEST IT ON TUESDAY.
What it depends on is the weather forecast on Monday night. if they are forecasting rain, we will go in and harvest the formation fairly quickly before it ­ if it gets wet and it's laid flat to the ground, it will tend to germinate. That destroys our crop because we are growing the wheat for seed production. In other words, the germination is vital. So, Tuesday would be the earliest date. We know we have other things to do before then. But if the forecast the rest of the week is still dry, we will leave it until the very end and that means it won't be harvested probably until Thursday."
EDITOR'S NOTE: Mike Burge now plans to harvest the field on Wednesday, August 21, 2002.
---
Websites:
http://www.cropcircleconnector.com
http://www.cropcircleresearch.com
http://www.temporarytemples.co.uk


© 1998 - 2019 by Linda Moulton Howe.
All Rights Reserved.