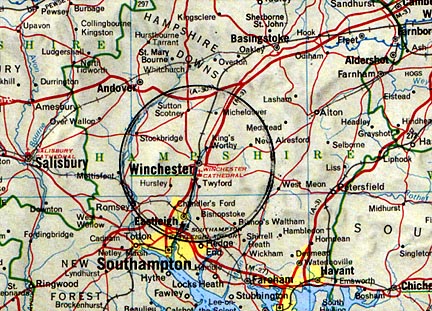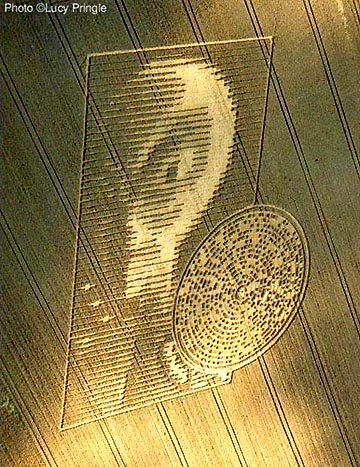 Update on August 19, 2002  – The following is the Sunday, August 18, 2002 E-mail I received from Earthfiles viewer who described himself as: "A large part of my full time job is decoding ciphers and reverse enginereering communication protocols." His original text below is updated with additional notes about the bell ringing sound. (He requested anonymity and later gave his name as Richard Brain.)
"Hello I have noticed your news article on the Crabwood corn circle.
Please find below the results of my initial work in decoding the Crabwood Farm crop circle, and the message which it seems to contain!
SUGGESTIONS.
Suggestion 1. The circle partially overlaying the Alien visage, Appears to contains digital information comprising of ones and zeros. (Either Flattened or erect corn).
Suggestion 2. The information is represented in 8 bit data segments of identical length, all bit positions being equally marked. There is a narrow separator or synchronisation bit (ridge) between the 8bit data fields.
Suggestion 3. It is highly probable that ASCII 8 bit encoding is used as the most common character used was SPACE that is represented by hex x20, this was used to separate the blocks of data segments. (Hex is a convenient digital way of representing the binary information contained in the message). The circle seems to be of simple 8 bits binary encoding, with characters represented by the ASCII character set. The language used is international English. The Circle is read from the inside out or counter clockwise.
Suggestion 4. Between each curved line of data, there is an empty separator line.
MESSAGE DECODING.
The pictures used to decode the text were taken from crop circle connector, http://www.cropcircleconnector.com/2002/Crabwood/crabwood2002a.html. The pictures required orthogonal correction to ensure that as a near as perfect circle was presented. This is so that a view directly above of the circle was used when decoding the contents. Simple contrast enhancement was performed.
The message was decoded by using a marked bit of paper in the following manner |blank|1|2|4|8|1|2|4|8|. The LSB (Least Significant Bit) is on the left; the MSB (Most Significant bit) is on the right. The paper was curled along the empty separator line, when reading the text. The blank part was placed ion the synchronisation bits.
MESSAGE CONTENTS (some missing)
This is the deciphering of the message: –
"Beware the bearers of FALSE gifts & their BROKEN PROMISES.Much PAIN but still time. (Damaged Word). There is GOOD out there.We OPpose DECEPTION.
Conduit CLOSING (BELL SOUND)
---
Later Information: The ASCII character set is the simplest of text formats dating back to 1963, at that time the common input/output device was the teletype. At the end of receiving any message a bell sound would ring to alert the operator that a message had been received. From memory the teletype in the film "The Andromeda Strain" had a jammed bell, therefore nobody was aware they had received messages.
The bell sound was ASCII character 0x07. (hexidecimal)
The message consists of 26 Words, interestingly the English alphabet has 26
letters.
DETAILED DECODING
The Below table has two columns, the hexadecimal number and its English alphabet equivalent.
42 B
65 e
77 w
61 a
72 r
65 e
20 SPACE
74 t
68 h
65 e
20 SPACE
62 b
65 e
61 a
72 r
65 e
72 r
73 s
20 SPACE
6F o
66 f
20 SPACE
46 F
41 A
4C L
53 S
45 E
20 SPACE
67 g
69 i
66 f
74 t
73 s
20 SPACE
26 &
20 SPACE
74 t
68 h
65 e
69 i
72 r
20 SPACE
42 B
52 R
4F O
4B K
45 E
4E N
20 SPACE
50 P
52 R
4F O
4D M
49 I
53 S
45 E
53 S
2E .
4D M
75 u
63 c
68 h
20 SPACE
50 P
41 A
49 I
4E N
20 SPACE
62 b
75 u
74 t
20 SPACE
53 s
74 t
69 i
6C l
6C l
20 SPACE
74 t
69 i
6D m
65 e
2E .
(no Idea what the following is)
45 E
45 E
4C L
52 R
49 I
4A J
56 U
45 E
2E .
54 T
68 h
65 e
72 r
65 e
20 SPACE
69 i
73 s
20 SPACE
47 G
4F O
4F O
44 D
20 SPACE
6F o
75 u
74 t
20 SPACE
74 t
68 h
65 e
72 r
65 e
2e .
57 W
65 e
20 SPACE
4F O
50 P
70 p
6F o
73 s
65 e
20 space
44 D
45 E
43 C
45 E
50 P
54 T
49 I
4f O
4E N
2E .
43 C (Following word damaged by tramlines)
4F O
6E n
64 d
75 u
69 i
74 t
20 SPACE
43 C
4C L
4F O
53 S
49 I
4E N
47 G
07 BELL SOUND
Regards
Richard
Another Translator Writes:
An e-mail came on August 19 from another Earthfiles viewer who writes about the "word damage by tramlines" above:
"Maybe that 'EELRIJUE' is the name of the place where it is 'GOOD there.' So, no damaged word, but the name of that place. Maybe a star name? Maybe the name of their planet?"
---
More Information:
Prior Similar Text in August 1991 Crop Formation
In August 1991 in the Milk Hill field near Alton Barnes, Wiltshire, England, an inscription was placed in the wheat field which British author John Michell reported about in The Cereologist No. 9, Page 3, Summer 1993, based on two years of work by a committee of nine people, including a cryptoanalyst. The only solution that could be found were two ancient Latin words, Oppono Astos. One translation is, "I oppose acts of craft and cunning." The Latin description of what the Greeks did with the Trojan Horse used the word astos to describe the gift of the Trojan Horse which was used to get an attacking army into the city of Troy.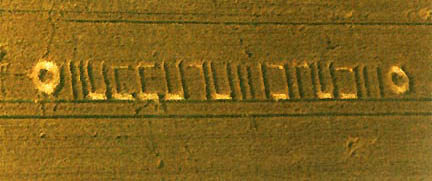 ---
Websites:
http://www.yowusa.com/Archive/August2002/crabwood1/crabwood1.htm
http://www.cropcircleconnector.com
http://www.cropcircleresearch.com
http://www.temporarytemples.co.uk


© 1998 - 2019 by Linda Moulton Howe.
All Rights Reserved.