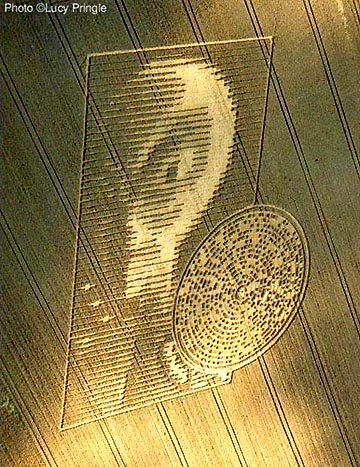 August 21, 2002  Pitt near Winchester, Hampshire, U. K. ­ In my effort to keep reporting various new developments in this story, I am sharing here three recent e-mails that might have direct bearing on the formation's creation and code construction.
Richard Brain, Computer Code Analyst, U.S.A.
1) On 8/20/02 2:37 PM, Richard Brain wrote:
> Hi Linda
>
> Independant confirmation of :-
>
> 45 E
> 45 E
> 4C L
> 49 I
> 45 E
> (LSB) 0110 1010 1010 (MSB)
> 45 E
>
> Has recently been published on
> http://www.cropcircleresearch.com/cgi-bin/CCdb2?d=uk02dl.
>
> "On 20th Aug 2002, Turbo wrote;
> Vojtech :
>
> I'm waiting for pictures and notes taken by someone from the ground. Those
> pictures could be used to see what is in the damaged part.
>
> I tried to figure out what's in there but I don't come with the same results
> as you.
> I have something like : EELIE??E"
>
> How much longer is there now to wait for someone else to come to the same
> insight that the "??" length is not in fact 16 bits – but is possibly
> intentionally smaller? Solving the distortion problem.
>
> This "distorted" word it might be said is the second level coding, due to
> the strange capitalisation there might be more levels present. However the
> information might be a translated thoughtform, which you would expected
> mixed capitalisation to be present.
>
> Best Regards
>
> Richard
>
>
2) On 8/21/02 8:55 AM, Richard Brain wrote:
Hi Linda
1) It might be logical to speak to the people at www.circlemakers.org. As
there is a clear implication within their site that they created it.
http://www.circlemakers.org/totc2002.html
". To help the research effort can we suggest using this site once you've
managed to extrapolate all of the ones and zeros." This is an ASCII
conversion table." Their site was Updated 16th Aug 2002.
This will help to eliminate one possibility.
2) This is my top current conjecture:-
ELI also means English Language Indicator in the braille transcription code.
Interestingly Braille is encoded in 6bits which hopefully will cross-refence
with the 12 bits of data. Braille is possibly a perfect format to rapidly
communicate complex ideas.
Regards
Richard
3) Paul Vigay, Director, Independent Research Center for Unexplained Phenomena, Southsea, Hampshire, U.K.
On 8/21/02 7:17 AM, Paul Vigay at [email protected] wrote:
> New Photos available
> ~~~~~~~~~~~~~~~~~~~~
> I've just uploaded a large selection of photos that I took from ground
> level, of the Alien face formation at Winchester. These were all taken on
> the morning of last Sunday (18th Aug).
> They're available directly at
> http://www.cropcircleresearch.com/articles/alienface2.html or linked to
> from the bottom of the original article I uploaded.
>
> Exclusive new information
> ~~~~~~~~~~~~~~~~~~~~~~~~~
> I've also exclusively uploaded what could be proof of human involvement in
> the making of this formation – an LED sighting device found near the
> formation, presumably dropped by one of the hoaxers as they left the
> formation.
>
> There are also lots of myths and disinformation spreading about this
> formation. I remain convinced that it is a hoax, and I'm busy investigating
> a number of avenues, including possible involvement with local 'sceptical'
> organisations and the loan of equipment from local universities….. More
> information if and when I get it.
>
> However, this formation is not as technically well constructed as last
> years Chilbolton formations, despite rumours going around that the quality
> and complexity increases each year. I don't think it does – well, it does
> in the genuine formations but not in the man-made formations. I would say
> that the face at Chilbolton last year was technically much more impressive
> on the ground than this years alien face formation.
>
> Please read all evidence before you decide to make your mind up. I'm hoping
> to add more links to other web sites with information on to the bottom of
> my original article at
> http://www.cropcircleresearch.com/articles/alienface.html so that you can
> bookmark that page for a one-stop location for information on this
> formation.
>
> regards,
> Paul
e-mail: [email protected]
website: http://www.cropcircleresearch.com
---
Websites:
http://www.cropcircleresearch.com
http://www.cropcircleconnector.com
http://www.temporarytemples.co.uk
http://www.yowusa.com/Archive/August2002/crabwood1/crabwood1.htm


© 1998 - 2019 by Linda Moulton Howe.
All Rights Reserved.