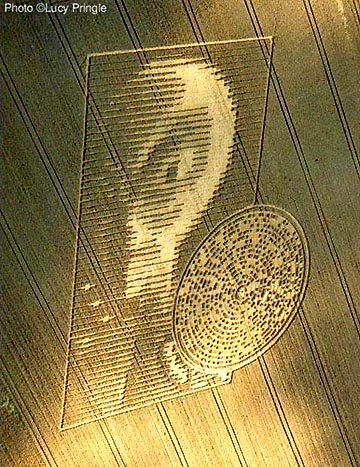 Notice from http://www.cropcircleconnector.com:
"LATEST NEWS ON THE GROUND
Michael Glickman and The Crop Circle Connector with many others have
contributed towards a fund to ask the farmer to keep the crop Circle in the
field until after the UK Bank Holiday 27th August 2002. We would like to
thank the farmer and the contributors for this gesture and hope many more
people will visit the crop circle in the next few days."
August 22, 2002  Pitt near Winchester, Hampshire, U. K. ­
Please see the following e-mail responses to ongoing discussion about the August 15, 2002 formation on the Vale Farm bordered by the Crabwood copse in the village of Pitt east of Winchester, Hampshire, England.
1) On 8/19/02 9:51 AM, Bill Hamilton at [email protected] wrote:
"IS THE MILITARY BEHIND CROP GLYPHS?
Click here to subscribe and get instant access to read this report.
Click here to check your existing subscription status.
Existing members, login below:

© 1998 - 2023 by Linda Moulton Howe.
All Rights Reserved.