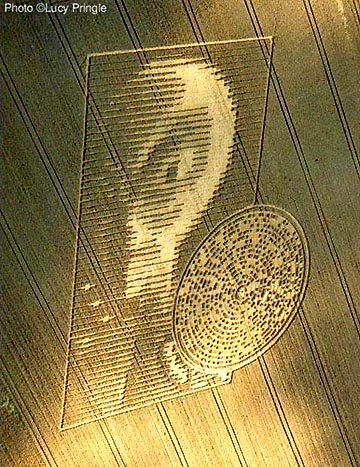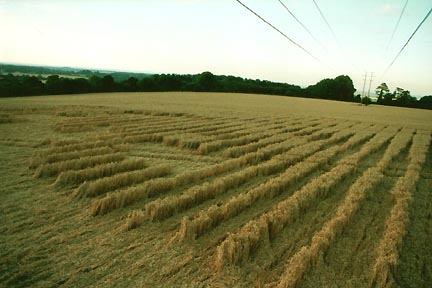 August 19, 2002  Pitt near Winchester, Hampshire, U. K. ­ On Thursday afternoon, August 15, 2002, editors Mark Fussell and Stuart Dike at the website, www.cropcircleconnector.com, received an e-mail from a man who also e-mailed Lucy Pringle. The text said there was a "new crop circle near Winchester" and also gave street guidance to the farm location along the Crabwood copse in the village of Pitt near Winchester. The editors needed someone to fly over the formation which Julian Gibsone did on Friday morning, August 16. The editors also called Charles Mallett at The Silent Circle Cafe in Cherhill. Charles and his wife, Frances, operate the cafe and have investigated and photographed more than a hundred formations the past few years in southern England. The couple went to Winchester also on Friday morning to study and photograph the ground lay of what Charles perceived to be an "amazingly precise" pattern.
Charles learned from me that farm worker Sydney Collis described marks and lines that made up a partialy completed "square" (rectangle frame) in the field on Wednesday, August 14. Mr. Collis said he did not see the circle code and did not think the face pattern was filled in at that time. But Charles Mallett wonders if Sydney Collis might not have seen or understood that a complete formation was actually in place on Wednesday morning, August 14, 2002, the exact year anniversary of the Chilbolton Radio Observatory humanoid face that appeared on August 14, 2001, followed by a rectangular pattern of binary code.
Whoever, or whatever, made the Winchester 2002 face and code, Charles and Frances Mallett were impressed by the unusual way the crops were laid down and lack of normal hoaxing evidence.
---
Interview:
Charles Mallett, Crop Formation Field Researcher and Co-Owner with Frances Mallett, The Silent Circle Cafe, Cherhill, Wiltshire, England: "We (with Frances) were pretty much one of the first people down there. The location was actually withheld for a short time because the whole thing looked extremely delicate and needed to be looked at quickly.
How did you get information that it was there?
Via the editors of the cropcircleconnector website. They had it reported to them by I'm not sure who. But they let us know just before they uploaded it to the internet when it was reported on the 15th. But our feeling is that it was probably the 14th ­ primarily because the previous year, the Chilbolton face and code formation happened on the 14th, one year to the day.
The field is really hard to find. It's really out of the way. You can't see the thing from anywhere at all until you are pretty much right in the field. It's very flat on top of a hill.
So, we went in and had a really hands and knees job. We crawled all over the thing and we couldn't find any board marks ­ nothing. We did find some creases in the plants from maybe one or two visitors before us, but we were the first researchers that we know of who went down there. We couldn't find any evidence whatsoever of board marks or anything mechanical. In fact, the crop is so unbelievably mature. It's been really hot here for the last week or so. It's brittle, burned dry, ready to be cut.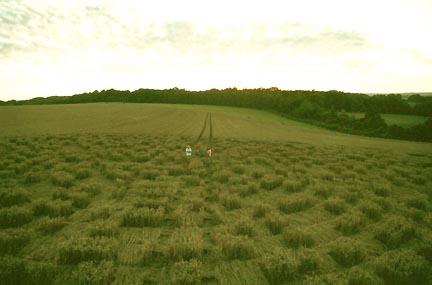 It wasn't put down mechanically with planks of wood like a conventional hoax would. We're certainly looking at something else. My initial impression from looking at the aerial image,is that physically it looks like it has been scanned into the field digitally. It's amazingly precise. The subtle shading and the features are pretty incredible. It makes last year's events at Chilbolton look simplistic.
On the ground, absolutely no sense of what is going on. It's too big.
The farmer said his tramlines were 21 meters apart and that based on that it was 280 feet wide by 350 feet long.
Yeah, that could be wrong. It's much larger than the stuff that was happening at Chilbolton last year, the 2001 face and code. It's totally related. There is no doubt about that. On the ground, the construction was the same. There were subtle differences. Obviously, it's a different situation. But just generally, the way the crop was put down, for us it was undoubtedly the same agency. That agency is the particular question which we would like to be answered and there is a lot of speculation because we can't find any evidence on the ground of faking, I don't know.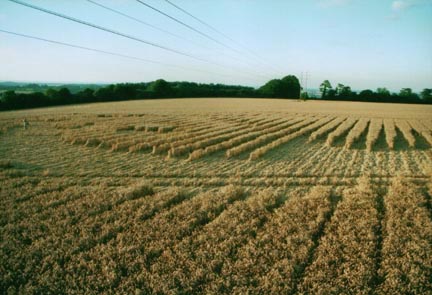 This could possibly be a sophisticated hoax, perhaps satellite-based technologies being used. I don't really know what these guys have at their disposal in their inventory. But I guess anything that we know about, they've probably got stuff that is 50 years ahead of that. So, it's within plausible parameters that they could have technologies available which could do something like that. It's essentially a scary alien holding out a disc with information on it.
For us, aesthetically, just looking at the image and even standing back six feet, this is probably the most audacious pattern, design, or whatever you want to call it, in a crop field in southern England that has ever happened. We cannot figure out how it was done. It literally looked like it had been scanned into a field, as if you scanned an image into your computer. It really does look like that. We can't figure out how it was constructed when we stood in that thing on the ground and what we were seeing was absolutely confusing. If we hadn't had an aerial shot first, we wouldn't have figured that thing out, no doubt at all. No idea. We would have located the disc and seen some kind of spiral with blocks on it, but that would be about it. We had to see an aerial image. We would never have figured it out.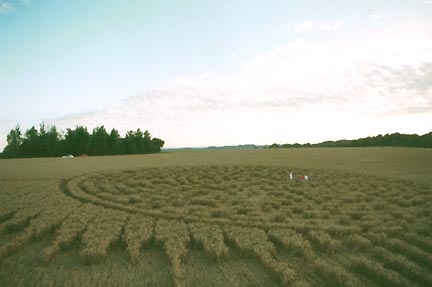 To us, if it is a hoax, it would have had to have been done from air, even in the actual way the crop was laid. If you look at a formation that has been put down in a conventional hoaxing style which is with a 3-foot wide plank of wood, then as we have discussed on occasion, it leaves marks on the actual laid crop in the form of creases across the crop where the plank has actually squashed down into the wheat, leaving an obvious physical mark. That's common sense.
In this formation, we could not find any of that at all. We were in there when it was fresh and on our hands and knees looking hard for evidence that this could be manmade on the ground and we couldn't find any of that apart from the damage we were doing with our feet.
Also, the way the crop was laid was actually quite bizarre as if it had been scanned into a field. That's kind of how it looked, with finger-wide hard to explain. In the images I'll send you, you'll see what I'm talking about. There is no kind of plank width for lays of crop. It's as if something came down and dragged across the field and just put the whole thing down quite quickly. I can't conceive of any technology that could do that and I can't conceive of any human hoaxes that could do that on the ground.
So, I'm as bemused as everybody about this one. We just don't know. But it doesn't fit with standard hoaxing criteria. It doesn't really fit with benevolent genuine crop circle phenomenon either. So, it seems possibly there is a third agency involved here which is possibly government and military covert operations: 'Scary aliens are coming. Do what we say and you'll be fine' kind of scenario possibly. We just don't know. It's total speculation. At that moment that formation is a major enigma and is certainly the most audacious and most amazing pattern that has ever occurred in southern England."
---
Websites:
http://www.yowusa.com/Archive/August2002/crabwood1/crabwood1.htm
http://www.cropcircleconnector.com
http://www.cropcircleresearch.com
http://www.temporarytemples.co.uk


© 1998 - 2019 by Linda Moulton Howe.
All Rights Reserved.