August 24, 2002  Colt's Neck, New Jersey – On Thursday, August 22, I drove to central New Jersey into the beautiful horse and farm community of Colt's Neck. At one end of Dorbrook Park running along a forest of deciduous trees is a rye field rented by a farmer from the township. On August 15, Colt's Neck residents reported a large crop formation in the rye.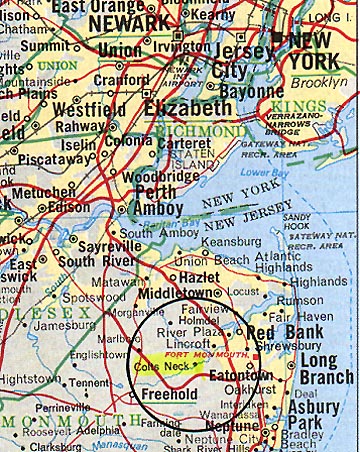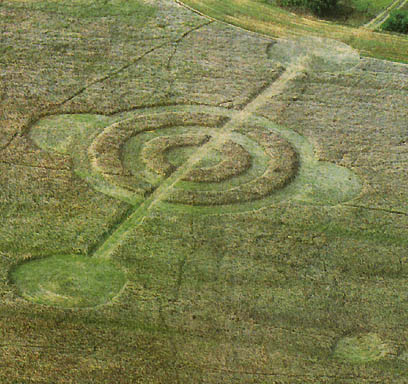 In aerial photographs, the pattern appears green because there was a grassy floor beneath the rye crop. The pattern of two concentric circles that have a protruding section on opposite sides, all surrounding a long dumbbell is similar to patterns found in England in the early 1990s. The farmer reported that the dumbbell is 430 feet long and the rings with protruding sections are 230 feet wide.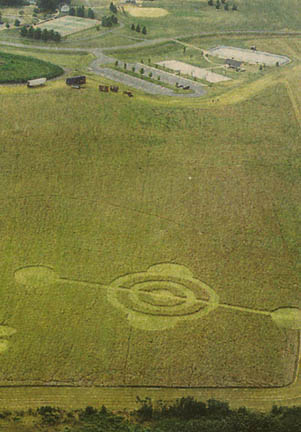 The Asbury Park Press began its August 17th front page article about the formation this way:
"Concentric circles carved into a field of rye grass in a county park in Colts Neck are the result of a prank, possibly inspired by the recently released movie SIGNS, police and park authorities are convinced.
But some teenage visitors to the crop circles aren't buying that theory. 'I think aliens did it,' said Lyndsey Farrar, 15, of Colts Neck."
The crop had been trampled on and everything had been mowed down around it, but the farmer had left enough to see some of the original lay and pattern. I can say that the far southern end of the dumbbell had a complicated lay of five sections of rye divided by four "spines," each about 12 inches wide running the length of the southern circle. Three of the spines ran east to west, but one ran west to east. In between the spines, the rye had been laid neatly and nearly straight north to south. The outer sections of the circle beyond the spines were laid down clockwise. The northern circle did not have the complicated lay pattern and swirled clockwise around a center. The rye in the long corridor was quite jumbled, but it seemed some of the rye heads were originally flowing south to north and others north to south. I gathered plant and soil samples for biophysicist W. C. Levengood to study.
---
August 24, 2002  Teton, Idaho – At around 2 a.m. in the early hours of Saturday, August 10, 2002, in the small farming community of Teton, Idaho, two men who do not know each other were seeing unusual light. One, inside, thought it was a full moon coming through his house windows. The other, outside, had never seen anything in the sky like it before. Jim Taylor, a John Deere tractor salesman, was outside his Rexburg home when he noticed a bright white-yellow light in the sky brighter than any other object and moving erratically.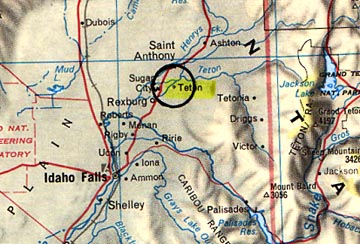 ---
Interviews:
Jim Taylor, Salesman, John Deere, Rexburg, Idaho: "A lot of stars were shining, but there was that particular light which did catch my eye. My first thought was that it wasn't from around here. It definitely was different. I watched it for several minutes and it kind of faded in and faded out and moved around strangely and then just disappeared. At that time, I figured it might have been an unidentified flying object.
AND THE COLOR?
Kind of a whitish yellow in color. That far away, it was kind of hard to tell.
DID IT SEEM TO BE IN THE GENERAL AREA OF WHERE THE TETON, IDAHO FORMATION APPEARED?
It was just right in the same area at the time.
IF YOU WERE HOLDING OUT YOUR HAND RIGHT NOW AT AN ARM'S LENGTH DISTANCE AND YOU COMPARED THE END OF YOUR LITTLE FINGER OR THE END OF ANY OF YOUR FINGERS TO HOW BIG THAT LIGHT WAS IN THE SKY AT 2 O'CLOCK IN THE MORNING ON AUGUST 9, WHAT WOULD THAT SIZE BE?
About the size of my small fingernail.
OK, THE SMALL FINGERNAIL. THAT IS NOTEWORTHY BECAUSE YOU CAN COVER A FULL MOON WITH THE END OF YOUR LITTLE FINGER. SO, WOULD THE LIGHT HAVE APPEARED THAT LARGE IN THE SKY?
No, I wouldn't think that large, no.
WAS IT THE QUALITY OF THE LIGHT THAT ATTRACTED YOU FIRST?
It was the light, because it was brighter than anything else in the sky.
DID THE LIGHT ITSELF SEEM TO CASTING DOWN ANY LIGHT IN ANY DIRECTION?
No.
HOW WOULD YOU DESCRIBE THE MOVEMENT?
Short movements. It would stop and go back and forth a little bit. The light was different intensities, back and forth. That's what caught my eye, that it was not a solid, steady light, but going back and forth in different intensities.
SO, IT WOULD SORT OF FADE OUT AND THEN GET BRIGHTER?
Yeah.
THIS LASTED FOR HOW MANY MINUTES?
A couple of minutes.
ONCE IT HAD GONE, DID IT FADE OUT OR POP OUT?
Just faded. Quickly. It was gone very quick.
DID YOU STAY WATCHING TO SEE IF IT WOULD COME BACK?
I did not. I just kind of blew it off.
NOW, WHY IT IS SO SIGNIFICANT IS THAT IN THAT 2 TO 3 A.M. TIME PERIOD, ANOTHER TETON RESIDENT, DARRELL BRIGGS, WHO I'VE INTERVIEWED, HE HAD FALLEN ASLEEP IN FRONT OF HIS TV SET AND GOT UP AND KNEW IT WAS ABOUT 2 O'CLOCK OR A LITTLE BIT AFTER AND HE WAS LOOKING AT WHAT HE SAID LOOKED LIKE VERY BRIGHT WHITE MOONLIGHT COMING THROUGH HIS BEDROOM WINDOW.
Darrell Briggs, Granular Operator, Basic American Foods, Teton, Idaho: "I fell asleep in my chair and got up to go to bed. When it's really moonlight out there, a full moon, you know? I don't have to take and turn the lights on to see to get to bed. And it was just like a full moon that night. And I was talking with my mother about it. She said, 'Well, we didn't have a full moon last night.' And it was like that.
SO THAT IMPLIES THAT THERE WAS SOMETHING WITH BRIGHT LIGHT AROUND YOUR HOUSE?
Yeah. See, there's an open field between me and where the cemetery was at and where the crop circles are at.
IS THE CEMETERY RIGHT ALONG THE EDGE OF THE FIELD WHERE THE CROP FORMATION CAME?
Yes, it's on the top of the hill there.
YOUR BEDROOM IS HOW FAR FROM THE FORMATION APPROXIMATELY?
My house is probably about a mile, maybe a half mile, something like that. I can look out there and see the cemetery and all that. There are no obstructions in between except for the field."
Formation Discovered August 10, 2002
After sunup on Saturday, August 10, one of the Parker brothers whose family has farmed the land for three generations discovered the strange rings and circles in the field below the hilltop cemetery that Darrell Briggs can see from his house. Mr. Parker immediately called his brother, Bryon Parker, who is Mayor of Teton. He is married to Connie Parker and has three daughters, Brenna, 17; Cassie, 14; and Jessica, 12.
Mayor Parker decided before he even went into the field that he would get into an airplane and take aerials to document what he first thought was damage to his field. He was even thinking of taking legal action against vandals until he saw the pattern. Then he landed and went inside the formation to see the wheat up close for himself. What he saw amazed him.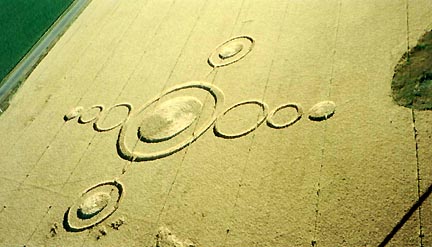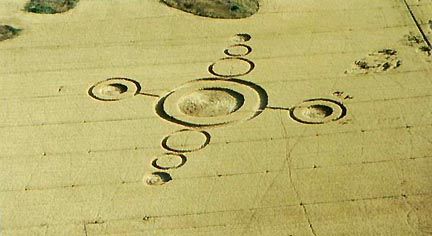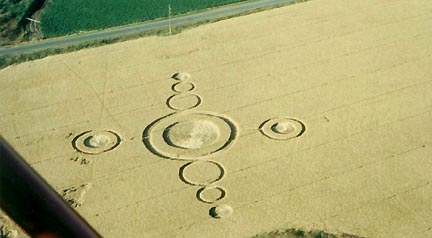 Bryon Parker, Mayor, Teton, Idaho, and farm owner of Teton wheat field in which August 10, 2002 formation appeared: "We walked into the center of the circles and it was a beautiful job. There is no doubt about that. When we walked back out and turned around, ours were the only footsteps we could see in there. I mean, it was just obvious.
The center of the circles that were all laid down, there was about a two to three foot circle in the center of them just woven together. Some of it was woven in and out four, five and six times, but not a broken stalks in any of it.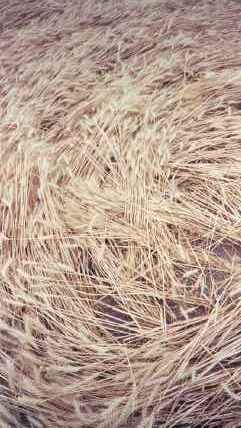 DID YOU NOTICE ANYTHING ELSE UNUSUAL IN THE WAY THE CROPS WERE LAID DOWN BESIDES THE WEAVING?
When we first looked at it, the laid down stuff was ­ I mean, it was just perfect. There was nothing, no leaning stalks. They were either laid down or standing straight up. It was just a perfect straight wall of grain stalks all the way around the circles. There was no leaning. They were either straight up, or flat.
VERY PRECISE.
Very precise. That just caught my eye because it was such a definite line. All the north south circles and rings was going in a counter-clockwise direction. And the two on the east and the two on the west were going in a clockwise direction.
And they are true magnetic north, from the smallest circles on each end. Line them up, they are exactly magnetic north direction.
SO EVERYTHING IN THAT NORTH/ SOUTH AXIS IS ALL COUNTERCLOCKWISE?
Yes.
WHEN I COME OUT TO THE EAST AND WEST.
Them are all clockwise.
SO, THEY ARE THE ONLY PIECES OF THIS FORMATION THAT WERE CLOCKWISE.
Exactly. I don't know why or what. Over the years, we have seen this on TV just like everybody else. I was a skeptic, I'll tell you right up front. I thought, 'Somebody has been messing in my grain field.' But after I went down there, I don't think so.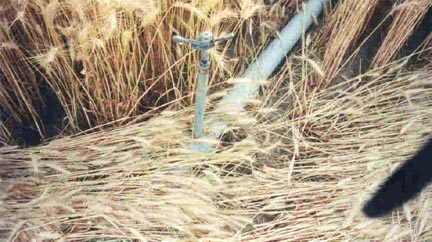 There is a line of sprinkler pipe laying right through ­ I guess it lays right along the edge of the main circle and the bigger ring goes across it twice. A sprinkler irrigation pipe, do you know what I'm talking about?
SURE.
The grain was just laid across that so pretty, not a broken stalk, not a mashed head of wheat. One of the risers off the pipe was right out in the ring and the grain had laid right around it. I mean, not a disturbed spear of grain. It was just laid around that pipe like it was part of it.
LIKE IT WAS MELTED OVER IT, OR SOMETHING?
No. It wasn't kinked over it. It wasn't mashed. It was just laid across it just like a blanket. It was just pretty.
VERY GENTLE.
Very. That's another thing I thought was weird. Once we got down and looking at it, none of the straw is kinked. It's just laid over and looks like it grew that way. It's laid over right from the ground.
NO CRACKS, NO…
Nothing.
THAT IS THE CHARACTERISTIC OF WHAT WE CALL THE TRULY FLUID WATER-LIKE FORMATIONS WHERE THERE ARE NO CRACKS ANYWHERE IN THE STEMS.
Yeah, if somebody had walked out there and done it, you would have found all of the straw broken. But it just wasn't. I don't know.
AND IF IT ISN'T PEOPLE, WHAT COULD IT BE?
Boy, I wish somebody would tell me. I've had that question asked me a thousand times.
YOU AND YOUR FAMILY BEFORE, DURING OR AFTER THAT TIME OF THE FORMATION, YOU HAVEN'T SEEN ANYTHING UNUSUAL IN THE SKY?
No."
Translucent Orbs Above The Formation
But Bryon and Connie Parker's three daughters saw what they called "orbs" above the formation, both in daylight and at night. Several people saw orbs when the flash bulbs went off on their cameras, but Cassie said she could see the orbs move with her naked eye.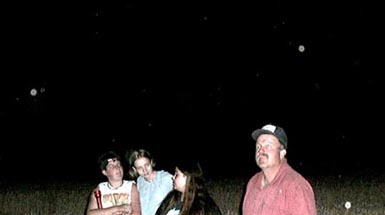 Cassie Parker, 14-year-old daughter:
"APPARENTLY YOU AND SOME OTHERS COULD SEE THESE TRANSLUCENT SPHERES IN THE AIR?
They are called orbs. And there was kind of like balls of light.
WHAT DID YOU SEE WITH YOUR OWN EYES?
Just a little ball of light that was zooming past.
IT ACTUALLY MOVED, HUH?
Yes. I could even see them in the daylight.
WHAT DID THEY LOOK LIKE IN THE DAYLIGHT?
The same thing, but it's harder to see.
HOW BIG WERE THEY?
They came in a whole bunch of different sizes. There were some really little ones and some kind of big ones.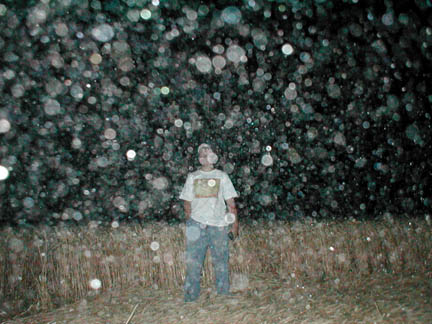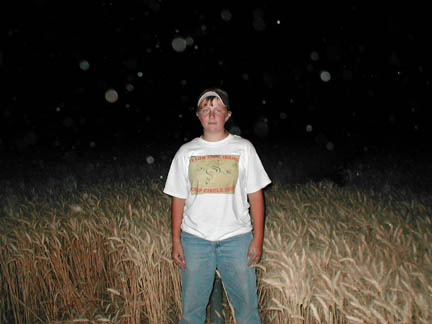 YOU COULD SEE THEM CLEARLY DAY AND NIGHT?
Yeah.
WHEN WAS THE LAST TIME YOU WERE OUTSIDE THERE AND SAW THEM?
Sometime last week.
SO THEY WERE THERE UNTIL LAST WEEK?
Yes.
WHAT DID YOU THINK THESE ORBS WERE?
I didn't know what to think about them. It was kind of freaky at first. Then after awhile, I kind of thought they were kind of cool.
DID YOU OR ANYBODY YOU KNOW OUTSIDE OF THESE ORBS, SEE ANY UNUSUAL LIGHTS IN THE SKY?
Me and my dad and a couple of others seen an orange light above a shop that has no electricity at all. It was an orange light that was moving.
THAT'S THE SHED THAT A MR. ALAN MEYER, HE HAD A VIDEOTAPE CAMERA AND HE VIDEOTAPED THAT LIGHT.
Yes.
IT WAS VERY ORANGE COLOR.
Yes.
WOULD IT BE THE ORANGE OF A PUMPKIN?
Yes.
HOW LONG DO YOU THINK IT WAS OUT THERE ON THE SHED?
We seen it for about a half hour.
IN THAT HALF HOUR DID YOU WITH YOUR EYES EVER SEE IT MOVE?
Yeah. I seen it move a couple of times.
WHEN IT MOVED, DID IT MOVE SIDEWAYS OR UP AND DOWN?
It moved sideways and backwards.
SIDEWAYS AND BACKWARDS. DID IT CHANGE SIZE OR INTENSITY OF LIGHT?
Nope.
WHEN IT WENT AWAY, WHAT HAPPENED?
Nothing really.
DID IT FADE OUT OR POP OUT OR?
It just kind of faded a little bit.
WHAT DID YOU THINK IT WAS?
I don't know."
Alan Meyer, Ph.D., Writing Teacher, Bonneville High School, Ogden, Utah: "When we finished our investigation around midnight on the night of August 14, all of us there felt a very strong and eerie presence, in fact. The mystery light we saw appear about the machine shed at the edge of the field had a very haunting quality. We felt very much as if we were being watched the entire time. But particularly as we left the field, a sense of some sort of eyes upon us. It was a very strong feeling for everyone.
WHAT HAPPENED AT THE SHED?
The farmer, Mr. Parker, was giving us a tour of the property. I was showing him the pictures we had just taken that showed orbs appearing on the LCD screen on the back of the camera. We were also shooting infrared Nightshot video at the same time. It was quite amusing, he (Mr. Parker) turned to me and said,
'Do you see my machine shop over there?'
I said, 'Yes.'
He said, 'See that light above it?'
I said, 'Yes, I see that electrical yard light.'
He said, 'There is no light above the machine shop.'
I got a little chill and said, 'What?'
He said, 'There's no light there.'
But clearly we could see a light about the size and brightness of a street lamp above the center of the roof of the machine shop.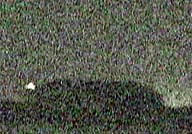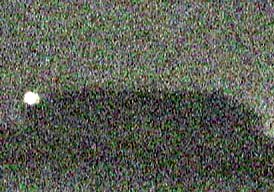 I focused on that with my NightShot camera and taped several minutes of it. It moved very slowly along the roof line of the shed and went down the side to the point where it went behind the shed. We had to move around through the field below the formation to continue taping the light.
It stayed on the side moving very slowly for a minute or two and finally disappeared."
A visitor to the formation soon after it was publicly reported was Dr. Patricia Hill, a psychologist from Aspen, Colorado, who happened to be in Idaho at the time. She has visited formations in England and drove to the Parker's farm to see the Teton pattern. She was so impressed she talked to Bryon Parker about how special the formation was and urged him not to harvest it, which was his intent at the time. After Patricia reinforced that the cross hatching at the center of the five circles and the fluid lay of the wheat over the water pipe were unusual, Bryon decided to cut around the formation when he harvested on August 19 and has left it for visitors to see for another week or two.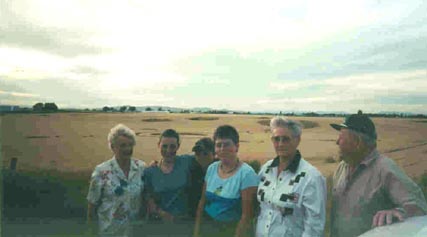 ---
Websites:
http://alanmeyer.comhttp://drpatriciahill.com

© 1998 - 2019 by Linda Moulton Howe.
All Rights Reserved.