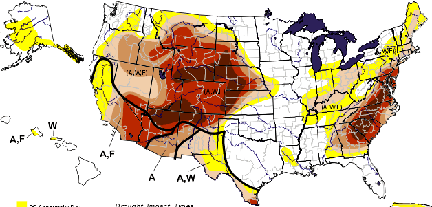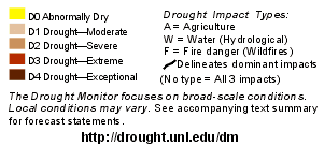 August 27, 2002 – This week in Johannesburg, South Africa, the largest United Nations Earth Summit ever convened is focused on how to sustain our deteriorating planet's environment. World leaders, including Tony Blair from Britain, will attend next week, but not the American president, George W. Bush. Not only is the United States government unwilling to participate with the other countries in setting timetables to cut back pollution and greenhouse gases, the specific words "global warming" are not even listed on the program's agenda of problems to be discussed, clearly someone's political decision.
Meanwhile, I learned this week that global warming statistics show that 2002 is already the second warmest year on record, only second behind 1998. Atmospheric physicists say that by December 31st, this could end up warmer than 1998, continuing the ever-upward global warming trend since the early 1990s. Two consequences of this extremely warm year in the United States have been forest fires and continuing drought. More than 6 million acres of American forests have burned up so far this year and more than half the United States is suffering severe to moderate drought.
Seven months ago, I reported about the severe drought in the Upper Delaware River system that feeds three of New York City's several reservoirs. Mud was showing in the bottom of one, and the other two were less than half full with no snow pack to refill them.
Now, at the end of August 2002, the Upper Delaware Council reports it has never been able to lift the Severe Drought Warning on the reservoirs. Two are barely half full and one about 75%, even after a rainy spring. El Nino is kicking in which can dry out northeastern winters. That means reservoir levels could drop even lower in a persistent drought. This week, I talked about the United States drought with Mark Svoboda, a climatologist in the National Drought Mitigation Center, Lincoln, Nebraska.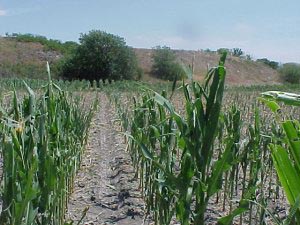 ---
Interviews:
Mark Svoboda, M. S., Climatologist, National Drought Mitigation Center, University of Nebraska, Lincoln, Nebraska: "One time just three weeks ago, we had all 50 states in at least abnormally dry conditions in some portion of their states, not statewide, but at one time all 50 states and Puerto Rico had abnormally dry conditions or worse. As I just told you, we have 37 states in some form of drought or worse. That's a staggering amount. That's a wide area of coverage and the impacts continue to roll in.
Some of these locations in parts of the west and southeast, North Carolina, Montana, it is worse than those droughts some areas saw in the 1930s and 1950s. So it is that bad in some locations.
So, in these parts of the country such as the west and southeast, this is the worst drought on record?
Right. For year to date, what we are seeing in some locations is that it's the driest year to date on record, or the driest 12 months going back to August of last year to end through July this year. It just depends on where you are. So, it's definitely an exception drought in these areas which we classify in the drought monitor as a 1 in 50 years drought. But in some of these cases, it's more like a 1 in 100 year type drought.
What is the projection for how bad things can get in these areas that are having unprecedented drought?
If you're in the exceptional dry category, or the worst we depict on the drought monitor, which is D-4 (there is 1 through 4 with 4 being the worse) ­ can it be worse? The answer is yes. Duration is such an important component. If the drought extends on for another year or two, the impacts become very cumulative. It is very hard to get your arms around the ripple effect of drought impacts compared to a tornado, a hurricane or a flood where you can see structural damage. Because with a drought, you don't see that kind of structural damage.
So, looking at the projections for this fall, unfortunately, it looks like a little bit of a higher probability of below normal precipitation in the northeast and parts of the Pacific northwest and the northern Rockies. There's not a lot of good news there.
Where we do see good news, perhaps, is with El Nino developing, perhaps we will see a higher probability of above normal precipitation along the Gulf Coast states and that would be welcome news for them.
Because they are in a truly serious drought situation?
Yes. Parts of the Carolinas and Georgia have been in drought onwards of four to five years and never really recovered from the drought that began in 1998 and extended into 1999. If you remember, we had two hurricanes that came on shore back in the fall of 1999 that broke that drought, but I would argue that we never fully recovered from that drought and the dryness of the past couple of winters, the lack of snow fall, has all started to put a toll on us recharging water supplies across the entire country really.
It's also becoming clear that in terms of food production, the wheat crop is down 14% in the United States, the lowest yield since 1972, I understand.
That's correct. They took a major hit on winter wheat this year. We're seeing some major impacts on the corn crop already in parts of the western part of the corn belt in particular. But the drought has kind of had the Midwest in a vice here lately, pushing from both the west and the east and we've seen a short term intense dryness accompanied by a lot of heat in the eastern part of the belt, say Ohio and parts of Illinois and Indiana.
Do you have a sense of how many dollars have been lost already this summer in reduced crops?
According to the Drought Monitor dated August 13, we have 26 states classified as having some part of their state in severe drought or worse. Now to give you some numbers: Nebraska and South Dakota are the only two states I've seen estimates of so far. Both of those states have a severe chunk of the state in severe drought. The estimate for Nebraska is probably conservative at $1.4 billion of economic loss. South Dakota is upward of $1.8 billion. Again, the final numbers will roll in later this fall after harvest. But if we have 26 states in severe drought and these are two of them at $1.4 billion or more, it doesn't take a lot to see this could add up to be a pretty big drought when it's all said and done.
It could be in perhaps 30 billions of dollars?
Right, the last drought that had that kind of economic impact was the drought of 1988 to 1989. The difference being that one occurred over a good chunk of the corn and bean belt those particular years, more so on the east one year and more on the west the next year. But the cumulative impacts ranged around $40 billion or more.
So, this drought could rival that. This has a lot of impacts because of tourism, forestry losses, the environmental losses, losses to the fire, as well as the impacts we are seeing on both the east and west coasts.
What does happen this next winter and spring of 2003 if the reservoirs feeding a place like Manhattan in New York are dry?
Well, that's the million dollar question. They've got some real issues when you've got that many people concentrated in a region or small area. There's only so much in an area and we have definitely been taking more out than we've been putting in lately as far as Mother Nature is concerned. That makes our margin of error even that much less. So, it's obviously a very important issue.
Your Drought Mitigation Center – in the mitigation of drought, is the only viable alternative conservation?
The country doesn't have a national drought policy yet. There was legislation introduced just this year that hopefully will capitalize on the drought to get pushed through that would take a much more proactive stance on drought and future droughts, taking steps to lessen risk and vulnerability. Assess what your risk is, assess where you are most vulnerable and then take the steps to address those to make the next drought that comes long, to lessen those impacts. that's the direction we need to go as a country.
But if that precipitation doesn't come through this winter and the spring continues from where things are now, then we could be facing a very serious crisis in a way, wouldn't we?
Absolutely, because that margin of error is so thin now, like if you look at the Drought Monitor Map ­ the drought that is occurring exceptionally severe extreme in the desert southwest ­ they can't afford to go through another snow pack season like we saw in the southwest or up along the Rocky mountains. To have that happen again, we really start losing that security blanket on the water supply ­ that will be a much more serious situation this time next year if that all pans out. Let's hope it doesn't."
Western Nebraska Wells Drying Up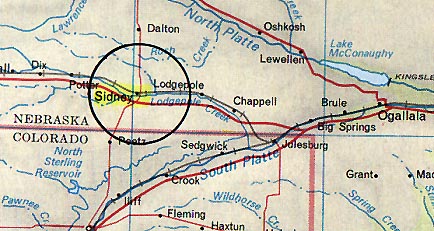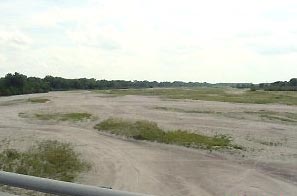 If rain and snow pack don't increase the next few months in Nebraska, the 59 communities now suffering severe drought won't know what to do for water. Sidney, Nebraska's City Manager, Gary Person, told me this week that after ten years of drought, western Nebraska wells are drying up. That includes Sidney's wells which draw from an underground aquifer known as the Brule, an underground layer near the great Ogallala aquifer. So much has been pumped out of the Ogallala that the water now getting to the surface is a thousand years old. I asked Mr. Person what he is facing in 2003 if the Nebraska drought continues.
Gary Person, City Manager, Sidney, Nebraska: "As ugly as it gets. When you don't have water, you have nothing, as a community, as sustaining life. We're going to see a couple of things happen. Number One, we've retained a water engineer and a hydrologist and geologist to help us look for some long term solutions as well as some short term, if they can be found.
The other thing we'll do is to keep the restrictions in place to such a time that we see our water well levels come back up. But the Natural Resource District which is the governing authority in the state of Nebraska for ground water controlled management, we'll have a series of public hearings this fall. Then, either implement the plan or reject the plan. But then we'll finally have some controls in place. then this could help us in a period of time when we start to see a draw down of the well levels, perhaps there will be some restrictions on irrigators.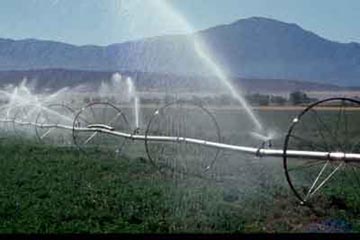 But right now, there is nothing to stop them from drilling even more wells, from pumping as much as they possibly want. Of course, most of us in this part of the country comes from agricultural roots so we understand their perspective as well. It's their livelihoods. One failed crop puts a hurt on them big time. It's a real complicated thing. In public hearings ­ and I've been in several in the past when it comes to water ­ there is nothing more emotional than water. A lot of these farm families have agricultural roots that go back 100 years where their ancestors came and homesteaded in this part of the country. It's been their way of life. They are an independent lot and it's hard sometimes to accept new regulations. They have a huge investment with new irrigation equipment. A lot of the farm program is based on production capability. So, there's a lot of downside to them as well.
In a dispute over water, who legally is supposed to prevail now in Nebraska? Those who are farming for agriculture or city domestic use?
Domestic use does have precedence. Obviously, you hate to get in a situation where you have to go to court to prove that. We'd rather sit down at the table and see if we can work through a locally controlled natural resource district for ground water management purposes and try to all co-exist.
This drought condition in western Nebraska has brought the domestic homeowner into conflict with the agricultural users?
Absolutely. I mean, even on the farms, you get the dry land farmer next to the irrigated farmer where his domestic well is going dry because his neighbor is pumping the aquifer below his well level. "
Water Restrictions, Fines and Jail Time
In some severe drought areas, local and state governments are fighting back with stiff penalties for violators of water restrictions.
New Jersey, for example, now has a statewide ban on almost all residential outdoor water use, except watering trees, plants and shrubs every other day. Like Sidney, Nebraska, brown lawns are everywhere and penalties for violating water restrictions include $1,000 fines and jail time. New Jersey's Department of Environment Protection Commissioner, Bradley Campbell, told reporters that August 2002 would likely end up the driest in New Jersey since records were first kept in 1895.
Sidney, Nebraska passed a new ordnance this year that fines residents up to $2000 for disobeying water restrictions and the city reserves the right to completely cut off water service if a user is irresponsible. I asked City Manager Gary Person, "What happens if the Ogallala aquifer continues to be drawn down as far as it is without any replenishing because we're in global warming and drought could become routine?"
Gary Person:
"We all have to get smarter at this. We have to understand that water is not to be taken for granted anymore. We have to have good water policy on the national level. Each state has to have a good water policy and each local jurisdiction has to have good water policy. I think this is a wake up call for all of us. this is beyond serious! We have to all do a better job of water management, period. It takes all of us working together. Obviously, the biggest drain on that is agriculture. My roots are in agriculture and you hate to ever speak ill of people who feed the mouths of the world. Nor should we ever.
But we have to have some sanity in this where you have massive overproduction of agriculture products on one end and prices so low that the federal government. has to subsidize the farmer to even financially exist. At the same time, we are draining our water source. Now, tell me where we're going wrong here?! That's maddening.
Why don't we cut back on production? Save on the water resource and bring the prices back up, for crying out loud, and then you wouldn't have to have the subsidy. But it's so simple when you put it all down on paper, but when you get all the political factions involved in it, you have a Congress that has, used to be primarily farmers that made up this country when Congress was originally designed and developed. Now, there is hardly any representation there. You still have farm states like Nebraska, Ohio and Kansas, places like that where you have good representation from your farm communities. But for the most part, it's not existent on the federal level and I'm not sure anyone is taking this really serious yet, unless this is a huge wake up call for all of us."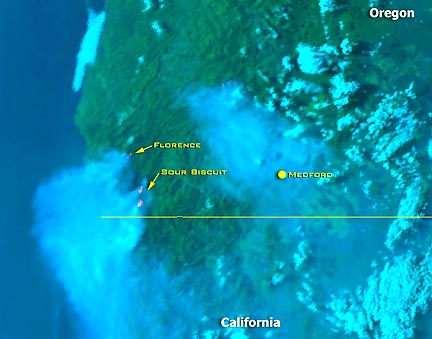 Floods, Fires, Drought and Global Warming
While much of North America has dried out or burned up this summer, Europe and China were flooded with some of the deepest waters on record which killed more than a thousand people, untold numbers of animals and jeopardized priceless art works.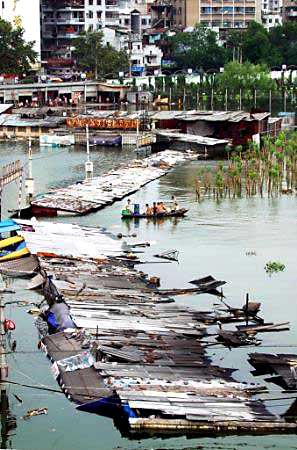 Are the simultaneous fires, droughts and floods sides of the same global warming? Is hot, erratic, wild weather a sign of things to come, and keep coming? I asked what the climate computer models might indicate in an interview this week with Dr. Drew Shindell, Atmospheric Physicist and Associate Research Scientist at NASA's Goddard Institute for Space Studies and Center for Climate Systems Research at Columbia University in New York City.
Drew Shindell, Ph.D., Atmospheric Physicist and Associate Research Scientist, NASA Goddard Institute for Space Studies (GISS) and Center for Climate Systems Research, Columbia University, New York City, New York: "Having more extreme events ­ both extremely large amounts of precipitation leading to flooding and extremely small amounts and drought ­ is the kind of thing that we predict more and more with global warming. So, the models are very, it is very unclear from the models exactly which regions will experience particular types of things at any one time of year in the future.
But the models are quite consistent in that nearly all of them predict an increase in these kind of extreme events. So, rather than having more middle of the road behavior around the globe, you're going to get more regions with flooding and more regions with drought. So, in that sense, this particular year is very consistent with these predictions.
Any insights about why the water should be on the China and Europe side of the world and so much drought in North America?
No. So much of the rainfall over the earth really happens out over the oceans where we have very little measurements as well. So, having more in one region than another, we are really skewed toward the land. But there may be in fact as much falling on the western hemisphere, but mostly out over the oceans. I don't think there's any reason to expect this will become the norm, that it will fall more on the Eurasian continent than on North America.
If this drought is taking hold and we don't get more rain and snow pack in the west and northeast this winter, aren't we facing perhaps a crisis in the United States in terms of places that have been able to grow food and cannot, and places like New York City that are going to be faced with the challenge of importing water from some place?
It seems it is likely that if you have more extreme behavior in the hydrological cycle and so more concentrated rain and drought, that that effects the nation's ability to distribute water resources adequately. This is true really worldwide. As population pressure increases, there is more demand for water. The whole planet is going to be facing, or large areas of the planet, are going to be facing these issues of water scarcity and adequate distribution. If the rainfall patterns change, the reservoirs won't be in the right place. Even in those areas where they are in place, as the demand continues to increase, will there be enough water? All of these things are going to become even more pressing issues than they already are. They are quite large issues, especially in the American west already.
Yes, and what do you project could be the fate of 2003 if there is no snow pack in the western mountains and in the northeast as there was scarce amounts of snow in the winter of 2001 to 2002?
Yes, the first six months of 2002 were the warmest in 150 years of adequate record keeping to really assess that worldwide. It is likely this year will be among the top three or so warmest of the past century and a half. If this kind of thing keeps up, it implies that it will make it harder and harder to develop an adequate snow pack in the winter and those regions that depend on water from the melting snow pack come spring, they are really going to be faced with a lot of hardship.
What do we do?
People who plan for water resources will have to take into account what the water availability is likely to be under a planet faced with global warming. It may be unwise to develop in parts of the American Mid-west and west where there is not enough water.
We could be moving to a time where our government might have to legislate areas where "No Development or Growth" will have to become a policy?
Yes, either the government would have to engage in massive engineering works to move water around, which even then would be over such large distances that it would be hard to see how that would be feasible. Or there just will not be enough water to support more people living in those areas and the government would probably have to make those decisions.
What other data do you have in front of you that you did not have a year or two ago when we last talked in terms of the direction that global warming is taking and how serious it could become?
We had 1998 as the warmest year in the last century and that was a strong El Nino year. So, one of the things people were saying is, 'Yes, the temperature shot up that year, but that was mostly because of the El Nino and then it dropped back down again the next year.' That is true. 1998 was very warm, maybe a tenth of a degree for the whole global average which is significantly more than its neighboring years of 1997 or 1999.
But this year, there has not been a strong El Nino and we are running about the same level. So, we're getting up to where that anomalous year has become the norm. 2002, even without a strong El Nino signal making the whole planet feel somewhat warmer, seems likely to surpass every year except perhaps 1998. But it may even surpass 1998 as the warmest on record. so, the rate of increase in the global average annual temperature would seem to be growing to such a large value in the late 1990s, seems to be, that seems to be even stronger. We are getting five out of the ten warmest years on record were in the 1990s and the 2000s look like they will do the same thing, or even more.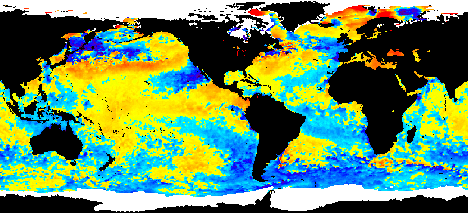 With a new El Nino that is supposed to be raising its head in the Pacific in the summer of 2002, does that mean that the temperatures will be even warmer in 2003?
It's likely that the El Nino will certainly contribute a warming to next year.
What now is a responsible position for the United States to take, given the fact that global warming does not go away, the carbon dioxide blanket is not getting thinner and here are nations coming together for ten days to say, 'How do we build a sustainable future when the earth right now is having as much trouble as it is?'
Global warming isn't formally on their agenda, so I imagine they are not going to deal with it very much. The U. S., of course, uses more energy per capita than anywhere else and a good start would be to use our energy more efficiently and to reduce our usage.
How could the Earth Summit II have this conference on a sustainable future without featuring global warming?
Surprising, isn't it? (laughs)
It's politics only?
Yes, I think so.
The United States did not want global warming on the agenda?
I'm not sure. I think the oil-producing countries were very opposed to it as well. Interests around the world that depend upon fossil fuel usage remaining very large were opposing this.
So, it is like holding a meeting to discuss the problems and sustain the future while there is this huge elephant in the room that no one can address?
Exactly.
Global warming.
Yes.
When will that change?
I don't know."
---
More Information: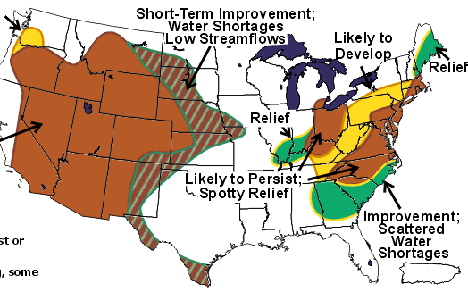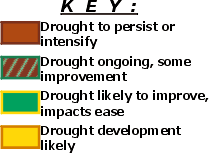 ---
Websites:
http://www.drought.unl.edu/dm/monitor.html
http://www.noaanews.noaa.gov/stories/s938.htm

© 1998 - 2019 by Linda Moulton Howe.
All Rights Reserved.