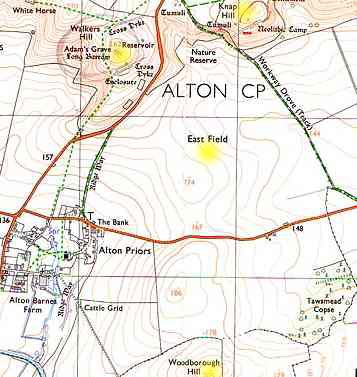 September 1, 2002  East Field, Wiltshire, England – Two weeks ago on August 14th was my last day in England. A new crop formation had been reported in the famous East Field below Adam's Grave and Knap Hill to the north and across the road from Woodborough Hill and Tawsmead Copse to the south. As I walked toward the formation, I took a photograph with Woodborough Hill in the background.
When I got inside the pattern, I took another photograph facing north with Adam's Grave on the left and Knap Hill on the right. This East Field and Woodborough Hill area has become legendary for mysterious lights and interactions with helicopters.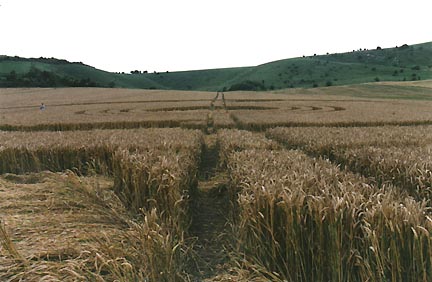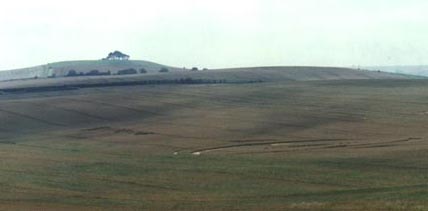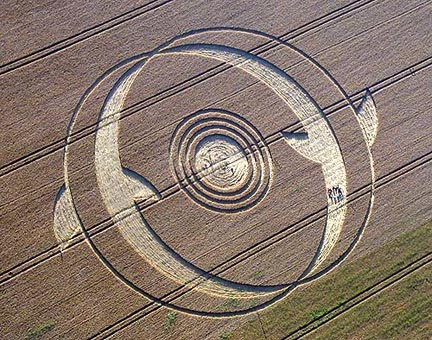 From the air, the pattern reminded me of two dolphins circling around three concentric rings. On the ground there were stalks flat to the ground without creases or breaks; clumps of stalks were standing at the center of the flattened crop and throughout most of the formation; plants in the tramlines were also standing; a graceful S-shaped pattern of green grass was exposed by the flattened crop in one section; and a large, black beetle was dead on top of a wheat head.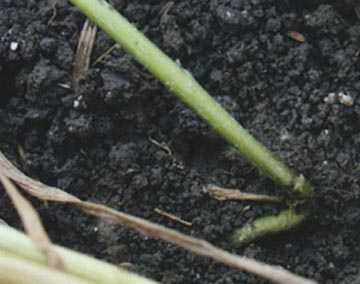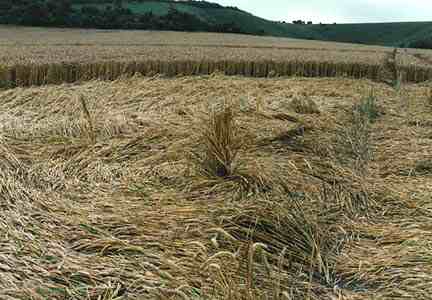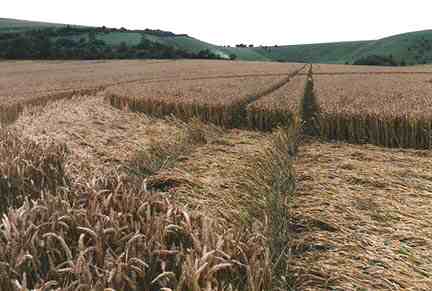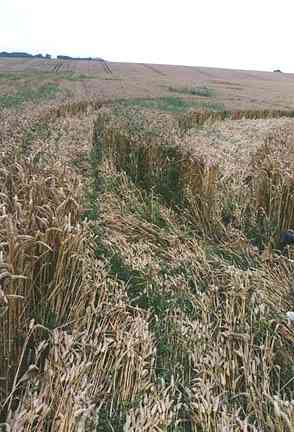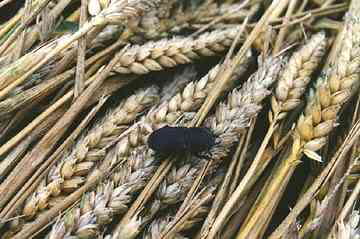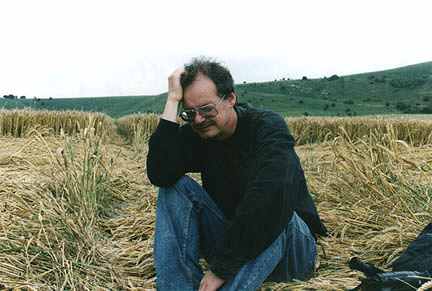 As I photographed, others began to arrive, including Andy Buckley from Manchester. More than anyone else I know, Andy has seen and videotaped helicopters moving over crops in which mysterious lights have appeared, before or after formations. We sat down at the center of the new East Field pattern so I could catch up with what he had seen this summer on night watches in Wiltshire.
He said the most dramatic occurred on Monday night, July 29, between 10:15 p.m. and 10:45 p.m. He and a friend had decided to visit Knap Hill above the East Field where both have seen orange lights before. While his friend was at the van preparing food, Andy walked to the top of Knap Hill with his video camera. He saw a helicopter fly toward Woodborough Hill about a half mile away and drop down behind it. Andy could hear the hovering sound loudly and clearly and wondered what was going on.Almost simultaneously, a strange blue light came up from the ground in front of the trees (copse) at the bottom of Knap Hill. The light had a strange phosphorescent glow.
Andy Buckley, Computer Graphics Artist, Manchester, England: "I would describe it as a kind of blue light that seemed to emanate from ground level just in front of the second copse and it spread out into the field. I've seen this kind of thing before, and it seems like a patch of light that was on the ground, not from a torch. It was almost phosphorescent.
The First Light and Helicopter
Almost immediately, the helicopter which was still hovering the other side of Woodborough Hill suddenly came up and shot across the field at an extremely rapid rate. I got my video camera filming all this and he came right to the point where I had seen this light just around the copse. In a few seconds he was there hovering just below the copse. You could see the very bright red navigation light.
I decided at that point I'm just going to run down the hill. It was dark and it was quite difficult. I had a torch with me, and I thought I'm going to run straight down the hill to get close to see what's going on. As I was running down the hill, I put my light on and the pilot in the helicopter saw this presumably because they switched their lights off, all the lights on the helicopter just went off! The navigation lights and cabin lights.
Initially I thought the helicopter was a gazelle, which we see frequently. But I changed my mind. I'm sure it was an Apache gun ship helicopter because it was much larger and the sound was much different. I kind of recognize engine sounds. I'm pretty sure it was either a Puma or Apache, a larger helicopter.
I got down to the bottom of the hill and I was trying to see where the helicopter was without their lights on. I switched on the low light NightVision on the camera which didn't really improve anything. I couldn't see anything at all. Finally, I walked behind one of the copse. I figured he was over the field, very close to the ground. But I couldn't see a thing. It was completely black, although having said that, there was a helluva a lot of buffeting and vibration and wind coming from this helicopter. So I was obviously quite close to it.
I was still filming this so on video you can hear the helicopter. I decided I couldn't get any closer. There was a fence at the bottom and there was no way I could climb that fence in the dark. After two to three minutes, the helicopter suddenly rose up. I could vaguely see a shape rising up from the field and he suddenly switched all his lights on again. That was dramatic! Then almost immediately he flew in front of me and across the East Field towards Adams Grave and then disappeared beyond the brow of the hill.
A Second Helicopter
After that, I walked about half way back up the slope of Knap Hill and sat down on the ground and figured that perhaps the lights would reappear again. I've been in situations like that where once the helicopters are gone, the lights reappear. So, I got my camera filming again. I didn't see lights, but a couple of minutes later, I saw another helicopter. It was coming again from the Woodborough Hill direction across the valley quite low down and quite close. I thought he was going to repeat the same maneuver. But in fact, he started to rise and went over the top of Golden Ball Hill and then I lost him from view.
Blue-White Phosphorescent Light Re-appears
I switched the camera off and then almost immediately, I noticed the blue-white light re-appeared quite close to the ground and spread over the field. It wasn't particularly bright and I filmed this, but since examining the footage, I can't see anything. The light wasn't particularly bright, but I could see it quite clearly. It was very strange, quite diffuse. It seemed to have a core to it, a blue-white core. It was difficult to see where the light was emanating from, presumably it was quite close to one of the copses.
Strange Mechanical Voice
I carried on filming for a few minutes. Then, quite suddenly I heard this strange sound again coming from the area where the light was just in front of the copse. The only way I can describe it was a kind of cross between a human voice and a kind of mechanically created voice. It sounded human, but also artificial, with a kind of metallic tone to it. It was quite loud and it came in two short bursts. The first lasted for probably a couple of seconds. Then a slight pause for a second, and then there was another sequence of sounds.
The first just sounded like some kind of chant. I've heard this phenomenon where people speak in tongues and it sounded very loud, kind of like (gives sound example). That sounds very bizarre, but there was no mistaking it. I've heard animal noises in the dark, like sheep and foxes. They bark occasionally. And you get deer in this area. But it was nothing like those sort of sounds that you recognize instantly.
Was this exactly where that blue-white glowing light had been?
It was coming from the same vicinity, from down below the copses. And it sounded sort of amplified, quite distinct. I wouldn't have said any person simply could have shouted to make this noise, because I don't think it would have been heard from that distance.
Were there any helicopters there when that happened?
No, the helicopters had disappeared. It was just quiet. I don't recall that when the noise appeared, or the sound of the voice, seeing any lights at the time. And in fact, the lights did not reappear after the voice, or whatever it was, stopped. I didn't see any more lights. I waited for another five minutes or so and then decided to go back to my friend and tell him what I'd seen.
Did Lasers Fire from the Helicopters?
I rushed back down the hill. He was sitting in his van and his van had the back doors open and he was eating. So his view was towards Lockeridge and Golden Ball Hill. He told me that 20 minutes earlier he had seen a helicopter fly over the top of Golden Ball Hill, very low to the ground. As it appeared to him, he saw two beams of light similar to laser light, very pencil thin, red lines of light.
Initially he thought the light source was from the ground as if someone were on the ground firing these beams up at the helicopter. But having thought about it, he kind of reasoned it was more likely that the lasers, or whatever they were, actually shot down from the helicopter to the ground.
So, I came to the conclusion that was the second helicopter I filmed which flew across the valley and over the top of Golden Ball Hill and then lost to view. We didn't see any other helicopters, so it was presumably from that helicopter.
The implication is that if it was that second helicopter and that there were laser lights shooting down, the lasers were focused where you saw that blue-white light and heard the strange mechanical voice?
No, the lights that my friend saw were coming down over a field which is on the other side of Golden Ball Hill, which had been plowed or harvested. Not the side where I saw the lights. And he said the red lights lasted for only a few seconds and then the helicopter flew off. So, it's difficult to ascertain where the lights were hitting the ground, but it must have been in the field on the other side of Golden Ball Hill.
How many times in this area between Woodborough Hill, the East Field, Pickled Hill, Milk Hill, Knap Hill and Golden Ball Hill have you seen helicopters seem to interact directly with formations, crops or lights?
Many times. I've lost count of the number of times I've been out. I tend to go out very early in the morning and I've actually on camera filmed military helicopters either coming down directly over formations. Usually they fly straight to a formation and they will drop down and hover and then fly off. Or, they will simply come down over certain parts of the landscape and hover which I find quite unusual. Obviously military helicopters do low flying in this area and they do come down to ground level. On some occasions, they are very specific about where they go to. They will just simply fly from say a point over towards Salisbury Plain straight to a point as if they are searching for something. After a few minutes, they will fly off.
Any off-the-record talk from military intelligence or others about what the military interaction with the lights might be about?
Well, they deny that they see these lights. They just denied that the pilots had ever seen anything. But the evidence on camera is quite interesting.
It seems that the pattern that has happened over the last ten years at least has been that helicopters show up so rapidly when there is an event as if they are monitoring certain frequencies?
Yeah. I think the interceptions of lights are immediate. So, they must have some way, some technology or protocol if you like of recording anomalous events. I just assume it's treated the same way as any invasion of local airspace. I suppose they have some means of detecting these objects and therefore they respond immediately.
But why? And what are the lights' relationship to the crop formations?
Well, it's difficult to say. I still think we are looking for evidence, video footage of something I'm sort of interested in when I go out which is to obtain some hard evidence of light creating the formation, even if it is only a small circle. Although I think I've come pretty close to it. I've seen instances where lights appeared quite close to the ground, small lights. There was one occasion over at Woodborough Hill where I saw a very small light, probably no more than that size glinting, flashing over the crop. Then the crop started swirling beneath it. And at that point, fantastic! We're getting a crop formation. But nothing happened. The swirling stopped. On one occasion, it moved across the field rather akin to a fair weather whirlwind that we occasionally get.
How many videos do you think you have of lights now?
I haven't done a count. A rough estimate, maybe forty. Maybe some of them have a mundane explanation. I don't know.
So far, none showing a crop formation being made, but that is your goal?
A lot of the footage is night time footage which means lights in the sky. Although I have filmed a lot in daylight. I consider that more important. Yeah, that's my ultimate goal, either to film a light forming a crop formation or to film more evidence of military interception of lights either close to the ground or forming crop formations. That would be the ideal footage, I suppose! It's very difficult to predict when these events are going to happen."
---
More Information:
For another dramatic incident involving blue-white glowing light, see Earthfile's
Mysterious Clouds of Light in English Crop Formation.

© 1998 - 2019 by Linda Moulton Howe.
All Rights Reserved.