© 1976 by Roberta Donovan and Keith Wolverton
Chapter 8
Teenage Girls Chased by UFO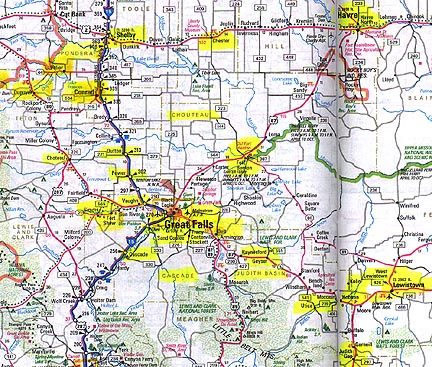 During their entire investigation, Cascade County officers have sought to verify any possible connection between the cattle mutilations and the reports of UFOs, unidentified helicopters, strange lights and noises and the hairy creatures. In some instances, there has seemed to be a connection, but it has been frustratingly difficult to prove.
A case in point is a cow that was mutilated in late July 1975, on Ashlot Bench north of Fort Shaw. As in many other cases, the cow's teats had been cut off, apparently with an extremely sharp instrument. But in contrast to other cases where there was no sign of struggle, or tracks, or other evidence around the animal, the grass this time was trampled down in a nine foot radius around the carcass. Although a sample of the grass was tested at a laboratory, nothing conclusive was indicated.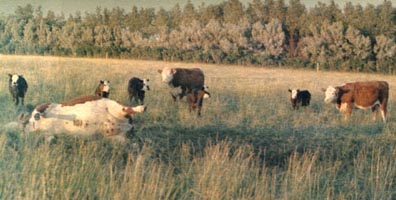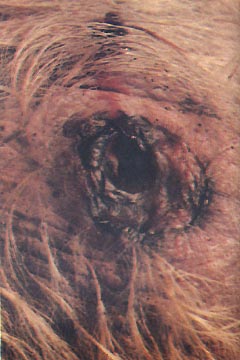 But what particularly interested officers this time was the rancher's report that he saw a red light blinking in a field where the cow was later found. He watched the light take off down a road. At the time, he said, he thought it was a highway patrol car. when officers checked, they verified that there were o highway patrol or sheriff's cars in that area at that time.
A short time later, a rancher's young son was out irrigating on his motorcycle when he saw a red light going through a field. It aroused his curiosity because he knew there was no way for a vehicle to get into that field. Since his motorcycle was running, the youth was unable to say whether there was any sound coming from the object with the red light. Shortly thereafter, the rancher discovered that two of his cows were missing. They have never been found.
Later, one of their neighbors, who also had a cow mutilated, reported seeing a red light going down the road near the site.
The records in the Cascade County Sheriff's Office are filled with numerous reports of UFO sightings. In a number of cases, the person reporting the sighting was able to give officers a vivid description of the strange craft. These varied from a saucer-shaped craft or something that looked like a giant pear, to a large object that looked like a two-story building with lights resembling windows.
Often the viewer could see nothing but the bright light coming from the object. Offices explained this would be like meeting a car on the highway at night and being unable to describe the car because of the brightness of its headlights. Sometimes a UFO seemed to chase cars or fly over airplanes. At times a strange object appeared to land, or to hover over a certain place.
A Raynesford farmer, reporting a UFO he saw, estimated the speed at which it ascended straight up at exceeding 5,400 miles per hour. When he first phoned in the report, Judith Basin County authorities suggested it could possibly be a bright star or planet in the sky.
"Then why can I see a mountain behind it?" he asked.
At least one person reported a daylight sighting of two UFOs and was even able to draw a sketch of what he saw for officers. The man, who lives at Vaughn, a short distance northwest of Great Falls, said he was driving on the interstate about dusk when he saw two UFOs flying from south to north. He said each object had a domed top which glowed. There was a revolving blue and white light on the bottom of the craft and lightning bolts as long as the craft itself came out of the bottom of one craft at intervals. He said the two objects were not traveling fast and he was able to observe them for about five minutes.
Curiously, the reports of UFOs and the reports of unidentified helicopters started coming in about the same time in the summer of 1975, although there had been some isolated calls before that time. It is obvious that the two are not the same thing, since eyewitnesses have described both the UFOs and the Helicopters and they bear little resemblance. Some of the bright lights, however, could conceivably be either one.
Two teenage girls who live at Geyser, southeast of Great Falls, were sadly frightened when they were apparently chased by a UFO as they drove home on the highway. They told Judith Basin County Undersheriff, Jerry Skelton, that they saw a strange object hovering over their car as they drove along the highway. It continued to stay above their car as they hurried home.
When the badly shaken girls reached their home, they ran inside and told other members of their family. All of them went outside and viewed the UFO still hovering above the house. It left a short time later.
Like some of the unidentified helicopters, some of the UFOs seemed to make no noise. A Fort Shaw man who watched a strange blue and white light among some trees near his home told officers he heard no noise at all.
A veterinarian, who incidentally helped investigate some of the cattle mutilations, was driving south of Bowman's Corner when he saw a strange white light in the sky that had a red light on the left side. He told officers the light kept disappearing and then returning. He estimated his distance from the object at five miles.
An interesting and possible significant sidelight to the veterinarian's report was his comment that the cattle in the area started bawling "louder than I have ever heard."
Two days later, a Great Falls man reported seeing a very bright light early in the morning, about 6:30 a.m. He said the light seemed to be just southeast of Malmstrom Air Force Base. It reminded him of an aircraft's landing light, except it did not seem to be moving. He discounted the possibility of it being a star, since he could see stars behind it. He watched the light for about eleven city blocks as he drove home.
When his mother-in-law heard about what he had seen, she went outside and watched it, too. Later, several other people viewed it.
"I don't know when the light left," the man said.
The sighting may have been only a prologue because a little more than 36 hours later, U. S. Air Force and law enforcement officials put in a night they will long remember. The series of sightings began about 9 p.m. the evening of October 18, 1975, and continued until 7:45 a.m. the next morning.
Base Operations at Malmstrom confirmed that they had reports on nine different sightings in the Cascade and Eden areas just south of Great Falls. At the same time, law enforcement officers were getting reports from north of Great Falls as far as Shelby.
The first report received by the Cascade County Sheriff's office was at 4:20 a.m. and came from the sheriff's office at Shelby. Officers there reported they had a UFO in sight and that it was moving from one location to another at an extremely high rate of speed. They estimated the altitude from 2,000 to 5,000 feet.
Malmstrom AFB officials were immediately notified and they replied that they had been receiving reports since 9 p.m. the previous evening. Both Malmstrom and NORAD confirmed that the object was not a conventional aircraft and asked that they be given all possible information on it.
They had a description when a Shelby officer phoned in at 4:53 a.m. to say that the object was very close. He described it as a "white light, red flame aft, green light on top, red lights on both sides." About fifteen minutes later, Shelby reported that the UFO was climbing and headed west.
At 6:04 a.m., an officer patrolling in the Power area, a short distance northwest of Great Falls, reported seeing the object over Conrad between him and Shelby. He said it kept changing color from red to white and kept changing altitude slowly. The situation was growing tense and the sheriff's office sent an officer to Base Operations at Malmstrom to help as radio coordinator.
In the meantime, the patrolling officer had reached Dutton as he traveled north toward Conrad and Shelby. He reported the object was very low and then suddenly shot straight up until it was fairly high. Eleven minutes later at 6:30 a.m., he radioed that the object appeared to be heading east from Conrad and was more brilliant in color. The sheriff's office at Shelby said the strange object had also been seen by Montana Fish and Game officials. Its location was estimated southwest of Conrad.
Twelve minutes later, the patrolling officer reported the object south and east of Chester, between that town and Fort Benton. This location is 40 to 50 miles east of the area near Conrad where it was seen twelve minutes earlier. The officer said the UFO was gaining altitude and appeared smaller. At 7:29 a.m., another officer reported the object was still in view in the east. His sighting was the last one reported during the hectic night.
U.S. Air Force officials said the UFO seen in the Cascade-Eden area seemed to have the same features as the one seen farther north, except at one time a flame came from the bottom of the object, emitting small lightning bolt-type objects. This coincided with the description given earlier by the Vaughn man.


Some Air Force personnel apparently got a good look at the object as they reported that at one time their Air Force vehicle, which was in Cascade at the time, was not more than a mile from the object. A woman who lives east of Great Falls near the Highwood Mountains also had a close-up view of an unidentified flying object. Her sighting was October 17, the evening before the many sightings that kept law officers so busy.
Captain Wolverton interviewed the woman, who told of seeing a huge craft as large as a DC10 fly over her house about 10:30 p.m. She couldn't estimate its altitude, but said it was about as high as helicopters usually fly. She described the object as having lights all the way around it and said she could hear no noise from it. She watched it for about 30 seconds from a window of her mobile home.
The woman's neighbor said she did not see the craft herself, but her son did. She added that the same evening between 7:30 p.m. and 8:30 p.m., she and four other people saw something between her house and her neighbor's mobile home. She described it as a large green light with a white light behind it. She said it came over a hill and down the valley by a haystack and then disappeared. the huge size of the UFO coincided with a number of other reports from people who described what they saw as being as large as a hotel.
---
To be continued in Chapter 9 – Egg-Shaped Craft With Arms



© 1998 - 2019 by Linda Moulton Howe.
All Rights Reserved.