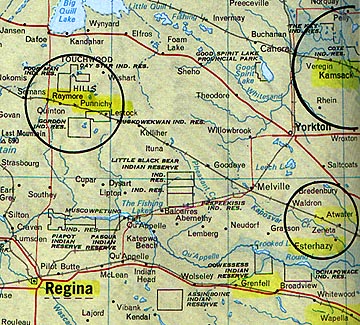 November 5, 2002  Vancouver, British Columbia, Canada – Paul Anderson of the Canadian Crop Circle Research Network (CCCRN) has received his 19th crop circle report for 2002. It is a pattern of nine circles. It is not known how many of the connecting pathways were part of the original pattern design and how many were paths made by curious residents. The largest of the nine circles was approximately 55 feet in diameter. It was found in mature wheat near the small rural town of Kamsack in southeastern Saskatchewan by a pilot flying over the field. He took a photograph that was printed by a local newspaper shown below.

To the west is the small farming community of Punnichy (pun-ney-chigh) where mysterious lights have been reported for decades, along with animal mutilations and crop formations. In early September of 2002, there were a series of four formations, all in wheat.
Punnichy 2002 Formation Number One:

The first was a pattern of three circles in a triangle joined together by pathways, approximately 20 meters (65 feet) diameter. The plants were laid down counterclockwise in all three circles. Two pathways laid from the center point toward two of the circles. Another pathway from the third circle laid toward the center point. Sporadic 'burn marks' were found in the formation.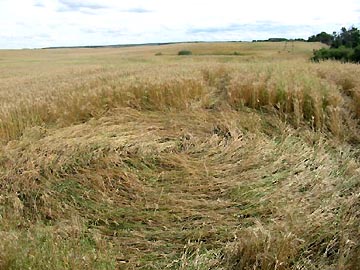 Punnichy 2002 Formation Number Two
The second formation was a single circle in wheat, approximately 5.8 meters (19 feet) diameter. Counterclockwise lay. About 1.6 kilometers (1 mile) east of Punnichy Formation One.
Punnichy 2002 Formation Number Three


Circle with attached pathway in wheat, approximately 18 meters (60 feet) long. Counterclockwise lay in circle. Pathway ends at edge of crop field next to a power pole. About 5.6 kilometers (3.5 miles) southeast of Punnichy Formation One.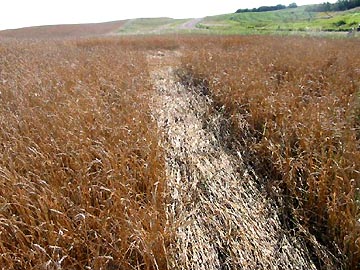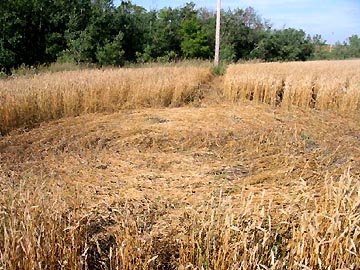 Punnichy 2002 Formation Number Four
Five circles in wheat (configuration not known). About 6.4 kilometers (4 miles) southeast of first formation.
Since mysterious luminosities have been seen in association with crop formations in England, Holland, Canada and other places, I asked several farm owners in Punnichy if they had seen any unusual glowing objects near the fields where the crop formations were. No one had a specific 2002 incident, but many told me that all their lives they have heard about mysterious lights in Punnichy that seem to haunt a road in the farm country. Some have been spooked by the lights. The most dramatic encounter happened to Marilene Senft, who was born in Punnichy 44 years ago. When she was a teenager, she was driving from her home to her boyfriend's house at 8 o'clock in the evening when she saw a light that stayed with her for the next seventeen miles of winding country road.
---
Interview:
Marilene Senft, Customer Service Representative, Bank of Montreal, Winyard, born and raised in Punnichy, Saskatchewan, Canada: "At first I thought it was just a yard light, right? Then I realized there were no yard lights around that area at that time. It did not bother me until it came closer and closer and it was a really brilliant light. It followed me and scared me because I had heard stories of this light. It actually came into my car. It seemed like it came into my car and stayed with me and then it would go and follow me. Right at my husband's place – at the time he was my boyfriend – and when I got to his yard to turn in, it just disappeared.
CAN YOU DESCRIBE SOME OF THE COLORS, FEATURES, SIZE, AND WHEN IT ENTERED THE CAR, WAS IT COMING THROUGH AN OPEN WINDOW, THE GLASS OR WHAT?
There was no windows open, so it was coming through the glass. It was like a brilliant, brilliant train light. You know what a train light looks like when it's coming at you?
PRETTY MUCH A BRIGHT, WHITE LIGHT?
Right. It sort of had a little glow around the outside edge, but it just reminded me of a train light.
WHEN IT CAME INTO THE CAR, HOW CLOSE TO YOU DID IT COME AND HOW BIG DID IT SEEM TO YOU WHEN IT WAS CLOSE-UP?
It lit my whole car up and it just terrified me.
YOU ARE DRIVING. DO YOU REMEMBER LOOKING AT IT IN THE CAR?
No, just through my mirror.
SO IT WAS BEHIND YOU?
Right.
IT CAME IN THROUGH THE BACK WINDOW?
Right.
IT IS BEHIND YOU AS IF FLOATING IN THE AIR ABOVE THE BACK SEAT?
That's right.
AND LOOKING THROUGH YOUR REARVIEW MIRROR, HOW BIG DID IT SEEM TO BE?
Oh, I don't know! It seemed to fill my car in the back. It was huge and brilliant.
HOW LONG DO YOU THINK IT WAS IN THE CAR WITH YOU?
It seemed like a long time, but I don't think it was. Because it went out of my car and it just followed me. It followed me to my husband's yard.
WHEN YOU SAY 'FOLLOWED,' DID THAT MEAN YOU MADE SOME RIGHT OR LEFT TURNS?
Oh, yes, definitely.
SO, YOU MADE A LOT OF TURNS GETTING TO YOUR DESTINATION, BUT THE LIGHT STUCK WITH YOU.
Yes, it did, and that's about 17 miles.
WHEN IT WAS BEHIND YOU IN THE CAR, THAT WAS ONE POSITION. WHEN IT WOULD LEAVE THE CAR, WOULD IT GO TO THE FRONT OR TO THE SIDE, OR TO THE BACK. WHAT DID IT DO WHEN IT LEFT THE CAR?
To the back. Always behind me.
SO YOU COULD KEEP LOOKING AT IT THROUGH YOUR REARVIEW MIRROR EVEN IF IT WAS OUTSIDE THE BACK WINDOW OR INSIDE THE BACK WINDOW?
Yes.
WHEN YOU MADE TURNS OVER THOSE 17 MILES, DID IT EVER CHANGE ITS POSITION IN THE REAR WINDOW?
When I turned, I think I lost track, but as soon as I got straightened out, it seemed to be right there again. And like I'm telling you I was very frightened at that time, too.
DID YOU SCREAM AT THE LIGHT?
I didn't scream or nothing, but I was driving like crazy!
HOW MANY TIMES DID THE LIGHT COME IN THAT BACK WINDOW?
Actually, just the one time.
WHEN YOU PULLED INTO THE FRONT YARD OF THE DESTINATION, WHAT HAPPENED?
It seemed like it just vanished. There was just nothing. I turned in and stopped the car and there was just nothing. It was just gone.
WHAT DID YOU THINK AT THAT MOMENT AND WHAT DID YOU TELL YOUR BOYFRIEND?
He knew something was wrong because I was white as a ghost and so did his parents. I tried to explain what was happening and they went out and there was nothing there. I told them this light was following me all the way and that's exactly what I told them.
IS THAT THE ROAD THAT IS FAMOUS IN PUNNICHY FOR SEEING LIGHTS TO THE EXTENT THAT IT IS KNOWN AS 'LIGHT ROAD?'
Yes, it is.
HOW FAR IS THAT ROAD FROM THE VARIOUS WHEAT FIELDS THAT THE FORMATIONS HAVE BEEN IN THIS FALL OF 2002?
From there, I would say at least 10 or 15 miles.
NOT FAR.
No, not far at all."
---
Website:
http://www.geocities.com/cropcirclecanada/welcome.html



© 1998 - 2019 by Linda Moulton Howe.
All Rights Reserved.