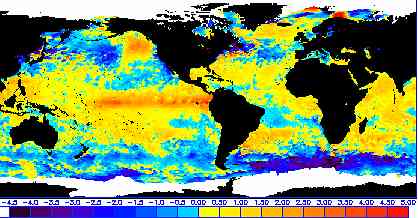 November 8, 2002  Washington, D. C. –  The El Nino in the Pacific Ocean which has building up for months continues to warm and NOAA scientists now classify its intensity as "moderate" with caution that its full intensity still not known. Many drought areas will continue to suffer, but its influence on climate over the next four to five months is not expected to be as strong as the 1997-1998 El Nino.
NOAA Director of the National Weather Service, retired USAF Brig. General Jack Kelly says, "With nearly half of the United States experiencing drought, the fall/winter 2002 outlook only offers limited relief. While some improvement in the drought is possible, namely across the Southwest and southern and central Plains states, it may not be enough to alleviate dry conditions entirely, particularly in the Northwest, Northeast, mid-Atlantic and the Ohio Valley.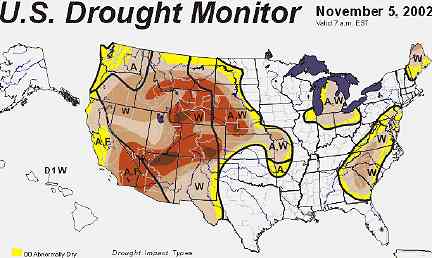 Fall 2002 Forecast:
Drier-than-average conditions in the Pacific Northwest and Mid-Atlantic States.
Drier-than-average conditions in northern Rockies and Ohio Valley.
Wetter-than-average conditions in the southern states.
Warmer-than-average conditions in northern tier states.


Winter Forecast:

Below-normal precipitation in Northwest, including Washington, northeast Oregon, Idaho, Montana, Wyoming, western parts of North Dakota and northwest South Dakota.
Below-normal precipitation in Ohio Valley states.
Above-normal precipitation in southern United States, stretching from central/southern California to the Carolinas.
Above normal temperatures across northwestern, mid-western and northeastern continental United States.

---
Website:
http://www.osdpd.noaa.gov/PBS/EPS/SST/climo.html
http://www.noaanews.noaa.gov/stories/s1060.htm
http://www.drought.unl.edu/dm/monitor.html

© 1998 - 2019 by Linda Moulton Howe.
All Rights Reserved.