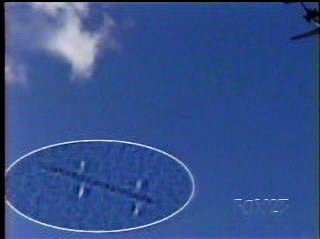 November 4, 2002 Albany, New York – There has been much speculation about what the strange object is that has a long body and seems to blend into the blue sky, but also has white fin-like structures at the front and back of the object. (See Earthfiles 10/29/02) Today, I talked with FOX23 videographer, Brandon Mowry, at the station and learned that his assignment desk has received word that the investigation has now branched out from the FBI to a military intelligence unit at Fort Hood, Texas, southwest of Waco.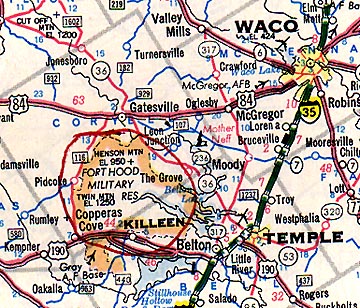 Brandon Mowry, Videographer, FOX 23 News WXXA-TV, Albany, New York:
"DID THEY SAY WHAT SPECIFIC OFFICE OR INDIVIDUAL IS HEADING THE FORT HOOD INVESTIGATION?
Let me ask real quick. … My assignment desk just talked to me. I guess, Military Intelligence, the Dept. of Military Intelligence at Fort Hood.
AT FORT HOOD IN TEXAS.
They have the tape and they launched an investigation about whether or not this is a missile.
I guess they were saying like that TWA Flight 800. They said someone has captured a picture before that they think a missile brought that plane down. So, I guess that's why they are investigating this so closely, the military is.
THIS IS MILITARY INTELLIGENCE AT FORT HOOD IN TEXAS. AND IF THEY HAVE THE VIDEOTAPE, THEY WOULD HAVE TO HAVE GOTTEN IT FROM THE FBI.
Yeah, probably.
BECAUSE THEY HAVEN'T ASKED YOU FOR A COPY?
No. No. Yeah, they must have.
WHO CALLED YOUR ASSIGNMENT DESK AT THE STATION TO TELL THEM?
I'm not sure. Let me ask him right now. … OK, he won't tell me his name.
REALLY?
Yeah, he says he promised that this guy who called that it's all off the record not to give anyone his name or what he has done.
IT SOUNDS LIKE IT'S SERIOUS.
Yeah. Yeah."
Brandon also got an e-mail today from the Senior Editor at Defense Watch, an on-line periodical devoted to military matters and homeland security, planning to do a story about the Albany videotape later this week.
FOX 23 is now preparing news specials to follow up on Brandon Mowry's videotape which will be broadcast first on FOX and then UPN in Albany. For COAST TO COAST AM listeners in the Albany area, you can tune in to the first of four broadcasts on FOX 23, Sunday, November 24, beginning at 8:30 a.m EST.
In addition to Brandon Mowry, one of the scheduled guests will be Dr. John Delano, Associate Professor and Director of Geochmistry and the Department of Earth and Atmospheric Sciences at the University of Albany. Prof. Delano is also associated with a NASA research and training department known as the New York Center for Studies on the Origins of Life.
The "Rod" Phenomenon
Jose Escamilla, who studies the baffling "rod" phenomenon, sent me some images of another long object crossing near the tail of another airliner over Dickinson, North Dakota in the summer of 2001. The North Dakota "rod" has a similar long body that seems to blend into the blue sky, but the white fin-like projections are not as clear as the Albany videotape.
Left Column – Dickinson, North Dakota 2001       Right Column – Albany, New York 2002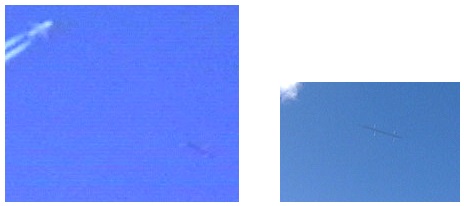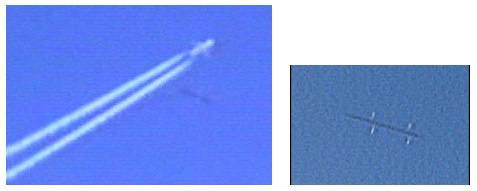 The following is an e-mail exchange I had this past week with Jose Escamilla about his "rod" phenomenon research. In addition to the North Dakota objects above compared to the Albany, New York object, Jose plans to send other photos referenced in his November 1, 2002 e-mail reply.
Nov. 1, 2002
Hi, Mr. Escamilla:
Appreciate the work you have done on the mysterious "rods" phenomenon and know you talked about the Albany, NY object with Art Bell on COAST. On Monday, I had a follow-up with the FOX videographer on a COAST segment with George Noory. The cameraman thinks the object was at the cloud ceiling level of 5,000 feet and thus, quite long in relationship to the airliner that passed above him at an estimated 300 feet altitude.
Wondered what size parameter ranges you have found for "rods" in your research?
Reply on 11/1/02 3:37 PM, Jose Escamilla wrote:
"Hi Linda!
Thanks for your message. That's very interesting how Brandon was grilled (by FBI) about his tape and the sighting. I have uploaded some clips which show Rods captured over North Dakota.
There is a shot in one of my old videos from Midway, that shows a white Rod passing by a jet which is at about 10,000 feet and this Rod is just as large and passes the jet in a flash. This clip aired on Hard Copy in 1994.
I also have tornado footage taken during the May 1999 Oklahoma tornado, where there is a weather helicopter at 3000 feet above ground and the front of the cell is ten miles away. It is in the clouds that this huge Rod emerges in three frames then enters back into the cloud! The Rod was ten miles away and is so big it would have to have been at least two hundred feet long! So we do have many shots of large Rods.
Also that past August there was a jet crash at an air show in the Ukraine. I received e-mails from the UK where they said that it was a Rod that collided with the jet. AND it was videotaped in two different angles with separate cameras.
I haven't seen the footage just stills, and it is a Rod about thirty feet long that passes right beneath the Jet prior to it crashing. I would have to see the footage to see if it did collide with the jet.
So there should be concern if these things are colliding with Jets, especially since many jet crashes that have been attributed to missiles, were reported as being hit by some kind of object that did not explode on impact but that went through the jet. When Art looked at the TWA 800 photo taken on Long Island a second after the jet exploded, the object that they were saying was a missile, was a ROD! And I found an exact match to a Rod captured over Midway. I mean, they were identical."
---
Website:
http://www.roswellrods.com/albany.html

© 1998 - 2019 by Linda Moulton Howe.
All Rights Reserved.