"d. Airfoil or triangular shape. This (extraterrestrial) craft is believed to be new technology due to the rarity and recency of the observations. Radar indicates an isoceles triangle profile, the longest side being nearly 300 feet in length. Little is known about the performance of these craft due to the rarity of good sightings, but they are believed capable of high speeds and abrupt maneuvers similar to or exceeding the performance attributed to types 'a' and 'c.'"
­ Page 5, TOP SECRET /MAJIC, "Restricted SOM1-01 Majestic-12 Group Special Operations Manual for Extraterrestrial Entities and Technology, Recovery and Disposal," U. S. War Office, April 1954.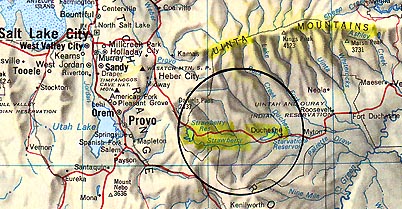 February 1, 2003  Duchesne, Utah -  Near the Strawberry Reservoir west of Duchesne, Utah, Kim and Sheila Peterson moved into a hilltop home in 1997 to escape the stress of urban life in Salt Lake City 100 miles west. A deck off their house faces the Uinta Mountain range and watching sunsets and starry nights from that deck has become a ritual. Over the past five years, Kim Peterson says he and Sheila have seen more than fifty incidents of highly strange and unidentified aerial objects hovering or moving in the sky, day or night. The most recent was January 5, 2003, at 11 p.m.
Click here to subscribe and get instant access to read this report.
Click here to check your existing subscription status.
Existing members, login below:

© 1998 - 2023 by Linda Moulton Howe.
All Rights Reserved.