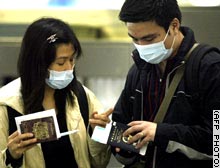 March 31, 2003  Hong Kong, China – SARS stands for severe acute respiratory syndrome, a deadly new disease that attacks and destroys lung tissue. What the pathogen is exactly has still not been proved, although electron microscope observations suggest either a new Paramyxo (measles, mumps, childhood croup) or Corona (common cold) virus. Yesterday, sixty new patients were admitted to Hong Kong hospitals suffering fever, dry cough and difficulty breathing – all symptoms of SARS pneumonia.
Hong Kong health authorities discovered that 213 residents of Amoy Garden in the Kowloon District had been hospitalized as SARS victims. Amoy Garden consists of ten 35-story buildings housing around 15,000 people. Health officials also discovered that about half of the Amoy Garden SARS patients lived in "Block E," a series of apartments built vertically one on top of the other. Whatever the SARS microbe is, a vertical spread of the disease implies transmission can occur beyond close human contact. So, World Health Organization (W.H.O.) investigators are following up "the possibility that bodily secretions containing the causative virus might somehow enter common systems that link rooms or flats together."
The Hong Kong Department of Health issued an unprecedented order today to quarantine all the residents in Block E. Everyone must remain in their apartments until midnight on April 9. Violators can be fined as much as $2,800 U. S. dollars, or jailed.
---
As of March 31, 2003
United States
Suspected SARS pneumonia cases in the United States have climbed to 62 in 23 states.
Alabama 1
California  14
Connecticut 1
Georgia 1
Hawaii  3
Illinois 2
Kansas 1
Maine  2
Massachusetts  2
Michigan  2
Missouri  2
Mississippi  1
Minnesota 3
New Hampshire 1
New Jersey  2
New Mexico  1
North Carolina   2
New York    10
Ohio 1
Pennsylvania  3
Rhode Island  1
Texas  3
Utah  4
Virginia  3
Washington 1
Wisconsin 2
Total Suspected U. S. Cases Under Investigation: 69
Worldwide:
Canada   44 cases,   4 deaths
China   806 cases,   34 deaths
China, Hong Kong    530 cases,   13 deaths
China, Taiwan,   10
France,  1
Germany  5
Italy   2
Ireland   2
Romania  3
Singapore 91 cases,   3 deaths
Switzerland,  3
Thailand  5 cases, 1  death
United Kingdom  3
United States  69
Viet Nam  58 cases,  4 deaths
Current World Total: 1632 Cases and 59 Deaths
---
More Information:
David Heymann, Executive Director of Communicable Diseases at the World Health Organization (W.H.O.) in Geneva, Switzerland, recommends that any person who has a sudden fever above 100 degrees Fahrenheit accompanied by difficulty breathing should go immediately to an emergency room. Patients who have received good hospital support care, including ventilators, have survived. In fact, the mortality rate of the SARS pneumonia is running only about 3 to 5 %, but the potential severe lung damage in some of the cases demands expert medical treatment and x-rays.
---
Websites:
http://www.who.int/en/  (World Health Organization)
http://www.cdc.gov/    (Centers for Disease Control)

© 1998 - 2018 by Linda Moulton Howe.
All Rights Reserved.