"There is some interesting data from the bedrock!"
– Astrophysicist at JPL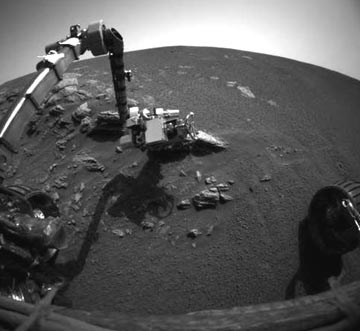 February 10, 2004  Pasadena, California – NASA's Jet Propulsion Laboratory:
Update on Spirit
Today, NASA/JPL reports that the Spirit rover in Gusev crater on Mars "broke the record for the farthest distance driven in one day on the red planet, traveling 21.2 meters (69.6 feet). Today's distance traveled shattered the Sojourner rover's previous record of 7 meters (23 feet) in one Martian day. Right now, Spirit is driving towards the crater-inside-the-Gusev-crater nicknamed Bonneville."
On Monday for the first time, Spirit drove by itself for about 21 feet, using its onboard navigation software and hazard avoidance system. Spirit is preparing to move at least 250 yards away from its original landing site and the Adirondack rock that it drove right over in the image below. Spirit handled its drive alone very precisely.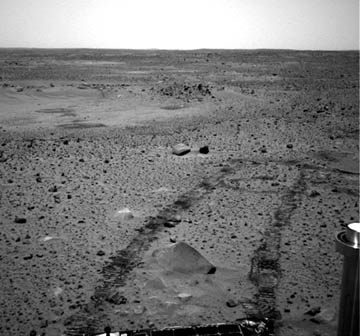 Before leaving Adirondack and driving right over it, Spirit took images and collected miniature thermal emission spectrometer data from the hole ground by the rock abrasion tool. And it's turned out to be dark volcanic basalt covered with red iron dust.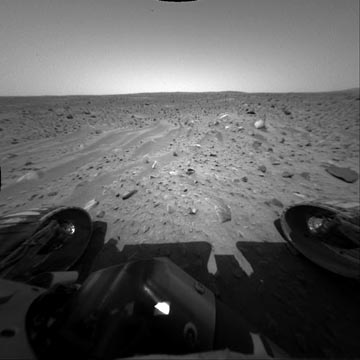 "Red" Adirondack Is Actually Dark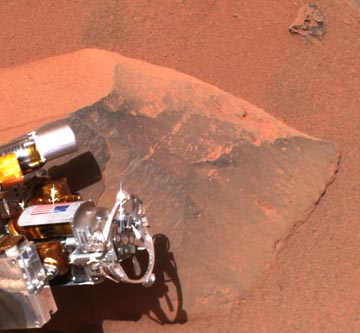 This past weekend, Spirit made its first grinding on the Martian rock, Adirondack. Its rock abrasion tool ground the surface off Adirondack in a patch 45.5 millimeters (1.8 inches) in diameter and 2.65 millimeters (0.1 inch) deep. Examination of the freshly exposed interior with the rover's microscopic imager and other instruments confirmed that the rock is dark volcanic basalt beneath a red coating of iron dust.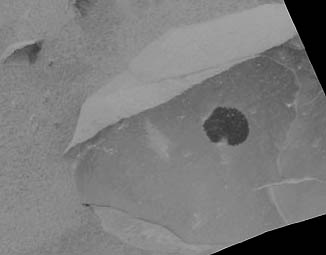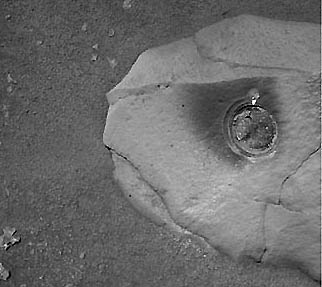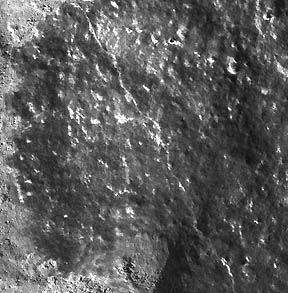 The main task for both rovers in coming weeks and hopefully through May (depending upon condition of power supplies) will be to explore the areas around their landing sites for evidence in rocks and soils about whether those areas ever had environments that were watery and possibly sustained life.
Today I talked with Prof. Ronald Greeley, Regents Professor of Geology at Arizona State University, about some of the geology surprises so far. Dr. Greeley is one of the seven Chairs of the Science Operations Working Group (SOWG) for Spirit and Opportunity.
---
Interview:
Ronald Greeley, Ph.D., Regents Prof. of Geology, Arizona State University Dept. of Geological Sciences, and one of the 7 Chairs of the Science Operations Working Group (SOWG) for Spirit and Opportunity, Tempe, Arizona: "I think one of the big surprises was the application of the brush before the grinding took place. The amount of dust covering the rock was more than we anticipated. After the brushing, it looked like the difference between night and day. In fact, the place where the brush was applied turned out to be much darker in the pictures than the area that was unbrushed. That shows bright dust had been removed.
I think before the brushing, a number of folks had thought that there was not all that much dust on it. But clearly the brushing showed there was. This is important in terms of interpreting the remote sensing data because dust is so prevalent on the surface, we always have to take it into account and what this brushing points up is that fact.
The rock Adirondack gives a signature that is consistent with it being the volcanic rock called basalt. This is a very common rock on planetary surfaces and was not totally unexpected. Basalt is an igneous rock that is formed from lava and is very rich in iron and magnesium and gives the dark appearance we see in those kinds of lava flows. In fact, they are the same kind of lava flows we see on the dark surface of Earth's moon.
THE SIGNIFICANCE OF FINDING BASALT IN THIS LARGE PYRAMID-SHAPED ROCK WOULD MEAN WHAT TO YOU ABOUT MARS?
We see volcanoes all over the surface of Mars, volcanoes and lava flows. Most of those, to the best of our knowledge, are composed of basalt or its close relatives. So, in that sense, it's not unexpected. The question in regard to Adirondack is how did it get onto the floor of the Gusev crater?
There are at least two possibilities: one is that it was washed in by the river channel that empties into Gusev crater. The second is that it could be a part of a lava flow that erupted onto the floor of Gusev crater directly.
THE CRATER HAD TO BE THERE BEFORE A LAVA ERUPTION IN ORDER FOR THE BASALT TO GET INTO THE CRATER?
That's right. The crater is probably the oldest event that we see in the history of the area and it probably reflects the final stages of evolution for Mars as a planet.
MEANING THAT MARS WAS ACTIVELY VOLCANIC HOW LONG AGO?
Well, that's one of the big unknowns in our geologic understanding of Mars. We don't have good dates for surfaces in rocks that we see on the planet. We really need to have samples returned to Earth from known localities before we can assign ages to it. But as best we can determine, it looks as if there could be hundreds of millions of years difference in age between the formation of the crater and the eruption of any possible lava on the floor (of Gusev crater).
Spirit Confirmed Olivine
IN THE FIRST ANALYSIS THAT SPIRIT DID OF SOME OF THE SOIL AND ROCKS AROUND IT, THERE WERE TWO TYPES OF IRON- BUT WAS FINDING OLIVINE A SURPRISE?
Well, olivine is an iron and magnesium rich mineral that is found in certain kinds of basalt flows, so the finding of olivine is consistent with Adirondack being a basaltic volcanic rock.
BUT THE THING ABOUT OLIVINE IS THAT IT'S NOT SUPPOSED TO BE WHERE THERE HAS BEEN A LOT OF EROSION?
Well, it's more in terms of weathering and chemical alteration of olivine. Olivine as a mineral is not very stable in the presence of a lot of water and oxygen. It will alter to other products in various soils. The fact that this olivine appears to be relatively fresh would say that it was not necessarily exposed to water, at least not since it was placed within the floor of Gusev crater.
The thing we have to remember is that the floor of Gusev crater is probably built up of multiple layers of different kinds of rocks. Some of those rocks might have been placed by the river. Other rocks might have been placed by wind blowing sand and dust into the crater where they are now trapped. And there are other processes involved as well. Then the whole mix has been churned by younger impact craters that have slapped down onto the floor of Gusev crater and broken the rocks up.
It could be that whatever the source for that basalt and olivine is, could well have come along after the water-related sediments and been deposited on top of those sediments.
That's why we are anxious to go to one of the bigger impact craters (Bonneville) that is about 250 yards away from where Spirit is now and the thought is that that crater might have penetrated down through the overlying rocks and brought up some of the older rocks from depth. We hope to get to the rim of that crater and look at those rocks and see if they are different than Adirondack.
Over the next couple of days, we are going to start making tracks for the crater. The next stop is to look at the other kinds of rocks that are visible close by. That's one of the so-called 'white rocks' and the plan is to put the instrument on that rock and find out what it is made of.
EVERYTHING SO FAR THAT HAS BEEN DISCOVERED BY SPIRIT IN THE GUSEV CRATER HAS BEEN RELATED TO VOLCANIC DEPOSITS?
I think most of the rocks we have seen laying on the surface have been broken up and put into place by impact processes and again the question is: Were those rocks worked and re-worked several times by a variety of processes? Trying to untangle what those different processes have been is what the mission is all about. We still have a ways to go before we can come up with clear answers to that question.
BUT OLIVINE AND THE IRON AND THE BASALT WOULD ALL BE CONSISTENT WITH VOLCANIC ORIGINS?
Oh, they are very much of volcanic origin. The question is: Were the volcanoes there within Gusev crater? Or were they outside Gusev crater and then were those rocks simply carried into the crater?
Surprising Geological Complexities
I think the area is much more complicated than we had fully appreciated from the orbital data and it's going to take weeks, if not months, before we can untangle it all. The varieties of processes that appear to have operated on the rocks that are sitting near Spirit. There could well have been half a dozen or more. That's the challenge to the science team to come up with answers to these fundamental questions."
Continued in Part 2.
---
Websites:
http://marsrovers.jpl.nasa.gov/home/index.html
http://www.esa.int/export/esaCP/index.html

© 1998 - 2019 by Linda Moulton Howe.
All Rights Reserved.