"Such a high percentage of sulfur is unusual and this is what leads some folks to consider the volcanic origin (at the Martian bedrock). There are some minerals that have been identified in the infrared that would suggest the presence of water since they form in water. In particular, if this is a volcanic terrain that we are looking at, the presence of these minerals might suggest this was a hydrothermal area and sulfur is a component of such environments."
– February 11, 2004, Ronald Greeley, Ph.D., Arizona State University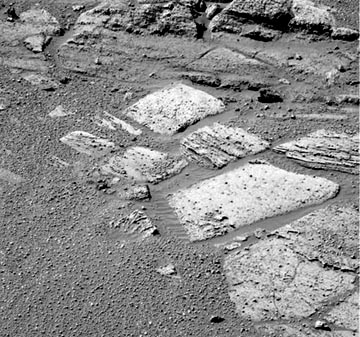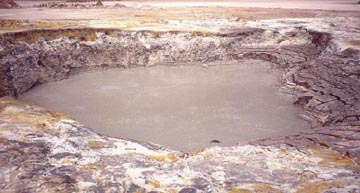 Sulfur and Spherules In Martian BedrockUpdate – February 13, 2004 – Prof. Ronald Greeley, Arizona State University confirmed today that the sulfur content in the bedrock at the Opportunity site in the Meridiani Planum on Mars is 20%, which is high. Source could be geothermal, volcanic, water precipitate, other?
---
Interview:
Ronald Greeley, Ph.D., Regents Prof. of Geology, Arizona State University Dept. of Geological Sciences, and one of the 7 Chairs of the Science Operations Working Group (SOWG) for Spirit and Opportunity, Tempe, Arizona:
THE BIGGEST SURPRISE RIGHT NOW HAS BEEN THE HIGH AMOUNT OF SULFUR IN THE BEDROCK?That was a surprise, yes. The measurements that have been made there suggest there is a very high percentage of sulfur present in the material and that there are these spherules that have been seen and reported earlier, those are still very curious features.Such a high percentage of sulfur (in the bedrock) is unusual and this is what leads some folks to consider the volcanic origin (at the Martian bedrock), or at least volcanic processes to be involved. There are some minerals that have been identified in the infrared that would suggest the presence of water since they form in water. In particular, if this is a volcanic terrain that we are looking at, the presence of these minerals might suggest this was a hydrothermal area and sulfur is a component of such environments.
SO THE BEDROCK MIGHT BE, IF WE WERE COMPARING IT TO THE EARTH, MIGHT HAVE HAD AN ORIGIN SIMILAR TO SAY YELLOWSTONE NATIONAL PARK?
Yes, to some parts of Yellowstone, that's right.
WHAT IS THE PERCENTAGE OF SULFUR CONTENT IN THAT WHITE STONE AND WHAT ELSE IS THERE?
UPDATE: 20%. The percentages ­ I don't believe those data have been released yet, but it's pretty high in comparison to rocks we are familiar with.
AND THE AMOUNT OF SULFUR ­ IS SULFUR ON THE EARTH LINKED ONLY TO VOLCANIC ACTIVITY?
No, it can occur in sedimentary deposits as well, not just around volcanoes. But high concentrations are typically found around volcanoes. It sort of depends on the form that the sulfur occurs in ­ we don't know that yet, but there is a chemical precipitate. If you've heard of gypsum on Earth ­ gypsum has a lot of sulfur in it and it forms independently of volcanoes.
WOULD HIGH SULFUR CONTENT IN ROCK EXPLAIN WHY THESE SEEM TO BE RECTANGULAR AND SQUARE OR SLAB LIKE, THE WAY THEY ARE BROKEN UP IS ALMOST STRUCTURAL?
I think that is probably independent. Sulfur would not control the fracturing of rocks to that extent.
HAVE YOU ALL TALKED ABOUT THE SEEMING REGULARLY BROKEN UP SQUARES AND RECTANGLES OF THE BEDROCK?
Yes, there has been a fair amount of talk about the patterns and again a lot of ideas being suggested. Some people think they might look like mud cracks. Others say those are simply fractured rocks from the impact (in crater) itself.
Mystery of the Small Spheres Embedded in the Bedrock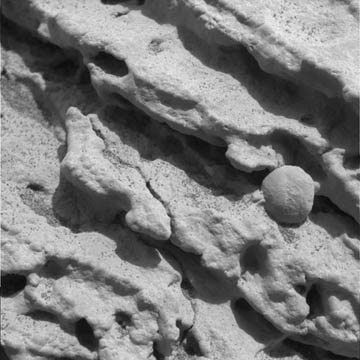 ANY HYPOTHESIS ABOUT WHAT THE SPHERULES COULD BE?
The general consensus seems to be centering around two possibilities:
First, that they are what are called 'accretionary lapillae' ­ that is a volcanic feature that forms in certain kinds of eruptions in which material is added to a small nucleus like a little dust grain and these form these spherule masses.
Secondly, they could be some kind of precipitate ­ perhaps from water. In additional findings, there are some minerals that have been identified in the infrared that would suggest the presence of water since they form in water. In particular, if this is a volcanic terrain that we are looking at, the presence of these minerals might suggest this was a hydrothermal area.
IS THERE ANYTHING FROM ANY OF THE SPECTROMETERS OR ALPHA X-RAY THAT INDICATE WHAT THE SPHERULES ARE MADE OUT OF?
We can't measure the spherules individually ­ they are too small. We have to get the chemical and mineralogical signatures for the whole mass and then try to deduce what would be the composition of the spherules.
SO TODAY AS WE SPEAK ON FEBRUARY 11, IS IT STILL UNKNOWN WHAT THE SPHERULES ARE MADE OUT OF?
Yes ­ that's a work in progress.
NOW THE SPHERULES ­ THEY ARE ABOUT HOW BIG IN THE BEDROCK?
About 1 to 2 millimeters across.
ARE THEY ALL OVER THE SLABS OF ROCK?
They seem to be pretty pervasive, yes. As a matter of fact, the wheels on the rover were sort of slipping as the rover was driving across that surface. It was sort of like trying to travel over ball bearings, there were so many of them that it made the traction a little difficult.
Loose Soil and Spherules Cause Opportunity to Slip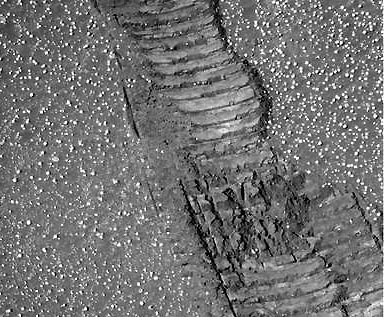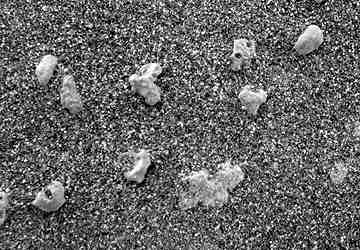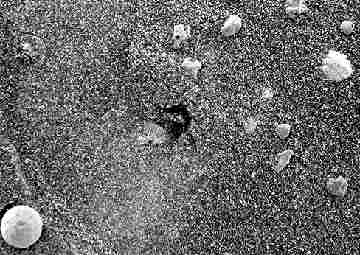 HAS ANYBODY EVER SEEN ANYTHING QUITE LIKE THIS ANYWHERE ON THE EARTH OR THE MOON?
There are two kinds of grains: those that are seen in the wide angle views are much larger and have a different form. But those seen in the microscope imager images are very spherical. Some look as though they are layered like an onion. Others seem to have small pits in them. As you can imagine, these are all features that are being debated right now by the team. We have seen similar things ­ for example, in the soils from the Apollo program on the moon. Similar rounded beads were found within the soils. In those cases, there were two types.
Martian Spherules Similar to Apollo 17 Lunar "Beads"
First, there were little droplets of impact melt. That is, when an impact forms, some of the target is melted and it forms little droplets that fall back to the surface. An analogy that we use with our students is the old-fashioned shot towers. These are structures that worked and were constructed during the Revolutionary War to make shot for rifles. Shot tower lead was dropped from the top of a tower and as it fell 100 feet or so to the ground, the molten lead formed these spherical masses that then dropped into water. That's how the little mini-balls and other objects like that for ammunition were formed. Well, it's the same idea in a natural process, whether it's a volcanic eruption or impact melt (from asteroids) that is melting the material (which flies up in the air) and drops to the ground.
Second, the second kind of bead that was found in the Apollo program was at the Taurus Littrow site in the 1972 Apollo 17 mission and there they were little orange beads. Those were in fact formed by volcanic processes. Again it was molten fragments that fell to the ground in the form of these bb-shaped droplets. Astronaut Jack Schmidt, a geologist astronaut, the only scientist astronaut to go to the moon, discovered these orange, glass beads.
DID HE BRING BACK SOME THAT WERE ANALYZED ON EARTH?
Yes, he did.
WHERE ARE THEY TODAY?
In Houston at the lunar sample labs, although some of them are still in other labs being studied by scientists.
ANYTHING ON EARTH LIKE THEM?
They could be precipitates. They could be precipitated from water. Think of it as a little grain of dust within the water and chemical precipitates like salt and other things would form around that dust grain and then those would settle down to the surface. So, those can also form spherules.
ARE THE SPHERULES OUT ON THE SOIL WHERE THE OPPORTUNITY ROVER HAS TRAVELED? OR ARE THEY CONFINED TO WHERE THE SLABS OF BEDROCK ARE?
They are in both places. We first saw them in the soil as soon as the Opportunity rover came off the lander and took that first MI (microscope) image. That showed some of those little spherules on the surface there. And then as we traveled to the outcrop, we could see them still in soil and then when we got to the outcrop, those pictures you might have seen released show the little "ball bearings" in place within the outcrop itself. So they apparently, or at least some of them, are weathering out of the outcrop and contributing to the soil.
SO THEY ARE BASICALLY ALL OVER EVERY PLACE THAT OPPORTUNITY HAS BEEN?
That's correct.
Was Bedrock Once A Geothermal Hot Springs?
AND ALL THIS IS ADDING UP TO A QUESTION ABOUT WHETHER THE PLACE WHERE OPPORTUNITY CAME DOWN ORIGINALLY MIGHT HAVE BEEN HOT MAGMA COMING UP TO THE SURFACE IN SOME KIND OF VOLCANIC ACTIVITY? OR AT LEAST HOT SPRINGS?
Yes. The evidence is sort of pointing towards the presence of a hot environment ­ hot for some reason and that's under debate right now. Volcanic activity, magma close to the surface, is one possibility.
WHEN WAS MARS ACTIVELY VOLCANIC, GIVEN THE FACT THAT IT HAS THE LARGEST VOLCANO IN THE SOLAR SYSTEM (Olympus Mons)?
Mars has been volcanically active during much of the history that we can see and that goes right back to the early stages of crustal formation on Mars. So, we in fact have mapped the global volcanic deposits and find that at least half the surface of the planet involves volcanism of one form or another. So, volcanism was pretty common in Mars history. There is even the possibility that there could be some active volcanism today. We don't know that, but we see lava flows that are very young. We see no impact craters superimposed on them. So they are relatively geologically young.
Evidence of Standing Water On Mars?
IN TERMS OF THE OVERALL QUESTION OF HAVING OPPORTUNITY COME DOWN ON THAT MERIDIANI PLANUM WITH THE IDEA THAT THE AREA MIGHT HAVE ONCE BEEN UNDERWATER LIKE A LAKE, CAN YOU EXPLAIN WHAT THE SIGNIFICANCE OF THE SULFUR, OF THE SPHERULES, ALL MIGHT BE TO THE QUESTION OF WHETHER WATER WAS ONCE THERE?
The evidence we have so far is very suggestive that water was present. The question that is unanswered at this time is whether the water was a standing lake or a small sea, or if it was diffused throughout the rocks in the subsurface. We don't have the answer to that yet. But the observation of things like the cross bed in determining what the origin of the spherules might be ­ those will all help answer that question of whether there was open water on the surface or not. It's a fundamental question we are trying to glean the answer for.
WOULD YOU SAY RIGHT NOW THAT ON A SCALE OF 1 TO 10 ­ IF 10 IS DEFINITELY YES-WATER, WHERE WOULD YOU BE YOURSELF ON THE OPINION THAT WATER IS THERE?
Do you mean water diffused through the rocks or standing body as water?
STANDING BODY.
I don't think we have enough information to form a good opinion about that. I don't anyway.
IS IT FAIR TO SAY AT THIS POINT AS WE ARE SPEAKING ON FEBRUARY 11, THAT THERE STILL IS NOT THE SMOKING GUN YET THAT WATER LIKE A LAKE WAS ANYWHERE THE ROVERS HAVE BEEN SO FAR?
That is correct. There is not definitive evidence for that at either the Opportunity or Spirit sites.
AND THAT'S WHAT YOU'RE ALL LOOKING FOR?
Right."
---
More Information:
More Facts About Opportunity Landing Site
NASA now knows the location of Opportunity's landing site crater, which is 22 meters (72 feet) in diameter. Radio signals gave a preliminary location less than an hour after landing, and additional information from communications with NASA's Mars Odyssey orbiter soon narrowed the estimate, said JPL's Tim McElrath, deputy chief of the navigation team.
As Opportunity neared the ground, winds changed its course from eastbound to northbound, according to analysis of data recorded during the landing. "It's as if the crater were attracting us somehow," said JPL's Dr. Andrew Johnson, engineer for a system that estimated the spacecraft's horizontal motion during the landing. The spacecraft bounced 26 times and rolled about 200 meters (about 220 yards) before coming to rest inside the crater, whose outcrop represents a bonanza for geologists on the mission.
Opportunity Rover Photographs Its Parachute and Backshell Outside Crater
JPL geologist Dr. Tim Parker was able to correlate a few features on the horizon above the crater rim with features identified by Mars orbiters, and JPL imaging scientist Dr. Justin Maki identified the spacecraft's jettisoned backshell and parachute in another Opportunity image showing the outlying plains.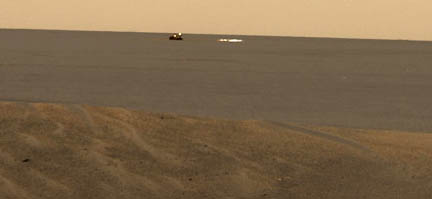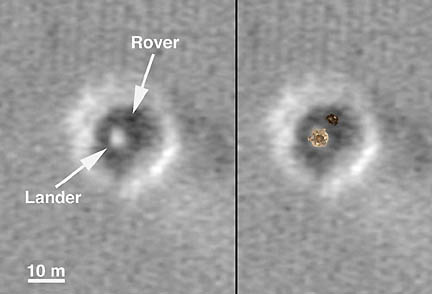 As a clincher, a new image from Mars Global Surveyor's camera shows the Opportunity lander as a bright feature in the crater. A dark feature near the lander may be the rover. "I won't know if it's really the rover until I take another picture after the rover moves," said Dr. Michael Malin of Malin Space Science Systems, San Diego. He is a member of the rovers' science team and principal investigator for the camera on Mars Global Surveyor.
Unexplained Object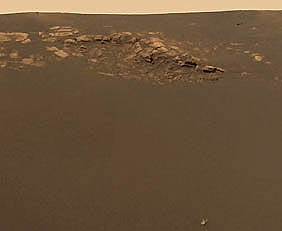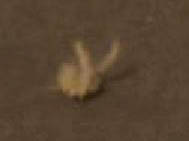 THERE IS A PHOTOGRAPH ­ I SAW IT MYSELF IN ONE OF THE PANORAMIC SHOTS ­ FROM OPPORTUNITY OF THE BEDROCK IN THE BACK. THEN DOWN BELOW, THERE WAS A VERY ODD 2-PRONGED OBJECT THAT A LOT OF PEOPLE HAVE BLOWN UP AND HAVE BEEN DISCUSSING ON THE INTERNET. HAVE YOU SEEN IT AND WHAT COMMENT DO YOU HAVE?
Yes, it's interesting. But there are so many things on planetary surfaces that we photograph and it's important to remember that effects of illumination and viewing geometry have a big influence on what we see. It's sort of like looking at mythical figures in clouds. You have to look at it from different angles and under different lighting before you can really say. So, this might be nothing more than an artifact of shadows and the shape of the object.
BUT IT CERTAINLY LOOKS 2-DIMENSIONAL AND IT HAS A SORT OF ORGANIC QUALITY TO IT. SERIOUSLY, COULD THERE BE SOMETHING LIKE A PLANT GROWING THERE?
If it were, that would be really something, I'd have to say! But I don't think too many would hold with that notion, at least not until we get better views of it and from different angles.
THEN IT'S THAT ISSUE AGAIN: YOU WOULD THINK THAT SOMEBODY WOULD WANT TO TAKE THE ROVER AND GO RIGHT OVER TO THIS OBJECT AND FIND OUT WHAT IT WAS?
If it turned out that it was something we couldn't explain with lighting or as a rock shape ­ certainly that would be an interesting thing to do ­ you bet.
COULD THERE POSSIBLY BE A GROWING ALGAE AROUND ON THE SURFACE OF MARS?
As a scientist, we never say never. All I can say, we have no real evidence of such with the data we have in hand right now."
Websites:
http://marsrovers.jpl.nasa.gov/home/index.html
http://www.esa.int/export/esaCP/index.html

© 1998 - 2019 by Linda Moulton Howe.
All Rights Reserved.