Methane (CH4) is a colorless, odorless gas that is the main ingredient of natural gas used for fuel. Methane on Earth is produced by animals, bacteria and decaying organic matter which give off so much that methane is the primary greenhouse gas in our planet's atmosphere.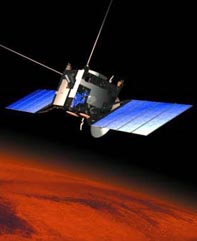 March 31, 2004  Darmstadt, Germany – The amount of methane in the Martian atmosphere is estimated to be 10.5 parts per billion, which amounts to 33,000 tons of methane. Methane would be expected to survive as a gas in the Martian atmosphere for about 300 to 350 years before broken down into water and carbon dioxide by the UV radiation from the sun. On Earth, methane is a by-product of biological activity and so this discovery implies the methane source might also be biological on Mars. If there is currently 33,000 tons of methane in the Martian atmosphere, that means 100 tons per year were produced over the 300 to 350 years. That is 300 kilograms per day and implies there is one or more sources able to produce these amounts of methane for a long period of time.
The methane data is being analyzed by Physicist Vittorio Formisano, Ph.D., Principal Investigator of the Planetary Fourier Spectrometer (PFS) which is mounted on ESA's Mars Express Orbiter to detect methane. Dr. Formisano is based at the Institute of Physics and Interplanetary Science in Rome, Italy. But given the exciting discovery of methane in the Martian atmosphere, Dr. Formisano is now in Darmstadt, Germany, gathering more data from the Planetary Fourier Spectrometer in hopes that he will be able to find one or more sources of the methane by the end of April. I talked with him today in Darmstadt about possible methane sources, including biological life and volcanoes.
ESA released today one of its satellite images of the Claritas Fossae, an ancient tectonic region on Mars west of Solis Planum southeast of the large Tharsis volcano group.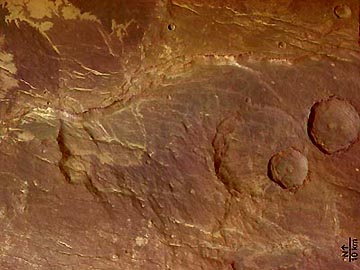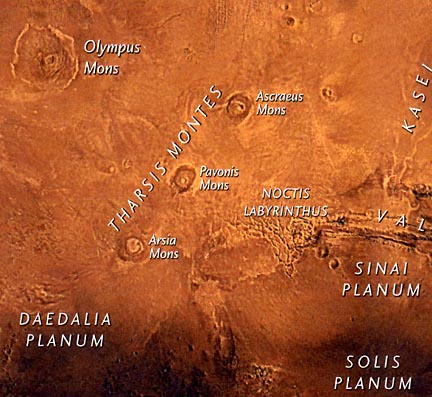 ---
Interview:
Vittorio Formisano, Ph.D. (Physicist), Principal Investigator, ESA's Planetary Fourier Spectrometer (PFS), Institute of Physics and Interplanetary Science, Rome, Italy: "The spectrometer is a very complicated machine which has double measures of the thermal radiation coming from Mars and the solar radiation reflected by Mars. In doing so, we measure all the components of the Martian atmosphere and soil. This is done with very refined spectral resolution which is unprecedented and never done before. This allows us to detect very small features in the atmosphere such as the methane gas.
METHANE HAS ALWAYS BEEN LINKED ON THE EARTH TO FERMENTATION PROCESSES IN LIFE. COULD YOU TALK ABOUT WHAT THIS DISCOVERY OF METHANE ON MARS MIGHT MEAN?
On Mars, there certainly are no cows or fermentation in the normal sense that we intend on Earth. But methane on Mars could have two, or maybe even three possible origins.
1) One is in-falling comets, small comets or meteorites bringing some organic or some methane itself directly into the atmosphere. But this is unlikely.
There are two other possible sources that are more likely:
2) One is underground methane ­ in other words, methane that was brought to the planet when the planet was formed which slowly comes out through either directly volcanic activity or through some other volcanic activity such as hydrothermal activity. These would eventually last for quite a long time. On Earth, you have this phenomenon going on in many, many places. So, some sort of volcanic activity could generate methane, could put methane in the Martian atmosphere.
3) Another possibility is obviously is some biological activity that is bacteria which can use hydrogen and CO2 from the atmosphere to produce methane.
How to Differentiate Between Biological or Volcanic Source
of Methane Gas in Martian Atmosphere?
I don't have evidence that favors one or the other hypothesis at the moment. But I can do research and that is what I am doing to exclude and favor one of the two. For example, if the answer is volcanic activity, there should be other gases like SO2 or maybe water vapor increasing.
If it is from biological origin, I should study more what these bacteria could do if they produce other gases also ­ maybe ammonia or something like that. Then I will search for these other minor gases. I am studying to see if there is some homogeneous distribution over the planet or if it is not homogeneous. So, some time in the future, I should be able first to locate some source and possibly say something about the source itself.
THE DISTRIBUTION, AS I UNDERSTAND IT, IS ABOUT 10 or 10.5 PARTS PER BILLION. DOES THAT GIVE YOU ANY INSIGHT BEYOND IT BEING SMALL IN THE MARTIAN ATMOSPHERE? OR IS THAT MORE THAN YOU EXPECTED?
10.5 parts per billion of methane amounts to 33,000 tons of methane in the atmosphere. So, that should be the result of integration over say 300 to 350 years, which means 100 tons per year produced, which means 300 kilograms per day. So, one has to find a source which is able to produce these amounts of methane.
Now, a priori, the methane should be distributed equally everywhere. But the fact is, I am studying the distribution of methane which is not uniform. I will be able to confirm these things in the future.
IF IT IS NOT DISTRIBUTED EQUALLY THROUGH THE ATMOSPHERE, THAT MIGHT HELP YOU FIND A SOURCE OR SOURCES?
Oh, yes. The location or region where the source is located. Then if it is spot-pointing, it should be easy. But I doubt it will be spot-pointing. For me, it is difficult to identify at least on the basis of the data that I have already if it is spot-pointing. I imagine that in the future, I should be able to locate and vector the source and with an instrument aboard the Mars Express, we should be able to clarify what sort of origin behind the methane.
NASA Goddard Also Studying Methane in Martian Atmosphere
DR. MICHAEL MUMMA AT NASA GODDARD SPACE FLIGHT CENTER IN MARYLAND WAS INTERVIEWED IN THE MARCH 27TH INDEPENDENT NEWSPAPER IN ENGLAND AND HE IS QUOTED AS SAYING ABOUT WHETHER THE CONTINUAL PRODUCTION OF METHANE IS STRONG EVIDENCE OF A BIOLOGICAL ORIGIN OF THE GAS, 'I THINK IT IS, MYSELF PERSONALLY.'
I WONDERED WHAT YOUR REACTION WOULD BE TO DR. MUMMA'S COMMENT?
I guess he has his own reasons to say that. Personally I prefer in this moment not to commit myself in any direction because to state there is life on another planet is a big statement. Obviously that has enormous interest. Before stating that, I want to be extremely sure myself. So, for the moment, I am not stating that. I have no reason in this moment to favor one origin or another.
DR. MUMMA WENT ON TO SAY, 'IT IS DIFFICULT TO IMAGINE THAT PRIMORDIAL METHANE FROM GEOLOGICAL ACTIVITY WOULD CONTINUE OUT-GASSING OVER 4 BILLION YEARS (AGE OF MARS.)'
THE POINT WAS MADE THAT METHANE IS DESTROYED BY THE UV RADIATION FROM THE SUN ON MARS BECAUSE METHANE HAS A RELATIVELY SHORT-LIVED PHOTOCHEMICAL LIFE AND THE LENGTH OF TIME FOR ITS PERSISTENCE IN THE ATMOSPHERE WOULD BE ONLY ABOUT 300 YEARS. SO, IF IT HAD BEEN PRESENT FROM THE BEGINNING OF MARS, IT SHOULD BE GONE. I BELIEVE THAT IS WHAT IS SUPPORTING THE COMMENT BY DR. MUMMA.
I completely agree with that, but again I am not ready to make other statements.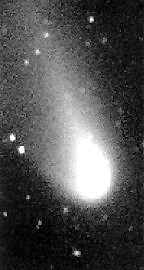 Methane from Comets and Meteorites – Not Likely?
IF THERE WAS THIS LARGE AMOUNT OF METHANE IN THE ATMOSPHERE OF MARS OVER A PERIOD OF TIME, IT WOULD HAVE TO SOME HOW BE GENERATED CONSISTENTLY, WHICH WOULD CONTRADICT THE HYPOTHESIS OF COMETS OR METEORITES?
Yes, I agree. There must be a (sustaining) source, that is for sure, and unless it is a sporadic appearance of methane, which I don't believe, there must be a source lasting in time for a very long time. So, it's a very interesting problem and very challenging and I hope we will be able to give an answer to this problem.
IF IT IS BIOLOGICAL LIFE, HOW WILL YOU AND THE EUROPEAN SPACE AGENCY MAKE THAT ANNOUNCEMENT?
The ESA has already announced that methane has been discovered and there will be another press release at the European Geophysical Union Conference in Nice, France, on April 26 (through the week). I hope to be able to say something, yes.
ESA Ground-Penetrating Radar Will Search Mars
for Underground Water and Ice
DO YOU THINK THAT THE GROUND-PENETRATING RADAR THAT ESA PLANS TO TURN ON SOME TIME THIS MONTH TO LOOK FOR UNDERGROUND WATER OR ICE SOURCES, WOULD THAT HELP IN THIS ISSUE OF WHETHER THE METHANE SOURCE COULD BE BIOLOGICAL OR NOT?
I don't know, maybe yes. But I think the answer will come before the radar is activated because the radar will be deployed on April 20, but will not be active until early May. Then it will take two or three weeks ­ it is not just one moment, one day. It will take a few weeks to operate properly.
What Was the Green in Gusev Crater Image
by Mars Express Orbiter Back in January 2004?  See 01/31/04 Earthfiles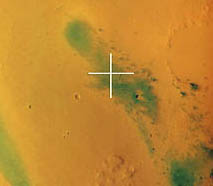 THE EUROPEAN SPACE AGENCY RELEASED IN JANUARY A PHOTOGRAPH FROM THE MARS EXPRESS ORBITER LOOKING STRAIGHT DOWN INTO THE GUSEV CRATER WHERE SPIRIT LANDED. THERE WAS A LOT OF GREEN COLOR. AT THE TIME, THERE WAS SPECULATION ABOUT THE POSSIBILITY OF EVEN ALGAE OR LICHEN GROWING ON MARS.
I KNOW THAT NASA THEN CONTRADICTED AND SAID THE GREEN WAS A PRODUCT OF SPECIFYING CERTAIN MINERALS IN THE PHOTOGRAPH.
That is exactly what ESA and the European scientists have been saying. This is a mineral which is formed in the presence of liquid water.
IS THERE NOW A GREATER POSSIBILITY THAT SOMETHING LIKE AN ALGAE OR LICHEN COULD BE GROWING ON MARS AND BE RESPONSIBLE FOR THE METHANE?
Not on the surface because the atmospheric pressure is not enough to allow these cells to be present and alive.
THE ATMOSPHERIC PRESSURE IS TOO THIN?
Yes.
SO, FROM OUR UNDERSTANDING OF BOTANY AND BIOLOGICAL LIFE, A CERTAIN PRESSURE AS WE KNOW ON THE EARTH IS NECESSARY FOR SOMETHING LIKE A LICHEN OR ALGAE TO GROW?
You need certainly the possibility of liquid water to exist and in the Martian atmosphere, the pressure is 6 to 7 millibars and liquid water cannot exist there. So, underground, there might be bacteria, but not on the surface.
SO IS THIS WHY YOU ARE HYPOTHESIZING IF IT IS A BIOLOGICAL SOURCE OF METHANE, IT WOULD BE UNDERGROUND AND NOT ON THE SURFACE?
Yes.
HOW COULD YOU FINALLY CONFIRM IF THE SOURCE IS UNDERGROUND?
Once I have located the region where I see in the atmosphere the maximum quantity of methane, then one should study the surface with a high resolution camera to see what kind of terrain it is and possibly in the future send there a rover to study not only the surface, but underground.
RIGHT NOW WE DON'T KNOW IF THE MERIDIANI PLANUM WHERE OPPORTUNITY IS COULD BE ONE OF THOSE HIGH METHANE SOURCE AREAS?
For the moment, I don't know where the peak of methane in the atmosphere. I know that it is varying. There is a variation. I see that, but I am studying where there could be a peak."
---
Websites:
http://www.esa.int/export/SPECIALS/Mars_Express/
http://marsrovers.jpl.nasa.gov/home/index.html

© 1998 - 2019 by Linda Moulton Howe.
All Rights Reserved.