"A symbiosis of methanogenic bacteria with methanothrophic bacteria in the Martian underground can be an alternative interpretation (to geothermal) and looks more likely."
– Vittorio Formisano, Ph.D.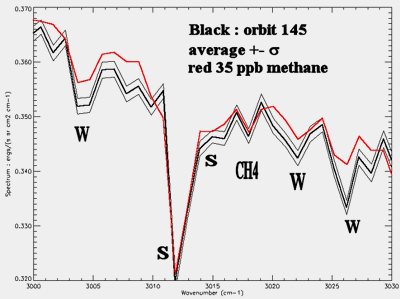 September 20, 2004  Ischia Island, Italy – Today at the International Mars Conference held September 19-23, by the Italian Space Agency, physicist Vittorio Formisano, Ph.D., presented results from his analysis of the Martian atmosphere in a paper entitled, "Observation of Methane, Formaldehyde and HS (hydrogen sulfide): Extant Life On Mars?" Dr. Formisano designed the Planetary Fourier Spectrometer (PFS) for placement on the European Space Agency's Mars Express Orbiter. Back on May 6, 2004, when I interviewed him for Earthfiles and radio, he said his PFS data indicated molecules of formaldehyde in the Martian atmosphere and told me, "Formaldehyde is destroyed in the Martian atmosphere within 7.5 hours. There is no way that formaldehyde can exist and remain for a long time in the Martian atmosphere. If (formaldehyde) confirmed, possibly life on Mars today, yes."
This was Dr. Formisano's first formal presentation about his Mars Express PFS analysis, after he failed to make an expected presentation at the July 22, 2004, Committee On Space Research (COSPAR) meeting in Paris (See: 07-22-04 Earthfiles). Speculation was in July that his formaldehyde data, combined with methane and water vapor together in significant amounts, might suggest some underground process that continues to release formaldehyde and methane on Mars.
Now, even his Ischia Island conference paper acknowledges observations of formaldehyde in its title. But he is preparing to publish his data in a scientific journal and does not want to jeopardize that publication, so he would only talk generally today about formaldehyde. "We have identified the correlation between the previous NASA-identified permafrost and the atmospheric water vapor which indicates presence of a process – mainly sublimation of ice into water vapor – which also brings methane with it. This is the main message of today."

---
Interview:
Vittorio Formisano, Ph.D., Principal Investigator of Planetary Fourier Spectrometer (PFS), Institute of Physics and Interplanetary Science, Rome, Italy: "We produced a map of the water vapor. This map of the water vapor shows a very good correlation with the results of NASA Odyssey's experiments which identified three broad regions in the underground on Mars. These broad underground regions were rich with water ice: Arabia Terra; Ilysium Planum and Arcadia-Memnonia.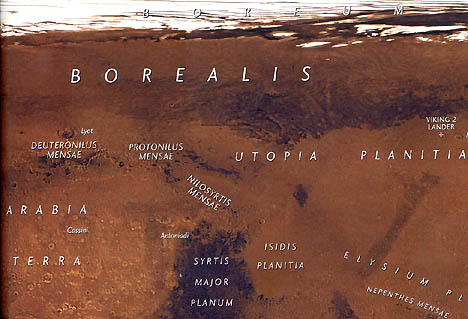 Sure enough, we see an enrichment of water vapor in the atmosphere over these same three regions. Therefore, this indicates a process of sublimation from underground to the atmosphere. We also have produced a rough map of methane in the Martian atmosphere and sure enough, the methane map corresponds rather well to the map of water vapor. The conclusion is, that methane and water are both coming from underground.
There was a model published a decade ago by a NASA scientist concerning a quasi-stable ice region in the equatorial region on Mars which now should be only 30 to 40 centimeters underground. And concentrations of water ice were observed by NASA Odyssey up to 16% in mass of water. But to get that, you need a sort of permanent geothermal flow of vents from the interior of Mars toward the surface. This vented water and other gases probably would freeze when reaching close to the surface, producing the ice tables which are near the Martian surface and would be unstable and sublimate into the atmosphere. So, we have described a picture which goes from the interior of Mars at a few hundred meters up to the atmosphere.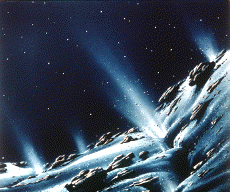 Methane, Water Vapor and Formaldehyde
– Together, Do They Mean Life On Mars?
Non-Life Production of Gases
Absolutely without life, saying that geothermal vents produce methane and water and this might freeze into the ice table which eventually sublimates into the atmosphere and explains the water vapor enrichment and the methane map I have seen.
Life Production of Gases
On the other hand, you might have a completely different scenario. Below the ice table, according to other papers published – there might be an aquifer, some sort of liquid water essentially where you could have life and bacteria producing methane and other gases which are eventually observed in the atmosphere.
So we have two different scenario alternatives and obviously, in the future, we need to make some measurements to analyze the chemical composition of the ice that is only 30 to 40 centimeters underground. This in time, the radar by Italy on the NASA mission for 2005 will be able to study the presence of liquid water 200 to 300 meters underground. At the same time, I hope, with PSF to identify some other molecule which could tell us which of the two possible scenarios is more realistic. (Editor's Note: Chiral amino acids would be definitive for life. See: Part 2 of this report.)
Does Formaldehyde in the Martian Atmosphere
Strengthen the Possibility of Organic Life Processes At Work?
WHEN I LAST TALKED TO YOU, YOU THOUGHT YOU HAD DATA INDICATING THE PRESENCE OF FORMALDEHYDE AND YOU TALK ABOUT IT IN YOUR ISCHIA PAPER.
Yes.
DOES FORMALDEHYDE IN THE MARTIAN ATMOSPHERE STRENGTHEN THE POSSIBILITY OF ORGANIC LIFE PROCESSES AT WORK?
Not necessarily. The ice table (30-40 centimeters beneath the Martian surface) has been there for thousands and thousands of years. Therefore, it is bombarded by cosmic rays and in this case would resemble very much what happens in a comet. Now, in a comet, formaldehyde is observed to be very abundant. The comet is simply a mixture of water ice, CO2 ice, methane ice ­ all mixed together and bombarded by cosmic rays and produces formaldehyde, methanol and many other organic molecules.
But on the other hand, it is also well known that comets are a sort of origin of life in a way because they bring water and complex organic molecules to planetary surfaces.
Certainly the presence of ice only 30 centimeters under the surface that is rich with water ice and methane can certainly be bombarded by cosmic rays because only 30 centimeters of soil will not stop the cosmic rays. Therefore, the similarity with the comet situation is possible and therefore, a number of consequences are possible. As I said before, without speaking of any molecule in particular: we have two possible scenarios: one with life 300 meters under the surface of Mars.
Or, a scenario without life.
Both, at the moment, are possible. And with a number of measurements and studies that should be done which are related to the presence of liquid water in the soil at 400 meters and this can be done with radar data in the future. Others with PSF will study more molecules and identify if it is possible (to find) molecules that can really distinguish between the two scenarios that are mentioned.
ALSO, WHEN WE LAST TALKED, IF THE AMOUNT OF FORMALDEHYDE DATA HELD UP, IT WAS MY UNDERSTANDING THAT FORMALDEHYDE UNDER THE UV ENERGY FROM THE SUN WOULD DISAPPEAR WITHIN THE MARTIAN ATMOSPHERE WITHIN 7 HOURS. THEREFORE, IF THERE WAS SOME CONSTANT SUPPLY OF FORMALDEHYDE IN THE ATMOSPHERE, IT WOULD HAVE TO BE GENERATED. IS THAT STILL A POSSIBILITY THAT FORMALDEHYDE IS BEING CREATED STEADILY ON MARS?
It is still true. You want me to speak about formaldehyde, but I can't talk in details about formaldehyde because of the paper I am waiting to publish in a major scientific journal. But, the two scenarios that I just described to you, both of them can generate all the formaldehyde that is necessary.
Mars Express Ground-Penetrating Radar –
Will It Find Liquid Water Deep Underground on Mars?
WHAT IS THE CURRENT TIME LINE STATUS ON THE EUROPEAN MARS EXPRESS GROUND-PENETRATING RADAR THAT HAS BEEN DELAYED IN ITS DEPLOYMENT SINCE APRIL? WHEN WILL IT START WORKING?
I think JPL which has produced the antenna of the radar is currently producing a study on how dangerous it could be to deploy the antenna. The study should be finished by end of September and then I think it would be in a month or so, the European Space Agency should take a decision if they are convinced that it's safe, the deployment could occur any time between November and March next year. It so happens that the orbit where the radar could work from November on is going to be on the day side and the radar prefers to work on the night side. So, that might be the reason to delay the deployment until March next year. But I don't know what will happen – sometime between September and November a decision will be made.
ONCE IT IS FUNCTIONING, WHAT DO YOU HOPE IT WILL BE ABLE TO PROVIDE TO YOU TO UNDERSTAND THESE UNDERGROUND ICY AREAS?
If the liquid water layer is a few meters ­ say 400 meters underground ­ then the radar should be able to identify that layer and identify liquid water. Obviously, that will help in clarifying the scenario I was describing. Instead of being a hypothesis, we would then work on knowledge of the presence of liquid water underground and that is obviously important.
We have identified the correlation between the Martian permafrost and the atmospheric water vapor which indicates presence of a process mainly, sublimation of ice into water vapor which brings also methane with it. This is the main message of today.
DOES IT MEAN THERE COULD BE WATER FROM 30 CENTIMETERS BELOW THE SURFACE ALL THE WAY DOWN SEVERAL HUNDRED METERS?
Water ice, yes. Liquid water should be 200 to 300 meters underground. But, these 200 to 300 meters could become maybe 50 meters in the equatorial region or 500 to 600 meters when you go to higher latitudes. This is what the radar should be able to tell us.
How Can Earth Scientists Look for Life
Underground On Mars in Watery Regions?
YOU HAVE VERY CLEARLY DESCRIBED TWO POSSIBLE HYPOTHESES THAT WOULD BE RESPONSIBLE FOR THE METHANE AND GASES THAT YOU HAVE BEEN MEASURING. ONE OF THOSE MIGHT RELATE TO LIFE UNDERGROUND WHERE THERE MIGHT BE UNDERGROUND WATER ICE OR WATER. HOW WILL YOU FINALLY BE ABLE TO DETERMINE IF THERE IS AN ORGANIC PROCESS ON MARS RELATED TO LIFE UNDERGROUND ON MARS?
That is a question for which I don't have the answer. There are two possibilities: one is future missions landing on Mars, taking samples of the ice and studying the chemical composition, very accurately. There should be some methane in the ice. There could be other gases, minor gases. The analysis of the ice should be done with very big accuracy. This is one direction that could certainly help solve the problem. This could produce the solution.
The most direct solution would obviously be to drill in the Martian surface down 400 meters, find samples of liquid water with bacteria inside. This is in the far future.
Another possibility for the moment is that I will be able to find some molecule that does not have two possible solution, but only one solution (to source) and we would be able to discriminate between the two scenarios (natural cosmic ray interaction with near-surface permafrost or underground organic life). This is a possibility I cannot rule out now, but I don't have any specific molecule yet."
Continued in Part 2 – NASA Physicist Talks About Looking for Unique Life Signals on Mars
---
Websites:

© 1998 - 2019 by Linda Moulton Howe.
All Rights Reserved.