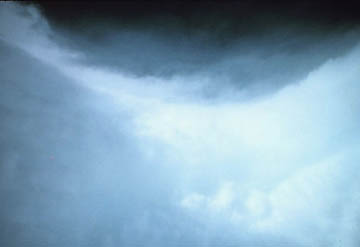 September 14, 2004  Greenbelt, Maryland – In a four-week-period from August 13 to September 16, 2004 – for the first time on record in American weather history – three major Category 3 to 5 hurricanes made landfall in the southeastern United States. Charley intensified to a Category 4 hurricane and made landfall with winds of 145 mph, and gusts that topped 180 mph in Punta Gorda which was devastated along with Port Charlotte on August 13. Charley cut a huge swath of upturned trees, downed power lines, flattened trailer homes, destroyed houses and businesses all across central Florida, including Orlando, and killed at least 27 people.
Then came Frances, charging into Florida's east coast Sunday, September 5, as a Category 3 hurricane with 115 mph sustained winds and dropped more than 20 inches of rain in some areas. Frances did more damage to the Kennedy Space Center than any other storm in history, ripping an estimated 1,000 exterior panels off the building where spacecraft are assembled. Frances killed at least 25 people.
Incredibly, right on top of Frances came Ivan ­ a hurricane so large and powerful that it remained in a Category 4 to 5 for days, churning through Grenada, Jamaica, Cuba and finally making United States landfall around 3 a.m. on September 16, near Gulf Shores, Alabama. By then, it was a Category 3 hurricane with winds of 130 mph. Ivan killed at least 23 people in Florida, Louisiana, Mississippi, Georgia and Alabama and at least another 68 are dead throughout the Caribbean.
The destruction from those three hurricanes alone will be billions of dollars and the hurricane season won't be over until December. Is this unprecedented series of landfall hurricanes a harbinger of future weather patterns due to global warming?
From the Earth's atmosphere and ocean point of view, hurricanes are a way to get rid of heat build up from the condensation of warm water at the equator. They form, as the National Oceanic and Atmospheric Administration (NOAA) says, where there is "a low pressure disturbance, sufficiently warm sea surface temperatures, a rotational force from the spinning of the earth, and the absence of wind shear in the lowest 50,000 feet of the atmosphere." The hurricane season is technically June through November with the peak in mid-September.
At the NASA Goddard Space Flight Center's Global Precipitation Measurement Mission, Research Meteorologist and Deputy Project Scientist, Marshall Shepherd, Ph.D., tries to better understand the physics of hurricanes. I asked him this week if the intensity of the 2004 hurricane season could be related to global warming?
---
Interview:
Marshall Shepherd, Ph.D., Research Meteorologist and Deputy Project Scientist for Global Precipitation Measurement Mission, NASA Goddard Space Flight Center, Greenbelt, Maryland: "It's not a warming in the Atlantic. It's just warmer than usual. It's always warm. I don't want to give an indication that it's an anomalous warming. It's just a natural cycle by which other factors are likely at play related to something called the 'Thermal Halene Circulation' ­ which is the circulation that drives the ocean currents and transports heat and energy from the tropical regions of the planet to the northern regions and back down.
The Atlantic temperatures are slightly higher than normal and that's a process we don't quite understand. We don't quite know the answers right now in terms of what drives the circulation in such a manner that we would get this multi-decadal warming phase. But we think it's a natural occurrence.
Keep in mind that the National Hurricane Center did project 6 to 8 hurricanes this year and 2 to 4 of them becoming major. So, if after Ivan we don't get any more hurricanes, this season would turn out to be statistically consistent in terms of numbers. But if it continues beyond after Ivan? – well, we'll see how it stacks up. Certainly, August was a record month for the number of named storms that we saw. That is an accurate statement.
WHY WAS IT THAT THE NATIONAL HURRICANE CENTER PROJECTED THERE WOULD BE AT LEAST EIGHT HURRICANES THIS SEASON?
There are factors these long-term projections take into account. They look at things like how much rain fell the previous fall or in the previous season in the western African region or continent of Africa. They look at what the projected sea surface temperatures will be. They look at whether there is an El Nino in place or not.
In the early part of this year (2004), the west African rainfall and sea surface temperatures and the lack of an El Nino tended to point toward an active season. Again, the fact that we might have re-entered a naturally more intense cycle in 1995 also indicated that. In the past couple of years, we've had major Cat 4 hurricanes that did not make land fall and so did not make news. But there has been an uptick in hurricane activity. 1995 was one of the most active hurricane seasons on record.
Is There A Natural 20 to 30 Year Oscillation
of Hurricane Season Intensity?
COULD YOU PLEASE CLARIFY WHAT THE CYCLE OF HURRICANES THAT BEGAN INTENSIFYING IN 1995?
What we think we've entered is a natural cycle in which there have been records in the past back to paleo-climatological records when none of us were around ­ there are records in ice core samples and tree rings that suggest we've gone through this kind of cycle where the temperature in the ocean raises a bit to the warmer side; the upper level wind patterns are not as much out of the west, but more out of the east so the shear is not as bad and does not tear hurricanes apart; the rainfall in Africa increases over the previous season. All these factors tend to be associated with this natural shift in temperature and wind patterns that are more conducive for the development of storms that we think we entered again in 1995. They have a multi-decadal signal to them, so once you enter you tend to stay in for a couple of decades and come out into a quieter period and that's where we think we are right now.
HOW LONG IS THE QUIETER PERIOD BETWEEN THESE COUPLE OF DECADE-LONG CYCLES?
The most recent lasted from about 1970 to about 1994 ­ that's two to three decades.
THEN A COUPLE OF DECADES OF MORE INTENSE HURRICANE ACTIVITY AND THEN TWO OR THREE MORE DECADES WHERE IT IS QUIETER.
That's right. It really is a pendulum, a periodic cycle. That's why I caution the discussion about global warming because for those who want to make this a global warming debate, you wouldn't tend to see this periodicity because certainly in 1970 to 1994, some of the issues that people talk about in global warming were in place. But it was a relatively quiet period.
DO YOU THINK THIS PERIODICITY IN THE HURRICANE SEASONS COULD BE RELATED TO SOLAR CYCLES?
Whenever you start talking about periodicity, that question does come on to the table and it's one that over time we'll learn more about. As you know, I work at NASA and NASA has quite an active program doing on right now to understand the Sun and Earth connection. We have launched several new satellite systems over the recent years and will be launching several more to try to understand just what earth processes are impacted by solar processes. The short answer is that we don't have a conclusive answer to that question, but it's certainly worth looking at.

Would Global Warming Cause More Intense Storms?
There is indication that temperatures have edged up, but I can point to information that suggest that we are seeing areas of the globe experiencing their coolest temperatures on record as well.
So, one of the questions out there is: If under a global warming scenario ­ would that in turn lead to an acceleration in some parts of the water cycle? Would we see more evaporation in the oceans? Would we see more severe storms, more intense hurricanes? There have been those who speculated that, but until we have the proper tools to answer those questions, it's speculation.
IF THE TEMPERATURES IN THE ATLANTIC CONTINUE TO BE WARMER THAN NORMAL, THAT WOULD SET IN MOTION THE CONDITIONS FOR HURRICANES EACH SEASON TO BE MORE INTENSE?
Not necessarily. You're assuming that sea surface temperatures are the only factor driving intense hurricanes. They certainly are one of the necessary ingredients, but one of the reasons this particular year is seeing fairly active storms is not only because of the sea surface temperatures being warmer, but we also have an environment where there is not a lot of shear in the upper levels of the atmosphere which tend to tear these storms apart. One of the reasons is that we don't have an El Nino right now. During non-El Nino periods, we tend to see jet stream patterns further to the north and they don't tear the storms apart. So, when El Ninos come around, we tend to see suppressed activity in the Atlantic Ocean because of the shear. That's just one of several factors that have to come together to produce these active hurricane seasons. Right now, all of these factors are in place: the high pressure system out over the Atlantic is in the exact location that it needs to be to steer these storms to land fall.
What's really unique about this particular year is that a lot of these storms are making land fall and that's simply because of the meteorological conditions that are conducive to tracks that make land fall, not necessarily related to global climate change at all."
---
Websites:
http://www.nasatech.com/spinoff/spinoff2001/goddard.html

© 1998 - 2019 by Linda Moulton Howe.
All Rights Reserved.