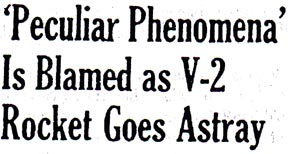 December 4, 2004  Albuquerque, New Mexico – The following is a presentation I made in both the Las Vegas, Nevada, UFO Crash/Retrieval Conference on November 13, 2004, and at the November 28, 2004, Florence, Italy, G.A.U.S. conference (Italian organization to research and report about unidentified aerial phenomena and earth mysteries) concerning the global impact of the UFO phenomenon since at least the 1940s. My subject was: "UFO Crash Retrievals ­ U. S. Government Policy of Denial in the Interest of National Security." My focus was this statement:
"The 'peculiar phenomenon' object was defined as hostile in that it appeared to have affected the V-2 rocket's trajectory. It was by every definition an advanced foreign weapons system. Effort would be expended to guard against further intrusions, and high priority was assigned to collect a specimen of the technology for further analysis, covertly if possible."
– J. Andrew Kissner, former New Mexico State Rep., Las Cruces, Dona Ana County, about 1947 events
Former New Mexico State Representative Jon Andrew Kissner wrote that statement in an unpublished 1994 manuscript after years of his private interviews with employees at White Sands Proving Ground, the Naval Research Laboratory, the first Atomic Energy Commission labs, former military officers, private defense contractors and Office of Naval Research about aerial discs that crashed in the Roswell and White Sands region in 1947. Rep. Kissner also shared his information with former New Mexico Congressman Steve Schiff. In 1993, Congressman Schiff had asked the Government Accounting Office (GAO) to determine if the U.S. Air Force, or any other U.S. government agency, possessed information on the alleged crash and recovery of an extraterrestrial vehicle and its alien occupants near Roswell, New Mexico in July 1947.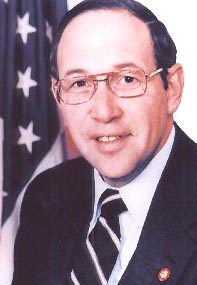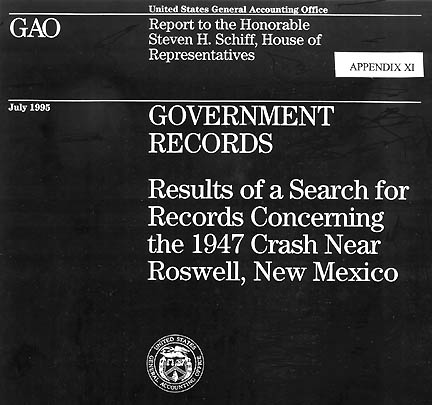 The GAO investigation was completed with the July 25, 1995, release of its report entitled Government Records: Results of A Search for Records Concerning the 1947 Crash Near Roswell, New Mexico. Eight months later, Congressman Schiff died on March 25, 1998 at age 51 after a long battle with skin cancer.
After his death, The Washington Post and Associated Press wrote: "Congressman Schiff gained headlines in 1993, reopening a federal investigation into the so-called Roswell Incident, in which extraterrestrial beings were purported to have crashed northwest of Roswell, New Mexico, in 1947. Rep. Schiff asked the General Accounting Office, Congress's investigative arm, to seek Air Force documents relating to the incident."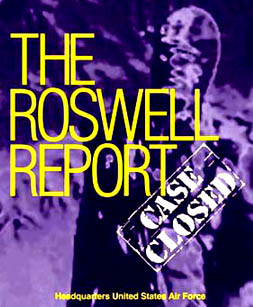 In June 1997, the Office of the Secretary of the Air Force responded to the General Accounting Office (GAO) inquiry with yet another Roswell Report subtitled, "Case Closed." The Air Force argued that a secret high-tech spy balloon (Project Mogul) crashed, not an alien spacecraft. Further, the Air Force said any reported bodies could be explained as wooden dummies or wounded or dead pilots in government research. All that was a new twist on the U. S. government's previous insistence for nearly half a century that the only thing that came down in July 1947 between Corona and Roswell was a weather balloon. Even the main stream media did some research, reported that wooden dummies weren't dropped out of balloons until the 1950s ­ not 1947 ­ and looked at the USAF's changing explanations with a more suspicious eye.
FBI Memo, July 8, 1947
The GAO did receive a July 8, 1947, teletype message from the FBI in Dallas to FBI Headquarters in Cincinnati, Ohio, and stated that "an FBI spokesperson confirmed the authenticity of the message."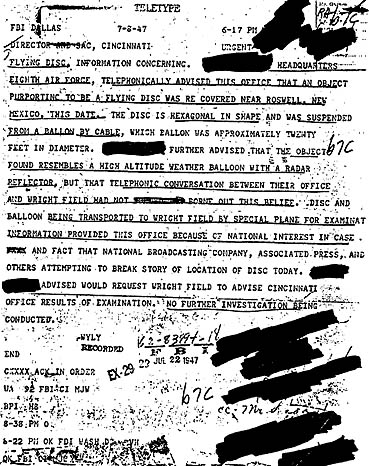 1947 RAAF Outgoing Messages Destroyed Without Authorization
But the Defense Department did not, or would not, provide Cong. Schiff 1947 documents from the Roswell Army Air Field. The excuse was that messages sent from the Roswell base in 1947 had somehow been destroyed without authorization. That DOD reply so angered Cong. Schiff that he held a special press conference to express his frustration.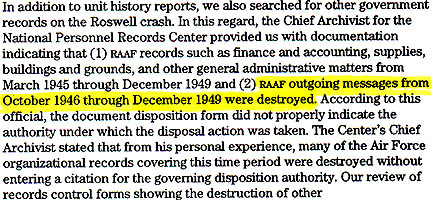 Schiff told reporters: "The GAO report states that the outgoing messages from Roswell Army Air Field (RAAF) for this period of time were destroyed without proper authority." Schiff pointed out that these messages would have shown how military officials in Roswell were explaining to their superiors exactly what happened.
Congressman Schiff said: "It is my understanding that these outgoing messages were permanent records, which should never have been destroyed. The GAO could not identify who destroyed the messages, or why." Schiff said the GAO thought the messages were destroyed over forty years ago, making further inquiry about their destruction impractical.
Schiff added, "At least this effort caused the Air Force to acknowledge that the crashed vehicle was no weather balloon. That explanation never fit the fact of high military security used at the time."
Truman Administration Policy of Denial to Protect National Security
Former New Mexico State Rep. Andy Kissner has been told that American President Harry S. Truman authorized a 1947 classified Executive Order and extended the War Powers Act to enforce a strict cover-up of all matters related to an extraterrestrial presence on this planet from at least 1947 to this day. For several years, one of Andy Kissner's most important sources was a high ranking officer at White Sands Proving Ground who died in 1998.
Speculated reasons for why the U. S. government has lied and misinformed for more than half a century:
government insiders saw on radar and photographs "peculiar phenomena," advanced aerial devices, that could easily keep pace with our rapidly moving V-2 rocket tests;
government insiders were shocked that an advanced beam technology can lift up and lower animals and people;
government insiders concluded at least one non-human agenda is to harvest genetic material from animals and people transported by that beam technology;
and government insiders learned that the non-human intelligence has, and will, retaliate if attacked.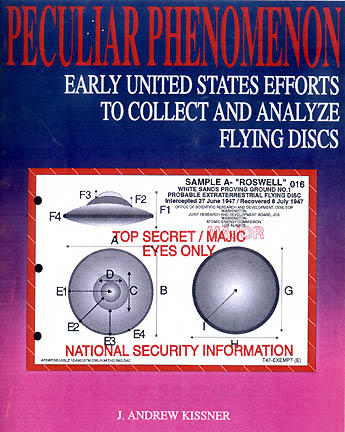 In 1994, then New Mexico State Rep. J. Andrew Kissner from Las Cruces in Dona Ana County, sent me his unpublished book manuscript entitled, Peculiar Phenomenon ­ Early United States Efforts to Collect and Analyze Flying Discs, based on his discussions with White Sands Proving Ground and Naval Research Lab employees.
Andrew Kissner wrote: "At 4:11 p.m., Mountain Standard Time, Thursday, May 15, 1947, above the Tularosa Basin in south central New Mexico, the most highly classified episode in American military history began ­ a series of events, decisions and actions that ultimately resulted in the crash and recovery of at least two, probably three and possibly four, extraterrestrial 'flying discs.' This was accomplished by deliberate antiaircraft artillery fire and/or use of surface-to-air missiles by units of the U. S. Army National Antiaircraft Artillery School at Ft. Bliss, Texas and/or U. S. Army Air Force fighters based at Alamogordo Army Air Field at Alamogordo, New Mexico. The well-publicized 'Roswell' (Corona), New Mexico flying disc was one of these.Historical research suggests, however, something even more controversial than the 'shoot downs.' The U. S. Army's actions either caused, or were a response to, offensive overt acts initiated by flying discs themselves. Even though unproved, it appears that flying discs might have been a contributing factor in the deaths of over six hundred military personnel and civilians in 1947 ­ over a two month period from May 9 to July 31. Whatever flying discs were, or are, they were not, and are not, defenseless. Their 'special weapons' were, and even now are, unconventional. Flying discs were immediately defined by the U. S. military in 1947 as an 'enemy weapons system.'"A T-Force assigned to secure flying disc crash sites and collect debris."
[Editor's Note: David Devorkin described the T-Force in his 1992 book, Science With A Vengeance as a "specialized, often inter-service, U. S. military unit assigned a mission to take, hold and defend a specialized enemy facility or specific piece of enemy equipment possessing high scientific or technical value as defined by Office of Scientific Research & Development and the Joint Chiefs of Staff during W. W. II."]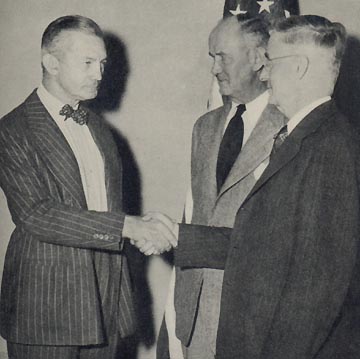 Andrew Kissner: "Once collected, discs were processed and analyzed for Dr. Vannevar Bush, Chairman of the JCS's JRDB and Director of OSRD, in cooperation with the Atomic Energy Commission's Los Alamos Scientific Laboratory and its Z Division at Sandia Base. Military support was provided by the Air Material Command and personnel stationed at the Armed Forces Special Weapons Project at Sandia Base, Albuquerque. Further analytical effort was provided by the staff members of the Department of Terrestrial Magnetism (DTM) at the Carnegie Institution in Washington, D. C., and by Dr. Detlev Bronk, Chief, Division of Aviation Medicine, JRDB. Personnel selected from the Massachusetts Institute of Technology (MIT), Brookhaven National Laboratory, the RAND Corporation, the National Advisory Committee on Aeronautics (NACA) and the Rockefeller Institute, appear to have played major roles in the months immediately following the 1947 crashes."It also appears likely that custody of flying discs was permanently vested in civilian authorities by classified Presidential Executive Order in July 1948. The relevant civilian authority was the Atomic Energy Commission and its national laboratories with participation of the Department of Defense's Air Force Systems Command, the Naval Research Laboratory and the Research and Development Board (RDB) of the Secretary of Defense, established in late July 1947. The Research and Development Board coordinated all scientific inquiry. The Chairman of the Joint Chiefs of Staff provided military support. The National Security Council (NSC), newly formed in August 1947, served as overall program coordinator."It should be noted that within these major institutions, the investigations and retrieval operations of 'flying discs' were and are classified in 'compartments' that are very small. It is not the entire institution that has knowledge. Rather it is only specialized components within much larger complexes that have need-to-know access about the non-human presence."The May 15, 1947, incident has remained a special access, compartmentalized experience for the past 57 years with few, even in the relevant contemporary government, aware of how it all began."
V-2 Rockets Mysteriously Veer Off Course
at White Sands Proving Ground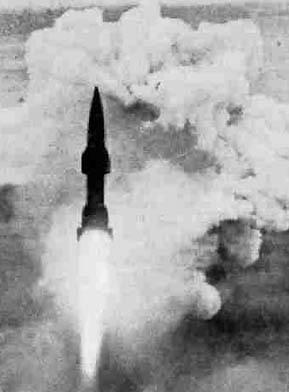 [ Editor's Note: According to the U. S. Naval Laboratory website, "After World War II, parts of almost one hundred German V-2 rockets were brought to the United States. The U.S. Army undertook the task of assembling the rockets at White Sands, New Mexico, for research and experimentation by government agencies and universities. In 1946, the Naval Research Lab was invited to participate in the Army's V-2 rocket program. As an established group ready to carry out upper atmospheric research, the Laboratory became the prime agency for conducting research with the V-2 program and for developing the technology to carry out the missions. Eighty experiments were performed between 1946 and 1951." ]
The V-2 research program moved fairly quickly, with flights scheduled at the White Sands Proving Ground, New Mexico. The first static engine test firing of a German V-2 on U.S. soil occurred on March 14, 1946. The missile used for this engine test became the first German V-2 launched in the U.S. on April 16, 1946. The U.S. V-2 series of launches concluded in 1952. Some of the launches employed V-2 missiles equipped with scientific instrumentation designed to study the upper atmosphere. These types of V-2 launches were managed by the V-2 Upper Atmosphere Research Panel, which was established in January, 1947 and evolved into the Upper Atmosphere Rocket Research Panel in March, 1948.
In the history of the V-2 rocket program, an internet archive called Encyclopedia Astronautica states: "1947 May 15 V-2 Flight Launched 16:04 local time. Reached 135.5 km. Carried cosmic and solar radiation, temperature, ionosphere, photo experiments for Naval Research Lab. (V-2) Landed east of the impact zone on the outskirts of Alamogordo, New Mexico."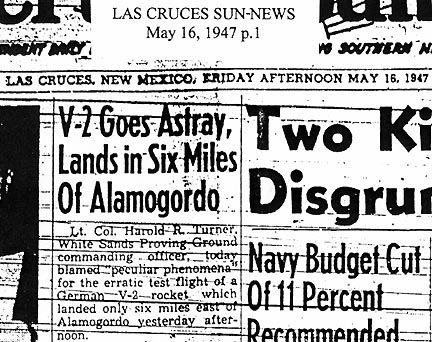 The May 16, 1947, edition of the Las Cruces Sun-News reported about that event:
"Lt. Col. Harold R. Turner, White Sands Proving Ground commanding officer, today blamed "peculiar phenomena" for the erratic test flight of a German V-2 rocket which landed only six miles east of Alamogordo yesterday afternoon."
But what actually happened during that May 15, 1947, V-2 rocket launch? State Representative Andrew Kissner says he learned from his confidential sources that the facts remain classified and off limits to public and media to this day.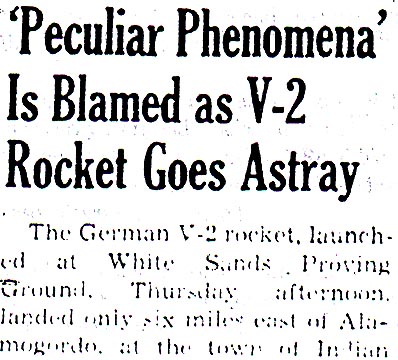 There is a clue reported in the May 22, 1947, edition of the Las Cruces Citizen in a statement by Lt. Col. Turner, United States Army/Ordnance and Commander of White Sands Proving Ground:
"'Peculiar phenomena' was blamed by Lt. Col. Harold R. Turner, commanding officer of White Sands, for the erratic test flight. The rocket carrying a warhead installed by the Naval Research Laboratory, was spotted at its landing about 55 miles from the launching site where it was fired at 4:09 p.m. A crew was sent out immediately to retrieve rocket body and warhead."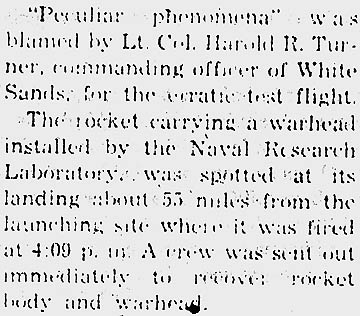 "Peculiar Phenomena"
How was the "peculiar phenomena" described? Andrew Kissner says it was: "A radar target that instantaneously appeared next to the ascending V-2 missile" and immediately the V-2 rocket changed course. Andrew Kissner says his White Sands military officer source saw a photograph of a flying disc taken from a camera aimed through a V-2 rocket window.
What was the "peculiar phenomena" linked to? It was considered the cause for the V-2 rocket at White Sands Proving Ground on May 15, 1947, to "change course, taking a northeasterly track, one that brought the rocket crashing to earth two minutes later only six miles east and slightly north of the community of Alamogordo, New Mexico ­ 40 degrees off the V-2's projected flight path."
New Mexico State Representative Andrew Kissner also wrote after his personal interview with the Army officer at White Sands Proving Ground:
"Whatever had mysteriously appeared and vanished after observing a V-2 in flight in close proximity to the rocket, it apparently affected the rocket's trajectory. That event became an immediate priority within a very small, closed circle of highly ranked general staff officers and civilian scientists assigned to the Joint Research and Development Board (JRDB) of the Joint Chiefs of Staff (JCS) under whose authority weapons test ranges were established and operated and chaired by Dr. Vannevar Bush."The 'peculiar phenomenon' object was defined as hostile in that it appeared to have affected the V-2 rocket's trajectory. It was by every definition an advanced foreign weapons system. Effort would be expended to guard against further intrusions, and high priority was assigned to collect a specimen of the technology for further analysis, covertly if possible."
That phrase, "High priority assigned to collect a specimen of the technology," meant the creation of covert American government units to bring down the unidentified flying object that could pace ascending V-2 rockets and cause them to veer off course. Those retrieval units operated under Projects Moon Dust and Pounce which were assigned security of air space over White Sands Proving Ground. One of their classified missions was to aggressively bring down the advanced discs for study and potentially back-engineering.
American Military Aggression Against Flying Discs
I was first exposed to the idea that the American government might have aggressively gone after flying discs when I talked with UFO crash retrieval researcher and author, Leonard Stringfield, in the early 1980s. He told me he had personal knowledge about U. S. Air Force orders to shoot down foreign aerial discs at the end of the 1940s. But, he said, "we lost so many of our own airplanes that the order was rescinded in the early 1950s."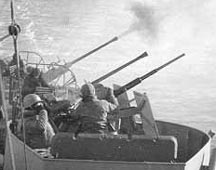 Did the United States deliberately use weapons to bring down one or more foreign discs? A 'yes' answer to that question was related to Andy Kissner by a good friend who had previously worked for the Naval Research Laboratory (NRL).
Andrew Kissner: "Back in the mid-1960s (while working at the NRL), he had been taken to a facility somewhere in the state of New Mexico that was underground. There was a warehouse and a flying disc inside the warehouse, inside this bunker. He noted visually and was told verbally by the briefing officer that this was one of several flying discs shot down at Roswell in 1947."What he observed and was told is that it was shot down with either 20 or 40 millimeter canon fire and he observed on the flying disc penetrations of the skin and exit holes through the top of the flying disc. He was told it was the product of 20 or 40 millimeter canon fire."
According to history written by the Smithsonian National Air and Space Museum, "In July 1944, the Navy's Bureau of Ordnance requested Section T of the Office of Scientific Research and Development (OSRD) to study anti-aircraft missiles to counteract the Japanese Ohka piloted bombs and other suicide weapons sent against the U. S. in the Pacific. The requirement was for a missile to shoot down a plane at a range of 20,000 yards at an altitude of 30,000 feet."
Four months later by November 1944, the Navy's Bureau of Ordnance assigned the Applied Physics Laboratory of the Johns Hopkins University in Silver Spring, Maryland, to undertake the development of radar-guided surface-to-air missiles. This project became known as Bumblebee which produced several ramjet-powered missiles which evolved from the 1945 STV to the 1951 Terrier to the 1958 Talos.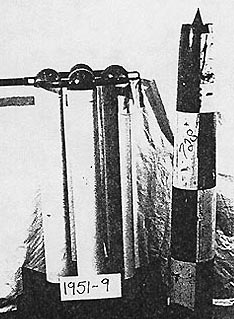 "Peculiar Phenomena" Retaliation Against American Shoot-Down Efforts?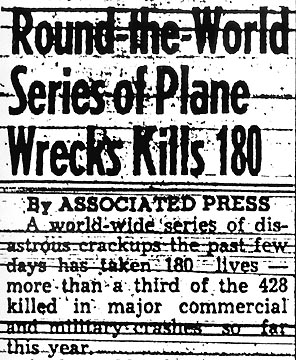 Rep. Andy Kissner studied newspaper archives and came to the startling conclusion that "it does not appear that flying discs were passive actors in 1947. Between May 9 and July 31, more than 600 military and civilian airplanes crashed worldwide."
America's First Surface-To-Air Missile Strike
Against An Unidentified Radar Object?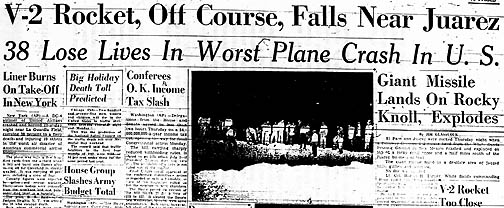 Andrew Kissner says the truth behind a May 29, 1947, event in which a V-2 launched from White Sands ended up nearly falling on Juarez, Mexico, was America's first test of a surface-to-air missile strike against an unidentified radar object. The morning of May 29th, Lt. Col. Harold R. Turner, Commander of the White Sands Proving Ground, was planning a very secret V-2 rocket launch. But problems kept delaying lift-off.
Andy Kissner wrote:
"At 7:15 p.m. MST, on May 29, 1947, it is believed that at least one Wasserfall surface-to-air missile, complete with a 674-pound high explosive warhead, was fired at one or more radar targets hovering to the southwest of WSPG Launch Row. At approximately 7:20 p.m., at an altitude above 60,000 feet, the proximity fuse on the warhead detonated ten miles north and slightly west of Mt. Franklin."The explosion, was witnessed by Major General John L. Homer, Commander of Ft. Bliss from 1946 to 1950. The El Paso Times reported the next day on May 30, 1947, that the first explosion occurred more than ten minutes before a second explosion at least 25 miles further south. General Homer dispatched troops to look for missile wreckage and to investigate the first crash site ten to fifteen miles northwest of Ft. Bliss towards WSPG."The surface-to-air missile's mysterious target, possibly crippled by the explosion, continued to fly in airspace north of Ft. Bliss, eventually impacting within one mile of the new Buena Vista Airport only six miles south of downtown Juarez, Chihuahua, Mexico, at 7:32 p.m. Local residents described "a blinding flash of light" followed by a tremendous pressure wave and the appearance of a mushroom cloud. The concussion of the blast was sufficient to crack windows six miles north of the crash site, while an electric clock stopped at the El Paso County Sheriff's Office, apparently due to the blast effect."Whatever the mysterious radar object had been was not apparent ­ it was totally vaporized by the explosion. Small shreds of 'burned, gray metal fused with molten sand and rock,' were found near a 50 feet by 50 feet by 24-feet-deep crater outside Juarez, Mexico. There was no V-2 rocket body at the bottom of the crater hole ­ nor anything else. (The El Paso Times, May 30, 1947) It was never learned what the security detail dispatched by General Homer found at the site of the first explosion on the west side of the Franklin Mountains east of Anthony, New Mexico ­ twelve minutes before the explosion in Juarez, Mexico."An effective cover story was immediately provided to the press that another V-2 launched from White Sands Proving Ground had gone astray, experienced a total gyroscope failure, flew 180 degrees off course and crashed in Mexico."The entire Juarez Garrison's rocket recovery efforts resulted in a small pile of debris that fit on top of a desk. There was no explanation why the launched missile vaporized."
That missile, according to Andrew Kissner, was actually a secret surface-to-air rocket attack on one or more unidentified radar targets.
Another mysterious and important visual detail was provided by the editor of the Las Cruces Sun-News who watched the May 29, 1947, launch and said there were two "first magnitude stars" near the missile before it headed down out of the daylight sky to crash.
 Total Reported Airplane Accidents, May 9 to July 31, 1947; Biggest Spike 72 Hours After Juarez Incident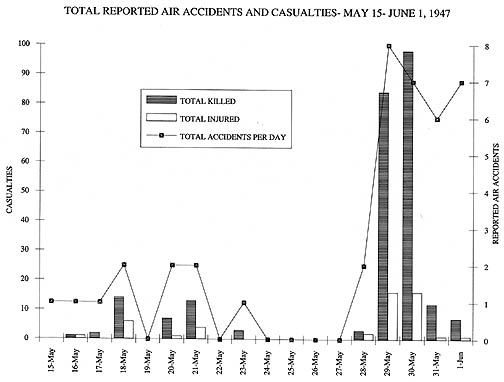 Andrew Kissner reports that within 72 hours of the "Juarez Incident," twenty-nine airplanes crashed around the world killing 198 people. The worst disaster was near La Guardia Airport in New York where a United Airlines plane took off, crashed and burned, killing all 38 people aboard. While government Civil Aeronautics Board (CAB) investigators were returning from the La Guardia crash, an Eastern Airlines DC-4 went nose down and crashed, killing everyone aboard.
According to an eyewitness of the second crash, "I saw the plane in a steep glide and several gleaming things, like metal, fell away from the plane as it hurtled down." Were those "gleaming things" more of the "unusual phenomena" that appeared on radar along side V-2 rocket launches?
More than one pilot who survived airplane crashes in 1947 said their airplane was at high takeoff speed going down the runway, but there was no lift at all under the wings. (An advanced technology that could neutralize the force of air molecule lift beneath wings?)
Civil Aeronautics Board (CAB) Convened Secretly After 146 Deaths In Commercial Airline Crashes Between May 29 and June 17, 1947
President Harry S. Truman's called for a "secret session" of the Civil Aeronautics Board headed by James M. Landis to prevent an increasing number of civilian and military air crashes. On commercial airline flights alone, 146 people had died between May 29 and June 17, 1947. The peak seemed to come after the famous May 29, 1947, Juarez, Mexico explosions which were reported as another V-2 rocket veering 180 degrees off course.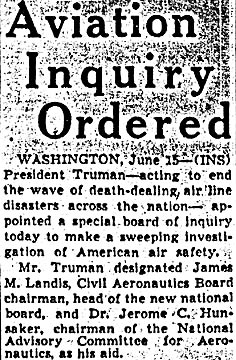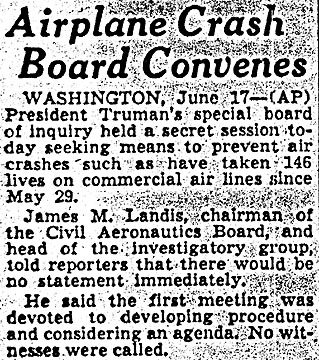 By June 15, 1947, President Harry S. Truman ordered a special board of inquiry to investigate American air safety. Among his appointees was Dr. Jerome C. Hunsaker, Chairman of the National Advisory Committee for Aeronautics (NACA) ­ and also on the TOP SECRET Majestic-12 list advising President Truman on the extraterrestrial presence.
Continued in Part 2 – 1948 Aztec, New Mexico, Disc Retrieval
---
More Information:
See other Earthfiles reports about Majestic-12 in Earthfiles Archives:
11/03/2004 —  Gen. Wesley Clark – Has He Been Briefed About UFOs?
03/17/2004 —  Part 1 – "Horrible Secret" in UFO Crash Retrievals Near Roswell, New Mexico, in July 1947?
03/17/2004 —  Part 2 – "Horrible Secret" in UFO Crash Retrievals Near Roswell, New Mexico, in July 1947?
11/19/2003 —  1954 Manual: "Extraterrestrial Entities and Technology" – Reasons It Is Authentic
11/07/2003 —  British UFO Crash Retrievals
0/28/2003 —  Part 2 – U. S. Presidents and UFO Investigations
01/14/2003 —  Part 2: Cape Girardeau and Charlette Mann's 1991 Letter About Her Grandfather's Experience
2/28/2002 —  Part 1: Cape Girardeau, Missouri, Non-Human Craft and Bodies Retrieval in 1941
11/09/2002 —  Majestic-12 Documents with Ryan Wood About Extraterrestrial Technologies

04/20/2002 —  Canadian and American Officials In 1950s Collaborated on Study of Unidentified Aerial Disks

04/17/2002 —  Part 2 – Unidentified Aerial Craft Over Farmington and Aztec, New Mexico in Spring 1949
04/02/2000 —  Secret Radar Stations in New Mexico, Part 2
04/02/2000 —  Secret Radar Stations in New Mexico, Part 1
02/12/2002 —  JFK, MJ-12 and Outer Space
06/22/1999 —  The Strange Story of J-Rod, An EBE

01/10/1999 —  Rufus Baughn, Nevada Test Site
---
Websites:
http://www.nrl.navy.mil/content.php?P=V2
http://www.astronautix.com/sites/whislc33.htm
http://www.majesticdocuments.com/

© 1998 - 2019 by Linda Moulton Howe.
All Rights Reserved.