Return to Part 1
December 7, 2004  Albuquerque, New Mexico –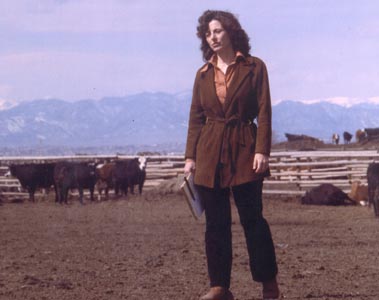 In 1983, I was working on a Home Box Office TV special called, UFOs: The E. T. Factor. On April 9, 1983, I had a meeting at Kirtland Air Force Base's Office of Special Investigations (AFOSI) in Albuquerque, New Mexico, with an AFOSI Special Agent named Richard C. Doty. Agent Doty showed me an alleged briefing paper for the "President of the United States of America" about "unidentified aerial vehicles" and entities. One of the pages contained a list of locations where American military and intelligence units had retrieved aerial vehicles described as "extraterrestrial," along with humanoid bodies – both dead and alive. In addition to the well known name Roswell, other sites on the crash retrieval list included Magdalena near the Plains of San Agustin; Kingman, Arizona; northern Mexico south of Loredo, Texas; and Aztec, New Mexico.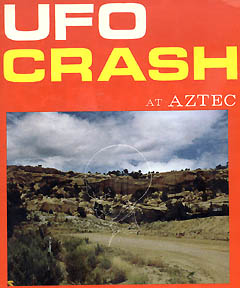 In 1986, William S. Steinman and Wendelle C. Stevens wrote a book entitled UFO Crash At Aztec – A Well Kept Secret. The front cover photograph is familiar to those of us who have made the trek to Hart Canyon about twelve miles northeast of Aztec, New Mexico, where a 99-foot-diameter silver-colored lens-shaped craft was allegedly found on top of the mesa in a spot where even the rocks had been sheared off, apparently by the force of the craft's impact.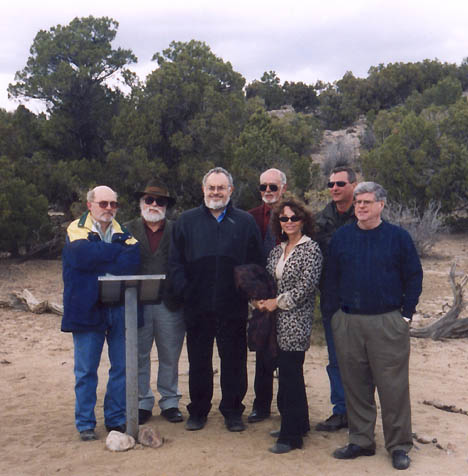 Some of those eyewitnesses were policemen from Aztec and Cuba, according to their surviving families today. The investigator who found those families is businessman Scott Ramsey, Vice President of Sales and Marketing for Express Wire Services in Charlotte, North Carolina. He's standing between Stan Gordon and me on the right in the 2002 Aztec conference speakers photograph above.
Scott Ramsey's curiosity was provoked by tantalizing details in the Bill Steinman book about an Aztec crash, combined with a reference in Frank Scully's 1950 book, Behind the Flying Saucers. Scully talked about the early detection of an aerial disc by Top Secret radar bases in New Mexico ­ a disc that allegedly was tracked by radar down through the atmosphere to Aztec, New Mexico.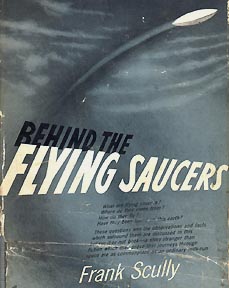 At the same time, New Mexico State Rep. Andrew Kissner was doing an official New Mexico historical research project trying to find pre-Cold War artifacts ­ meaning secret bases to put on the New Mexico historical landmark list. So Andy's and Scott's research efforts came together to find out whether top secret radar bases had existed in New Mexico as Scully described.
Another question the two men wanted to answer: Was there really a crashed disc near Aztec? To help get more military facts, Andrew Kissner, in his official state legislator position, arranged an introduction for Scott at Maxwell AFB in Montgomery, Alabama, to start looking for anything that had to do with the Cold War and might also relate to the U. S. government's TOP SECRET efforts to track discs in the skies.
Eventually, Scott and Andy confirmed that three powerful radar sites had been built in a triangular configuration to protect the super secret Los Alamos Laboratory which had built the atomic bombs dropped on Hiroshima and Nagasaki at the end of World War II and Sandia Base in Albuquerque.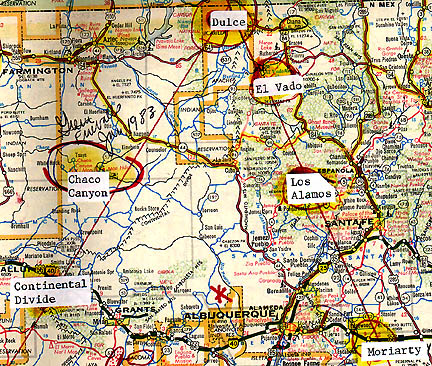 Construction on the three secret experimental microwave radar stations began in late 1947. The primary one north of Los Alamos was first called Los Alamos Radar Base (AFS-P8) at El Vado. Later its name changed in the 1950s to Tierra Amarilla and by 1957 had been renamed a third time as El Vado Radar Base. The other two were Moriarty (AFS-P7) east of Albuquerque, and Continental Divide (AFS-P51) east of Gallup. The three radar stations were part of the U. S. Aircraft Control and Warning (AC&W) system that also became known as LASHUP. Below is a map of the LASHUP program and its Aircraft Control and Warning radar stations provided to Representative Andrew Kissner by the Air Force Historical Research Agency at Maxwell AFB, Montgomery, Alabama.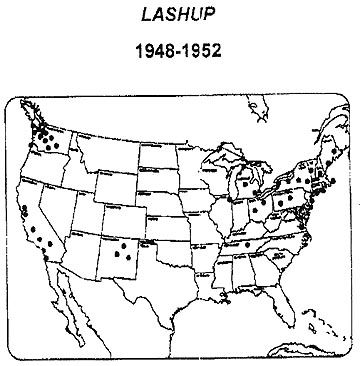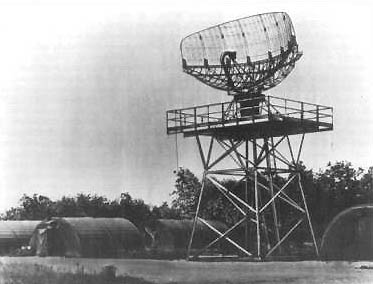 Los Alamos was a good place to test the new, powerful radar because the Manhattan Project lab had a restricted air space. That was important because it was clear to the Defense Department that any metallic object that flew through that trio of radar sites when they were fired up would not come out of those strong microwaves without damage ­ ours, or Someone else's.
The three classified radar sites became operational in 1948, but no one in the public and media knew anything about them until the February 2000 New Mexico legislature was in session. El Vado is the only secret radar base in New Mexico that survived with buildings and other structures intact. So, Representative Kissner was successful in having that once-secret experimental microwave radar station north of Los Alamos added to the New Mexico State Historical Register. The importance of the El Vado radar site is underscored by the fact that its construction was specifically authorized by President Harry Truman himself. One of El Vado's specific missions was to protect the Los Alamos Laboratory and the Atomic Energy Commission's Sandia Base in Albuquerque. Both were involved with atomic bomb production.
El Vado officially functioned in secret from 1948 to 1958 and was also known as Tierra Amarilla Air Force Station-P8. The other two radar sites were Moriarty (AFS-P7) east of Albuquerque, and Continental Divide (AFS-P51) a bit east of Gallup. Those three radar sites became part of the American Aircraft Control and Warning system known as AC&W which expanded to 411 radar sites throughout the United States and eventually evolved into NORAD, the North American Air Space Defense Command. AC&W also became known as LASHUP.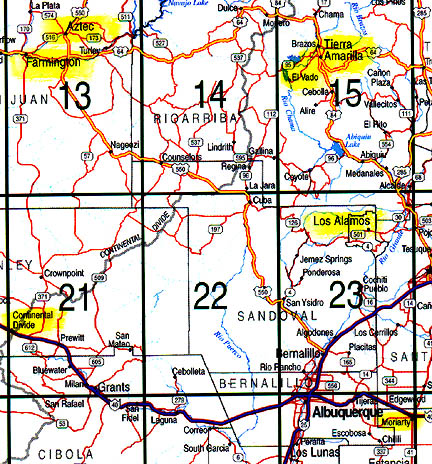 During Scott Ramsey's research about the three classified radar bases, he looked for evidence that a disc crashed near Aztec. Eventually he was lead to families of two Aztec and Cuba, New Mexico, police officers, who told their families about the UFO disc each saw in Hart Canyon. The year given was 1948.
Scott Ramsey told me what the policemen told their respective families before each passed on about what each officer saw on the Hart Canyon mesa during a night in 1948 ­ probably March.
Scott Ramsey: "He (police officer) finally said to the family ­ 'That actually did happen. I was one of the police officers at the crash site that day.' Going back to the family members, they remember him saying, 'I was one of the police officers at the scene.' Apparently, though, there were three involved. The one I will mention ­ and that was Andy Andrews ­ he was probably in his 50s back at the time of the Aztec incident. We don't really pinpoint him at the crash site, although he may have been with the Cuba police officer going up Highway 44 the night of the alleged crash.
WHAT EXACTLY DID THEY DESCRIBE?
Large saucer-shaped object, no visible markings, no seams, rivets, weld marks. Perfectly smooth. More pewter in color. Going back to Ken Farley and Doug Nolan and the two police officers and going back and retrieving the testimonies from the families, they kept using the words, 'Looked like it had been molded absolutely perfectly. No seams.' Very smooth, pewter in color, sort of a dull grey color. Two lenses put together with a 15-to-18-feet-diameter bubble in the middle.
WHAT ABOUT ENTITIES?
Doug Nolan did say he saw at least two. Again, to give you a little bit of background on Doug Nolan. He was a 19-year-old employee of the El Paso Oil Co. back at this time frame. That's why we are pinpointing it to 1948 based on his 19-year-old age. He was getting ready for work. They started very early out in the oil fields. His boss, Bill Ferguson, who is also deceased, when Doug picked him up said, 'We've got to get out to Hart Canyon immediately. There's a bad brush fire and it's near one of the drip tanks the company owned.' They went out and Bill Ferguson being the lead man at the time, the senior man, and there lay the disk out on the end of the mesa.
WERE THERE ENTITIES THERE?
Doug and Bill Ferguson climbed up on the craft and looked in the window and Doug said he could see two human-like humanoid beings slumped over."
Testimonies from policemen and eyewitnesses before their deaths about a large, silver disk on the Hart Canyon mesa near Aztec highlight how well the U. S. government was able to keep secrets as required by the Truman Administration's strict order of denial and cover-up in the interest of national security – a policy still in effect after nearly 60 years.
If denial and misinformation in the interest of national security have been the game since 1947, was a silver disc shot down as a foreign enemy's weapon system by the U. S. military in 1948, twelve miles northeast of Aztec on the Hart Canyon mesa?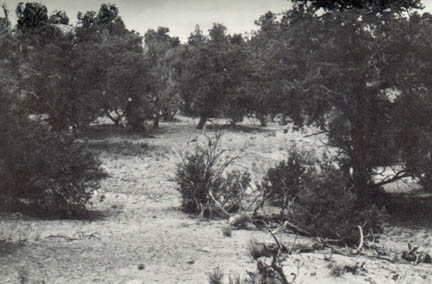 There have been unofficial leaks by military people and others about the discovery of a large disc near Aztec. This photograph taken by investigator and author, Bill Steinman, back in the 1980s, he described as the "actual" Aztec Disc Crash Site that has a 60 by 150 feet area of charred and sheared off rocks.
Beyond the alleged presidential briefing paper I was shown at Kirtland AFB in 1983 that listed Aztec as a UFO crash site, I have seen other information about a 99-foot-diameter silver disc with a dome recovered in the Farmington and Aztec region.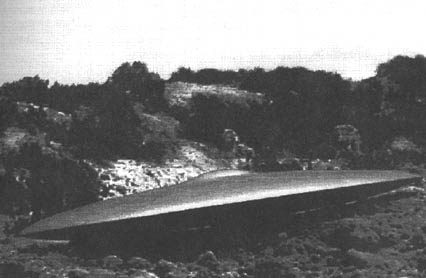 Several years ago I received a military officer's confidential interview entitled "The Report on the Crash at Farmington." The officer said he saw a black and white photograph of a silver disc in a classified file. This image is his computer recreation of that black and white photograph. The geographic location was given as Farmington, New Mexico, "prior to 1950."
The military officer said dead non-human beings were found inside the craft. The name Farmington in the file title was thought to have been used instead of Aztec because in 1949, Farmington was a larger town than the nearby rural farming community of Aztec. [Note: American Indian tribes in the region tell of green fireballs and an explosion west of Farmington, which might mean there was more than one UFO crash ­ as there had been at Roswell and White Sands. But, so far, the tribal story is only anecdotal.]
The military officer said he had a special security clearance that enabled him to access a restricted military base library prior to 1970. Due to the highly sensitive nature of the information, and possible risk to this individual, no information is provided which could be used to identify him or the location of the military base in which he said he read the classified file.
The following excerpts are not verbatim, but were compiled from notes after four separate conversations with the military eyewitness.
"I discovered a file on the subject of an alien craft and its dead occupants that had been retrieved. The file contained a report, a separate black and white photograph, and a book by Major Donald Keyhoe.
"There was a perfectly intact, circular-shaped craft and it was lying somewhat tilted to one side on the ground in the desert. There did not appear to be a crater or other ground-surface disturbance in the photograph that would indicate a crash, but I could not tell for sure. …it was stated that the craft was retrieved somewhere near the town of Farmington, New Mexico, prior to 1950. As I could see in the photograph, the material of the craft was metallic, and resembled brushed aluminum. It was stated in the report that there were portholes on the cabin part of the craft, but they were not made of any type of glass. I couldn't make out this feature in the photograph.
"A porthole had a puncture that was the diameter of a pencil; that was the only defect discovered on the entire ship. Our people tried diamond drills, an acetylene torch – everything they could come up with on the porthole where this opening was located, but nothing would break through it. They couldn't enlarge the hole, either. The material was tougher than anything we were familiar with on earth.
"It was concluded that they would have to somehow gain access through this hole and they eventually did because a door popped open. It appeared from a place where there were no obvious seams or other indications of a door. The report said that it was 'almost as if the material of the craft had liquefied and then solidified again,' leaving no clue of the door's location upon closing. If there was a seam, it was so tight it couldn't be observed.
"The report said that the two bodies were badly charred. So was the interior of the cockpit of the craft. The report also said that the bodies were about four feet in height. There was no description of their features beyond that."According to the report, we were not responsible for bringing this craft down. (Implication was the U. S. had shot other disks down.) There was mention of a magnetic fault, or opening, or something like that, located in the area where this craft came down. There were three of these faults or openings located in North America: one was located in the Southwest, around the Texas/New Mexico area; one was somewhere in the Carolinas; and one was somewhere in the Northeast sector, but I can't remember exactly where.
"The report referred to 'crashes' and the Farmington crash information was used to relate general information on similarities with other crashes.
"Officials felt that only people in professional levels were capable of dealing with this information. Based on what occurred with the Orson Welles War of the Worlds radio presentation, this information could create panic. Then it would threaten to break down the industrial complex that supports the military complex; it would obviously undermine it. And it could possibly reduce our ability to counter an attack by a hostile alien culture. But it was also clear that the intent of these particular beings was not known."
Continued in Part 3 – Animal Mutilations and ETs
---
More Information:
See other Earthfiles reports about Aztec/Farmington UFO Crash and Secret Radar Stations in Earthfiles Archives:
10/23/2004 —  1948 Aztec, New Mexico UFO Crash: Policemen, Disk and Humanoids

08/18/2004 —  New Mexico Gov. Bill Richardson Wants More Investigation of 1947 Roswell UFO Crash

07/27/2004 —  Part 12: UFO Crash/Retrievals: Status Report VI © July 1991 by Leonard H. Stringfield

07/02/2004 —  Part 11: UFO Crash/Retrievals: Status Report VI © July 1991 by Leonard H. Stringfield

06/27/2004 —  Part 10: UFO Crash/Retrievals: Status Report VI © July 1991 by Leonard H. Stringfield

01/14/2003 —  Part 2: Cape Girardeau and Charlette Mann's 1991 Letter About Her Grandfather's Experience

12/28/2002 —  UPDATED Part 1: Cape Girardeau, Missouri, Non-Human Craft and Bodies Retrieval in 1941

04/17/2002 —  Part 2 – Unidentified Aerial Craft Over Farmington and Aztec, New Mexico in Spring 1949

03/16/2002 —  Part 1 – 'Huge Saucer Armada' Shocked Farmington, New Mexico 52 Years Ago

04/09/2000 —  Unidentified Discs Over Farmington, N. M. on March 17, 1950

04/02/2000 —  Secret Radar Stations in New Mexico, Part 1 and 2
See other Earthfiles reports about Majestic-12 in Earthfiles Archives:
11/03/2004 —  Gen. Wesley Clark – Has He Been Briefed About UFOs?
 03/17/2004 —  Part 1 – "Horrible Secret" in UFO Crash Retrievals Near Roswell, New Mexico, in July 1947?

 03/17/2004 —  Part 2 – "Horrible Secret" in UFO Crash Retrievals Near Roswell, New Mexico, in July 1947?
11/19/2003 —  1954 Manual: "Extraterrestrial Entities and Technology" – Reasons It Is Authentic
11/07/2003 —  British UFO Crash Retrievals

10/28/2003 —  Part 2 – U. S. Presidents and UFO Investigations

 01/14/2003 —  Part 2: Cape Girardeau and Charlette Mann's 1991 Letter About Her Grandfather's Experience

12/28/2002 —  Part 1: Cape Girardeau, Missouri, Non-Human Craft and Bodies Retrieval in 1941

11/09/2002 —  Majestic-12 Documents with Ryan Wood About Extraterrestrial Technologies

 04/20/2002 —  Canadian and American Officials In 1950s Collaborated on Study of Unidentified Aerial Disks

 04/17/2002 —  Part 2 – Unidentified Aerial Craft Over Farmington and Aztec, New Mexico in Spring 1949

 04/02/2000 —  Secret Radar Stations in New Mexico, Part 2

 04/02/2000 —  Secret Radar Stations in New Mexico, Part 1
02/12/2002 —  JFK, MJ-12 and Outer Space

 06/22/1999 —  The Strange Story of J-Rod, An EBE

 01/10/1999 —  Rufus Baughn, Nevada Test Site
---
Websites:
http://www.nrl.navy.mil/content.php?P=V2
http://www.astronautix.com/sites/whislc33.htm
http://www.majesticdocuments.com/
http://www.radomes.org/museum/scripts/acwlashup.cgi

© 1998 - 2019 by Linda Moulton Howe.
All Rights Reserved.