Return to Part 1
December 9, 2004  Albuquerque, New Mexico –
Animal Mutilations
On May 15, 1947, when the unidentified "peculiar phenomena" on radar appeared with the ascending V-2 rocket that immediately went off course, perhaps no one in the U. S. government knew that around them another "peculiar phenomenon" was taking place that might be directly linked to the intelligence inside the discs. That phenomenon is the worldwide animal mutilation mystery.
For twenty-five years as an investigative reporter, I have tried to find facts about the important question: What does the United States government actually know about animal mutilations linked to non-human entities and technologies retrieved from crashed discs which have provoked an American policy of misinformation and denial in the interest of national security, since at least 1947? At the same time, the American government and corporations have back-engineered the alien technology they deny exists.
Back in 1983, while working on the documentary project for HBO, UFOs: The E.T. Factor, I met an elderly rancher who lived in Corona, New Mexico. He said he had known Mac Brazel, the rancher who found strange debris on his land and went to the Roswell Sheriff to report his discovery on July 4, 1947. The Corona resident said, "I heard there was a horrible secret about that crash."
Perhaps the answer to the "horrible secret" is why there has been an official American policy ever since to deny ET existence ­ at all costs. That policy apparently began with the fear and shock that President Truman and his close associates felt when they allegedly learned that dissected humanoids and animal parts were found inside and near at least two of the UFOs that crashed in New Mexico in 1947. "Animal parts" takes me back to September 1979 when I began my first research into the worldwide mystery called "animal mutilations."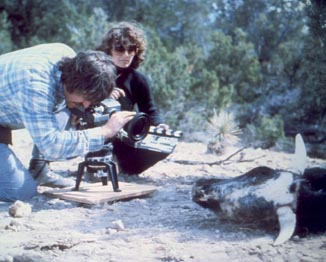 I began to investigate the worldwide animal mutilation phenomenon back in the fall of 1979. I had graduated from Stanford University with a Masters Degree in Communication in which I made documentaries at the Stanford Medical Center and the Stanford Linear Accelerator. Then I was hired by the NBC television affiliate in Los Angeles to do news reporting and documentaries, then produced medical and science programs for Boston's WCVB-TV ABC affiliate, and was Director of Special Projects at the CBS television station in Denver, Colorado, KMGH-TV, Channel 7. There I received a national Emmy nomination, several regional Emmys and many other journalism awards for my documentary films and live television studio programs about science, medical and environmental issues.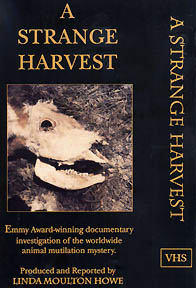 In the summer of 1979, hundreds of animal mutilations of cattle and horses were reported in Colorado again as they had been since the 1960s. I wanted to get to the bottom of what was causing the unusual animal deaths and began an investigation which produced the documentary, A Strange Harvest.
The bizarre, bloodless animal mutilations were not happening only in Colorado. Animal mutilations were occurring all over the United States, Canada and many other countries, all with the same pattern of tissue removed from their bodies: an ear, an eye, a circle of flesh around the eye, half the jaw flesh, the tongue removed in a vertical cut deep within the throat, as in this Sterling, Colorado, case back in the summer of 1976. and the mutilated Caldwell, Kansas, cow in 1992.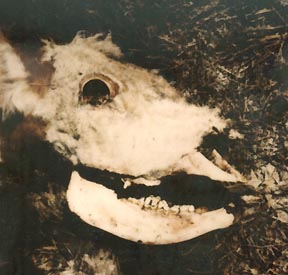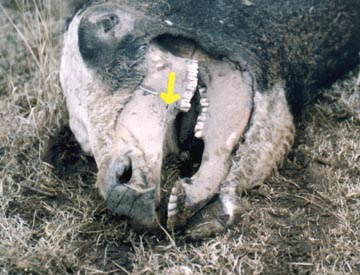 This steer in Caldwell, Kansas, discovered on January 31, 1992, was examined by a veterinarian pathologist who confirmed the cuts had been made with high heat. Also, the yellow arrow points at two missing teeth. This is a common characteristic of many mutilated cows, but not widely reported. Back in 1980 after my documentary, A Strange Harvest, was first broadcast, I received a call from Lynn Lauber, head of the Royal Canadian Mounted Police's (RCMP) animal mutilation investigation in Calgary, Alberta, Canada. He admitted to me that the common Calgary newspaper explanation of Satanic cults was not true, that he had no evidence. Further, he said many of the mutilated cattle there had two teeth taken from either the upper or lower jaw, but he was keeping that fact to himself in his investigations. I told him that Colorado law enforcement and I had also talked about missing teeth at mutilation sites and I agreed to keep that fact confidential as well.
Horses are often mutilated, such as this 14-year-old gelding found June 22, 1993, by owner and horse raiser Doris Williams of New Raymer, Colorado. This was one of three mutilated animals found around the same time.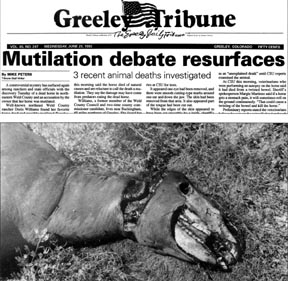 The trachea and esophagus are often taken as in the Red Cloud, Nebraska, 1,000 pound Chianina cow below discovered on November 27, 1989. In addition, the cow's optic nerve, eyeball and circle of flesh around the eye were cleanly excised and a large triangular patch of hide was taken from the belly, rectum and vagina.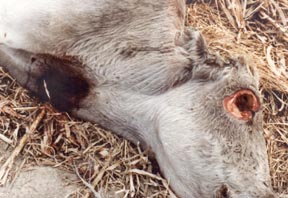 The pregnant, white bellied cow below was seen alive at noon and found dead and mutilated at 5 p.m. on September 9, 1982. The day was sunny and the owners, Linda and Bill Dzuris of Elizabeth, Colorado, worked outside only a quarter mile from the pasture. Neither could understand how half the udder had been bloodlessly removed from the white belly of this cow without them hearing or seeing something.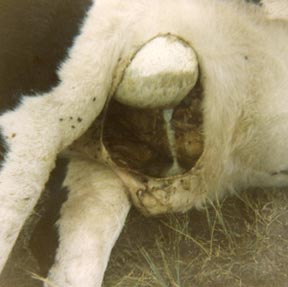 All four teats were neatly and bloodlessly removed from the udder of the young female cow below in Nounan, Idaho, October 9, 1989.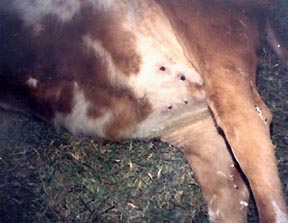 The penis and testicles are often cleanly removed from the belly of male animals in what law enforcement has long referred to as "cookie cutter" cuts. A good example is the bull calf below found dead and mutilated on the Modesto Mendicoa ranch in Manila, Utah. The Daggett County Sheriff's office investigated and took photographs on October 22, 1982.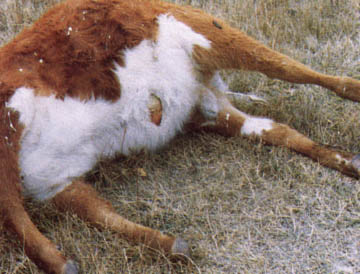 Rectal tissue is almost always taken from both sexes, such as this young calf in Sterling, Colorado found dead on April 20, 1976. The tail was also cut off at the tail bone, but not found at the scene, as in so many other cases over the years.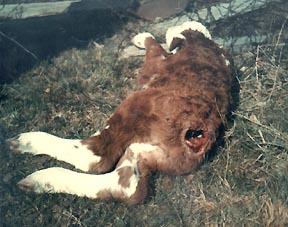 Animals are found dead and mutilated on powder dirt, wet sand, and pasture grass without a single track around them, not even their own tracks. One example is the pregnant cow owned by Bill Veenhuizen of Maple Valley, Washington. He found his cow dead with a "keyhole" excision of jaw flesh, bone, teeth, tongue and a large hide-deep excision of rectal and vaginal tissue removed on July 17, 1989.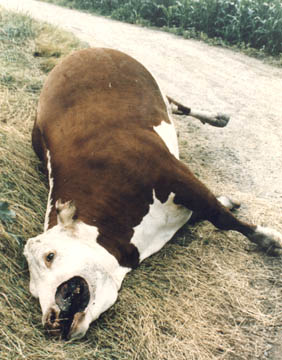 Many bloodless excisions have had a serrated edge which veterinarian pathologists have confirmed was made with high heat, such as the one below described as "a heat induced incision" by the Veterinary Diagnostic Laboratory, College of Veterinary Medicine, Oregon State University, Corvallis, Oregon in 1990. Lasers are an obvious first thought. But the problem is, animal excisions examined under a microscope do not have carbon residue which is commonly found after laser surgeries.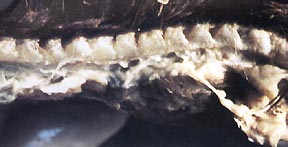 These are some of the mysterious aerial lights that have long been seen and photographed over pastures where animal mutilations have occurred. Below, on the right in black and white, are time exposure photos taken by reporter Bill Jackson in Sterling, Colorado in 1976. On the right in color are more lights photographed in time exposure by Jim Williamson, Editor of the Little River News in Ashdown, Arkansas.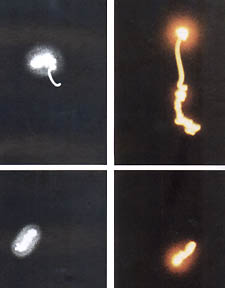 That's why law enforcement looked to the sky, and newspapers started illustrating what ranchers said they had seen, like the drawing below in the November 2, 1980, Greeley Tribune in Greeley, Colorado.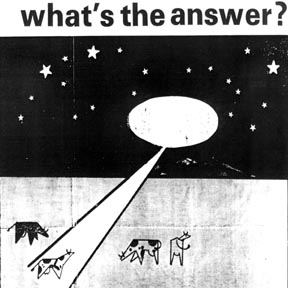 The United States military had knowledge of Something coming from the skies and killing and mutilating animals around the world since at least the early 1950s ­ according to retired Lt. Col. Philip J. Corso, now deceased, who wrote the important 1997 book, The Day After Roswell.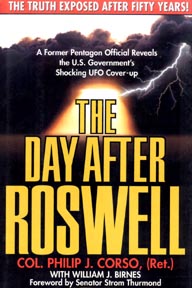 In his book, Col. Corso described many advanced technologies that the United States government retrieved from crashed non-human aircraft and back-engineered. One of those technologies, according to Col. Corso, was what came to be known as a laser scalpel in modern Earth medicine. On Page 47 of his book, Col. Corso wrote: "Why did the extraterrestrial inhabitants of the craft have a cutting device like this aboard their ship? It wasn't until later, when I read highly classified military reports of cattle mutilations in which entire organs were removed without any visible trauma to the surrounding cell tissue, that I realized that the light-beam cutting torch…was being used by the aliens in medical experiments on our livestock."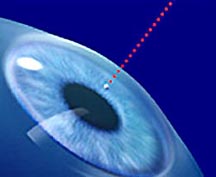 Before he died, Col. Corso talked to me in private about the many classified documents he had seen in Washington, D. C., when he returned from his World War II assignment in Italy. He told me that he had read with his own eyes highly classified reports dated as early as 1951 about animals found in several parts of the world with bloodless excisions and no tracks around them. Col. Corso said the classified reports specified that the animal mutilators were "extraterrestrial biological entities."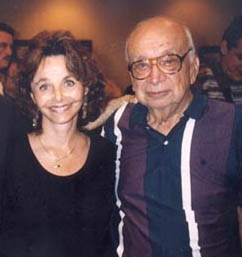 The subject was so sensitive, he told me, because the United States government was scared that if the public knew Something from outer space was able to pick up heavy animals in beams of light, remove tissue and liquids with instruments that cut with light and perhaps sound frequencies – then return the animals dead and mutilated to pastures ­ that Americans, and the world, would panic. Also, the advanced technologies needed to be kept out of the hands of human enemies and developed and patented by American companies.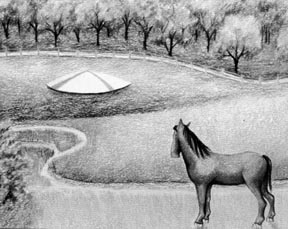 I think the Corona rancher's reference to a "horrible secret" at the Corona, New Mexico, crash had to do with the worldwide animal mutilation phenomenon which seems linked to a large scale genetic harvest of this planet.
Continued in Part 4 – "Bodies Disected (sic) As You Would A Frog"
---
More Information:
See other Earthfiles reports about animal mutilations in Earthfiles Archives:
09/25/2004 —  Part 6: "Clearview" Report Investigation of UFO Experiences on A Rocky Mountain Ranch

09/13/2004 —  Part 1: "Clearview" Report Investigation of UFO Experiences on A Rocky Mountain Ranch

08/11/2004 —  Newborn Heifer Mutilation in Anderson, California, on August 7, 2004

07/27/2004 —  Part 12: UFO Crash/Retrievals: Status Report VI © July 1991 by Leonard H. Stringfield

07/21/2004 —  The Apollo Program, Cape Canaveral and UFOs

04/26/2004 —  Update About Microbiologist Dan Burisch, Ph.D.

02/24/2004 —  Part 1: UFO Crash/Retrievals: Status Report VI © July 1991 by Leonard H. Stringfield

01/24/2004 —  Oregon Man's Experiences with High Strangeness

12/21/2003 —  Part 4 – UFO Crash/Retrievals, Status Report VII by Len Stringfield

10/28/2003 —  Part 2 – U. S. Presidents and UFO Investigations

09/12/2003 —  More Domestic Cat Mutilations – Again in Bothell, Washington

08/01/2003 —  Field Notes About English Animal Mutilations

07/01/2003 —  40 Small Animal Mutilations in Denver and 11 in Salt Lake City

05/28/2003 —  Cat and Dog Mutilations in Salt Lake City; $6,500 Reward
04/19/2003 —  Unusual Animal Deaths in Valparaiso, Nebraska

03/08/2003 —  Cattle Mutilation – The Unthinkable Truth, Chapter 3, Part Two

02/03/2003 —  Cattle Mutilation – The Unthinkable Truth, Chapter 3, Part One

12/07/2002 —  Cattle Mutilation – The Unthinkable Truth, Chapter 1, Part Three

11/16/2002 —  More Cat and Cow Mutilations: Colorado, Utah and Missouri

11/05/2002 —  Canadian Crop Circles and Mysterious Lights in Saskatchewan

10/15/2002 —  Chapter 8 – Mystery Stalks The Prairie

10/05/2002 —  Part 2 – J-Rod and Microbiologist Danny B Burisch, Ph.D.

10/05/2002 —  Part 1 – Two Scientists Describe An Extraterrestrial Biological Entity Called "J-Rod"

09/07/2002 —  High Strangeness Continues in Argentina

08/31/2002 —  One ET Experiencer's Reaction to the Winchester Formation

07/19/2002 —  Unusual Animal Deaths and Unidentified Aerial Lights Persist in Argentina

07/02/2002 —  Argentina's SENASA Blames Mouse for Animal Mutilations

06/22/2002 —  Argentina Animal Mutilation Count Rising Above 100

06/17/2002 —  Part 3 – Deer and Cattle Mutilations in Oregon

06/15/2002 —  Cattle Mutilations In LaPampa, Argentina

05/18/2002 —  A Bull Mutilation in Christmas Valley, Oregon

03/16/2002 —  Part 1 – 'Huge Saucer Armada' Shocked Farmington, New Mexico 52 Years Ago

01/12/2002 —  Part 1 – Update On 2001 Montana Cattle Mutilations

10/13/2001 —  Heifer Mutilation and Mysterious Light in Mantario, Saskatchewan, Canada

08/24/2001 —  Part 2 – Unusual Montana Mutilation of Live Bull

07/28/2001 —  Pure Hemoglobin Confirmed On Alabama Mutilated Cow

07/22/2001 —  Mutilated Bull Calf in Missouri

06/09/2001 —  Environmental Updates and Colt Mutilated in Leitchfield, Kentucky

05/11/2001 —  Horse Slashings and Deaths in Calgary, Alberta, Canada

10/15/2000 —  Mutilated Heifer Found Near Boulder, Colorado

10/15/2000 —  Part 1 – Hardened Bovine Hemoglobin Found On California Mutilated Bull

04/16/2000 —  A Close Encounter with a Disc in Wyoming

03/29/2000 —  Mysterious Calf Deaths In Brothers, Oregon

02/06/2000 —  Large Yellow Sphere In Snohomish, Washington
12/26/1999 —  Hubble Repair, Gamma Ray Bursts and Unidentified Aerial Objects

12/22/1999 —  Update – Unidentified "Arrowhead"-Shaped Object in California Sky

09/12/1999 —  Unusual Animal Deaths, Part 1: Nevada
08/25/1999 —  Unusual Animal Deaths in Australia and London, England
01/24/1999 —  Nuclear Sabotage in Maryland; Bull Mutilation in Colorado; and Global Warming
See other Earthfiles reports about Majestic-12 in Earthfiles Archives:
11/03/2004 —  Gen. Wesley Clark – Has He Been Briefed About UFOs?
 03/17/2004 —  Part 1 – "Horrible Secret" in UFO Crash Retrievals Near Roswell, New Mexico, in July 1947?

 03/17/2004 —  Part 2 – "Horrible Secret" in UFO Crash Retrievals Near Roswell, New Mexico, in July 1947?
11/19/2003 —  1954 Manual: "Extraterrestrial Entities and Technology" – Reasons It Is Authentic
11/07/2003 —  British UFO Crash Retrievals

10/28/2003 —  Part 2 – U. S. Presidents and UFO Investigations

 01/14/2003 —  Part 2: Cape Girardeau and Charlette Mann's 1991 Letter About Her Grandfather's Experience

12/28/2002 —  Part 1: Cape Girardeau, Missouri, Non-Human Craft and Bodies Retrieval in 1941

11/09/2002 —  Majestic-12 Documents with Ryan Wood About Extraterrestrial Technologies

 04/20/2002 —  Canadian and American Officials In 1950s Collaborated on Study of Unidentified Aerial Disks

 04/17/2002 —  Part 2 – Unidentified Aerial Craft Over Farmington and Aztec, New Mexico in Spring 1949

 04/02/2000 —  Secret Radar Stations in New Mexico, Part 2

 04/02/2000 —  Secret Radar Stations in New Mexico, Part 1
02/12/2002 —  JFK, MJ-12 and Outer Space

 06/22/1999 —  The Strange Story of J-Rod, An EBE

 01/10/1999 —  Rufus Baughn, Nevada Test Site
---
Websites:
http://www.majesticdocuments.com/

© 1998 - 2019 by Linda Moulton Howe.
All Rights Reserved.