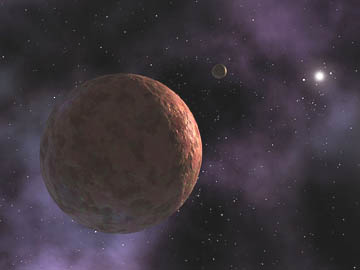 December 17, 2004  Salt Lake City, Utah – Some astrophysicists are trying to understand how our solar system formed, as baffling objects continue to be discovered. Only a year ago on November 14, 2003, a mysterious object was found at the far reaches of our solar system that has the strangest elliptical orbit of anything revolving around our sun.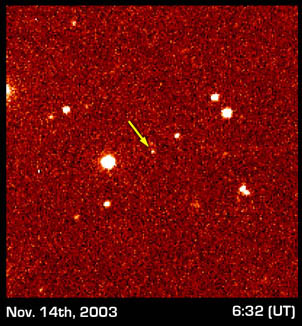 Referred to as a planetoid, scientists named the object "Sedna," after the Inuit goddess who created Arctic sea creatures. The Arctic name is fitting for probably the coldest object in our solar system, with temperatures never rising above MINUS 400 degrees Fahrenheit. Ironically, as cold as it is, Sedna is red hot and shiny to look at through high-powered telescopes like the orbiting Spitzer Space Telescope. Astronomers says that the only other object so red in our solar system is Mars and to date, no one knows what makes Sedna so red.
Sedna is estimated to be three-quarters the size of Pluto. It travels in a very bizarre elliptical orbit that takes it in a range from about 8 billion to 84 billion miles from Earth beyond the Kuiper Belt of icy objects and near the edge of the Oort Cloud, the source of comets. At those distances, the planetoid takes at least 10,500 years to complete one revolution around the sun. Scientist have puzzled about what exactly Sedna is and how it got to be where it is in such a radically eccentric orbit?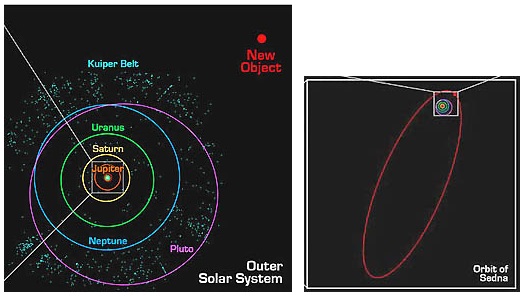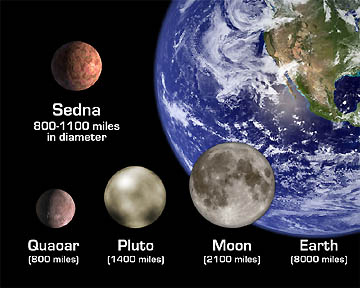 Now, in the December 2 issue of Nature, physicist Ben Bromley, from the University of Utah, and astronomer Scott Kenyon, of the Smithsonian Astrophysical Observatory at Harvard in Cambridge, Massachusetts, have come up with a startling hypothesis, based on their work with computer simulations. The team thinks that Sedna is an alien planetoid from somewhere else in our galaxy that was pulled into our solar system when an alien star passed by about 4 billion years ago. Astronomers have been looking at distant stars the past few years to find planets and now have a long list of extrasolar planets. So, how ironic that we might have an extrasolar planetoid in our own solar system. I talked this week with Dr. Bromley about mysterious Sedna and his computer simulation studies of Sedna's bizarre orbit that suggest the red object was left behind by a star that passed by our solar system about four billion years ago.
---
Interview: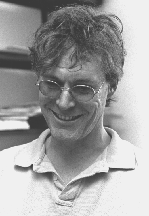 Ben Bromley, Ph.D., Assoc. Prof. of Physics, University of Utah, Salt Lake City, Utah: "Sedna is an object that was found in November of 2003. It's an object that orbits quite far away from the sun, compared to the 9 major planets we know of. Sedna gets no closer than about twice the distance between the sun and Neptune. It travels on a highly elliptical path, taking it to about 1,000 times the Earth's orbital distance from the sun. This is a very unusual orbit and completely unexpected from the point of view of other bodies we've seen orbiting our solar system.
What could possibly put an object like Sedna out there on this peculiar orbit? Most bodies that have elliptical orbits were placed on these orbits by interaction with one of the major planets. For example, Neptune ­ Neptune put Pluto on its eccentric orbit. It would be interesting if Sedna were put on its orbit by some Neptune-like planet way out in the remote boondocks of the solar system. But we don't know of any (out there).
So, our work was inspired by Sedna to attempt to explain it. One of the best and only explanation we could come up with was that Sedna was the result of an interaction with another passing star early in the history of the solar system.
HOW IN YOUR WORK DID YOU GET BACK SO FAR AS 4 BILLION YEARS?
That's a very good question. The requirement that we work with a very young solar system in the production of Sedna's orbit is that our sun must have had an encounter with another star. That could only have happened very early in the history of the solar system. The sun, we believe, like other stars was born in a cluster of stars. So, at early times, the cluster members could have passed by each other. In time, that cluster would sort of disintegrate, just sort of dissolve into the blur that is our Milky Way. So, we need for the star encounter to have happened early to make the chance of a stellar encounter, an interaction between our sun and a passing star, be plausible.
At this point in time, 4.5 billion years after the sun was formed, we expect there will be no such encounters. The chances are very small that we're going to run into another star in the Milky Way.
The Passing Alien Star Hypothesis
A passing star explains two things: first, it explains Sedna's peculiar orbit. Second, it also explains a structure of the solar system that has been somewhat mysterious. Outside of Neptune, there is a belt of objects ­ a ring or disk of objects that are small ­ about 1,000 miles in diameter and smaller. There are about 1,000 known of these objects and they are called Kuiper Belt objects. As we map the outer solar system at further distances from Neptune, we find that there is an edge to this Kuiper Belt. It sort of stops. There are no more objects outside about 50 times the Earth's orbital radius from the sun, compared with Neptune's 30 times that same distance.
So, the surprise is that this edge exists. When we look out at other stars where planet formation is occurring, we find evidence for planetary disks ­ places where things like these Kuiper Belt objects form. There is no abrupt edge or signal that there is some mechanism that turns off the formation of these objects at some specific distance.
Kuiper Belt Is Sheared Off As If
Something Cut Through One Side
So, the fact that our Kuiper Belt has a sharp edge is a real surprise. A passing star can actually sharpen the Kuiper Belt. It can disrupt orbits of objects that are formed outside the observed Kuiper Belt. So, (the passing star) explains two things ­ an important fact.
LET ME MAKE SURE THAT I FULLY UNDERSTAND WHAT YOU MEAN: IF THE HYPOTHESIZED ALIEN STAR HAD COME BY ABOUT 4 BILLION YEARS AGO AND WE ALREADY HAD THE KUIPER BELT RESIDUE OF ICY SNOWBALLS OUT THERE, THEN A PASSING SUN MIGHT HAVE SHEARED OFF COMING THROUGH THAT KUIPER BELT AREA?
That's perfect. I wish I had said it that way myself. So we ran simulations of this process of a passing star, trying to observe – using a computer – the formation of these objects and the shearing of the disk in which the Kuiper Belt objects lie by a passing star. And in addition, to the placement of one of these objects on a Sedna-like orbit.
Computer Simulation of Planet(oid) Captures
The surprise was in our simulation some of the objects were disappearing. They were just not around the sun anymore. When we looked at the output of our simulations, we noticed that some of the objects were actually traveling along with the passing star.